(Advertisement)
Tube City Community Media Inc. is seeking freelance writers to help cover city council, news and feature stories in McKeesport, Duquesne, White Oak and the neighboring communities. High school and college students seeking work experience are encouraged to apply; we are willing to work with students who need credit toward class assignments. Please send cover letter, resume, two writing samples and the name of a reference (an employer, supervisor, teacher, etc. -- not a relative) to tubecitytiger@gmail.com. (4-11-2023 to 4-30-2023)
To place your ad, email tubecitytiger@gmail.com.
Ads start at $1 per day, minimum seven days.
Operations center proposed near entrance at RIDC park
By Jason Togyer
The Tube City Almanac
October 23, 2021
Posted in: McKeesport and Region News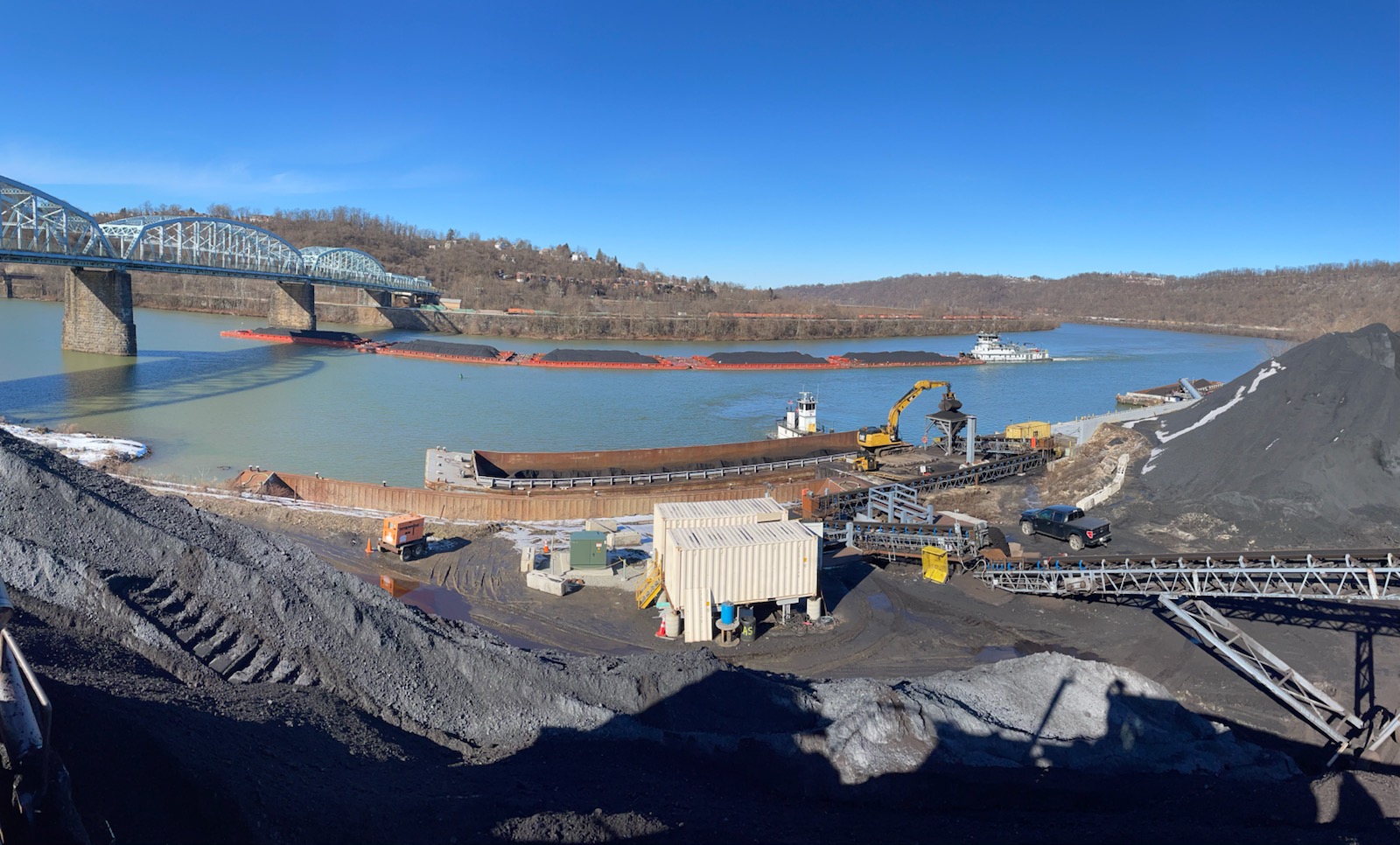 River Materials Inc. transfers bulk materials, including coal and coke, between railroad cars and barges. The company's McKeesport facility, opened in 2019, uses a former U.S. Steel and Dravo Corp. barge dock that was previously considered "unusable." (Submitted photo courtesy River Materials Inc.)
---
An intermodal facility near the McKeesport-Duquesne Bridge has purchased nearly 10 additional acres of land with an eye toward expanding its operations.
It's the second major business announcement at McKeesport's industrial park in less than a month, following the news that medical cannabis producer Trulieve is acquiring 37 acres of land, and three buildings, in a $10.4 million deal.
River Materials Inc. is purchasing 9.92 acres from Regional Industrial Development Corp. at a cost of $595,200 and plans to build a 10,000-square-foot operations center on Center Street.
The deal was announced this week by the company and RIDC.
"The Mon Valley is attracting a lot of attention and we're proud to be at the center of so much activity," said Don Smith, president of RIDC, which created the Industrial Center of McKeesport out of the former U.S. Steel National Plant.
In late 2019, River Materials opened a rail-to-barge transfer facility on 8.2 acres of property that was formerly part of the U.S. Steel National Plant. It was leasing the property that is now being purchased.
River Materials is a successor to the Glassport Intermodal Center and serves power plants, construction material businesses, recycling centers and other industries by handling bulk materials, including coal, synthetic gypsum and scrap.
The company currently employs 25 people in McKeesport, said Gina Shank, president of River Materials, and it intends to hire more over the next few years.
"RIDC has been a great partner in helping us overcome development obstacles at a site that was once considered unusable," said Shank and Clifford Wise, chairman of River Materials, in a joint statement. "Its proximity to the Monongahela River and CSX Railroad's Riverton Yard makes it an otherwise ideal location for us that will make transporting shipments easier."
The site was originally developed by Dravo Corp. in 1915 as a barge landing to offload coal, coke and slag, the company said.
River Materials is part of a Braddock-based network of companies that also includes General Trade Corp., Gulf Materials LLC, Gulf Trading and Transport LLC and Specialty Steel Products.
Current facilities at River Materials' McKeesport location include warehousing space as well as processing and recycling operations. The site is currently processing about 175 trucks during Monday through Friday operations, with occasional weekend work, Shank said.
In an email to Tube City Almanac, she said the company has received "significant support across the political board."
"What we have seen with River Materials Inc. is industrial redevelopment in the City of McKeesport," Mayor Michael Cherepko said in a prepared statement. "This is exactly what RIDC was intended for — to revitalize the brownfields left behind by the closure of steel-manufacturing facilities across Allegheny County. River Materials is making great use of this land and utilizing McKeesport's unique geography to develop this business."
RIDC officials thanked Cherepko, Allegheny County Executive Rich Fitzgerald, state Sen. Jim Brewster and state Rep. Austin Davis for their support and assistance in redeveloping and marketing the site.
"The Mon Valley is building some good momentum for the future," Smith said in a prepared release. "Large projects and commitments like the one being made by River Materials demonstrate the viability and value of this region."
Originally published October 23, 2021.
In other news:
"W.O. Sets Halloween E…" || "Elizabeth Twp. Man He…"