11-18-2021 to 12-18-2021
To place your ad, email tubecitytiger@gmail.com. Ads start at $1 per day, minimum seven days.
By Submitted Report
The Tube City Almanac
November 19, 2021
Posted in: Announcements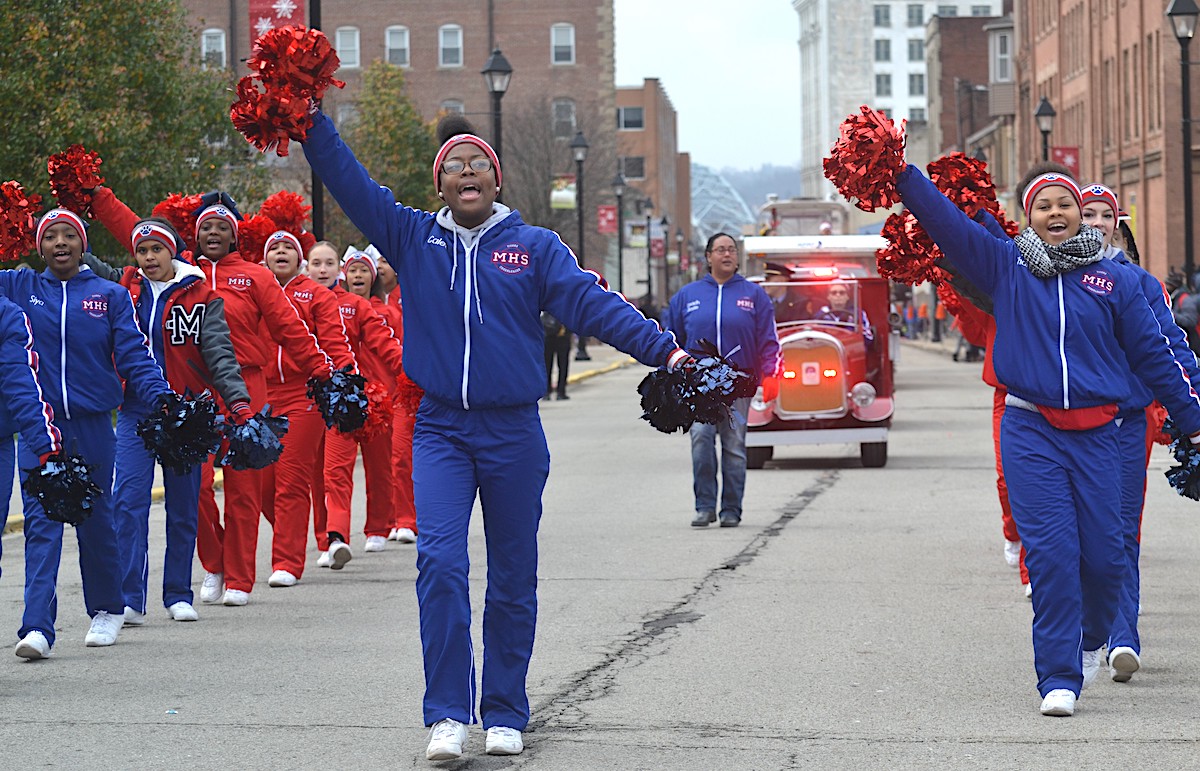 (Tube City Almanac file photo by Richard Finch Jr.)
---
McKeesport's 56th Salute to Santa Parade will take place on Fifth Avenue, Downtown — welcoming guests from across the Mon Valley to kick off the holiday season with a procession of marching bands, community groups, student organizations, themed floats, fire trucks, and of course, Santa Claus.
The parade is set for 11 a.m. Saturday (Nov. 20), with lineup beginning at 10. Organizers suggest arriving early with chairs and blankets to stay comfortable in case of cold weather. Parking is available on side streets and in the Sixth Avenue Garage.
For those out of town or unable to attend, Tube City Community Media will be streaming the parade live on YouTube at https://www.youtube.com/c/TubeCityOnline.
"The Salute to Santa Parade has established a longstanding tradition in McKeesport," Mayor Michael Cherepko said. "Each year, spectators from across the Mon Valley line Fifth Avenue in downtown McKeesport to watch our procession of holiday floats, marching bands, dance troupes, fire trucks, and more.
"Sadly, COVID prevented our 2020 event from taking place, but we are happy to be bringing this tradition back in 2021 and thankful for the many organizations who make this event special each and every year."
In the interest of COVID safety, there will be no indoor party at The Palisades this year. Instead, the princess and queen of the parade will be crowned at the reviewing stand, located near Progressive Music on Fifth Avenue.
Local performer Mikey Dee, who will emcee the parade from the judges' stand again this year, said the Salute to Santa Parade brings a sense of holiday spirit to McKeesport.
"Through work and the entertainment industry, I have the pleasure of experiencing that holiday joy across our region, but there's something special about how that feeling hits in my hometown of McKeesport," Dee said. "This parade brings out the happiness that comes with Christmas and the holiday season. It's a true joy to behold."
City Administrator and Recreation Director Tom Maglicco said one of the most exciting aspects of this year's parade is the participation of three high school marching bands.
"There's such an energy that comes with a marching band — it's festive," Maglicco said. "Their selections of holiday music bring out the emotions of the crowd and help to get everyone into the holiday spirit."
Cherepko thanked the McKeesport Recreation Board and the Salute to Santa Parade Committee for working hard to make this event special once again.
Parade Lineup (subject to change)
DIVISION I

Police Motorcycles (McKeesport, North Versailles, Allegheny County)
McKeesport Area High School Air Force JROTC (Honor Guard and Cadets)
Allegheny County Mounted Unit (4 Horses with Officers)
Police Chief (Tahoe)
Juvenile Detective (Tahoe)
Police K-9 Dogs (On Foot)
Fire Deputy (Deputy's Rig)
Public Officials (City, County, State, Neighboring Communities … On Foot plus Several Vehicles)
LaRosa Youth Club (On Foot)
Grand Marshal Dick's Sporting Goods Foundation (On Foot)
Twin Rivers Elementary AIMS Program (On Foot)
Princess/Queen Candidates (Large Float, Pulled by Public Works):
2021 Queen Candidate Kaitlyn Majewski (McKeesport Little Theater)
2021 Queen Candidate Ivonna Wilder (MAHS Cheer)
2021 Queen Candidate Leila Wertz (MAHS Band)
2021 Princess Candidate Abigail Opferman (Mary of Nazareth)
2021 Princess Candidate Saniya Rivers (LaRosa Youth Club)
2021 Princess Candidate Peyton Andrews (McKeesport Little Tigers)
2021 Princess Candidate Elena Ruffalo (PAWS Across Pittsburgh)
McKeesport Housing Authority (Float)
Paws Across Pittsburgh (SUV and On Foot with Dogs)
YouthCAST Leadership Network (On Foot)
Puzzlers Restaurant & Lounge (Van)
Transitions Health Care (Van)
McKeesport Area High School Band
McKeesport Area Cheerleaders (On Foot)

DIVISION II

Classic Cars – Model A Club
Joey Young – Singing Short Medley of His Songs and Christmas Songs (Pickup Truck)
Carnegie Library of McKeesport – "How the Grinch Stole Christmas" (Float)
Community Empowerment Association (On Foot)
Corner Donut Shop (Convertible & On Foot)
Sable Kennel (On Foot with Dogs)
Westinghouse Arts Academy – Christmas Carols (On Foot)
Red & Blue MAHS Student Newspaper – "Gingerbread House" (Float)
McKeesport Area High School Girls & Boys Basketball Teams (On Foot)
McKeesport and Mon Valley Girls Softball Association (On Foot)
McKeesport Little Tigers Cheerleaders & Football (Pickup Truck)
McKeesport Little Theater – "Seussical the Musical" (Hayride Float, Pulled by Public Works)
McKeesport Area High School Interact Club (On Foot) ** MAYBE **
NAACP McKeesport Unit (Car & On Foot)
Goodwill (Van and on Foot)
Nuttall Public Safety (Truck and Mascot on Foot)
Serra Catholic High School Band (On Foot)
McKeesport Agape Center (Float)
Mary of Nazareth Catholic School (Float)
UPMC Emergency Medicine (Truck)
McKeesport Ambulance Rescue Service (Ambulance)
Pennsylvania American Water (Truck) ** Maybe **
American Legion Post 527 (Car)
Tube City Community Media (Car)
Mon Valley Independent (Car)
McKeesport Lions Club (Car)
Kiwanis Club of McKeesport/White Oak (Car)
Salvation Army (Truck)
Legion Arms Humvee (Vehicle)
C&D Towing (Truck)
McKeesport Recreation Board (Pickup Truck)
Clairton High School Band and Honeybears (On Foot)

DIVISION III

Police Cars (non-McKeesport)

…

Fire Trucks (non-McKeesport):

White Oak VFC No. 1

Port Vue Vigilant Hose Co. No. 1

Elizabeth Township – Blaine Hill VFC

And More!

McKeesport Ladder Truck – Santa Claus
Originally published November 19, 2021.
In other news:
"Duquesne Center Offer…" || "15-Year-Old Sought in…"