By Submitted Report
The Tube City Almanac
December 07, 2021
Posted in: Announcements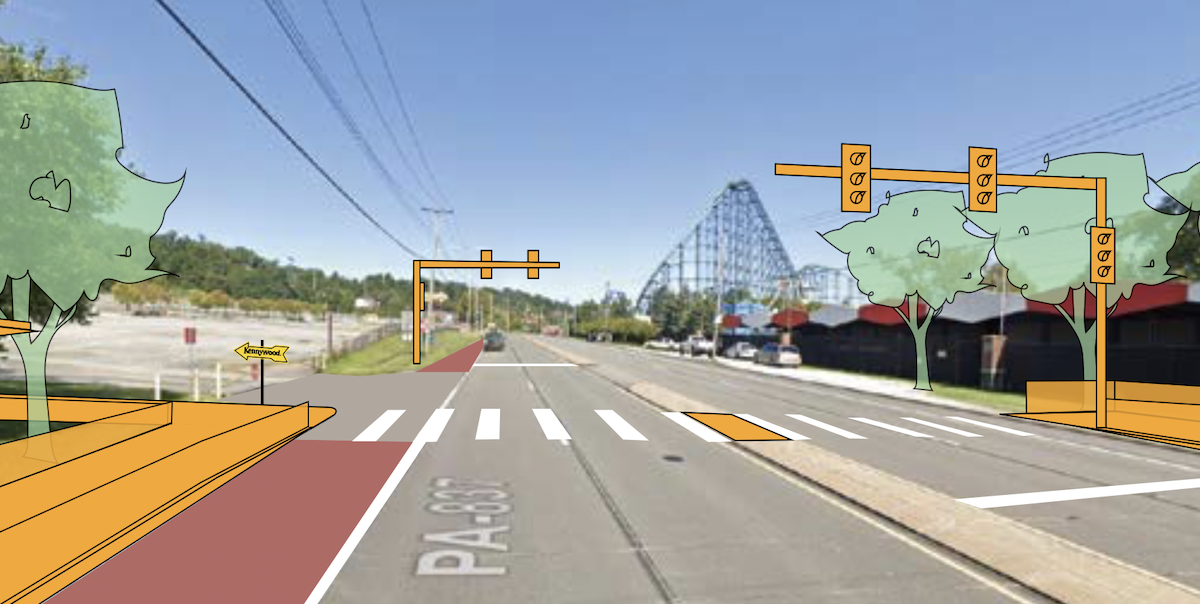 An illustration depicts the kinds of improvements that Port Authority is envisioning for the Route 837 corridor. This view depicts what an improved bus shelter might look like near Kennywood in West Mifflin. (Illustration courtesy Port Authority of Allegheny County)
---
Allegheny County's transit authority will hold two public information sessions today (Dec. 7) to discuss a slate of proposed improvements to the corridor between McKeesport and Homestead.
The online-only events begin at 12 noon and 6:30 p.m. today. To register, visit PortAuthority.org/HomesteadToMcKeesport or call (412) 566-5184.
A spokesperson for Port Authority of Allegheny County said the agency is considering transit and pedestrian upgrades between the Homestead Grays Bridge and the McKeesport Transportation Center "that will improve safety, accessibility, operations and efficiency."
The P7, 53, 53L, 57, 59 and 61C bus routes use that corridor, which includes Route 837, the McKeesport-Duquesne Bridge and Lysle Boulevard.
An ASL interpreter and closed captioning will be available during the Dec. 7 sessions.
The project is examining design upgrades that support transit riders and pedestrians including short bus lanes and traffic-signal priorities for buses; improved sidewalks and crosswalks; more comfortable and accessible boarding areas; new bus stops with better shelters and seatings; improved signage and real-time arrival information; and bicycle racks, ticket vending machines and trash receptacles.
For more information on the Port Authority's long-range plan, visit PortAuthority.org/NEXTransit.
Originally published December 07, 2021.
In other news:
"McKeesport Library Po…" || "City Council OK's 202…"