(Advertisement)
McKeesport Housing Authority is opening the Section 8 waiting list
Housing Choice Voucher Program
The McKeesport Housing Authority will be accepting applications for the Housing Choice Voucher Program (Section 8) Waiting List.
When?
April 10, 2023, 8:30 AM @ 2901 Brownlee Ave. McKeesport, PA 15132.
NO APPLICATIONS WILL BE ACCEPTED BEFORE THE ABOVE POSTED TIMES.

APPLICATIONS WILL BE DATE AND TIME STAMPED UPON RECEIPT. APPLICATIONS CAN BE SUBMITTED IN PERSON, FAX 412-673-1706, EMAIL TO BBRAY@MCKHA.ORG.
You can download a blank copy of the application from www.mckha.org.
Where?
At www.mckha.org or any of the rental offices at Crawford Village, Harrison Village & McKeesport Towers

MULTIPLE APPLICATIONS WILL NOT BE ACCEPTED. PLEASE DO NOT CALL FOR YOUR STATUS —- NO INFORMATION WILL BE GIVEN OVER THE TELEPHONE. YOU WILL BE NOTIFIED VIA THE US MAIL. IT IS CRITICAL TO KEEP YOUR INFORMATION UPDATED WITH OUR OFFICE IF IT CHANGES. IF WE ARE UNABLE TO CONTACT YOU, YOU MAY BE REMOVED FROM THE WAITING LIST.
To place your ad, email tubecitytiger@gmail.com.
Ads start at $1 per day, minimum seven days.
Teacher, AD has been 'face of the school' for generations of students, alumni
By Jason A. Mignanelli
The Tube City Almanac
December 23, 2021
Posted in: McKeesport and Region News, Sports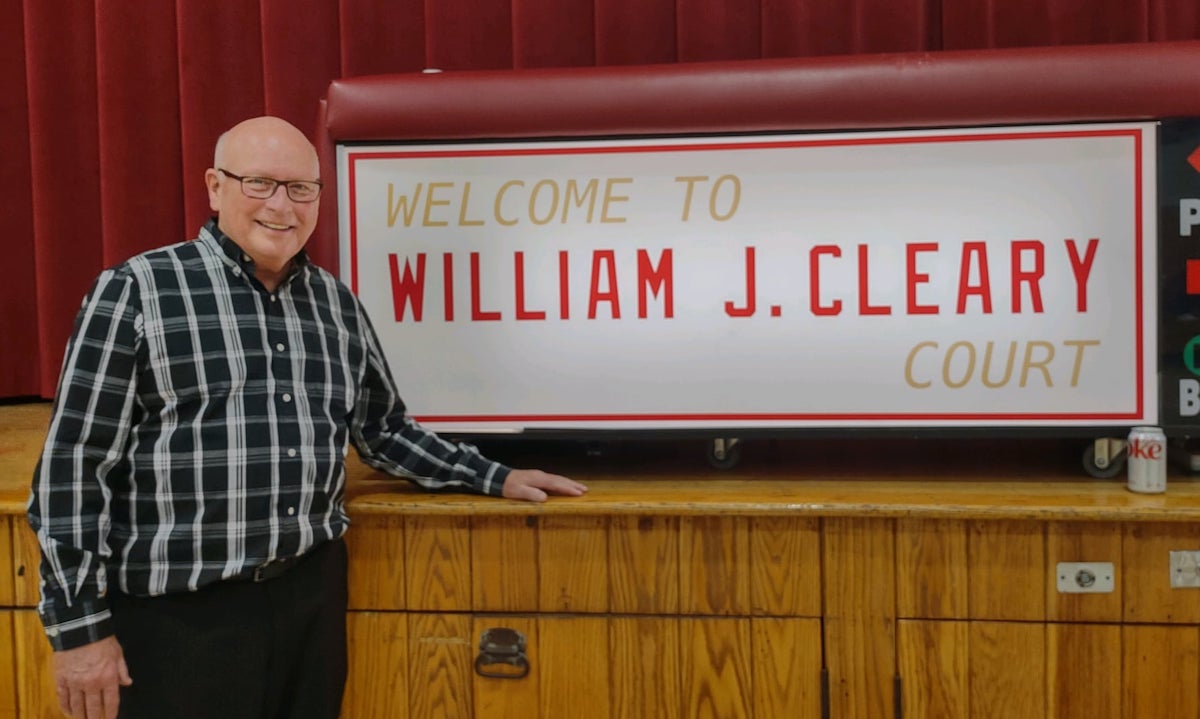 Bill Cleary, retired athletic director and teacher at Serra Catholic High School, poses with a new sign at the gymnasium. Cleary's 41-year career at the school in Haler Heights includes coaching the girls' basketball team to a state championship and 18 section titles. (Photo courtesy Serra Catholic High School via Facebook)
---
For the first time in the school's 60-year history, Serra Catholic High School has named an area of its campus after a former teacher.
On Dec. 11, at a ceremony attended by past and current teachers and faculty, the school in McKeesport's Haler Heights neighborhood dedicated the William J. Cleary Gymnasium.
Cleary not only taught at Serra Catholic for 41 years, but he also held the Athletic Director position for 38 of those years.
"The thought of having the gymnasium named after me is just overwhelming and it's incredibly humbling," Cleary said recently. "I find myself paying closer attention to places that are named after people now. Someday someone will ask, 'Who was that Coach Cleary guy anyway?""
Less than a month ago, Robert Childs, the school's current athletic director and associate vice principal, invited Cleary to stand on the sidelines as the Serra Catholic football team beat Beaver Falls 35-12 to win the WPIAL 2A Championship game at Heinz Field.
"This was his staff," Childs said. "Bill hired Coach (Jose) Regus and his staff to coach our team and to turn the program back around."
Cleary was on the sidelines the last time Serra Catholic made the WPIAL championships, back in 2007, when the Eagles beat Springdale 10-6.
That was good, but this time was really special, Cleary said.
"Mr. Childs had me give the players their gold medals after the game, and it was just a great feeling," he said. "I was really proud of everyone. These guys deserved it."
In addition to serving as athletic director and teaching several subjects, including health and physical education, Cleary also was head coach of the girls' basketball team, compiling a comprehensive record of 657 wins and 196 losses.
Cleary is currently one of only four WPIAL girls coaches to accumulate at least 600 wins. Last season, under Cleary, the Lady Eagles had their first-ever undefeated season.
His coaching record included four WPIAL titles, one state championship and 18 section titles. Cleary's teams also qualified for the playoffs 33 times with 10 appearances in the WPIAL finals.
"For all of his 41 years Bill represented our school exceptionally well," said Timothy Chirdon, Serra Catholic's current principal and a co-worker of Cleary's for 20 years. "He was always willing and able to add new programs and under his leadership our athletic program has excelled in multiple sports."
One talent that impressed co-workers was Cleary's ability to remember names — not just of current students, but of alumni.
"He taught health and physical education for many years and throughout the year he would potentially have interactions with every single kid in the school," Childs said. "Some teachers may only see 60 or 80 different students depending on scheduling, but Mr. Cleary was able to make an impact on all of them."
Childs, who shadowed Cleary during his last year at Serra in preparation to take over as athletic director, said he got to see the impact that Cleary made on the school and the students firsthand.
"Bill always had a saying, when things would be tough, or we would need to improvise or improve on something, he'd say, 'it's for the kids,'" Childs said. "Some people just say 'it's for the kids,' but when Bill said it, he really meant it."
The gymnasium was officially dedicated on Dec. 11 of this year prior to the first varsity basketball game. The faculty announced the news to Cleary at a school picnic earlier in the year.
"He was truly honored," said Childs. I think he really appreciated it and I know it was just a really special moment for him."
Childs said that in many ways, Cleary served as the "face of the school."
"As administrators, faculty, students, and staff came and went, Mr. Cleary was the one constant," he said. "His interactions with faculty, students and alumni were always pleasant and kind-hearted. These traits, along with his generous giving of his time, will be remembered the most."
That makes naming the school's gymnasium after Cleary most appropriate, Childs said.
"I haven't really thought much about the longevity of it but that is definitely humbling," said Cleary. "And again it's just really overwhelming to think about my name being there forever. I'm just really appreciative for everything."
---
Jason A. Mignanelli is a freelance writer from Pittsburgh's North Hills and a student at Duquesne University. He may be reached at mignanellij@duq.edu.
Originally published December 23, 2021.
In other news:
"One Injured in Duques…" || "Most Kane Residents, …"