11-18-2021 to 12-18-2021
To place your ad, email tubecitytiger@gmail.com. Ads start at $1 per day, minimum seven days.
2022 budget to be voted on Jan. 17
By Sarah Turnbull
The Tube City Almanac
January 04, 2022
Posted in: White Oak News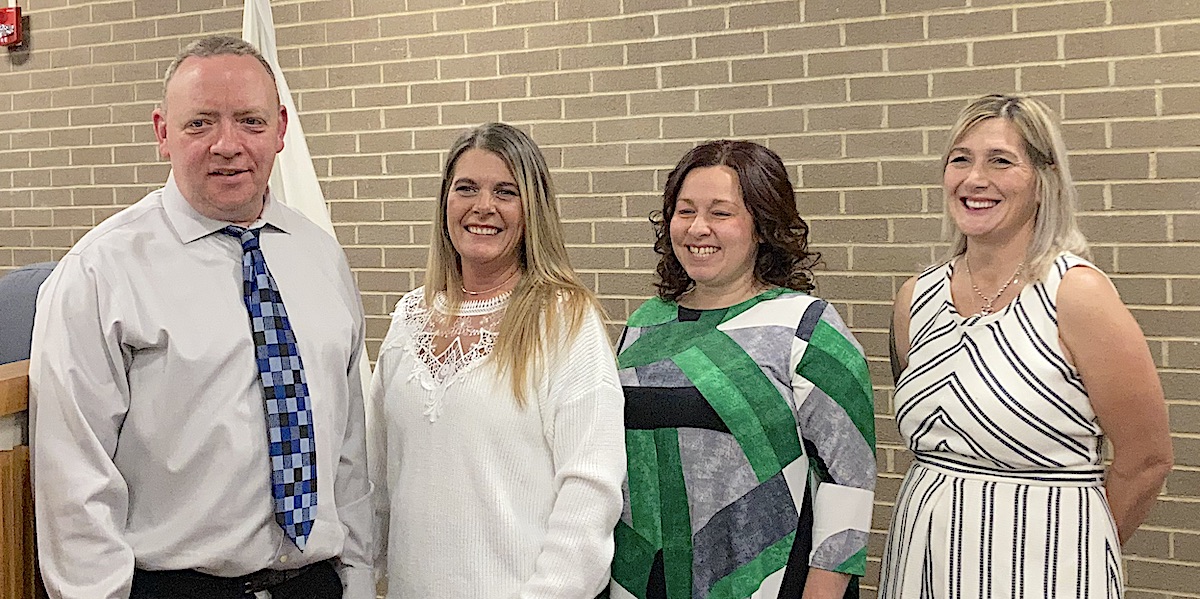 Members of White Oak borough council taking the oath Monday included Council Members Jason Russell, Joelle Harbert, Loree Scharritter and returning Council Member Julie Opferman. (Sarah Turnbull for Tube City Almanac)
---
The borough of White Oak swore in members of council, mayor and tax collector at Monday's reorganizational meeting.

Magisterial District Judge Thomas G. Miller administered the Oath of Office for Council Members Joelle Harbert, Julie Opferman, Jason Russell and Loree Scharriter; Mayor Ina Jean Marton, and tax collector Lisa Pitchford.

"People who get involved in municipal government are usually involved in other activities," Miller said. "I think you will all do a very good job."
Council elected Council Members Charles Davis as president of the board, Louis Bender as vice president and Julie Opferman as president pro-tem.

Council unanimously passed resolutions:
• Disbanding the Hazard Mitigation Committee and the appointments to the West-to-West Coalition, which no longer exists;
• Appointing John Palyo, Jason Russell and Charles Davis to the Allegheny County Southeast Tax Collection Committee;
• Appointing Julie Opferman and Charles Davis to the South Hills Area Council of Governments Franchising Authority Board; and
• Appointing Julie Opferman and Charles Davis to the South Hills Area Council of Governments Joint Rate Review Board.
By 6-1 vote, council adopted a resolution to approve the 2022 budget at the Jan. 17 council meeting. Council Member George Pambacas voted no. "It's the same budget we reviewed as last month," he said.

Other appointments include:
• WOEMS Council Representative – Jason Russell
• Steel Rivers COG – George Pambacas, Julie Opferman
• White Oak Athletic Association Council Representatives to the Board – Loree Scharritter, Joelle Harbert, George Pambacas
• Carnegie Library of McKeesport Board – Ina Marton, Jason Russell
• Allegheny League of Municipalities/Boroughs Association – Ina Marton, Charles Davis
• Tri-COG Land Bank – George Pambacas, John Palyo
The next council workshop meeting will be held at 6:45 p.m. Jan. 10 at the borough building. Members of the public are welcome.
---
Sarah Turnbull is a freelance writer in Irwin. She can be reached at sarahturnbull323@gmail.com.
Originally published January 04, 2022.
In other news:
"Council Members, City…" || "Davis Officially Anno…"