11-18-2021 to 12-18-2021
To place your ad, email tubecitytiger@gmail.com. Ads start at $1 per day, minimum seven days.
McKeesport representative will keep seat, has Shapiro's endorsement
By Jason Togyer
The Tube City Almanac
January 04, 2022
Posted in: Politics & Elections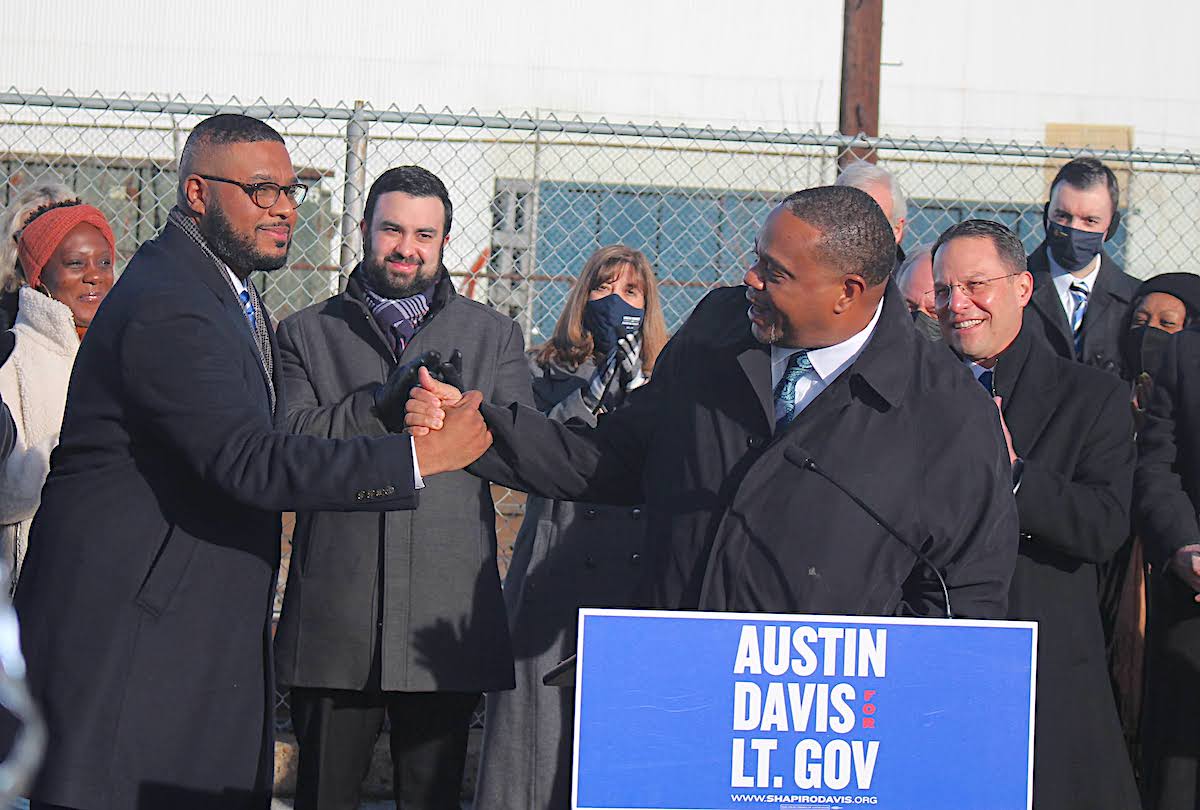 State Rep. Austin Davis of McKeesport is congratulated by Pittsburgh Mayor Ed Gainey on Tuesday morning. Davis announced plans to run for lieutenant governor of Pennsylvania at Kennedy Park, Downtown. (Tube City Almanac photo)
---
State Rep. Austin Davis on Tuesday officially kicked off his bid to become Pennsylvania's next lieutenant governor.
The 32-year-old McKeesport Democrat said he was running to send a message "to those who say our state and our country is too divided to repair."
"To those who say our best days are behind us, that we are no longer a beacon of hope and opportunity, I offer myself and my story as proof to the contrary," said Davis, standing next to the statue of John F. Kennedy along Lysle Boulevard, near the site where the former president gave a speech in 1962.
Davis was joined by Pennsylvania Attorney General Josh Shapiro, who is running for the Democratic nomination for governor. Shapiro had told KDKA-TV in December he wanted Davis to be his running mate.
---
Other local officials who were with Davis for the announcement included state Sen. Jim Brewster, Allegheny County Executive Rich Fitzgerald, Pittsburgh Mayor Ed Gainey and U.S. Rep. Mike Doyle.
If elected, Davis would succeed another Mon Valley resident — Lt. Gov. John Fetterman, who is running for the Democratic nomination for the U.S. Senate, was previously mayor of Braddock Borough.
Following the event, Davis said he also will be a candidate in the May primary to retain his 35th Legislative District seat. He said he intends to continue serving as a state representative while he seeks the lieutenant governorship.
If Davis wins the nomination in May and the election in November, he would be required to resign the state house position, and a special election would be called to fill the seat.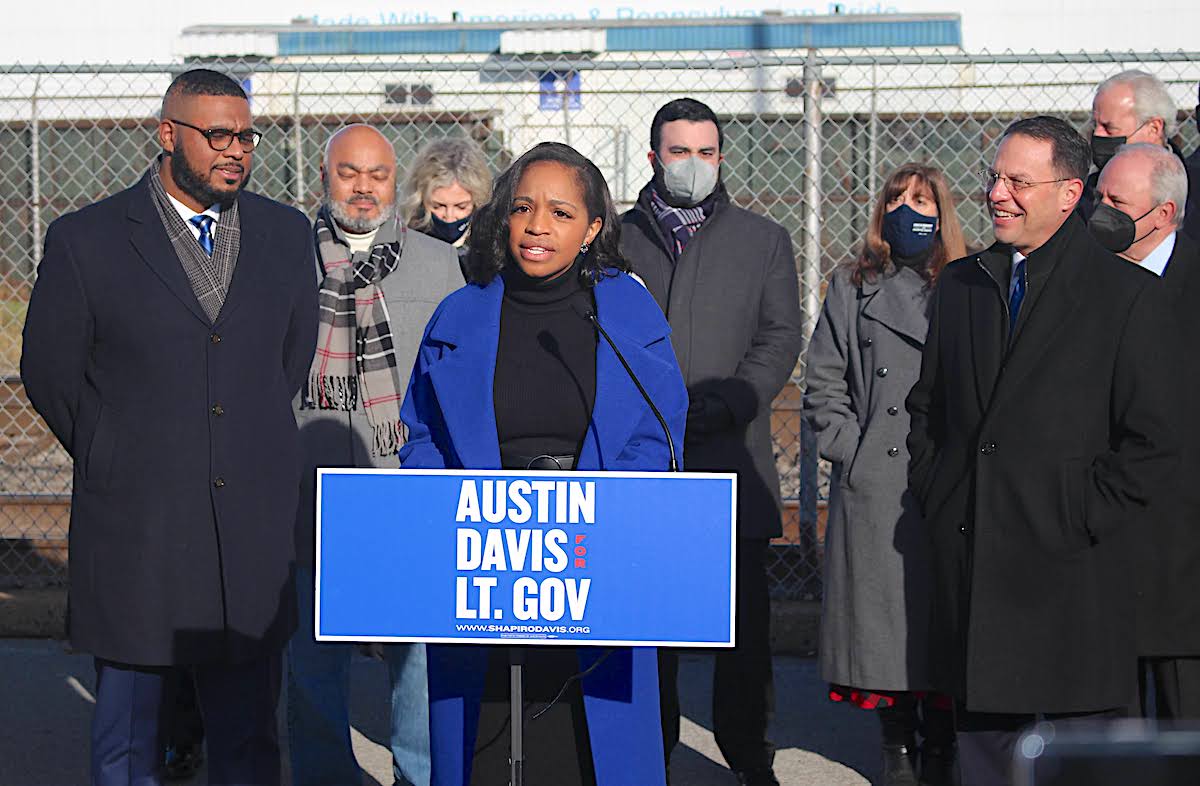 Blayre Holmes Davis, wife of state Rep. Austin Davis, introduced Tuesday's event. (Tube City Almanac photo)
---
Davis and the other speakers were introduced by his wife of more than four years, Blayre Holmes, who said "the man I fell in love with is a fighter."
"I've seen first-hand how my husband has fought for people in Western Pennsylvania," she said, adding that Davis listens to his constituents and "takes action" on their behalf.
A graduate of the University of Pittsburgh, Davis took office in 2018, following a special election to replace former state Rep. Marc Gergely of White Oak.
"Pennsylvanians want leaders who care about families like theirs, and understand the problems that keep them up at night," Davis said. "They want leaders to approach challenges with compassion and empathy — leaders concerned with standing up for the well-being of the working class, not the well-to-do and the well-connected.
"I know there's still so much we can do and we must do for the future of our children, for the working women and men of our commonwealth, and for all those who for far too long have felt overlooked or left behind," he said.
---
Several speakers recalled Davis' youth in McKeesport, where his mother was a hairdresser and his father worked for Port Authority Transit. As a student at McKeesport Area High School, Davis chaired a youth advisory council created by then-Mayor Jim Brewster. He later interned at the state General Assembly.
Upon graduation from Pitt, Davis became executive assistant to Fitzgerald and in 2014 was elected the first Black vice-chair of the county's Democratic Committee.
Fitzgerald compared Davis to Pitt Panthers quarterback Kenny Pickett, who is the subject of intense interest from professional football teams.
"I remember when (Davis) was the hot young draft pick coming out of Pitt," Fitzgerald said.
---
Davis currently chairs the Allegheny County Democratic delegation in the state house. Most of that delegation attended Tuesday's event, including state Reps. Brandon Markosek of Monroeville and Nick Pisciottano of West Mifflin.
Gainey, who was sworn into office as Pittsburgh's first Black mayor on Monday, previously served in the state House alongside Davis.
"Before you can be a great politician, you have to be a great community leader," Gainey said. "Austin has been a great community leader from the beginning. One thing I know about McKeesport, Austin loves this district and I know how tirelessly he's worked to improve this district."
In addition to McKeesport, the 35th District also includes Clairton, Duquesne, Lincoln Borough, Munhall, South Versailles Twp. (Coulter), Versailles, parts of West Mifflin, Whitaker and White Oak.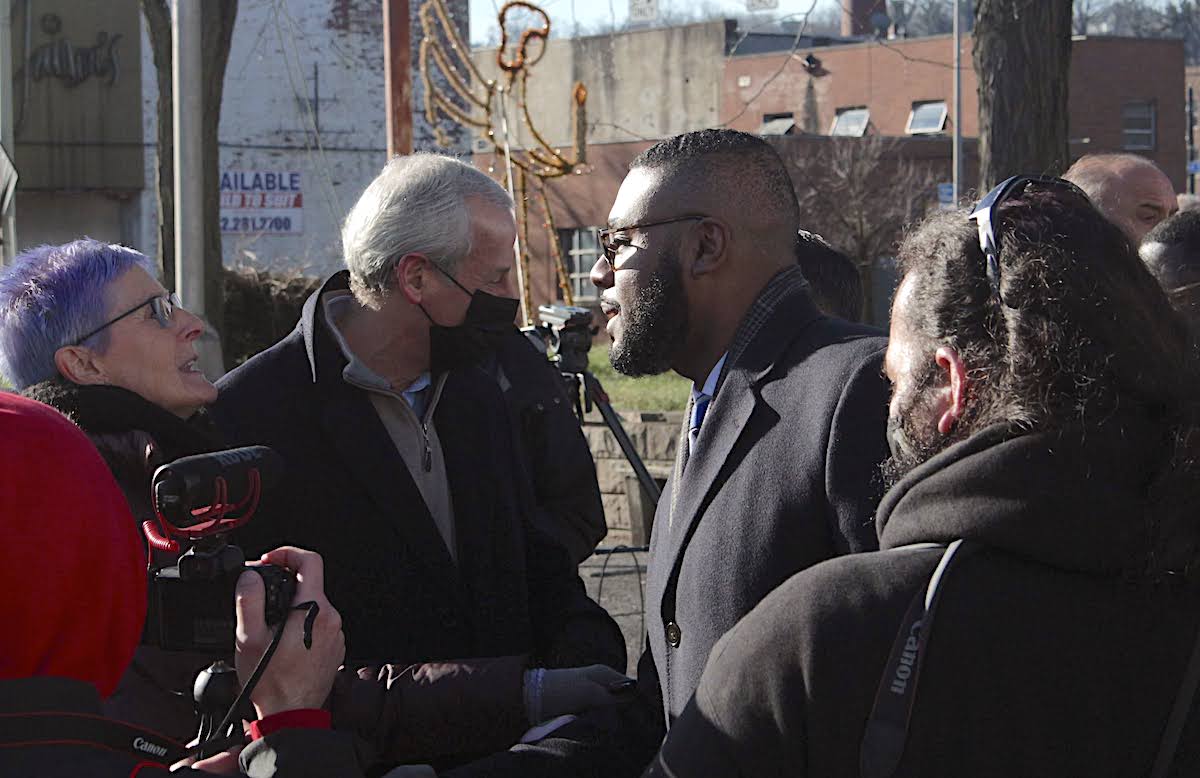 State Rep. Austin Davis greets supporters and the media following Tuesday's announcement. (Tube City Almanac photo)
---
Since taking office as attorney general, Shapiro has pursued several high-profile investigations, including sexual abuse allegations in the Roman Catholic Church, corruption probes involving two Democratic state legislators, and unfair business practices by so-called "rent-to-own" landlords.
If elected governor, Shapiro said, "I want to make government more responsive to the needs of people and more reflective of the people that I will be sworn to serve. I want to shake things up, bring people together to get things done, and take on those big fights.
"To do that, I need a lieutenant governor by my side who will be an effective, capable voice on day one," Shapiro said, adding that was why he decided to endorse Davis.
---
Shapiro's decision to endorse Davis before the primary has been called unusual by some longtime Pennsylvania political observers.
In Pennsylvania, primary voters select a governor and lieutenant governor separately, and the candidates do not run as a team until the general election in November.
State Rep. Brian Sims of Philadelphia is also a candidate for the Democratic nomination for lieutenant governor.
The Philadelphia Inquirer on Tuesday quoted one of Sims' supporters as saying Shapiro "hijacked" the race by endorsing Davis.
Political analysts have said that Shapiro — the only statewide Democratic official to win re-election in 2020 — has "cleared the field" of most other prominent challengers in the May primary.
More than a dozen candidates have declared their intent to run for the Republican nomination for governor, including former U.S. Rep. Lou Barletta of Hazelton, state Sen. Jake Corman of Bellefonte, state Sen. Scott Martin of Lancaster and former U.S. Attorney William McSwain of Philadelphia.
Originally published January 04, 2022.
In other news:
"W.O. Swears in New Co…" || "Holiday Displays Brin…"