(Advertisement)
Tube City Community Media Inc. is seeking freelance writers to help cover city council, news and feature stories in McKeesport, Duquesne, White Oak and the neighboring communities. High school and college students seeking work experience are encouraged to apply; we are willing to work with students who need credit toward class assignments. Please send cover letter, resume, two writing samples and the name of a reference (an employer, supervisor, teacher, etc. -- not a relative) to tubecitytiger@gmail.com. (4-11-2023 to 4-30-2023)
To place your ad, email tubecitytiger@gmail.com.
Ads start at $1 per day, minimum seven days.
Play marks first youth production since pandemic's start
By Bonnijean Cooney Adams
The Tube City Almanac
January 11, 2022
Posted in: Entertainment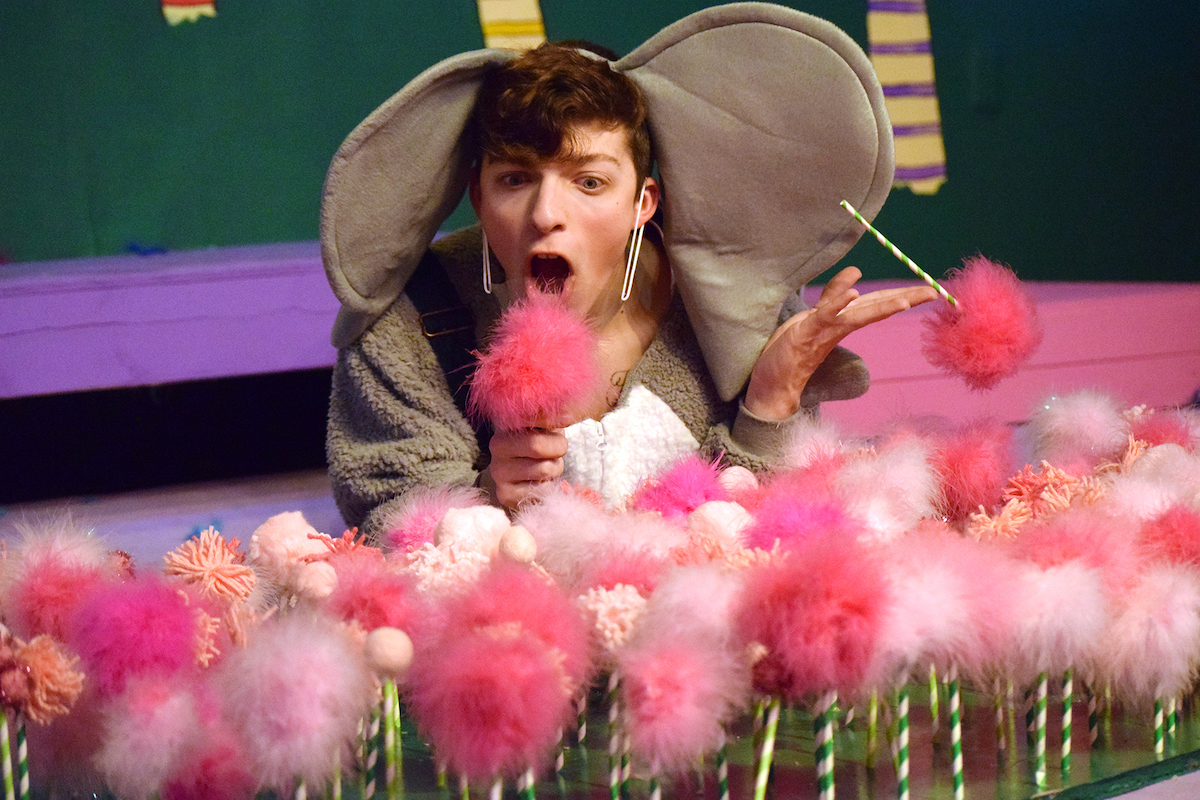 Dylan Stramaski plays Horton in the MLT Juniors' production of "Seussical." The show opens this Friday. (Submitted photo courtesy Jennifer R. Vertullo, McKeesport Little Theater)
If you go...

MLT Juniors present "Seussical"

Where: McKeesport Little Theater
1614 Coursin St.
www.mckeesportlittletheater.com

When: Friday, Jan. 14 at 7:30 p.m.; Saturday, Jan. 15 at 7:30 p.m., and Sunday, Jan. 16 at 2 p.m., with a special Thursday show at 7:30 p.m. on Jan. 20, then Friday, Jan. 21 at 7:30 p.m., and Sunday, Jan. 23 at 2 p.m.

Tickets: 412-673-1100 or at mckeesportlittletheater.com
Bright sets and colorful costumes reflect the enthusiasm of young actors — veterans and newcomers alike — as they take the stage for McKeesport Little Theater Juniors' production of "Seussical," which opens Friday, Jan. 14 at 7:30 p.m.
Although adult productions have resumed, this is the first time the Juniors have performed as a group since their 2020 show, "Into the Woods."
The family-friendly show features familiar Dr. Seuss characters as the Cat in the Hat (Jonah Higdon) narrates the tale of Horton the Elephant (Dylan Stramaski), and his adventures as he tries to save a population of tiny Who people living in a speck of dust on a clover.
Lori Stramaski and Amy Majewski teamed up to co-produce "Seussical," under the leadership of Dorothy Fallows as director. Their children, Dylan and Kaitlyn, senior members of the Juniors, not only have lead roles, but took on the task of choreographing the show.
"I have been involved with the Juniors program for several productions," Lori Stramaski said. "I got involved in 'Seussical' because it's a big production and I wanted to help out, but I didn't want to do it on my own, so I'm co-producing with Amy. It's a plus that my son is in the show."
Lori Stramaski also co-produced MLT's mainstage production of "Dracula" recently.
Amy Majewski said Kaitlyn, now in 11th grade, has been with the Juniors since she was in fifth grade, and her parent involvement has increased each year.
"Dorothy asked if I would want to help out more and take on producing with Lori," Amy Majewski said. "I've known Lori since my daughter first started, and we always worked well together, so I figured why not?
"I had never seen 'Seussical' before, so we went together to see a local production of it to get a feel for the story," she said. "The songs are so catchy and it's becoming a favorite of mine."
Amy Majewski extended her family involvement by recruiting her husband and niece.
"I pulled in my husband Adam to help build most of the set and props," she said. "I got my niece, Emily Scott, to paint the background scenery and most of the props that are being used."
Kaitlyn Majewski, who plays the goodhearted Gertrude McFuzz, and Dylan Stramaski have had their hands more than full with preparing for the show.
Both said, going into auditions, they thought they wanted other roles, but are pleased with their characters and that they are sharing choreographing.
"Initially, I thought I wanted to be Mayzie (a bird who convinces Horton to sit on the egg in her nest while she goes off on vacation), but then I saw the show and decided I'd rather be Gertrude," she said.
She said her favorite part is near the end, during "All for You," which she describes as "comedic and energetic."
She has been dancing since she was 3, so Kaitlyn Majewski said when she was approached to choreograph the musical, she readily agreed, but also was glad when Dylan Stramaski stepped forward – with permission from Fallows and their mom co-producers – to assist.
Dylan Stramaski, who is a student at Lincoln Park Performing Arts Charter School, said he has dance experience from his classes there. He said he and Kaitlyn Majewski decided to split the cast for some of the numbers – with him working with the performers from the Jungle of Nool, while she worked with the younger ones who generally portray Whos. They coordinated efforts for whole cast dance numbers.
Dylan Stramaski said he initially was interested in playing the Cat in the Hat narrator, while Jonah Higdon, who was cast as the Cat, said he was leaning toward Horton instead. Both changed their minds as they learned more about the characters.
"In my mind, I wanted Horton, but also prepared for the Cat, just in case," Dylan Stramaski said. "I'm so happy I got Horton now."
He said he's learned a lot about time management through the show, having to learn all his lines, the songs, and come up with choreography while performing in "Newsies" at his school.
Higdon said although he was interested in Horton, he's more of a comedy man, so the Cat seemed more in character for him. He also had not seen "Seussical" before.
Higdon said learning all his lines was his biggest challenge, especially since he missed a week of rehearsals over Christmas while he fulfilled obligations in the ROTC program.
"Then I got caught up and have been just having fun with all the people I've known (in Juniors) and all the new people involved," he said.
"I'm just going a little wild," Higdon said, adding his favorite part of the show is when Horton is on trial before Judge Yertle the Turtle.
There are even more family ties. As the show begins, a young boy named JoJo (Zeke Tavaglione) stumbles upon the Cat's striped hat, and the feline begins his narrative.
Zeke's sister Autumn Tavaglione portrays Mrs. Mayor, the first lady of Whoville, home of the microscopic Whos.
Although young in age, this is Zeke Tavaglione's third Juniors' production, and he said he decided to audition with a song from "Into the Woods."
"My sister was doing it, so I decided to do it, too," he said, explaining he was interested in any part and had not focused on JoJo. He said learning all the lines was his most challenging part.
The co-producers said there have been many challenges in making "Suessical" happen.
"Our biggest challenge would be we have a lot of new kids to the theater who have never done a show before," Lori Stramaski said. "This is definitely a teaching program. Then with Covid, we have had a lot of kids missing rehearsals due to exposure and then quarantine."
"Like Lori said, we have a lot of new, young kids that have never done a show before," Amy Majewski said. "It's amazing how much they picked up in just a few months. The cast is great. It's fun watching such a wide range of children work together."
"We have a great group of kids this year," Lori Stramaski agreed. "They all seem to be having fun."

Bonnijean Cooney Adams is a freelance contributor. She can be reached at adamsclick@aol.com.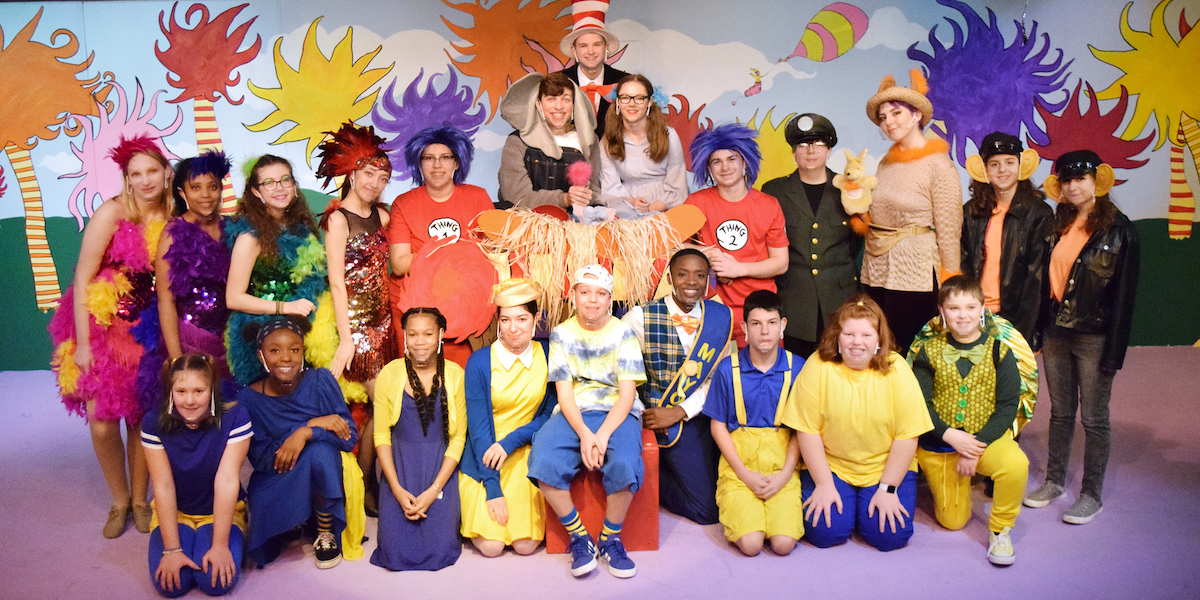 Cast of "Seussical." (Submitted photo courtesy Jennifer R. Vertullo, McKeesport Little Theater)
Cast, in order of appearance:
JoJo — Zeke Tavaglione
The Cat in the Hat — Jonah Higdon
Horton the Elephant — Dylan Stramaski
Mr. Mayor — NyJair Wilkerson
Mrs. Mayor — Autumn Tavaglione
Gertrude McFuzz — Kaitlyn Majewski
Mayzie LaBird — Katie Hall
The Sour Kangaroo — Tika Gill
General Genghis Kahn Schmitz — Colleen Boatright
Bird Girls — Julia Rae Jackson, Abi Weiss, and Tiara DeFrances
Wickersham Brothers — Margaret Ace Valentine and Magdalena Koisor
Thing 1 -– Lauren Maneer
Thing 2 –- Emmet Chesleigh
Grinch — Dakota Vargo
Vlad Vladikoff –- Savannah Vargos
Yertle the Turtle — Lucas Alexa
The Whos (ensemble) — Dakota Vargo, Elin Nowading, Kendayl Howard, Lucas Alexa, Savannah Vargo, and Za'Niya Foster
Crew
Director – Dorothy Fallows
Music Director – George Pecoraro
Executive Producer – Jan Gerber
Producers – Lori Stramaski and Amy Majewski
Stage Manager – Lauren Maneer
Choreographers – Kaitlyn Majewski and Dylan Stramaski
Originally published January 11, 2022.
In other news:
"Local Resources Avail…" || "Dravosburg Sewer Line…"