(Advertisement)
Tube City Community Media Inc. is seeking freelance writers to help cover city council, news and feature stories in McKeesport, Duquesne, White Oak and the neighboring communities. High school and college students seeking work experience are encouraged to apply; we are willing to work with students who need credit toward class assignments. Please send cover letter, resume, two writing samples and the name of a reference (an employer, supervisor, teacher, etc. -- not a relative) to tubecitytiger@gmail.com. (4-11-2023 to 4-30-2023)
To place your ad, email tubecitytiger@gmail.com.
Ads start at $1 per day, minimum seven days.
ACLU says Allegheny County's rate of student arrests is much higher than state average
By Emily Scott © Public News Service
The Tube City Almanac
January 28, 2022
Posted in: Crime and Police News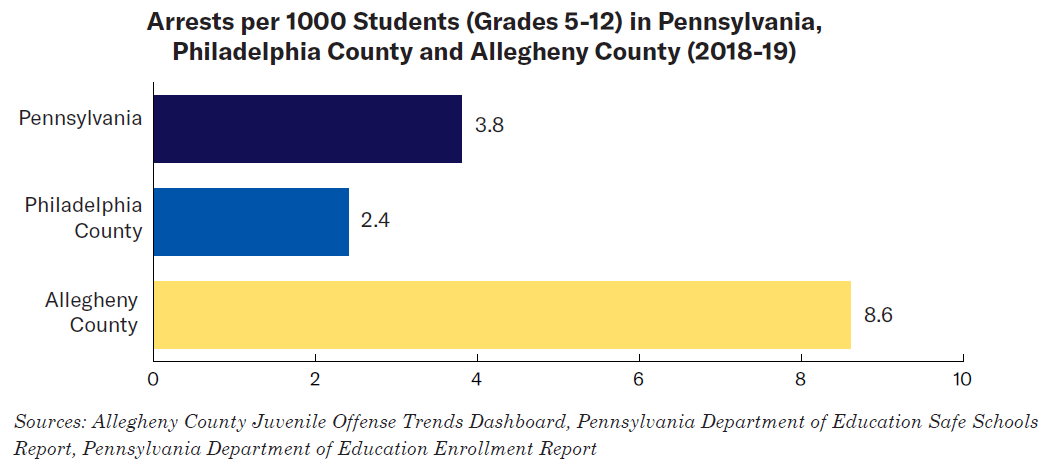 (Graphic: ACLU of Pennsylvania)
---
Keeping track of student arrests and law enforcement referrals is a key tool for transparency and accountability within schools, but a new report found some Pennsylvania schools have regularly underreported data on student arrests.

Analysis by the ACLU of Pennsylvania showed Allegheny County public schools underreported student arrests by 83 percent in the 2017-2018 school year — including Pittsburgh Public Schools, which reported no arrests.
Ghadah Makoshi, community advocate for the ACLU of Pennsylvania, said misrepresentation erodes trust in the education system.
The same report also called Allegheny County a hot-spot for students being arrested by police, with local youth being far more likely to be referred to police than students in either Philadelphia or Pennsylvania as a whole.
In addition, the infractions for which students were arrested in Allegheny County are often relatively minor. The report found that Black male students and students with disabilities were at greatest risk for arrest or referral to law enforcement.
"It also impacts all their peers. It impacts the adults," Makoshi said. "It changes the environment, the dynamics, that is happening in that school. And then, when you take that even further, it impacts the community if that student drops out, if they're no longer engaged. It is a greater city/community issue."
In Pittsburgh Public Schools, juvenile justice system data show 499 student arrests during the 2018-19 school year. District officials did not immediately respond to a request from Public News Service for comment.
Allegheny County's Black public-school students were arrested at nearly nine times the rate of white students during the 2018-2019 school year, a difference higher than the national average, the report said.
Makoshi said one of the ACLU's recommendations is that police should not be involved in ordinary, everyday school discipline.
"The other thing that happens when police get involved is that things tend to escalate," Makoshi said. "Police should only be involved, one, when it's mandated by the state — and there are specific infractions where police must be notified and must be involved — or [two], when there's a health-and-safety emergency."
Other recommendations in the report include reinvesting funds for police into student resources such as school psychologists, nurses, counselors and social workers.
According to the report, minor offenses and drug charges accounted for nearly half of all public-school arrests in Allegheny County. The vast majority of the drug charges — 90 percent — were for possession of a small amount of marijuana.
The ACLU ranked districts by the number of arrests that were made per 1,000 students.
Overall, Allegheny County reported a student arrest rate of 8.6 out of 1,000 students in grades 5 through 12, versus 2.4 per 1,000 students statewide, and 3.8 in Philadelphia.
The survey ranked South Allegheny third overall in the arrest rate across Allegheny County, with 17 arrests in grades 5 through 12 during the 2018-19 school year. Only Sto-Rox School District — with an arrest rate of 42 percent — and Pittsburgh Public Schools (29.45 percent) ranked higher.
Among other Mon-Yough area school districts, Clairton reported six arrests in 2018-19, Steel Valley reported 10, West Mifflin Area and McKeesport Area each reported 13, East Allegheny reported four, and Elizabeth-Forward reported two. Duquesne City School District reported no arrests.
Although no charter schools reported arrests, the ACLU said an analysis of data cross-checked with other databases indicated that some of the arrests were indeed made at charter schools.
---
Emily Scott is a reporter and producer in Philadelphia for Public News Service, where this story first appeared. She previously worked at WHYY, Philadelphia's NPR station and is a 2018 graduate of Temple University and the Salt Institute for Documentary Studies. Jason Togyer, editor of Tube City Almanac, contributed to this report.

Originally published January 28, 2022.
In other news:
"Parents Tell Board of…" || "Duquesne Mayor Hopes …"