(Advertisement)
Tube City Community Media Inc. is seeking freelance writers to help cover city council, news and feature stories in McKeesport, Duquesne, White Oak and the neighboring communities. High school and college students seeking work experience are encouraged to apply; we are willing to work with students who need credit toward class assignments. Please send cover letter, resume, two writing samples and the name of a reference (an employer, supervisor, teacher, etc. -- not a relative) to tubecitytiger@gmail.com. (4-11-2023 to 4-30-2023)
To place your ad, email tubecitytiger@gmail.com.
Ads start at $1 per day, minimum seven days.
Adams says support of friends, family encouraged him to run
By Matt Germaine
The Tube City Almanac
January 30, 2022
Posted in: Duquesne News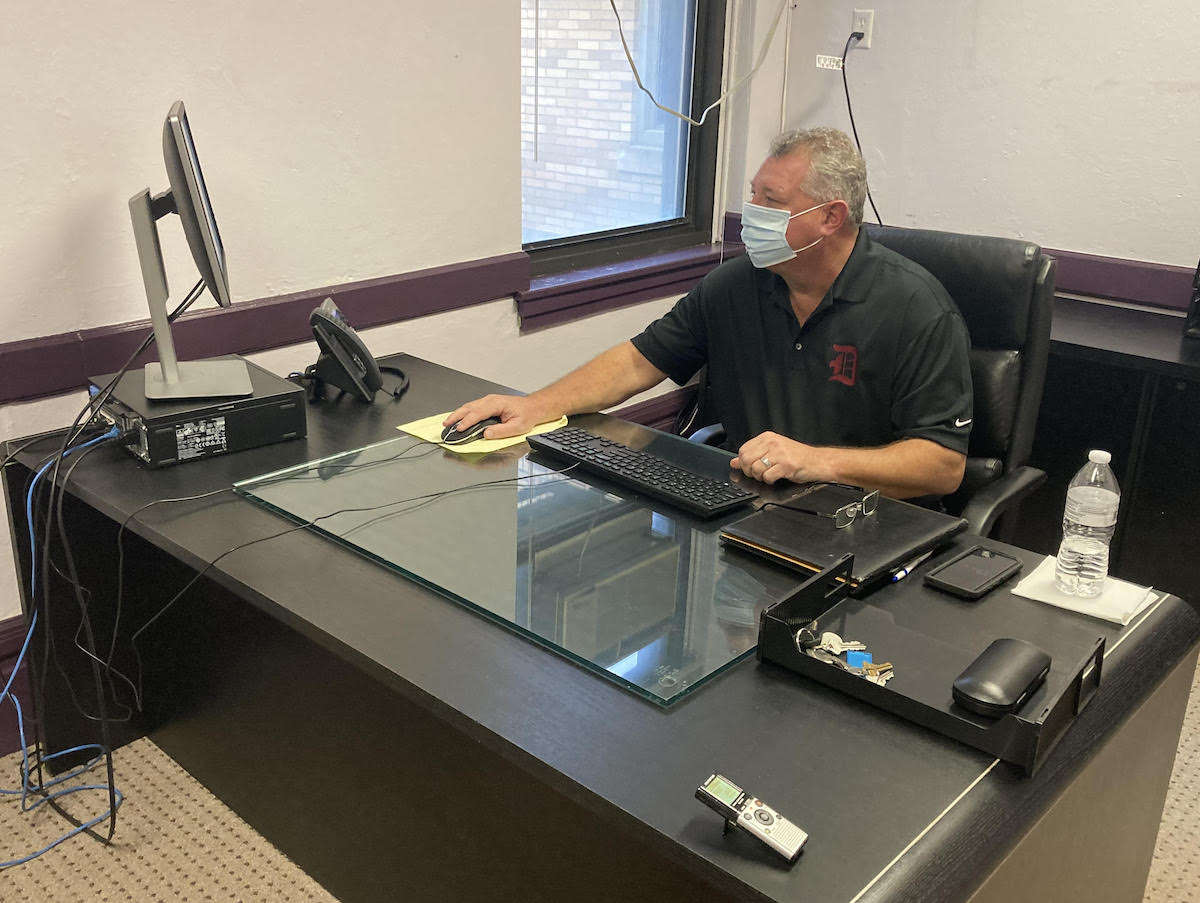 "All I ask for is a chance," says Duquesne's new mayor, R. Scott Adams. (Matt Germaine photo for Tube City Almanac)
---
Duquesne's new mayor ran for office with the support of his family and friends, and a goal of trying to "make a difference" in his hometown.
R. Scott Adams, former police chief and council member, was sworn in earlier this month. He replaced former Mayor Nickole Nesby after defeating her in the Democratic primary in 2021.
Adams ran on a platform that stressed financial stability, safety, and the collection of delinquent taxes. The same issues originally inspired him to enter politics when a city council seat opened in 2019.
"With the support of my family, I said I'll run for mayor and give it a chance because I didn't want to be one of those people that say 'what if?'" Adams said. "Maybe I can make a difference here and make change."
Nesby was elected in 2017 as both the first woman mayor and first Black mayor of the city of 5,200 residents, but her relationship with city council grew contentious. Council censured her in January 2021.
One of Adams' top priorities is to collect nearly $80,000 worth of delinquent water bills and real estate taxes.
The delinquencies have in part been caused by the COVID-19 pandemic. "When you hear that figure, $80,000, it gets a little alarming," Adams said. "But if you look at each individual account, there's maybe $150, $95, $175, $200. Those individual bills can be collected and paid."
When he joined city council in June 2019, Adams said there was a policy in place so that customers didn't have to pay their full bill as long as the charges fell within a $75 threshold. During his time on council, the buffer was removed, and delinquencies started going down, but then the COVID-19 pandemic hit.
"How could we rightfully terminate people's water during the pandemic?" Adams said. "You couldn't do that to people."
But, he said, the city can't continue to carry delinquent bills indefinitely.
"We have to take care of our house first," he said. "We're going to go out there and get as much as we can to make sure we have our money in our coffers to take care of our employees, our departments, and our citizens."
Adams is the son of former Duquesne police Chief Richard "Lefty" Adams, who retired in 2016 after a 51-year career with the police department. The younger Adams, who had himself been serving in the force since 1988, succeeded his father in the chief role, retired in 2018, and has since worked in private security.
A business and management graduate of Bethany College in West Virginia, Adams said he didn't initially plan to work in law enforcement. Rather, his father encouraged him to take the department's police officer exam because he thought his son would do well in the role.
"He kept asking me and asking me," Adams said. "Finally, I said that I'd just take the test, to appease him. Low and behold, I scored number three."
When a position opened six months later, the department offered a job to Adams.
"He was very dedicated, a hard-working individual," said Brenda Sawyer, a retired McKeesport police officer and regional director of the State Attorney General's Office Bureau of Narcotics Investigation and Drug Control. "He was very detail-oriented, he took his job very seriously."
Sawyer collaborated with Adams on various drug investigation projects over a 25-year period.
"If he works as the mayor of the city of Duquesne like he did when he worked on drug investigations, I think [citizens] are in a good position," Sawyer said.
Jaison Mikelonis, a detective with the Allegheny County police department's narcotics unit, said he first met Adams when they worked together during an undercover drug investigation in summer 2006.
"One thing about Scott and his family is that they're proud of where they come from, and they want Duquesne to prosper and do better," said Mikelonis. "Scott wants to change the face of Duquesne and help the town come back to life. I think he's the right person for the job."
He described Adams as "a fair guy, an honest guy," who was less concerned with taking credit than with working together for a common goal.
"All through his ranks, [Adams] was a team player," Mikeolonis said.
Sawyer agreed, and said she wishes Adams "the best of luck."
"I know that's a pretty big path that he has ahead of him," she said.
One of the aspects of Duquesne that Adams wants to change is the Grant Avenue business corridor. He said a top priority is attracting a grocery store to the area. A Save-a-Lot store on Duquesne Boulevard closed in 2020.
"We'll be meeting with some people very shortly about putting a grocery store back in there," Adams said. "Nothing solid yet, just a preliminary meeting."
Adams said Amazon also has been in touch with the city about possible properties.
Other projects on the agenda include water infrastructure upgrades, fire hydrant replacements and a complete overhaul of the water department's pump station. The city is also purchasing a new snow plow truck.
Demolishing vacant, blighted homes is another top priority, he said. In addition, Adams said, city officials will hold a public meeting soon to answer questions about the Mon-Fayette Expressway.
The next council meeting is on Feb. 15, and will be conducted via Zoom. The streaming processes for council meetings will be smoother in the coming months, Adams said.
Although Adams predicts that he will be a one-term mayor — "because I'll be 64 at the end of this term, God-willing" — he hopes that when he leaves office, the city's services and appearance have both improved.
"I would like to see homes torn down that need to be torn down. I would like to see people take care of their properties a little better," he said.
Adams said many other candidates in the mayoral race would have been good mayors, and he acknowledged citizens who may not have voted for him.
"I'm sure there's numerous people out there that don't really care for me," he said. "But those people are still citizens, and I'll do my best for the citizens of Duquesne. All I ask for is a chance."
---
Matthew Germaine is a software developer and freelance writer in Wilkinsburg. He has previously written for the Shepherd Higher Education Consortium on Poverty, AmeriCorps NCCC, and WGDR/WGDH radio. He may be reached at mgermaine93@gmail.com.

Originally published January 30, 2022.
In other news:
"Report: Some Schools …" || "Experts Urge Action t…"