By Submitted Report
The Tube City Almanac
June 02, 2022
Posted in: Announcements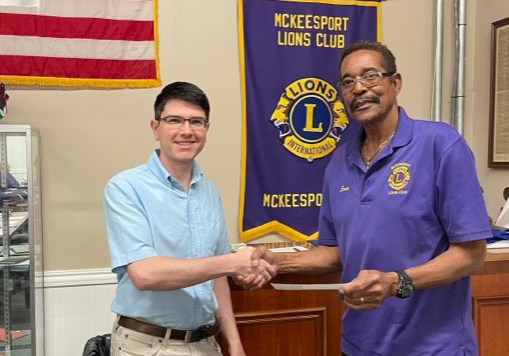 Vincent D'Alesio, director of Carnegie Library of McKeesport, accepts a $200 donation from Ernie Oatneal, president of the McKeesport Lions Club, during an event last week at McKees Point Cafe. (Submitted photo)
---
McKeesport Lions Club has made donations to seven local charities, many of them with vision-related missions.
A spokeswoman said $200 donations were made to Western Pennsylvania School for the Blind, Blind & Vision Rehabilitation Services of Pittsburgh, Leader Dogs for the Blind, Carnegie Free Library of McKeesport, Beacon Lodge Camp near Mt. Union, Lions Club International Foundation and Pennsylvania Lions Sight Conservation & Eye Research Foundation.
The money is excess generated from Lions Club activities over the past 12 months and each club is asked to donate any "profit" to other groups at the end of the Lions Club International year, the spokeswoman said.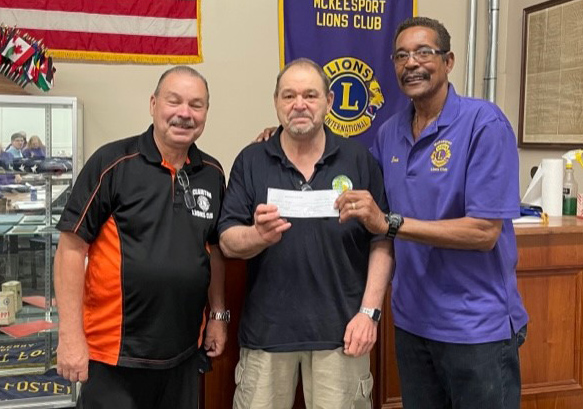 Representatives of Beacon Lodge with local Lions Club president Earnest Oatneal (submitted photo)
---
Lions Clubs have supported charities that help people with vision impairment since 1925, when disability activist Helen Keller challenged the organization's members to become "knights of the blind in the crusade against darkness."
In other news, at a meeting held at McKees Point Cafe, Earnest Oatneal was elected president of the McKeesport Lions Club for 2022-2023. All other officers continue in present roles.
The McKeesport club's recent activities have included decorating graves at McKeesport & Versailles Cemetery, helping with the city's annual Easter egg hunt, and supporting blood drives and meals-on-wheels. The club is currently getting ready for the summer concert series at Renziehausen Park.
During the summer months, meetings are held at the Lions Club Pavilion at Renzie Park before concerts on Sunday afternoons. Prospective members who are interested in joining the Lions are welcome, the spokeswoman said.
Originally published June 02, 2022.
In other news:
"West Newton Posts Upc…" || "Concert Saturday Set …"