(Advertisement)
McKeesport Housing Authority is opening the Section 8 waiting list
Housing Choice Voucher Program
The McKeesport Housing Authority will be accepting applications for the Housing Choice Voucher Program (Section 8) Waiting List.
When?
April 10, 2023, 8:30 AM @ 2901 Brownlee Ave. McKeesport, PA 15132.
NO APPLICATIONS WILL BE ACCEPTED BEFORE THE ABOVE POSTED TIMES.

APPLICATIONS WILL BE DATE AND TIME STAMPED UPON RECEIPT. APPLICATIONS CAN BE SUBMITTED IN PERSON, FAX 412-673-1706, EMAIL TO BBRAY@MCKHA.ORG.
You can download a blank copy of the application from www.mckha.org.
Where?
At www.mckha.org or any of the rental offices at Crawford Village, Harrison Village & McKeesport Towers

MULTIPLE APPLICATIONS WILL NOT BE ACCEPTED. PLEASE DO NOT CALL FOR YOUR STATUS —- NO INFORMATION WILL BE GIVEN OVER THE TELEPHONE. YOU WILL BE NOTIFIED VIA THE US MAIL. IT IS CRITICAL TO KEEP YOUR INFORMATION UPDATED WITH OUR OFFICE IF IT CHANGES. IF WE ARE UNABLE TO CONTACT YOU, YOU MAY BE REMOVED FROM THE WAITING LIST.
To place your ad, email tubecitytiger@gmail.com.
Ads start at $1 per day, minimum seven days.
By Bonnijean Cooney Adams
The Tube City Almanac
June 23, 2022
Posted in: Entertainment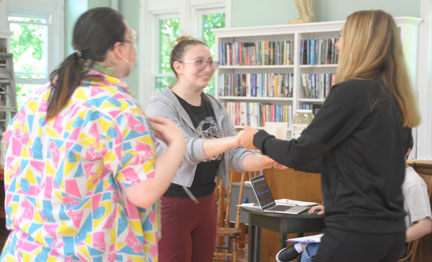 Some "Twelfth Night" cast members have more than one role. From left, assistant director Kinsley Beachler also portrays Feste and a priest, in a scene with Ella Mizera (Sebastian/Officer) and Madeline Sclichter (Olivia/Valentine). (Bonnijean Cooney Adams photo for Tube City Almanac)
If you go...

William Shakespeare's "Twelfth Night," presented by
Young Shakespeare Society of Pittsburgh

Where: McKeesport Little Theater, 1614 Coursin St.

When: Friday, June 24 and Saturday, June 25 at 7 p.m.; Sunday, June 26 at 2 p.m.

Tickets: General admission, $10, available through YSSP's website at https://youthshakespearepgh.org
One of William Shakespeare's classic comedies soon will grace the stage at McKeesport Little Theater, with several twists to definitely provide audiences with a different perspective.
Back in The Bard's day, Twelfth Night marked one last hurrah as the official end of the winter holidays on the twelfth night after Christmas.
Cast and crew of Young Shakespeare Society of Pittsburgh present their interpretation of "Twelfth Night" beginning Friday (June 24) and running through Sunday (June 26). There's definitely some partying going on, but with contemporary clothing for costumes befitting teen and college-age revelers.
YSSP was co-founded in 2019 by Theo Fantozzi and Ella Mizera, to provide teens and young adults with performing, directing and designing experience in Shakespeare productions.
"Twelfth Night" is the third show Fantozzi has directed for the group.
"We try to do a comedy in the summer and tragedy in the winter," Fantozzi said. "We select the plays that we feel can translate more to the youth environment. I have nothing against the literary approach, but these works are meant to be performed, not just studied as literature.
"Shakespeare has universal themes, very much relevant today. It's our job as performers and producers to explore that," he said.
He explained the organization conducts open casting, so everyone who auditions gets a role in the cast or crew – or both.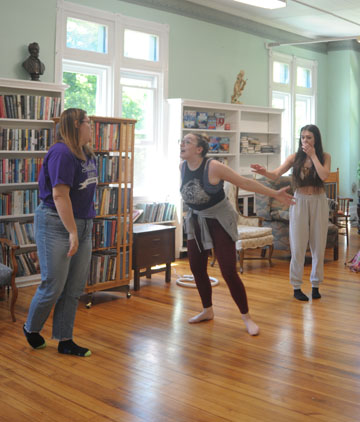 Before moving the production to the McKeesport Little Theater stage, Youth Shakespeare Society of Pittsburgh creatively utilized some rehearsal space at Glenshaw Public Library. From left are Ella Mizera, Kinsley Beachler, Sarah Galosi, and Rachel Scierka. (Bonnijean Cooney Adams photo for Tube City Almanac)
---
Assistant director Kinsley Beachler has been involved in all of YSSP's productions so far, in one capacity or another.
In March, she played the role of Helen, a real estate agent, in McKeesport Little Theater's production of "Exit the Body," the first time she had been in that venue.
She explained how YSSP ended up in McKeesport.
"This collaboration came about because we had been reaching out to possible performance venues with no luck," Beachler said. "Our previous performance space no longer holds events due to Covid, and I knew how kind the people at MLT are, so I reached out to them.
"We needed assistance paying, so we came upon the deal of splitting the house with them," she said. "They have been so kind and accommodating. It has been an honor working with them."
The group began rehearsing in May, at Glenshaw Public Library. Some of the actors had performed with YSSP before, or participated in other Shakespeare-related productions, while for others it was their first experience. Some are in middle school, while others are in college.
For those not familiar with the show, or who need a refresher, it follows twins – Viola and her brother Sebastian – who are separated during a shipwreck. Each assumes the other one is dead.
Sailors arrive and rescue Viola, played by Ella Craig, 16, in her first Shakespearean role, although she has been acting since she was 8.
Here's where all the deception and plot twists begin.
To make life easier, Viola decides it is best to disguise herself as a man named Cesario, and goes to work for Duke Orsino, played by Koby Polaski.
The duke has his eye on a certain young lady, and enlists Viola as Cesario to plead his case. Although that almost never works out, there are lots of comedic moments and cases of mistaken identity as the plot thickens and other storylines develop.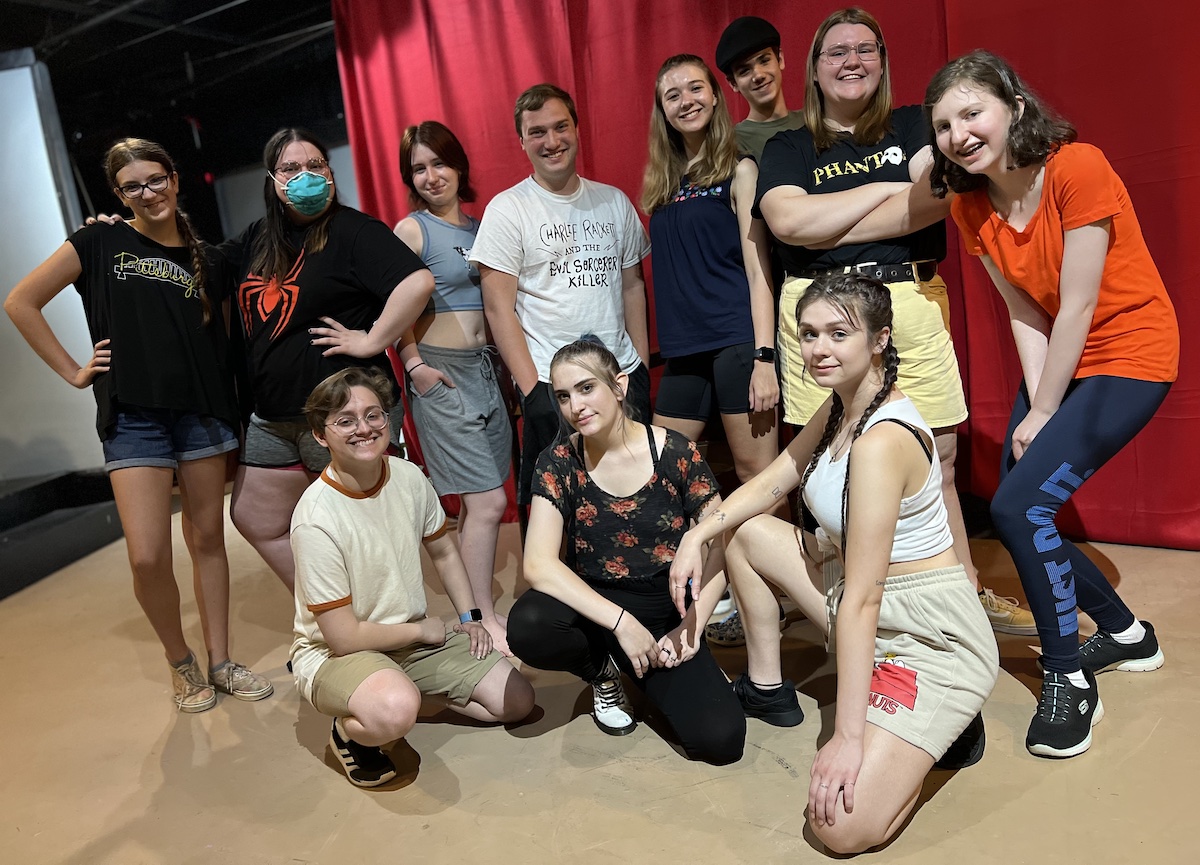 Heading to McKeesport Little Theater this weekend are members of Youth Shakespeare Society of Pittsburgh, front row from left, Theo Fantozzi, Johnna Lou Lefebvre and Sarah Galosi. Back row, Adelyn Maynard, Kinsley Beachler, Ella Craig, Koby Polaski, Madeline Sclichter, Corbin Maynard, Rachel Scierka and Sydney Forschein. (Courtesy Youth Shakespeare Society of Pittsburgh)
---
Madeline Sclichter portrays Olivia, Orsino's love interest, and Valentine. Unlike some of the others in the cast, she is familiar with Shakespeare. This past year, she was an Upper Division finalist in the Pittsburgh Shakespeare Monologue & Scene Contest.
She also has film credits, and has appeared in Pittsburgh CLO main stage and CLO Academy productions.

The YSSP production, Polaski indicated in his bio, is his first time performing Shakespeare outside of school, although he read "Julius Caesar" and "Merchant of Venice" in English class.
Mizera, now a junior at the University of Pittsburgh, said there just weren't a lot of opportunities to perform Shakespeare for young people, one of the reasons she wanted to form the organization.
Giving the classic a contemporary spin, she said, helps the audiences and performers understand the play better.
She acknowledged that, with modern clothing and the equivalent of high school or college parties, the audience needs to suspend their disbelief.
Shipwreck or no, it's likely modern twins of their age would have been able to track down the other sibling through cell phones, texts, tweets, news reports, or social media appeals.
Mizera said another challenge, which is part of the reason YSSP was founded, is dealing with interpreting language from Shakespeare's time in the script so the young actors and audiences can follow along with all the themes.
"We're trying to take down some of the barriers," she said. "Most of those in this cast we had not worked with before."
Mizera said she enjoys a particularly silly scene involving Malvolio (Adelyn Maynard) and Sir Toby (Rachel Scierka).
In "Twelfth Night," Mizera plays Sebastian and Officer. At Pitt, she studies theater and nonprofit management. Beachler said there are many entertaining moments the audience should enjoy, including dancing and a pillow fight.
And there's a duel, but turns out neither participant really wants to fight, according to Fantozzi.
Scierka describes Sir Toby as the life of the party -- "always messing with everybody."
To bring her character to life, Scierka said she tries to embrace the party atmosphere "and bring that energy to the stage all the time."
Sarah Galosi said Sir Andrew is a good character to play. "He is really goofy, but tries to act cool."
She said this is her first experience with YSSP, but she's no stranger to the stage through previous productions that include "Mamma Mia!", "Elf," and "Little Shop of Horrors." She is involved with the theater program at Robert Morris University.
"For me, I think it's really fun and more relatable for people who don't really know Shakespeare," Galosi said.
Maynard is one of the youngest cast members, but she said she has been involved with Shakespeare productions before.
"I like all kinds of plays, and I've done a lot of Shakespeare," she said. "I find it's kind of freeing, the way the language flows. It has opened up a bunch of opportunities for me."
Maynard said Malvolio "is sort of a jerk," but then you find out why.
"He was betrayed when he was younger, and suffered a lot of losses," she said. "He doesn't even know who he is. Today, he could see a therapist and get help."
Maynard said she's enjoying the challenge of playing someone she describes as "the exact opposite" of herself, and maintaining that feeling.
"In the first few scenes, you find out my character has never felt happiness, ever. He has a lot of issues."
YSSP veteran Johnna Lou Lefebvre plays two characters and is the fight choreographer for "Twelfth Night."
She said she got interested in fight choreography from her mother, a professional actor, director, fight choreographer, and costumer.
Lefebvre is a graduate of Lincoln Park Performing Arts Center, and is studying theatre, cinema, and photography at Robert Morris University.
In addition to YSSP, she's active with Stage 62 and Little Lake Theatre. She said switching between characters Maria and Antonio is her biggest challenge in this production.
"It will be interesting," she said of the modernization of "Twelfth Night." "It's not what you expect when you see a Shakespeare show."
Rounding out the cast is Sydney Forschein (Fabian, Captain). Aside from musical theater, she's been involved with Steel City Shakespeare, and competed in Pittsburgh Public Theater's Monologue & Scene Contest.
Bonnijean Cooney Adams is a freelance contributor. She can be reached at adamsclick@aol.com.
"Twelfth Night" Cast and Crew
Ella Craig - Viola
Madeline Sclichter - Olivia/Valentine
Koby Polaski - Orsino
Rachel Scierka - Sir Toby

Sarah Galosi - Sir Andrew

Sydney Forschein - Fabian/Captain
Adelyn Maynard - Malvolio

Johnna Lou Lefebvre - Maria/Antonio
Ella Mizera - Sebastian/Officer
Kinsley Beachler – Feste

Theo Fantozzi - Director
Kinsley Beachler - Assistant Director
Ella Mizera - Production Manager
Corbin Maynard - Stage Manager
AJ Pietropaolo - Set Designer
Grace Randall - Costume Designer
Hanna Henc - Costume Crew
Johnna Lou Lefebvre - Fight Director
Originally published June 23, 2022.
In other news:
"Local Student Awarded…" || "MA School Board OK's …"