By Kristen Keleschenyi
The Tube City Almanac
June 29, 2022
Posted in: North Versailles Twp. News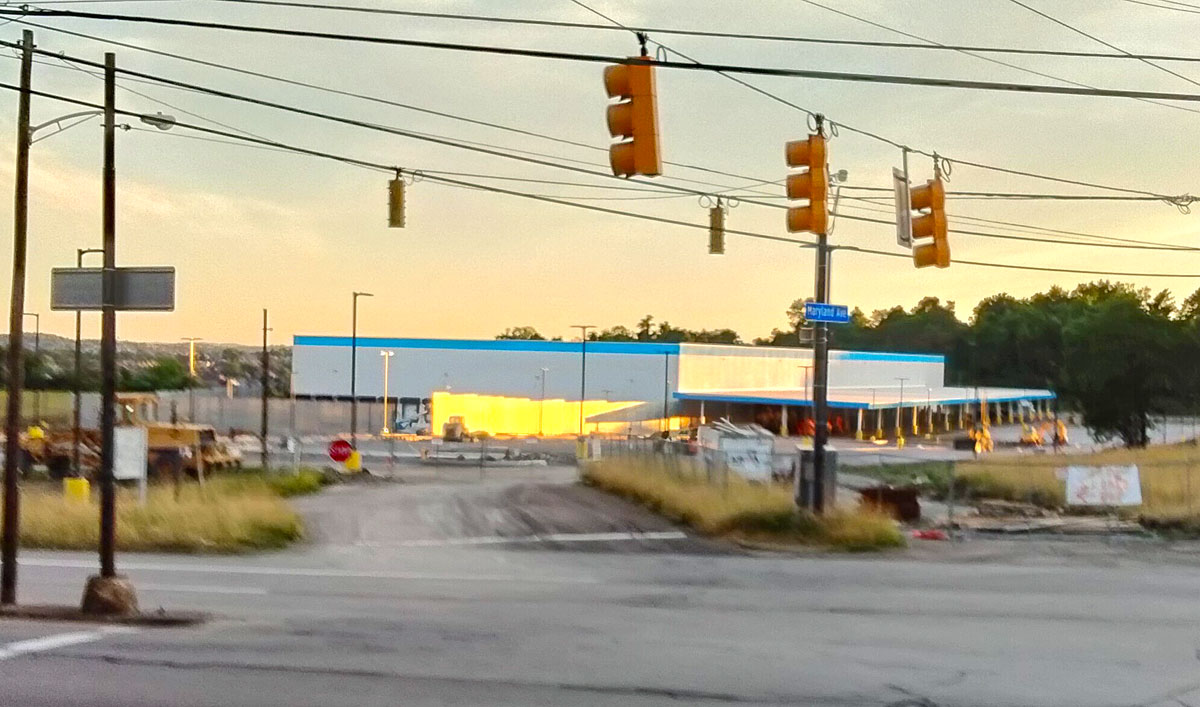 According to local officials, delays in receiving necessary materials are forcing Amazon to postpone the opening of its new North Versailles Twp. distribution center, located on the site of the former Eastland Mall. The company declined comment. (Kristen Keleschenyi photo for Tube City Almanac)
---
A new Amazon distribution center at the site of the former Eastland Mall is expected to create up to 500 new jobs, but North Versailles Twp. officials said the planned opening has been delayed.
The facility along East Pittsburgh-McKeesport Boulevard was expected to be open later this summer, but the timeline has changed, township commissioners said.
"There's a delay in the opening and it's not because they don't want to open it," said township Commissioner Allen Wagner.
Computer chips — needed for the computer-run package distribution lines — are one of the items currently unavailable, Wagner said. The light poles, which will be installed once PennDOT makes their recommendations on traffic control in and around the facility, currently have a 33-week delay.

"Trammel-Crow [Amazon's real estate developer] has done a wonderful job," Wagner said. "They preordered steel. They preordered concrete. They had a lot of things preordered and they are still having difficulty getting things."
Asked to confirm the delays in North Versailles, Steve Kelly, Amazon public relations manager, said "There isn't any new information to share from us on this project right now."
There had been some talk regarding a second Amazon site possibly being built in North Versailles, with the Churchill distribution warehouse plan falling through, but the company's priorities have changed.
In a statement released to stock market analysts, Amazon CEO Andy Jassy said, "Our consumer business has grown 23 percent annually over the past two years, with extraordinary growth in 2020 of 39 percent year-over-year that necessitated doubling the size of our fulfillment network that we'd built over Amazon's first 25 years—and doing so in just 24 months.
"Today, as we're no longer chasing physical or staffing capacity, our teams are squarely focused on improving productivity and cost efficiencies throughout our fulfillment network," Jassy said.
At the end of April, Amazon announced, in its first-quarter earnings report, the company is halting any further construction for the moment after reporting its first net loss — of $3.8 billion — since 2015.
---
Kristen Keleschenyi is a freelance writer in North Versailles Twp. and one of the hosts of the Kristen & Amber Show on Tube City Online Radio at 5 p.m. Saturdays, 9 p.m. Mondays and 4 p.m. Thursdays. She may be reached at kbishop25@hotmail.com.
Originally published June 29, 2022.
In other news:
"Resource Fair for Hi-…" || "Duquesne Council Appr…"