(Advertisement)
Tube City Community Media Inc. is seeking freelance writers to help cover city council, news and feature stories in McKeesport, Duquesne, White Oak and the neighboring communities. High school and college students seeking work experience are encouraged to apply; we are willing to work with students who need credit toward class assignments. Please send cover letter, resume, two writing samples and the name of a reference (an employer, supervisor, teacher, etc. -- not a relative) to tubecitytiger@gmail.com. (4-11-2023 to 4-30-2023)
To place your ad, email tubecitytiger@gmail.com.
Ads start at $1 per day, minimum seven days.
Groups offer help to Hi View Gardens residents
By Vickie Babyak
The Tube City Almanac
June 30, 2022
Posted in: McKeesport and Region News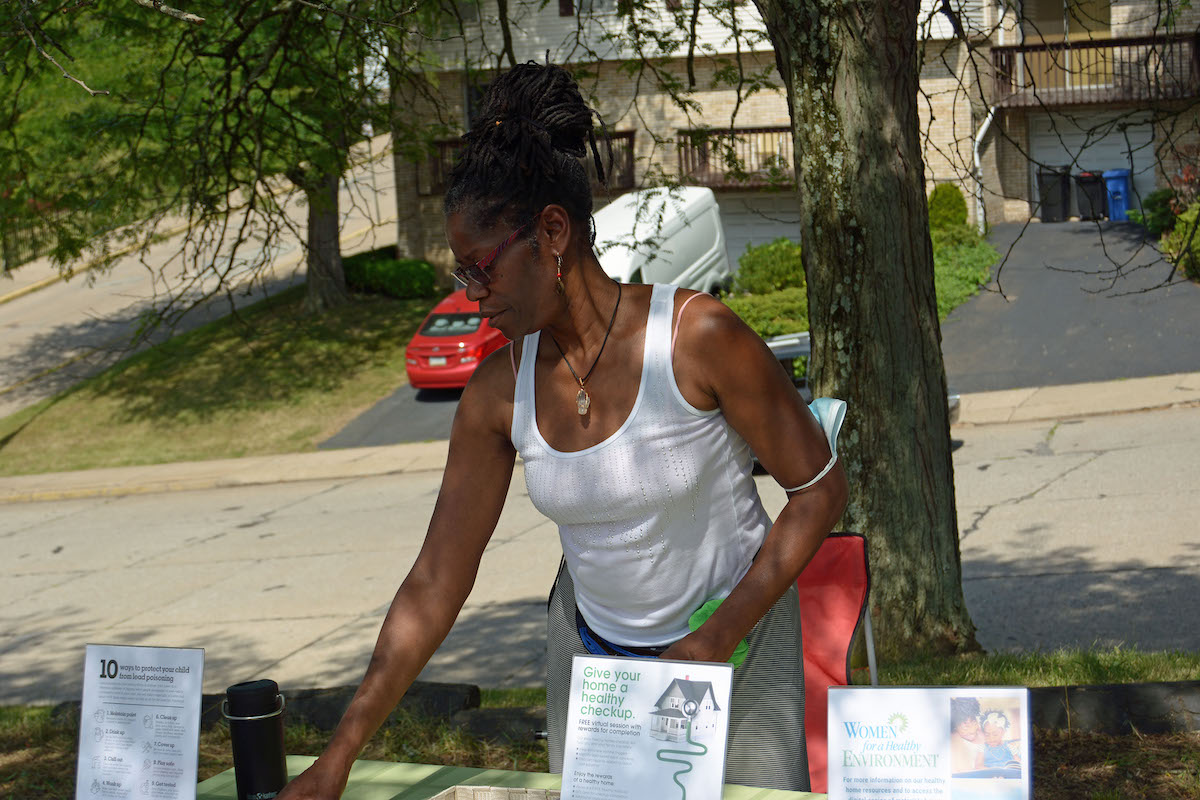 Germaine Gooden-Patterson from Women for a Healthy Environment is arranging her table of information and pamphlets. She said, "Health is important and people may not know about all the resources available." (Vickie Babyak photo for Tube City Almanac)
---
Take Action Mon Valley hosted a resource fair on Saturday in the parking lot of New Beginnings Ministry, Inc.
The resource fair focused on McKeesport's Hi View Gardens residents but everyone was welcome to attend the event. TAMV hosted the fair to introduce residents to resources they may not have been aware of and to provide a fun-filled day for children.
Residents have been working with the Community Justice Project, a nonprofit legal assistance firm, addressing poor living conditions that were not being corrected by previous management, said Fawn Walker-Montgomery, executive director of TAMV.
She said there's some improvement but TAMV continues their support for the community.
Women for a Healthy Environment and Pittsburghers for Public Transit participated in the fair distributing pamphlets and talking with the public about their organizations.
Women for a Healthy Environment educates families in how to give their homes a healthy checkup, eliminate hazards such as radon, asbestos and lead-based paint along with other tools and resources. Pittsburghers for Public Transit is a grassroots organization of transit riders, workers, and residents who work to defend and expand Allegheny County public transit.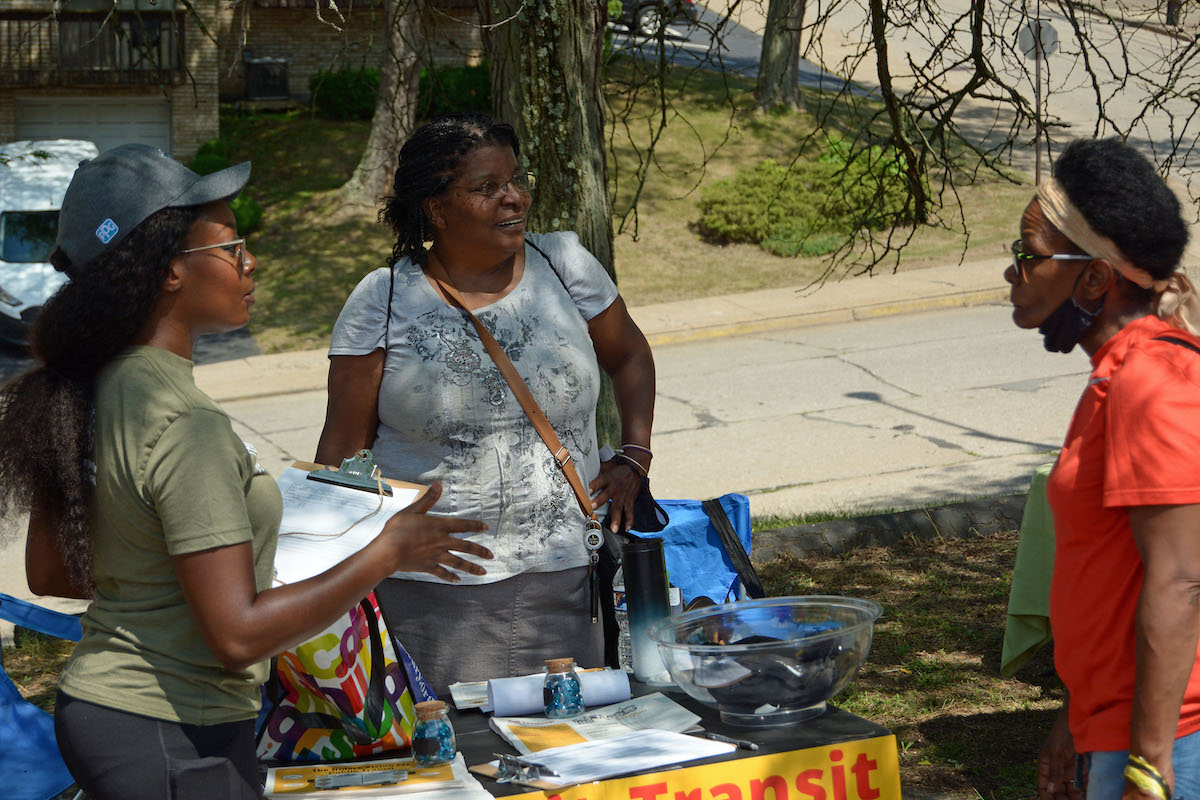 Cheryl Stephens, community organizer from Pittsburghers for Public Transit, discusses her organization with Hazel Hamilton and Marlisa Wallace. "We believe everyone should have opportunity for mobility and impact in the transit system," Stephens said.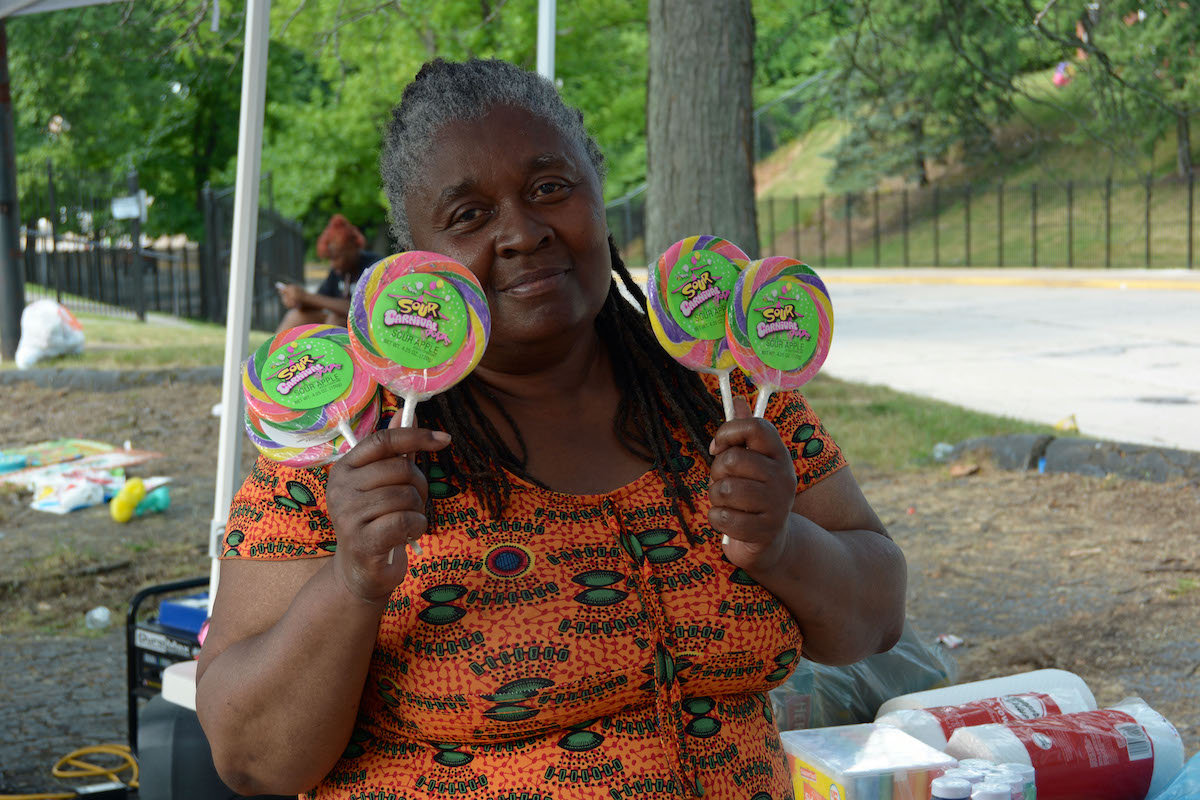 An abundance of entertainment for kids was provided by Grandpa and Grandma's Village. Owner of Grandpa and Grandma's Village, Renee Wilson said, "We take our carnival to disadvantaged neighborhoods and it brings me so much joy to see the kids having fun and to see their happiness."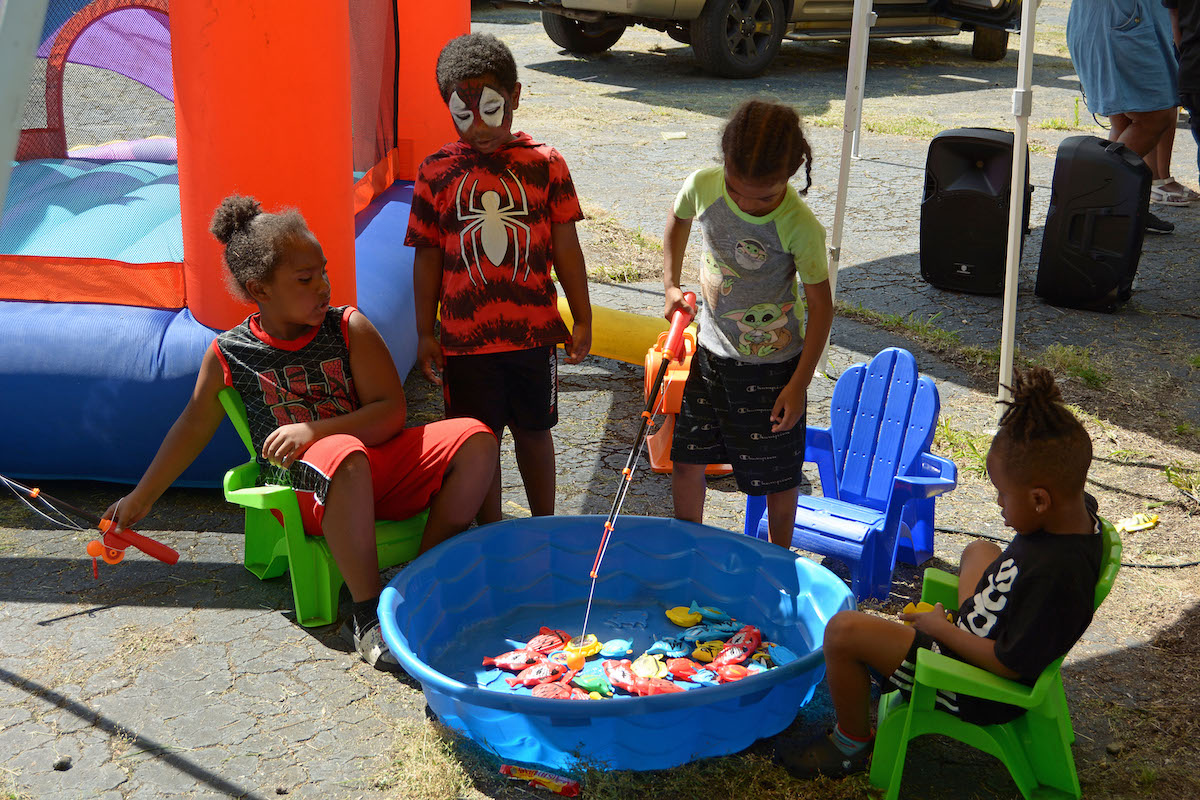 A few children enjoying a fishing game from Grandpa and Grandma's Village.
TAMV offered fried chicken, drinks and snacks to anyone who was at the fair and gave away free gifts. Even though the day was hot and humid, the resource fair created a pleasant atmosphere and was enjoyable.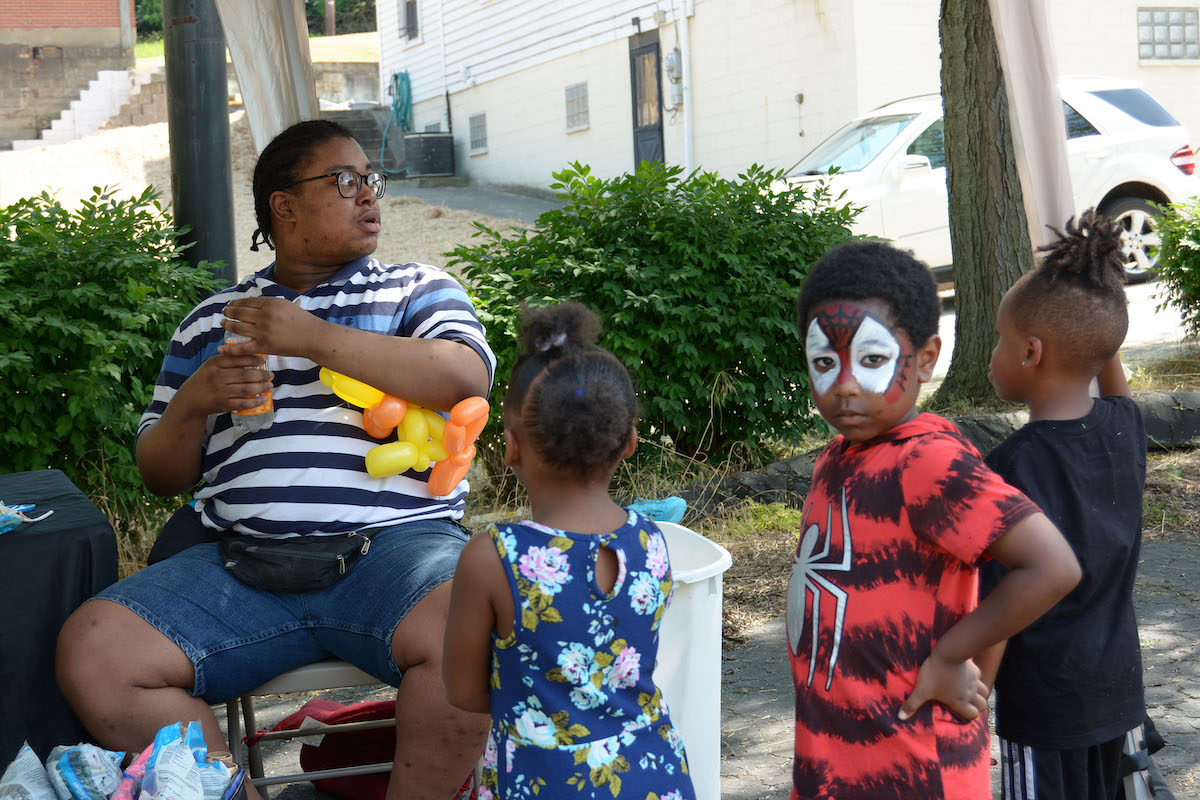 Eighteen-year-old Sederick Wright of McKeesport is a self taught balloon artist for Safari/Gifts of Paradice. Children watch Sedrick as he creates balloon art for them to take home.
Nicole Wright, mother of Sederick, overlooks her son's shoulder as he works. Wright said, "I'm very proud of my son, he's autistic and taught himself how to do balloon art." Wright makes gift baskets and Sederick wanted to work with her, she said.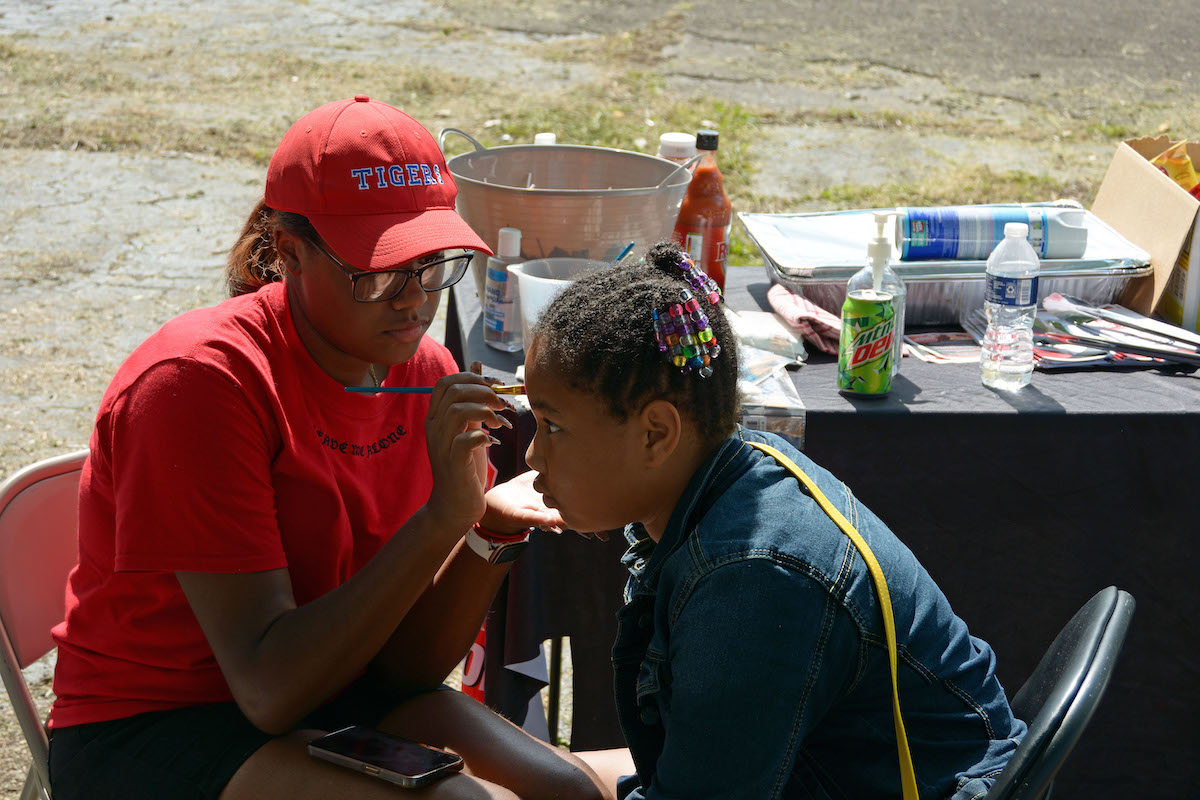 Taryn Vasquez is a recent McKeesport high school graduate and face painter. She meticulously face-paints a little girl attending the resource fair.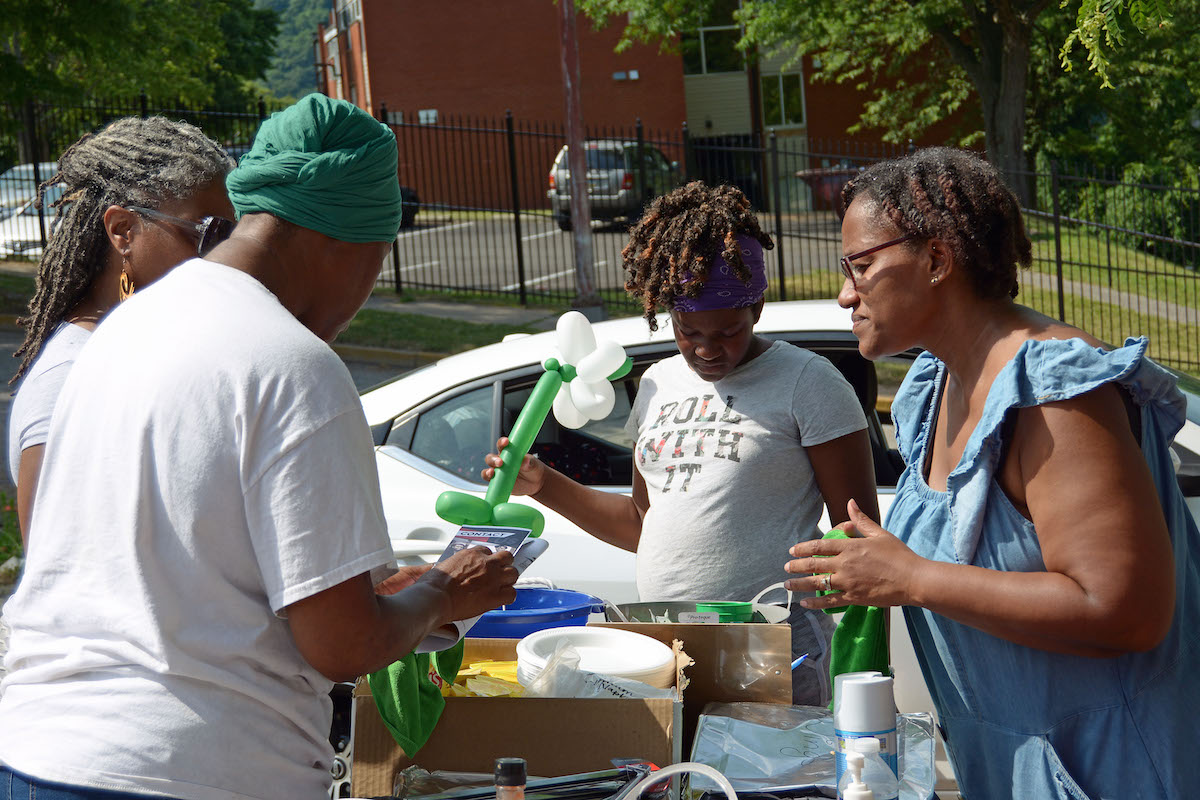 Above, Fawn Walker-Montgomery, at right, is informing McKeesport community members about TAMV and the volunteer opportunities available within the social justice organization.
---
Vickie Babyak is a photographer and freelance writer from Dravosburg. She may be reached at vbabyak@yahoo.com.
Originally published June 30, 2022.
In other news:
"NAMI McKeesport July …" || "Scholarship Honors Le…"