(Advertisement)
Tube City Community Media Inc. is seeking freelance writers to help cover city council, news and feature stories in McKeesport, Duquesne, White Oak and the neighboring communities. High school and college students seeking work experience are encouraged to apply; we are willing to work with students who need credit toward class assignments. Please send cover letter, resume, two writing samples and the name of a reference (an employer, supervisor, teacher, etc. -- not a relative) to tubecitytiger@gmail.com. (4-11-2023 to 4-30-2023)
To place your ad, email tubecitytiger@gmail.com.
Ads start at $1 per day, minimum seven days.
Inspired by 1992 film, show opens Friday
By Bonnijean Cooney Adams
The Tube City Almanac
September 15, 2022
Posted in: Entertainment, McKeesport and Region News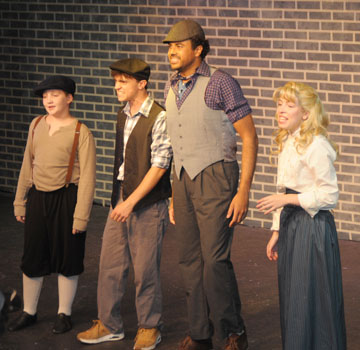 From left, Anderson Miller as Les, Ayden Freed as Davey, Dylan Pal as Jack Kelly, and Camryn Hall as Katherine Plumber, rehearse a musical number from "Newsies." (Photo by Bonnijean Cooney Adams for Tube City Almanac)
If you go...

Disney's "Newsies: The Broadway Musical"

Where: McKeesport Little Theater
1614 Coursin St.
www.mckeesportlittletheater.com

When: 7:30 p.m. on Fridays and Saturdays Sept. 16, Sept. 17, Sept. 23, Sept. 24, and matinees at 2 p.m. on Sundays Sept. 18 and Sept. 25

Tickets: $20 for adults and $12 for students, available through the website or by leaving reservation information at the theater
When Disney's "Newsies: the Broadway Musical" opens at McKeesport Little Theater on Friday, Sept. 16, audiences will get to see the results of transforming a huge production to a community stage for an up-close-and-personal experience.
The Broadway version evolved from the 1992 film of the same name featuring a young Christian Bale as newsboy leader Jack Kelly. It is based on real events and people involved in the famous 1899 newsboys strike in New York.
The newsies peddled papers produced by media moguls Joseph Pulitzer and William Randolph Hearst. The strike occurred when the publishers tried to change the way the young workers were compensated.
The show features lots of catchy tunes, likeable characters, and lively dance numbers. It's been portrayed on the big movie screen, Broadway stages and national tours.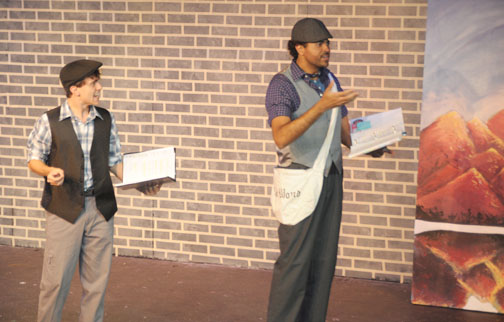 Dylan Pal, right, as Jack Kelly, explains to Ayden Freed, left, as Davey, his plans to one day leave New York City for Santa Fe. (Photo by Bonnijean Cooney Adams for Tube City Almanac)
---
Producer Edward E. Bostedo Jr. and director Shawn Conway accepted the challenge of adapting all that and more to the more-intimate setting at MLT.
Conway said he first directed at MLT in 2018, and decided to come back because of the show and an opportunity to work with Bostedo again.
"The traditional 'Newsies' has a huge set," he said, "and we've had to modify it, but we've adapted our stage to make it work for us."
Bostedo is a MLT veteran in multiple roles, from acting to directing to producing. He said he directed Conway as Roger in "Rent" at another theater, and was glad they could work together again.
Actors, director, and producer agree social media postings have increased information about auditions and led to drawing people from a larger geographic area to McKeesport, as well as alerting veterans to new shows.
"I see this group from a wide variety of ages coming together to tell the story," Conway said. "Some are new, and some I've worked with before. Some came to audition because of the show."
One of those people is Dylan Pal as Jack Kelly. "It's a great opportunity for male theater roles, and to dance," Pal said. He also previously worked with Conway and Bostedo.
"I did not think I was going to get it (Jack Kelly), but I knew it would be a very fun show and was open to any other role, too."
Originally from Latrobe, Pal went to college at the University of Kentucky in Lexington and was working on a horse farm after graduation.
He said he returned to the area during the height of Covid-19 restrictions and decided to stay -- at least for now.
One of the changes from the movie to Broadway includes a tap number for most of the cast during "King of New York."
"I'm a big tapper," Pal said with a laugh, "but Jack Kelly doesn't dance." He said the vocals are his most challenging part, and he's looking forward to the audience reaction in a smaller venue.
"I think it's going to be really cool," he said. "I think it's going to be such a great take for audiences to see. It's something unique that they may not get to see again, being so close to the performers and dancers."
Those familiar with the original movie with classic songs "King of New York" and "Carrying the Banner," will get to hear their favorites along with plenty of new melodies added for the Broadway version.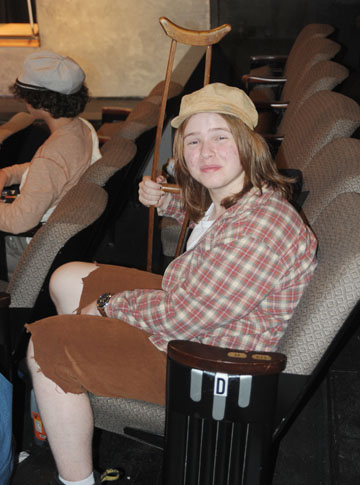 Joey Estok as Crutchie lends his powerful voice to "Letter From the Refuge," one of the songs added for the Broadway show from the original 1992 movie version. (Photo by Bonnijean Cooney Adams for Tube City Almanac)
---
MLT newcomer Camryn Hall portrays Katherine Plumber, a character added to the stage version as a blend of the reporter covering the strike and Jack's romantic interest from the movie. "Plumber" is her pen name as the budding reporter tries to establish herself as a journalist.
A veteran of Pittsburgh Musical Theater productions and graduate of Westinghouse Arts Academy, Hall said her favorite part of the show is "anytime I get to be onstage with the newsies."
"Katherine Plumber is a big musical theater girl role," she said, and what she hoped for when she auditioned.
"There are a bunch of new songs," she added, including her solo "Watch What Happens," which Hall described as her biggest vocal challenge in "Newsies."
Intent on getting the story and advancing her career, Hall's character initially is indifferent to all Jack's flirting.
Courtney Harkins portrays Medda Larkin, a close friend of Jack's. She owns a vaudeville-style theater, which is a perfect hideout for Jack when trying to evade authorities or a great location to stage a rally for fellow newsies. While this is her first time at McKeesport Little Theater, Harkins has been involved in theater from high school to college and beyond in community productions.
She said she had Medda in mind when she auditioned. "I had the biggest crush on Christian Bale when I was in middle school," Harkins said. "For this stage show, the music is gorgeous. Medda is kind of a mom figure to the cast."
"That's Rich," another song added for the stage, features Medda, and Harkins said that's been her biggest challenge. "I like to make my own embellishments," she said. "I really love how the audience is so close to the stage, so I can talk and interact with them."
While many were familiar with the storyline and at least one version of "Newsies" when they auditioned, Ayden Freed said he was not.
He landed one of the featured roles as Davey, who becomes a newsboy, along with younger brother Les (Anderson Miller), when their father is hurt at his job and unable to work.
The storyline is considered to be very accurate for the time period, when newboys generally ranged from 10-17 years old, including some young ladies who also went to work to help with family expenses.
"I always shoot for the moon," Freed said of auditioning for his first role at MLT. "Dancing has been the most challenging" Freed said, "and this is a dance show. I love the music. It's a different style for me but definitely fits with my voice."
Freed and others said having a live orchestra also is exciting. "Although there aren't big, elaborate sets," producer Bostedo said, "the talent overshadows everything."

Bonnijean Cooney Adams is a freelance contributor. She can be reached at adamsclick@aol.com.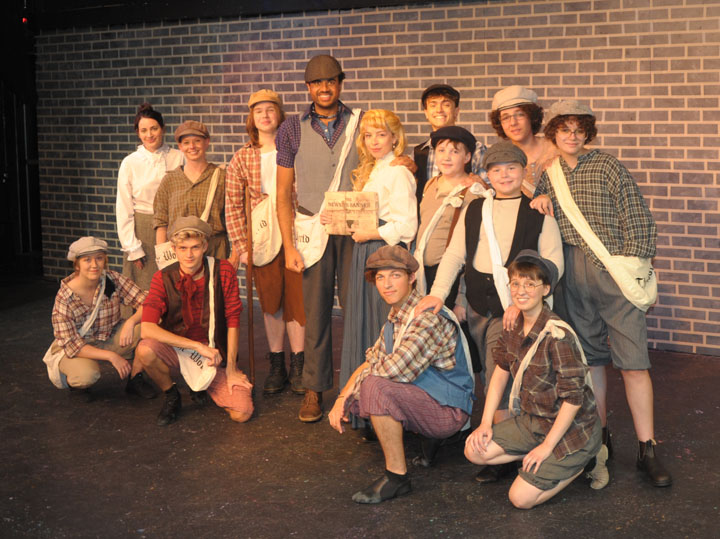 Cast members from McKeesport Little Theater rehearse a number from Disney's "Newsies: the Broadway Musical." The show opens Friday. (Photo by Bonnijean Cooney Adams for Tube City Almanac)
"Newsies" Cast and Crew
Dylan Pal as Jack Kelly
Camryn Hall as Katherine Plumber
Joey Estok as Crutchie
Ayden Freed as Davey
Anderson Miller as Les
Courtney Harkins as Medda Larkin
Ben Wren as Joseph Pulitzer
Kyli Stoner as Wiesel/Snyder

Newsies:
B. Barnabei as Specs
Bekah Sedwick as Buttons
Gunner Firmstone as Romeo/Jojo
Zach Gilkey as Spot Conlon/Albert/Tommy Boy
Paige McLaughlin as Patches
Dylan Stramaski as Race
Lucas Sotereanos as Henry/Elmer
Gianna Sotereanos as Finch
Sadie Mitchell as Mush

Ensemble:
Ashley Grese as Hannah, Nun, Woman Newspaper Customer, Goon
Gianna Sotereanos as Nunzio, Medda's Stage Manager
Brandon Snyder as Seitz, Morris Delancey
Maxwell Medford as Oscar Delancey, Bunsen
Canaan Baldinger as Goon, Mayor
Sean Butler as Theodore Roosevelt
Courtney Harkins as Goon
Ben Wren as Policeman

Bowery Beauties: Ashley Grese, Paige McLaughlin, Bekah Sedwick, Sadie Mitchell

Newsie Scabs: Ashley Grese, Paige McLaughlin, Bekah Sedwick

Brooklyn Newsies: Zach Gilkey, B. Barnabei, Dylan Stramaski, Joey Estok

Producer: Edward E. Bostedo Jr.
Director: Shawn Conway
Choreographer: Samantha Mitchell
Music Director: George Pecoraro
Sound/Lighting: Jessi Freudian
Stage Manager: Kacie Greenlief
Costumer: Chelsea Conway


Originally published September 15, 2022.
In other news:
"Library Hosts Lunch, …" || "Eagles Ready for Show…"