(Advertisement)
Tube City Community Media Inc. is seeking freelance writers to help cover city council, news and feature stories in McKeesport, Duquesne, White Oak and the neighboring communities. High school and college students seeking work experience are encouraged to apply; we are willing to work with students who need credit toward class assignments. Please send cover letter, resume, two writing samples and the name of a reference (an employer, supervisor, teacher, etc. -- not a relative) to tubecitytiger@gmail.com. (4-11-2023 to 4-30-2023)
To place your ad, email tubecitytiger@gmail.com.
Ads start at $1 per day, minimum seven days.
Credits assistance from veteran director, 'amazing' cast
By Bonnijean Cooney Adams
The Tube City Almanac
October 27, 2022
Posted in: Entertainment

CORRECTION: Due to an editing error, the photos on this story were incorrectly credited. They were supplied courtesy of Edward E. Bostedo Jr.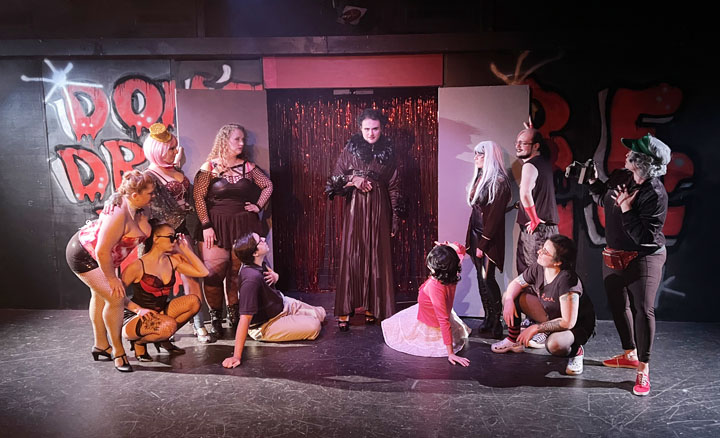 Jacob Hecht as Dr. Frank-N-Furter (center), makes his first appearance to his unexpected visitors Brad and Janet, while members of his household and others look on. His creation Rocky (Ayden Freed), has not yet been revealed at this point in McKeesport Little Theater's production of "The Rocky Horror Show." (Submitted photos courtesy of Edward E. Bostedo Jr.)

If you go...

"The Rocky Horror Show"

Where: McKeesport Little Theater
1614 Coursin St.
www.mckeesportlittletheater.com

When: All shows are at 7:30 p.m. Friday (Oct. 28), Saturday (Oct. 29) and Sunday (Oct. 30).

Tickets: $25 for adults, or $30 with prop bag.

Recommended for ages 18 and older. Ages 17 or younger must be accompanied by an adult over 21.

Once Heather Atkinson found out McKeesport Little Theater had acquired the rights to "The Rocky Horror Show," she knew she had to be part of it.
"I've been an avid 'Rocky Horror' fan most of my life," she said.
That began when she and her father, who also is a big fan of the cult classic, went to a midnight viewing of the 1975 movie "The Rocky Horror Picture Show." She said she was approximately 12 years old at the time.
An avid performer at McKeesport Little Theater and other venues, Atkinson applied to direct "Rocky," with veteran director Edward E. Bostedo Jr. as her mentor and director.
"I never wanted to direct before, but when this opportunity came about, I knew I had to try for it," she said. "So I talked to Ed, and he and UI have made a great team."
Atkinson said her ties to "Rocky Horror" are so strong that the father-daughter dance at her wedding was to "Time Warp," perhaps the most familiar of the musical numbers. She said her dad also was the first person to buy a ticket once they went on sale.
"We tried to modernize it, but keep true to the story of what fans expect," she said.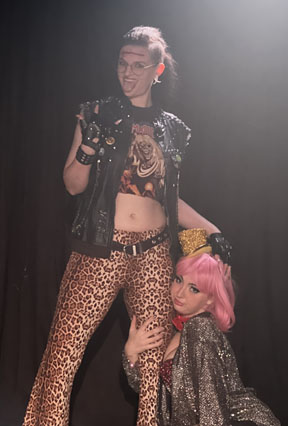 Special effects such as fog/haze and strobe lights are used. (Submitted photos courtesy of Edward E. Bostedo Jr.)
---
Most people are familiar with and were first exposed to "Rocky" via the movie, which starred Susan Sarandon and Barry Bostwick as Janet and Brad. The newly-engaged couple experience car trouble and, on a dark, stormy, rainy night, seek refuge in a castle to escape the elements and find a phone to call for help.
Remember, that was in 1975, long before cell phones, but also could apply today if caught in an area without cell service.
At the castle they encounter an Igor-like character named Riff Raff (played by Laura Stumpf), who greets them at the door. Soon they are introduced to the master of the castle, so to speak, named Dr. Frank-N-Furter (Jacob Hecht). He's described as a transsexual alien scientist, and is hosting one of his many parties that night.
"We've been asking to do this show for about five years," Bostedo said, possibly as a benefit. Then Covid hit, and everything was delayed. This is Heather's baby."
Atkinson and Bostedo said they were very pleased with the auditions. One actor – Amanda Tamplen as Magenta – even came from West Virginia to do the show, they said.
"Rocky Horror" definitely is mature in nature. The film was rated "R," but seems tame compared to today's movies with the same rating.
"We did not make it dirty," Bostedo said of MLT's production. "There is a lot of sexual innuendo."
"You can't go wrong when you come to 'Rocky Horror,' " Atkinson said. "I'd call it PG-13-ish. My daughter is 11 and she's coming. I'd say if bringing kids, make sure there is an adult with them."
(Additional age guidance is available through various websites, including the onstage ticket site.)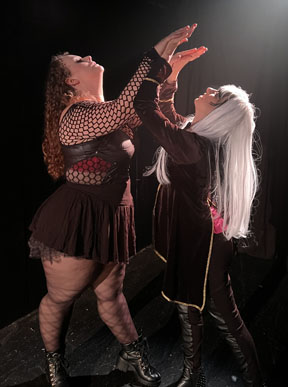 Scene from "Rocky Horror Show" highlights some of the colorful costumes. (Submitted photos courtesy of Edward E. Bostedo Jr.)
---
Atkinson and some of the cast explained the show is very interactive, including "callbacks," where cast and audience connect.
In addition to "Time Warp," "Rocky Horror" is full of other lively vocal and dance numbers.
Costumes include lots of underwear, corsets, fishnet stockings, and spike heels, including for Hecht.
"Myself and the cast mainly did costumes," Atkinson said. "I gave them ideas at the beginning of rehearsals of what I envisioned, and they brought in and worked on theirs, along with myself getting certain pieces that were needed."
"It's my first time wearing heels," Hecht quipped, as he prepared to seemingly effortlessly navigate the MLT steps and head onstage in open-toed, patent leather shoes.
"I wanted to be Frank-N-Furter the most," Hecht said of his goal when auditioning, "but any male part was fine."
He described it as "sexual, sensual," and said he's relied on fellow cast members to help him dissect the role and make it his own. He said he was familiar with the movies and live productions before auditioning.
Sierra Mitchell portrays Columbia, a groupie of the scientist, who tap dances with bejeweled shoes. Her sister Sadie Mitchell and mom Sam Mitchell join the cast in the ensemble, which she said has been a lot of fun working with them.
"I've been wanting to be Columbia since I first saw the show," she said. "She's a groupie of Frank, she's obsessed with him. She used to be in a relationship with him. But she's also in love with Eddie (portrayed as a female by Mandy Eckenrode, who also plays Dr. Scott as a male)."
Sierra Mitchell said the songs are upbeat and her character is very sexual.
"I was not going to miss being in this," she said. "It's my No. 1 show."
Matt Tracy returns to MLT as innocent, clean-cut Brad. He portrayed Schroeder in the 2019 production of "You're a Good Man, Charlie Brown."
"I saw the show for the first time in 2017, and in 2019 I was in the ensemble," Tracy said. "The role I really wanted to do in this production was Brad. I'm thankful for the directors and the cast for this opportunity."
"I appreciate Sean (music director Sean Thornton) for working with me, especially helping me find the emotion and rhythm" in his featured song. Tracy said he already was doing another show – "Footloose" – when "Horror Show" rehearsals started, so had some catching up to do.
"I've wanted to be Janet for forever, so it's a dream role for me," Delanie Heller said. She recalled watching the movie for the first time when she was 13, and 15 when she saw a version on "Glee."
Heller said her uncle was a huge shadow cast "Rocky" fan. That's when live performers act and sing onstage while the movie runs in the background, and that helped develop her interest.
"I prepared for my role by watching as many versions as possible," she said, eventually basing her interpretation on Sarandon's performance in the movie.
" 'The Floor Show' is my favorite number to perform," Heller said. "The dance level is perfect for this show. Our choreography is like the cousin of the original. You can tell it is related, but still our own."
The show gets its name from Rocky, the character created by scientist Frank-N-Furter to be his perfect man.
Ayden Freed, who portrayed Davey in MLT's recent "Newsies" production, returns to the stage.
"Quite a big difference from 'Newsies,' " he said on his way to be revealed for the first time as Rocky.
Looking forward to opening night, tchinson said, "The show is fantastic. The cast is amazing. You do not want to miss it."
---
Bonnijean Cooney Adams is a freelance contributor. She can be reached at adamsclick@aol.com.
Cast and Crew
Jacob Hecht as Dr. Frank-N-Furter, Matt Tracy as Brad, Delanie Heller as Janet, Ayden Freed as Rocky, Alex Stumpf as Narrator, Laura Stumpf as Riff Raff, Amanda Tamplen as Magenta, Sierra Mitchell as Columbia, Mandy Eckenrode as Eddie/Dr. Scott, Kate Butler as Trixie.

Ensemble: Arium Hough, Eddie Kunz, Katy Carney, Sadie Mitchell, Sam Mitchell.

Directors: Edward E. Bostedo Jr. and Heather Atkinson
Producer: Jan Gerber
Stage Manager: Sarah Weisel
Choreographer: Kristine Lowanse
Music Director: Sean Thornton
Originally published October 27, 2022.
In other news:
"Communities Post Hall…" || "Local Business Recove…"