(Advertisement)
Tube City Community Media Inc. is seeking freelance writers to help cover city council, news and feature stories in McKeesport, Duquesne, White Oak and the neighboring communities. High school and college students seeking work experience are encouraged to apply; we are willing to work with students who need credit toward class assignments. Please send cover letter, resume, two writing samples and the name of a reference (an employer, supervisor, teacher, etc. -- not a relative) to tubecitytiger@gmail.com. (4-11-2023 to 4-30-2023)
To place your ad, email tubecitytiger@gmail.com.
Ads start at $1 per day, minimum seven days.
Founder of CPR training firm says it's important to her to stay in the city
By Elizabeth Laughlin
The Tube City Almanac
October 27, 2022
Posted in: McKeesport and Region News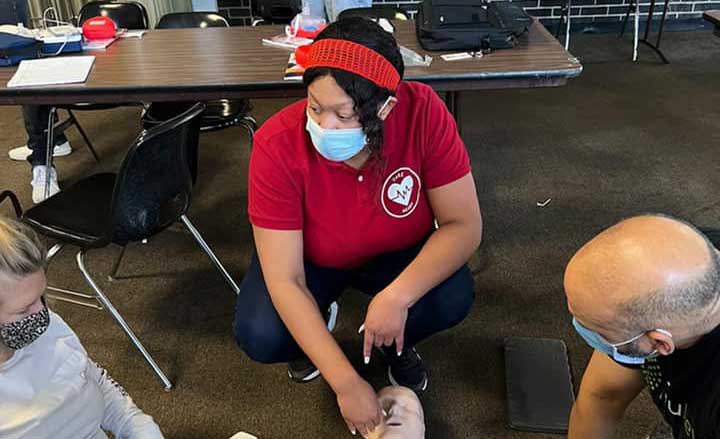 Shalay Williams, founder of Care Heart CPR, conducts a training course. The building and other tenants were displaced when a natural gas explosion heavily damaged a small-business incubator on Ninth Avenue, Downtown. (Submitted photo courtesy Care Heart CPR, via Facebook)
---
For business owner and licensed nurse Shalay Williams, saving lives is the top priority.
"If I can train one person to save another, I've done my job," Williams said.
Shalay Williams is a practical nurse with 13 years of experience. She graduated from UPMC St. Margaret School of Nursing, located in Pittsburgh. She opened Care Heart CPR, an emergency-training service, in July 2021.
Until Aug. 2, the business was located on Ninth Avenue in McKeesport, at Penn State Greater Allegheny's small-business incubator, the Mon Valley LaunchBox.
That morning, a devastating natural gas explosion heavily damaged several businesses supported by the LaunchBox, including Care Heart, Painting with Rissa and The Fry Bar.
Care Heart and other tenants are currently in temporary spaces on the Greater Allegheny campus. Williams said she lost thousands of dollars of equipment in the blast, but she is carrying on operations and hopes to re-locate within the city within the next few months.
"For me, it's very important to keep my business in McKeesport," Williams said. "I was born and raised here."
Recovering from the explosion posed challenges, she said, but she bought a new set of training mannequins and continued her work.
Along with other LaunchBox tenants, Williams said, Care Heart received emergency grants from the YWCA of Greater Pittsburgh and Catapult Greater Pittsburgh, which helped replace equipment.
"As of today, I have almost half of the amount of equipment that was lost," Williams said. "I continue to be hopeful that in time, I will be able to rebuild and expand Care Heart CPR."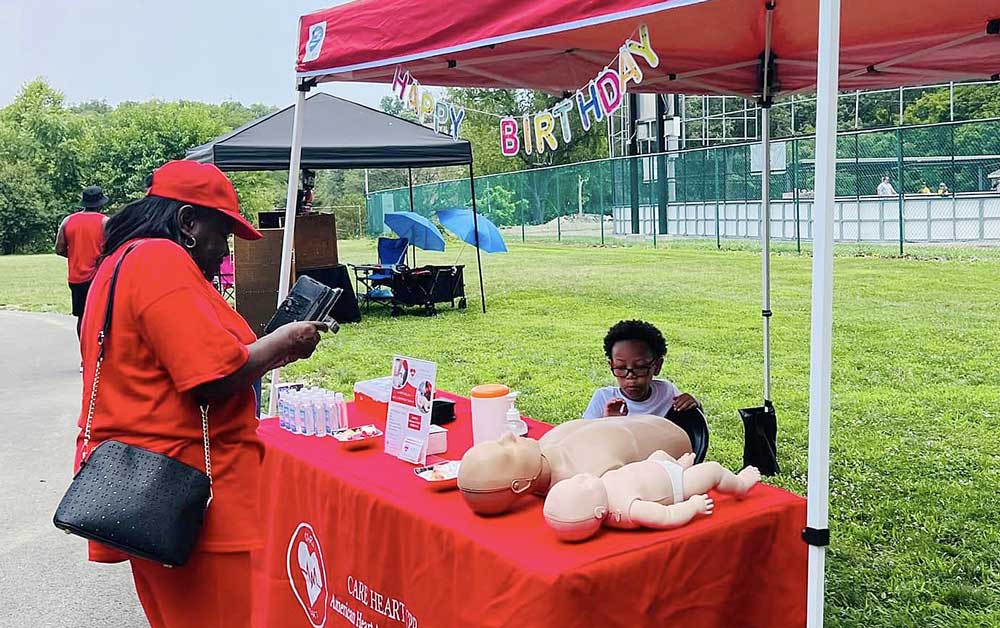 Care Heart celebrated its one-year anniversary in July, little more than a week before the Aug. 2 explosion. (Submitted photo courtesy Care Heart CPR, via Facebook)
---
Care Heart CPR offers CPR training to those in the community and issues certifications of the American Heart Association. In the past, she has brought in a registered nurse for training to speak with participants.
"I'm very grateful that I can continue training," Williams said. "The LaunchBox program made it very convenient for me."
In January 2023, Williams will be qualified to teach others how to offer their own training.
"I would say that my sessions are educational but laid back," Williams said. "I want them to have a good time. And I want others to feel confident to go in and act when needed."
The minimum age for training is 14 years old. Students under sixteen must be accompanied by an adult and must submit a consent form.
Care Heart CPR is open from 10 a.m. to 5 p.m. on Monday through Saturday. It is closed on Sundays. The First Aid Only class costs $55, while the CPR/AED/First Aid costs $85. Care Heart CPR is also active on Facebook. It participates in a bookbag drive each year, where bookbags are donated to local children in need.
For more information, call (412) 960-6015 or by emailing info@careheartcpr.com.
---
Elizabeth Laughlin is a freelance writer and a doctoral student at Indiana University of Pennsylvania. She is a graduate assistant who runs the department newsletter and writes for a digital project. She writes for Modern Language Studies, and her short story, "Twenty-Seven," is being published in their journal.
Originally published October 27, 2022.
In other news:
"New Director Puts Hea…" || "Serra Hopes to Reboun…"