(Advertisement)
McKeesport Housing Authority is opening the Section 8 waiting list
Housing Choice Voucher Program
The McKeesport Housing Authority will be accepting applications for the Housing Choice Voucher Program (Section 8) Waiting List.
When?
April 10, 2023, 8:30 AM @ 2901 Brownlee Ave. McKeesport, PA 15132.
NO APPLICATIONS WILL BE ACCEPTED BEFORE THE ABOVE POSTED TIMES.

APPLICATIONS WILL BE DATE AND TIME STAMPED UPON RECEIPT. APPLICATIONS CAN BE SUBMITTED IN PERSON, FAX 412-673-1706, EMAIL TO BBRAY@MCKHA.ORG.
You can download a blank copy of the application from www.mckha.org.
Where?
At www.mckha.org or any of the rental offices at Crawford Village, Harrison Village & McKeesport Towers

MULTIPLE APPLICATIONS WILL NOT BE ACCEPTED. PLEASE DO NOT CALL FOR YOUR STATUS —- NO INFORMATION WILL BE GIVEN OVER THE TELEPHONE. YOU WILL BE NOTIFIED VIA THE US MAIL. IT IS CRITICAL TO KEEP YOUR INFORMATION UPDATED WITH OUR OFFICE IF IT CHANGES. IF WE ARE UNABLE TO CONTACT YOU, YOU MAY BE REMOVED FROM THE WAITING LIST.
To place your ad, email tubecitytiger@gmail.com.
Ads start at $1 per day, minimum seven days.
By Vickie Babyak
The Tube City Almanac
November 22, 2022
Posted in: McKeesport and Region News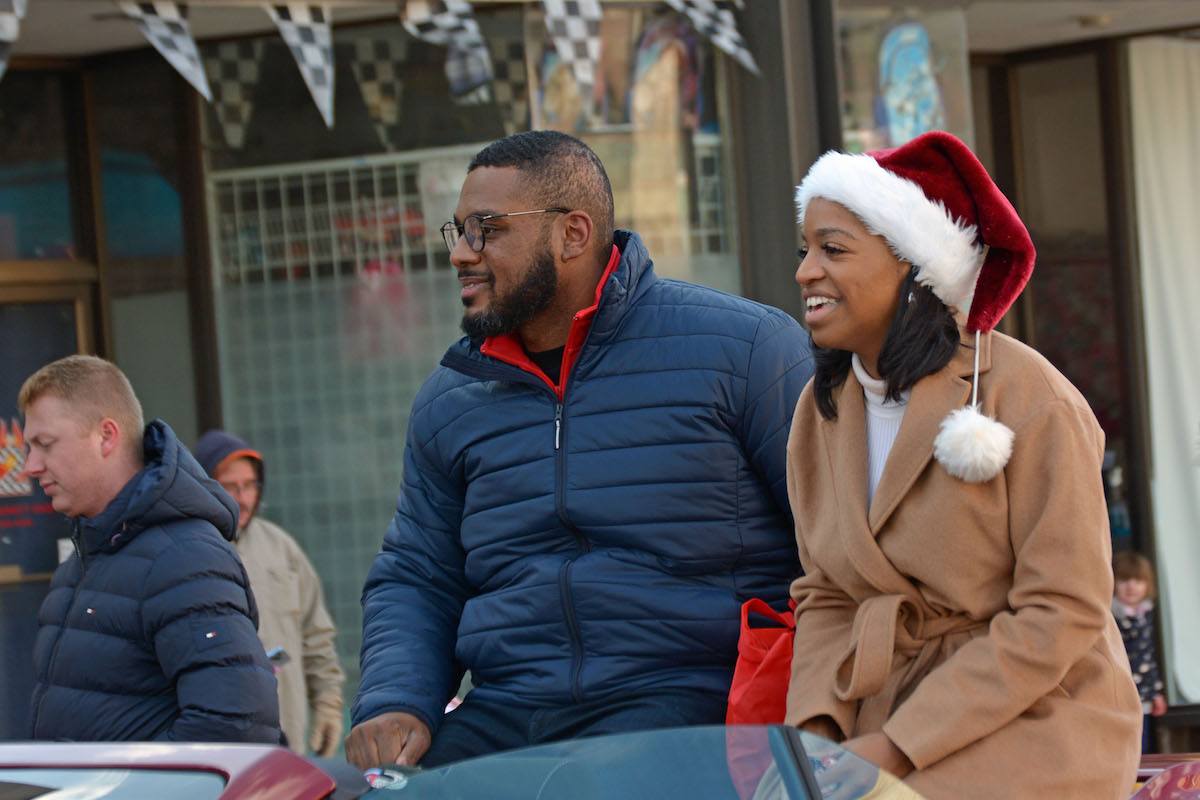 State Rep. Austin Davis, accompanied by his wife Blayre, served as grand marshal of McKeesport's Salute to Santa Parade. In January he will be sworn in as Pennsylvania's first Black lieutenant governor. (Vickie Babyak photo for Tube City Almanac)
---
Cold weather didn't stop Mon Valley families from attending the Salute to Santa Parade on Saturday. Adults and children were bundled up along the streets in downtown, McKeesport, to view the parade and welcome Santa Claus for the upcoming holidays.
Austin Davis, incoming lieutenant governor of Pennsylvania, served as grand marshal of the 57th Salute to Santa Parade and was accompanied by his wife, Blayre Holmes Davis.
Davis is a McKeesport native and has served as the state representative for the 35th Legislative District since 2018. He is the first millennial elected to statewide office in the commonwealth and the first Black lieutenant governor of the state. He will be sworn in on Jan. 17.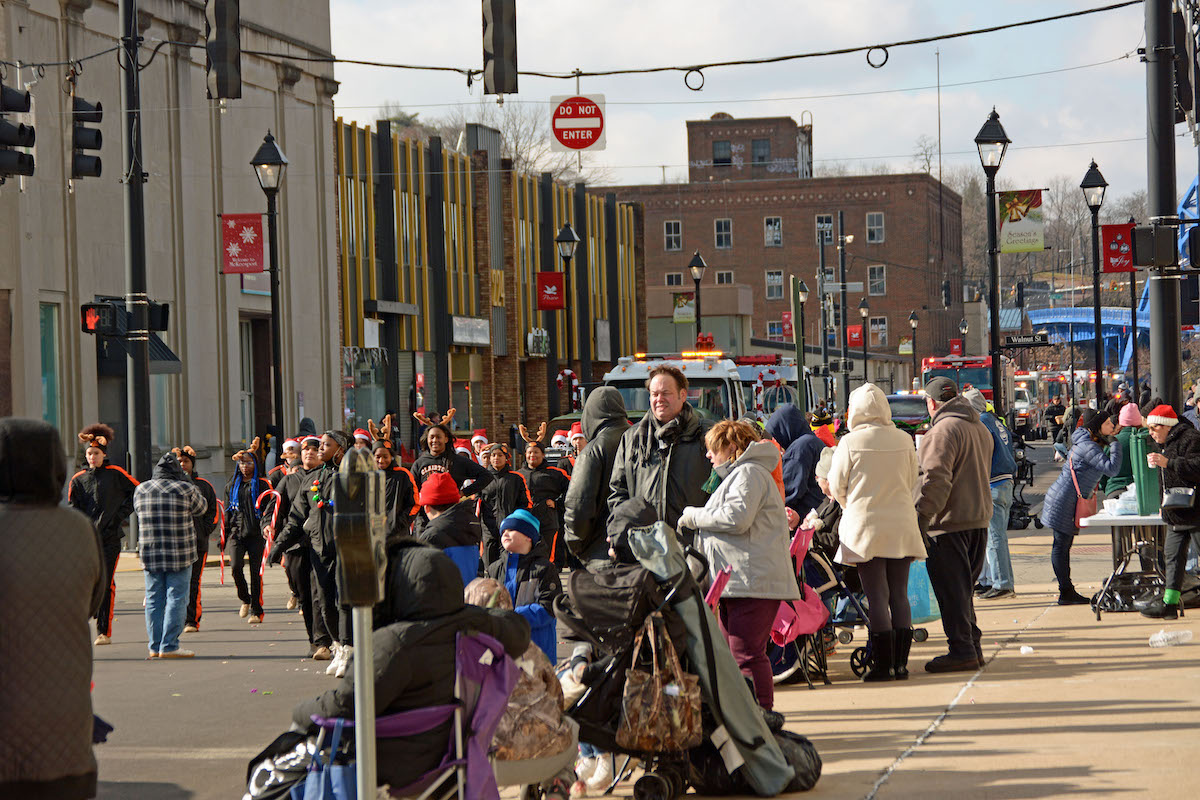 Despite the cold weather, Mon Valley families lined the streets to watch the Salute to Santa parade. (Vickie Babyak photo for Tube City Almanac)
"We are extremely proud of him and grateful that he's able to serve as grand marshal of the parade," McKeesport Mayor Mike Cherepko said.
Mon-Yough area bands, community organizations, police and fire units participated in the parade beginning at McKees Point Marina on Water Street and proceeded up Fifth Avenue to Sinclair Avenue.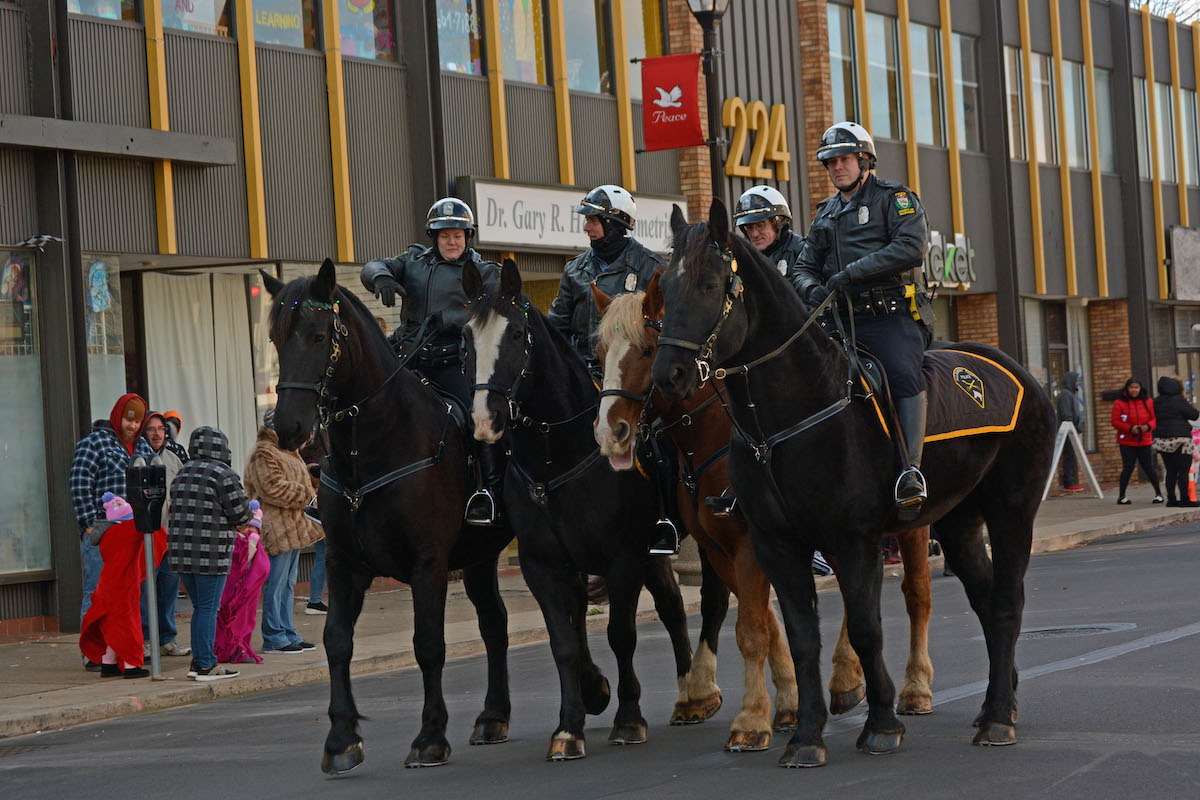 Allegheny County Police Mounted Unit horses brought excitement to some of the children watching the parade. (Vickie Babyak photo for Tube City Almanac)
Tube City Online broadcast the parade live on its YouTube channel.
Following the parade and arrival of Santa Claus, children were invited to the Palisades Ballroom where they could enjoy a complimentary lunch sponsored by the McKeesport Lions Club and meet their beloved Santa.
Participants included motorcycle units from McKeesport, North Versailles Twp. and Allegheny County police; the McKeesport Area High School Air Force Junior ROTC Honor Guard and Cadets; the Allegheny County Police Mounted Unit; the McKeesport police K-9 Unit, and public officials.
Also featured were members of the LaRosa Youth Club, Salute to Santa Queen Candidates Ke'Vionna Jones (Clairton Honeybears), Miracle Cromerdie (MAHS Cheerleaders) and Brianna Schmidt (MAHS Band); Salute to Santa Princess Candidates Payton Normandy (Mary of Nazareth), Sarai Farmer (Clairton Honeybears), Julia Rae Jackson (McKeesport Little Theater), Kaitence Walker (MAHS Cheerleaders) and Taylor Lewis (White Oak Volunteer Fire Co. No. 1).
Other units that participated were from Twin Rivers Elementary AIMS Program, McKeesport Area High School Girls & Boys Basketball Teams, McKeesport Area High School Band, McKeesport Area Cheerleaders, UMPC McKeesport and the Latterman Family Clinic, McKeesport Little Tigers Cheerleaders & Football, McKeesport Little Theater, the Mentoring Village, the Corner Donut Shop, Carnegie Library of McKeesport, Nuttall Public Safety, Mary of Nazareth Catholic School, McKeesport Housing Authority, Pennsylvania American Water Co., singer/songwriter Joey Young, Cybx, American Legion Post 527, the McKeesport HIV Prevention Council, Miller's Gymnastics, McKeesport Trail Commission, NAACP McKeesport Unit, Garden Club of McKeesport, Serra Catholic High School Band, McKeesport Agape Center, UPMC Emergency Medicine, McKeesport Ambulance Rescue Service, Mon Valley Independent, McKeesport Lions Club, Kiwanis Club of McKeesport/White Oak, McKeesport Regional History & Heritage Center, Clairton High School Band and Honeybears, Salvation Army of McKeesport, Café Hibiscus, Legion Arms Humvee, C&D Towing and McKeesport Recreation Board.
All photos: Vickie Babyak for Tube City Almanac. For reprints, email vbabyak@yahoo.com.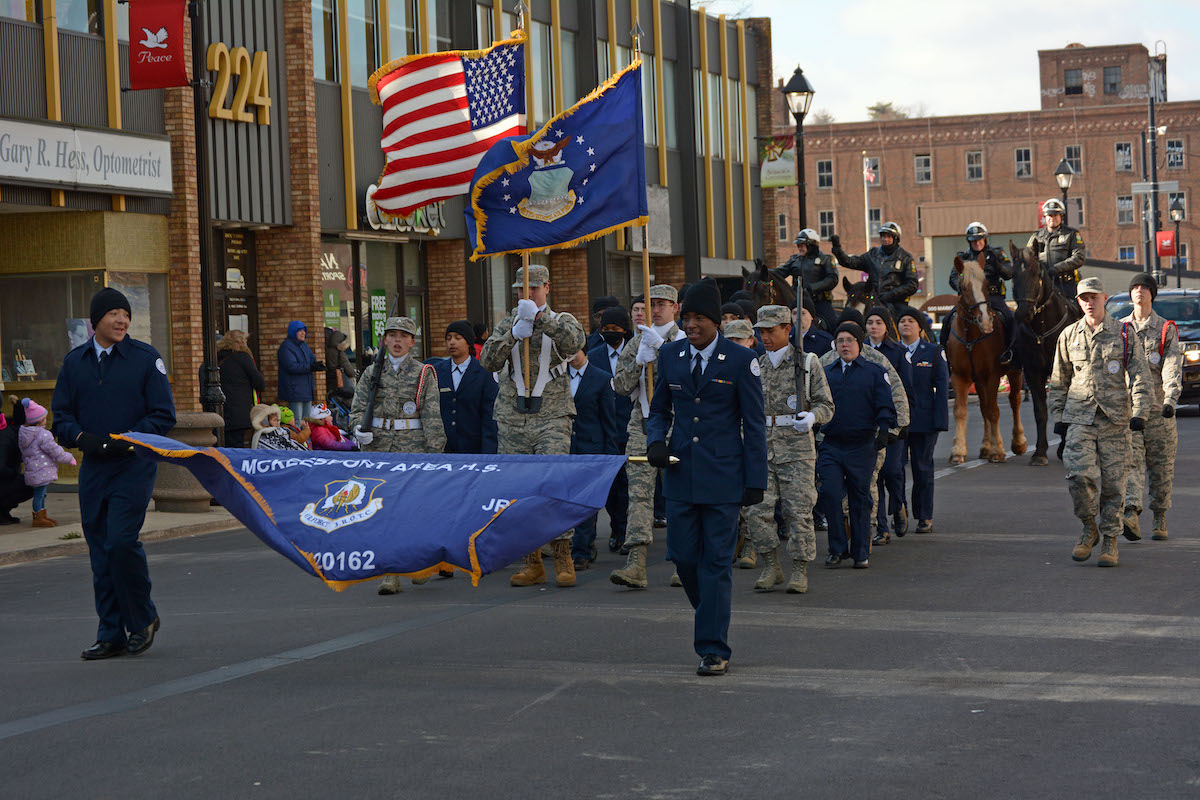 McKeesport Area High School Air Force Junior ROTC Honor Guard and Cadets proudly marching up Fifth Avenue.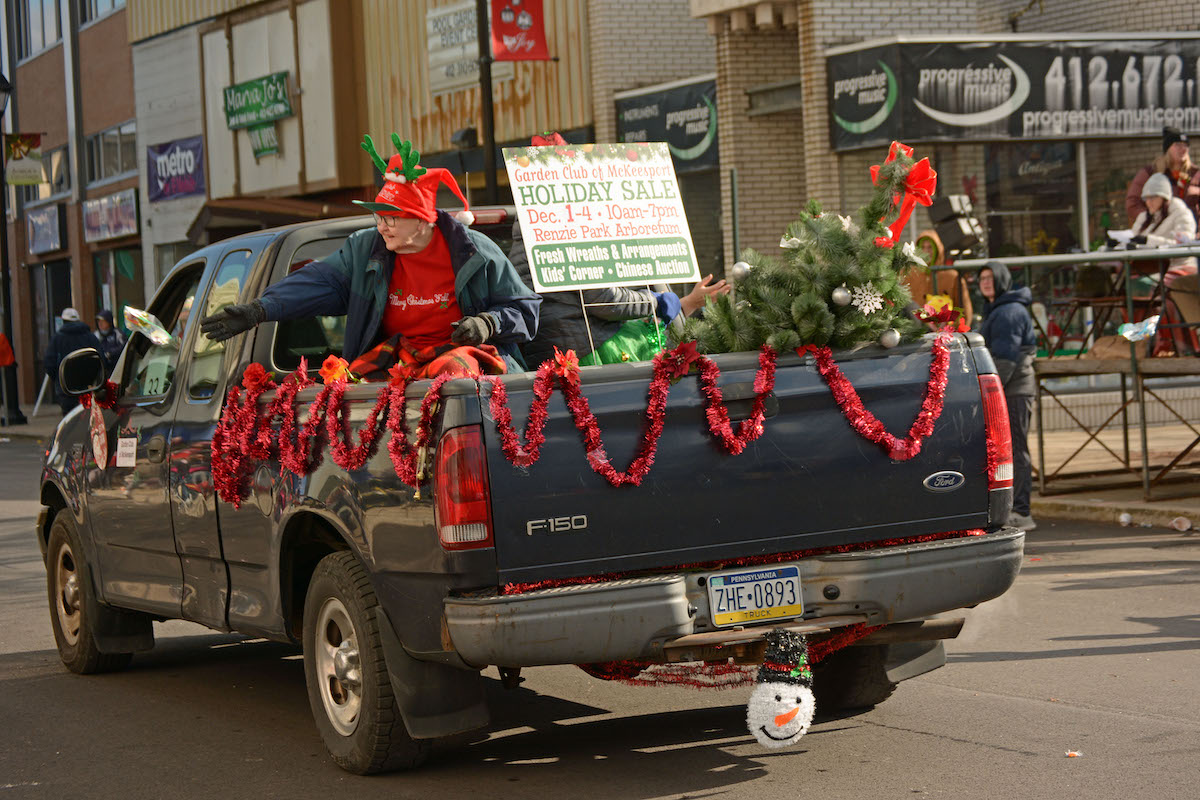 The Garden Club of McKeesport threw candy to eager children lined up along the sidewalks.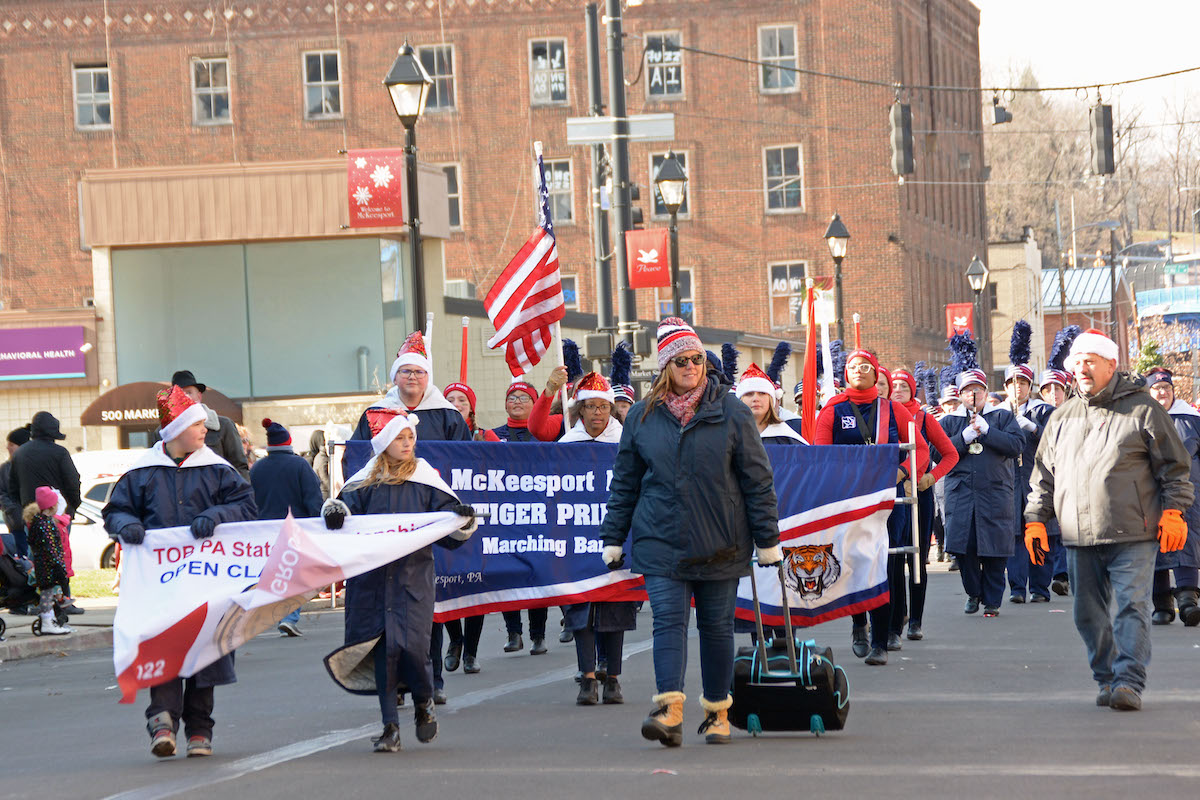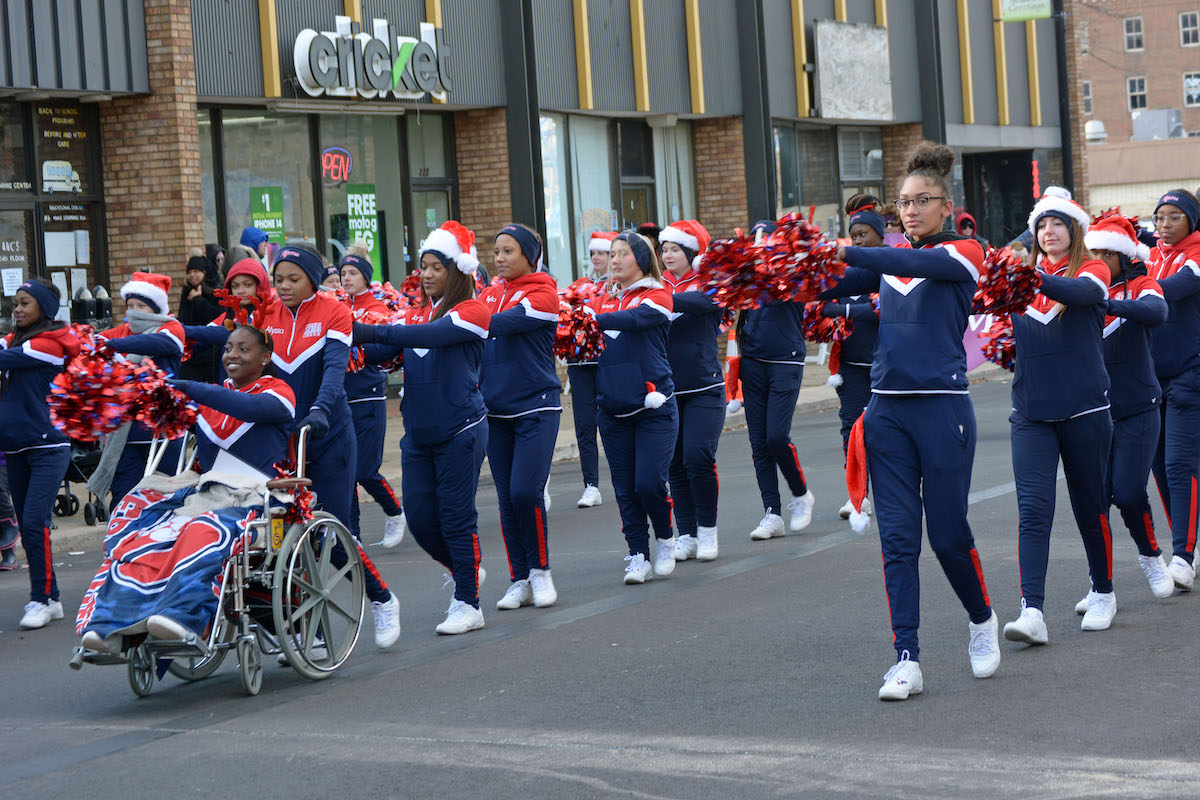 McKeesport Area High School Band (above) and cheerleaders (below)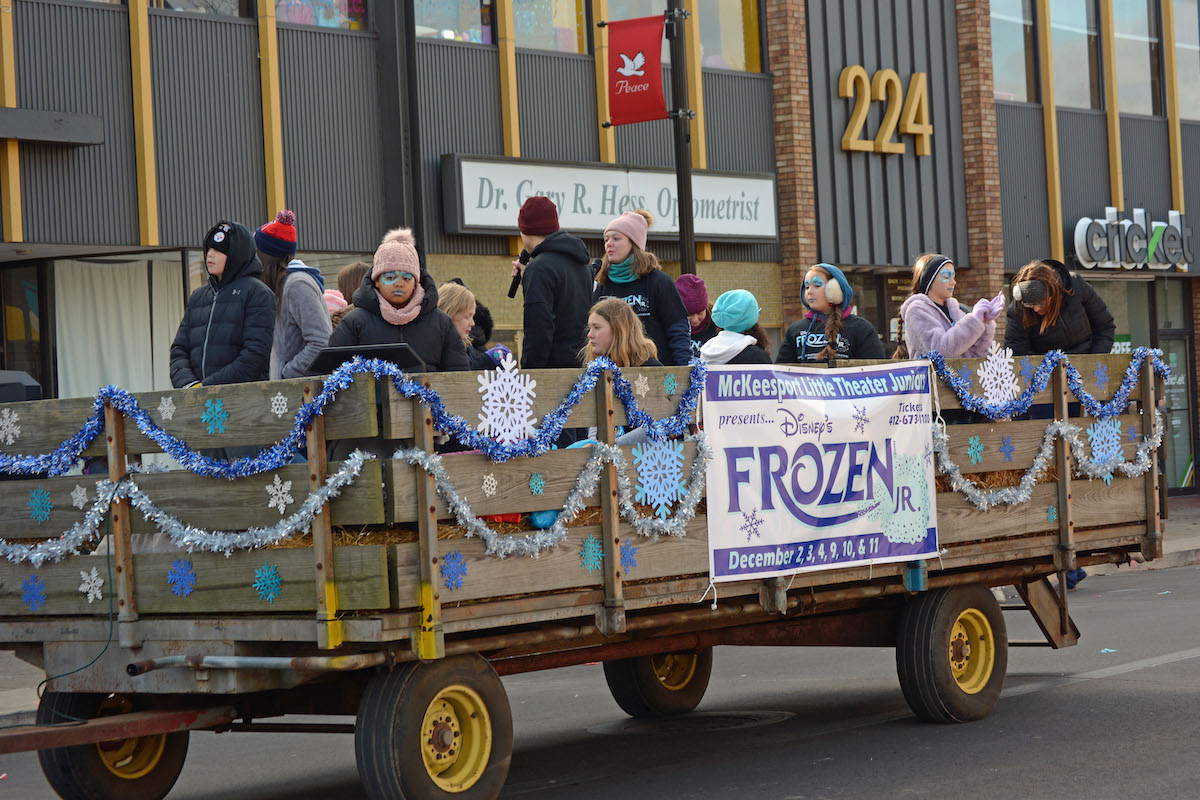 McKeesport Little Theater Juniors will present Disney's "Frozen" in December.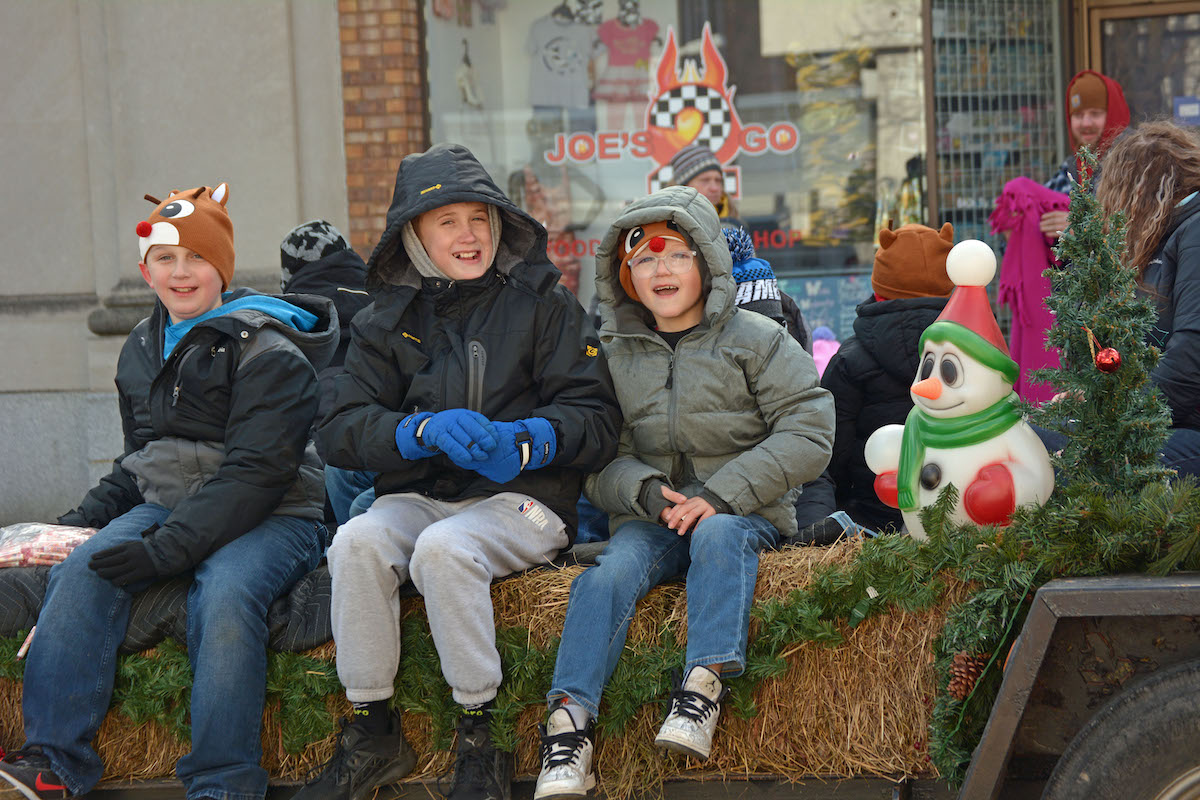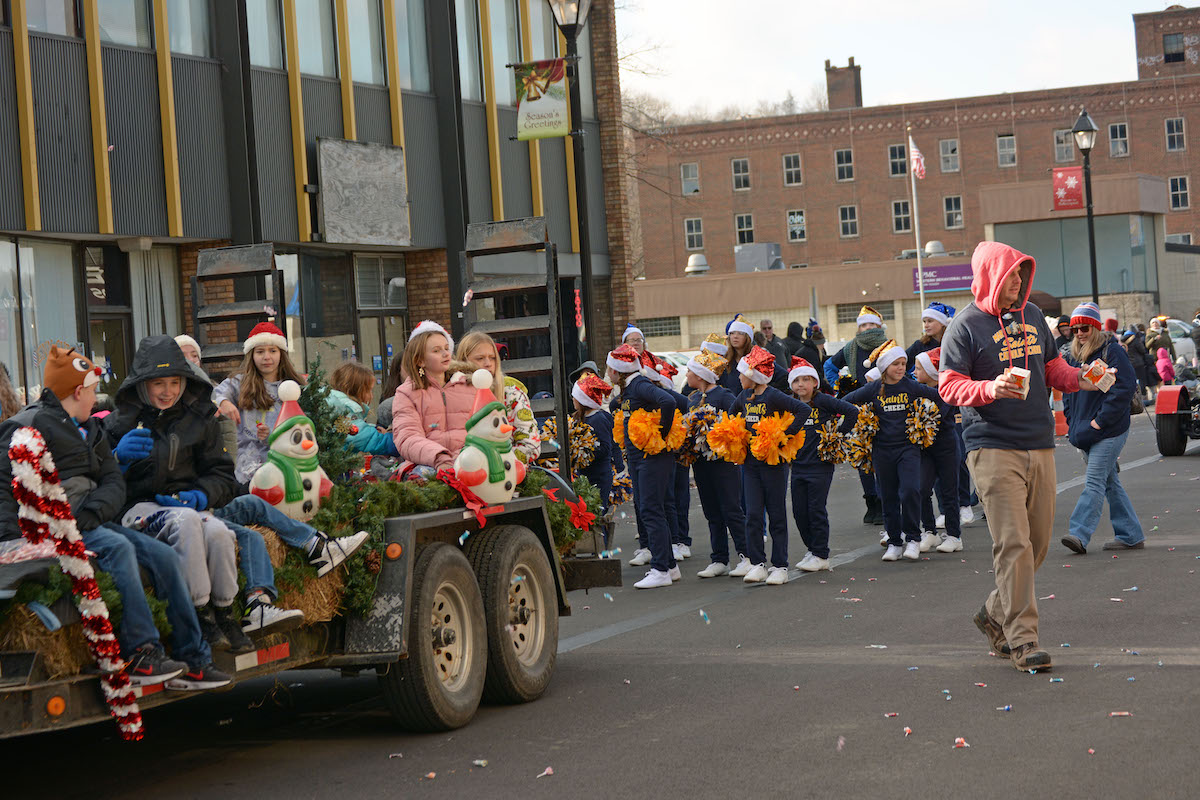 Mary of Nazareth Catholic School Cheerleaders and students on the school's float appear to be having fun.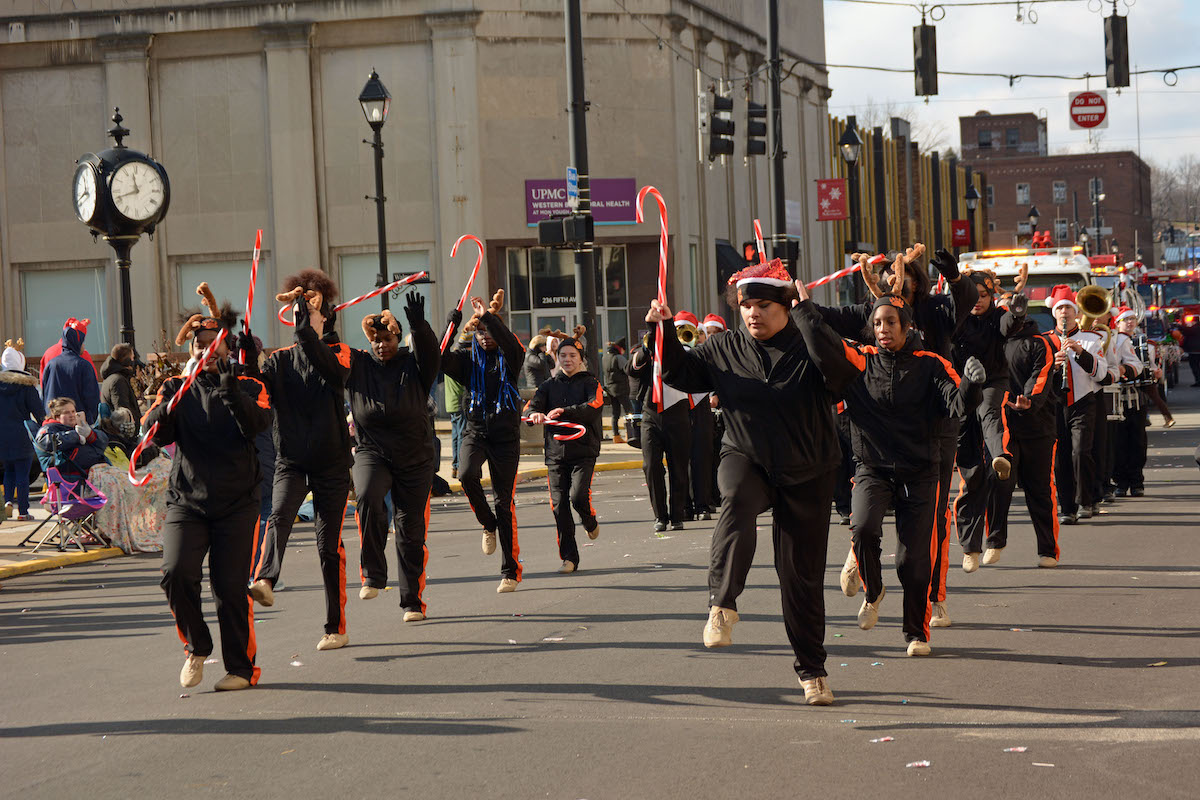 The Clairton Honeybears performed an entertaining routine.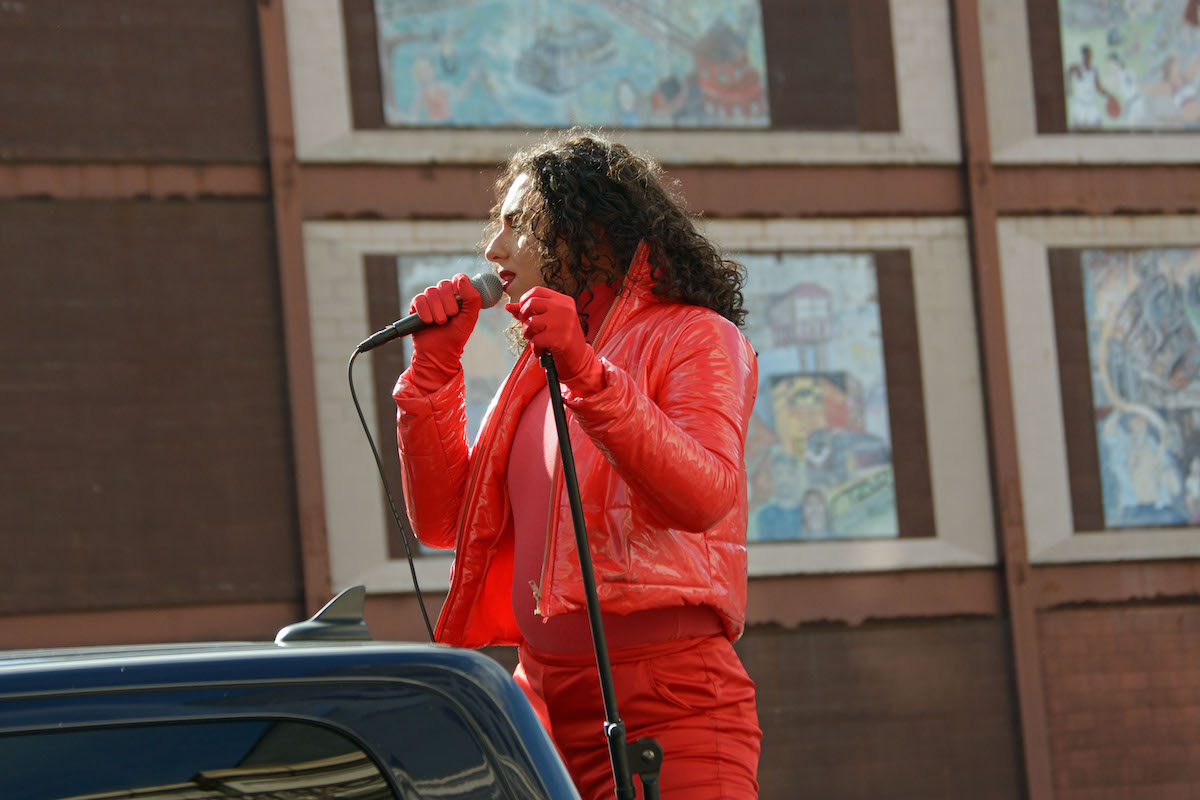 Joey Young, a singer/songwriter from McKeesport sang his original song, "Scorpio."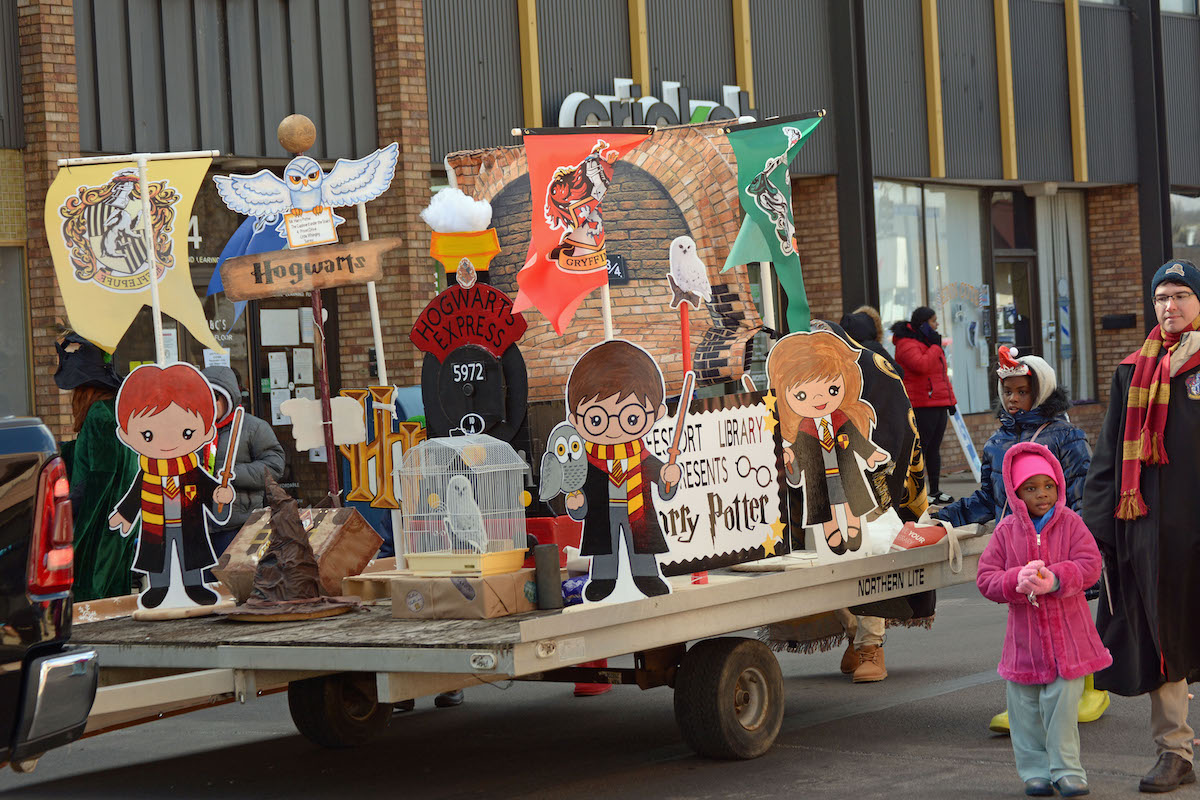 The Carnegie Library of McKeesport presented a Harry Potter-themed float.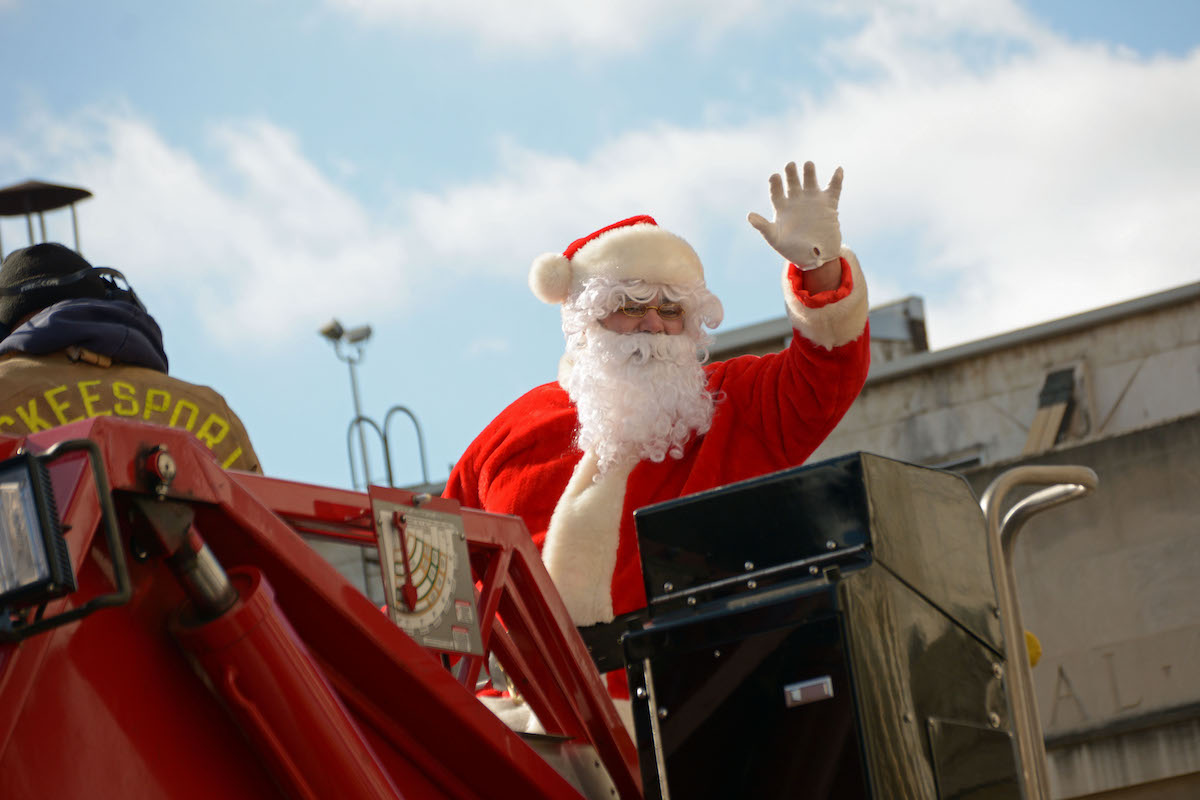 Santa Claus has finally arrived, on the back of a McKeesport Fire Department engine.

Originally published November 22, 2022.
In other news:
"RIDC Donates Land for…" || "Twp. Board OK's Park …"