(Advertisement)
Tube City Community Media Inc. is seeking freelance writers to help cover city council, news and feature stories in McKeesport, Duquesne, White Oak and the neighboring communities. High school and college students seeking work experience are encouraged to apply; we are willing to work with students who need credit toward class assignments. Please send cover letter, resume, two writing samples and the name of a reference (an employer, supervisor, teacher, etc. -- not a relative) to tubecitytiger@gmail.com. (4-11-2023 to 4-30-2023)
To place your ad, email tubecitytiger@gmail.com.
Ads start at $1 per day, minimum seven days.
Top score gives Tiger musicians the win
By Bonnijean Cooney Adams
The Tube City Almanac
December 01, 2022
Posted in: McKeesport and Region News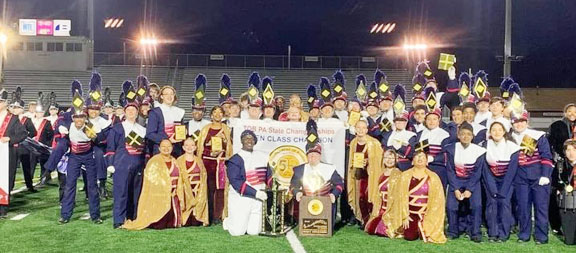 McKeesport Tiger Marching Band musicians and color guard at Mansion Field in Altoona, where they placed first in the Class 2 Open category in the first state Tournament of Bands competition. (Submitted photo courtesy McKeesport Area Tiger Marching Band)
---
McKeesport Area Tiger Marching Band sparkled and shined through a successful season, garnering the top score and taking home the title in the Group 2 Open category at the first Tournament of Bands state competition.
They earned a coveted 90-plus score with a 90.30, plus awards for High Auxiliary and Percussion for "All That Glitters" at the end of October at Mansion Park in Altoona.
Band director Drew DeCarlo said "All That Glitters" is an original competition, featuring uplifting concepts and show styles.
"We all shine in our unique ways," he said.
As always, based on judges' comments, and staff observations as the season progresses, the show is adjusted and tweaked.
"I want to think back to the summer, and remind the students that it a marathon, not a sprint," DeCarlo said of the state win.
"A marching band season is a marathon, and I hope they remember the journey of the season from the hot sun of the summer, the cool beginning of the fall, and the Championship evening at Altoona," he said.
"The journey is what counts," the band director said, "and the memories hopefully the students cherish for a lifetime!"
The competition band is evaluated each week by a panel of judges, who score the show based on music, visual, auxiliary and percussion components.
Drills for band and color guard for "All That Glitters" were designed by Ryan Raible and Mario James, with Kelley Larson as guard director.
Sophomore Savia Kawaski was one of three returning color guard members, who was very optimistic about the auxiliary's progress during the summer during band camp.
Kawalski said she thinks this year's success provided a good foundation for next season.
"Everybody worked very hard this season," she said. "They got over fears and differences and performed at their greatest potential."
Shyaire Flohr, who plays flute, is a relative newcomer to the band and said the end of the season brought mixed feelings.
"It has been my second year," Flohr said, "and it is bittersweet because I joined in my junior year. I'm glad I decided to do it this year in my senior year."
McKeesport's scores continued to improve as the season progressed. During the regional competition hosted by Penn-Trafford on Oct. 22, McKeesport scored 88 points and placed first in its category for music, visual, auxiliary, and percussion.
Senior flute player Makayla Elash shared what she thinks helped the Tiger band place first at the state championship.
"It was all the extra diamonds, dances, final ending that I believe put us over the 90 mark," she said.
Nicole Upperman, who plays clarinet, favored the second song in the show while it was under development in the summer.
"The second song is still my favorite part," she said. "My biggest challenge was understanding that this was some people's first year, and they were not going to get it right away like I did because it was my last year."
Field commander Tina Wos, who also had a flute solo in the second song, said she felt she accomplished her goals as a student leader and in playing her solo during the competition season.
Cooper Kuchma faced a big change during "All That Glitters" because the sophomore section captain switched from playing trumpet as a freshman to tuba.
"I feel like I had a better season with tuba than I would've had if I played trumpet," he said. "I'm very glad I decided to play tuba, as it is now my favorite instrument."
Field commander Tina Wos, Woodwind section captain Connor McGrew said the show's theme definitely was appropriate to all involved with the award-winning show.
"It applies in that we all shined together," he said. "Together we made one big shimmer."
"I am proud of each and every band season, because it is the students that are creating the memories, " DeCarlo said, "and creating history for the school, and their memories."

Bonnijean Cooney Adams is a freelance contributor. She can be reached at adamsclick@aol.com.
Originally published December 01, 2022.
In other news:
"Tiny Margin Gives Ser…" || "AIU Sets Career Fair …"