(Advertisement)
Tube City Community Media Inc. is seeking freelance writers to help cover city council, news and feature stories in McKeesport, Duquesne, White Oak and the neighboring communities. High school and college students seeking work experience are encouraged to apply; we are willing to work with students who need credit toward class assignments. Please send cover letter, resume, two writing samples and the name of a reference (an employer, supervisor, teacher, etc. -- not a relative) to tubecitytiger@gmail.com. (4-11-2023 to 4-30-2023)
To place your ad, email tubecitytiger@gmail.com.
Ads start at $1 per day, minimum seven days.
By Bonnijean Cooney Adams
The Tube City Almanac
December 01, 2022
Posted in: McKeesport and Region News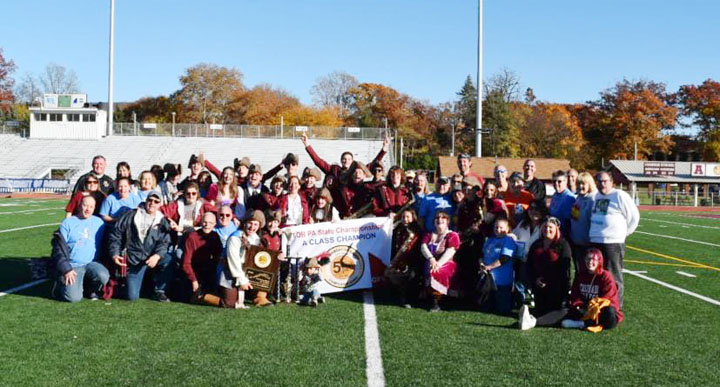 Members of the Serra Catholic Eagles Marching Band gather on the field to celebrate with their championship banner. (All photos courtesy of Serra Catholic Marching Band)
---
In the closest competition of his career, band director Jesse Bush said he thinks everyone at Mansion Field in Altoona heard him yell when Serra Catholic was announced in first place – by a mere two hundredths of a point (0.02) – to win the Tournament of Bands 1-A state championships.
Serra received a 91.75, edging out Tyrone with a 91.73, and followed closely by East Allegheny with a 91.13.
See Also: McKeesport Area High School Tiger Marching Band, which also competes in the Tournament of Bands Region 8 but in a different category of Group 2 Open, took home that state title with a score of 90.30 and awards for High Auxiliary and Percussion. Read More
The state competition on Oct. 29 capped a season showing steady improvement in the pirate-themed "X Marks the Spot" since the Serra Eagles placed second in their category with a score of 76.18 in the TOB Preview Show on Sept. 10 at Penn-Trafford.
"This is probably the hardest-working group of marching band students I've ever had," Bush said. "We had some very steep competition this year with seven bands in our local regional class and 11 at states.
"All of the bands in 1-A had fantastic shows. Every show the scores were so close," he said. "The amount of growth and development the Serra Band had this season was incredible. Everyone worked so hard and improved so much."
"We went into states with hard work, but we were expecting the top five, not one," senior drum major Selena Kunsman said. "Hearing every other band's name after the fifth place was extremely suspenseful, especially after East Allegheny was announced, because the entire band let out a collective nervous sigh; it was funny.
"After that, I'd look over at Mr. Bush and he'd be pointing at us like, 'That's you, guys," or "You did that.' When Tyrone was announced as second place, Mr. Bush did what we all wanted to – he jumped and screamed. It was insane," she added.
"Of course, all of the guard girls were standing behind me, Maddy (senior color guard captain Madalyn Peairs), and Carmela (senior drum major Carmela Capasso) as they were already all crying and making jokes about our blue flags," Kunsman said. "I could not wait to run and collect our well-deserved prize."
Capasso said her favorite memory is "when we performed at championships and the entire crowd was screaming. They were so into the performance. We even got a standing ovation. It was amazing!"
She said she joined the color guard and some other band members crying tears of joy at the win.
"I bawled my eyes out," Capasso said. "I couldn't believe it. I was so happy that all of our hard work had paid off. I think this being my last year made winning extra special. That was the best possible way to end my last band season and I am so thankful for having this opportunity."
During band camp in August, Peairs said her squad was learning "X Marks the Spot" very quickly, and that she was looking forward to the competition season.
"I am very proud of how the guard performed this season," the captain said. "They have all grown so much since they initially joined last year. I am going to miss performing with all of them."
She said she didn't have a favorite part of the show, but liked the whole thing.
"It is such a fun show to perform, especially teaching everyone the story of the show as you do it," Peairs said. "When they announced us as the winner, it took me a second to realize what they had said. I was overwhelmed with emotions and it took awhile to feel real. It was a great way to end my last year," Peairs said.
Bush explains band's progression
For those not familiar with how TOB competitors are judged each week, Bush explained the process:
"TOB judges record feedback that the students and I listen to and make adjustments," he said. " There's a lot that's judged, but basically music and visuals. The music side is of course playing proficiency, challenge, etc., and visually it is the uniformity of marching technique, forms, choreography, and the techniques used by our color guard flags, rifles, and other props."
Serra was the regional champion in its division in 2021, with the TOB state championships something brand new for 2022, Bush said, and the band had to do some extensive fundraising – to the tune of $8,000 – so members could attend.
There is an additional competition, the Atlantic Coast Championships involving TOB participants from Pennsylvania, New York, Ohio, West Virginia, New Jersey, and Virginia, which Bush described as "like the Super Bowl. For ACCs, you have to register in July. I don't even know who all is in the band by that point in the summer, so it's always a difficult decision to make that early. Serra has never done ACCs, to my knowledge."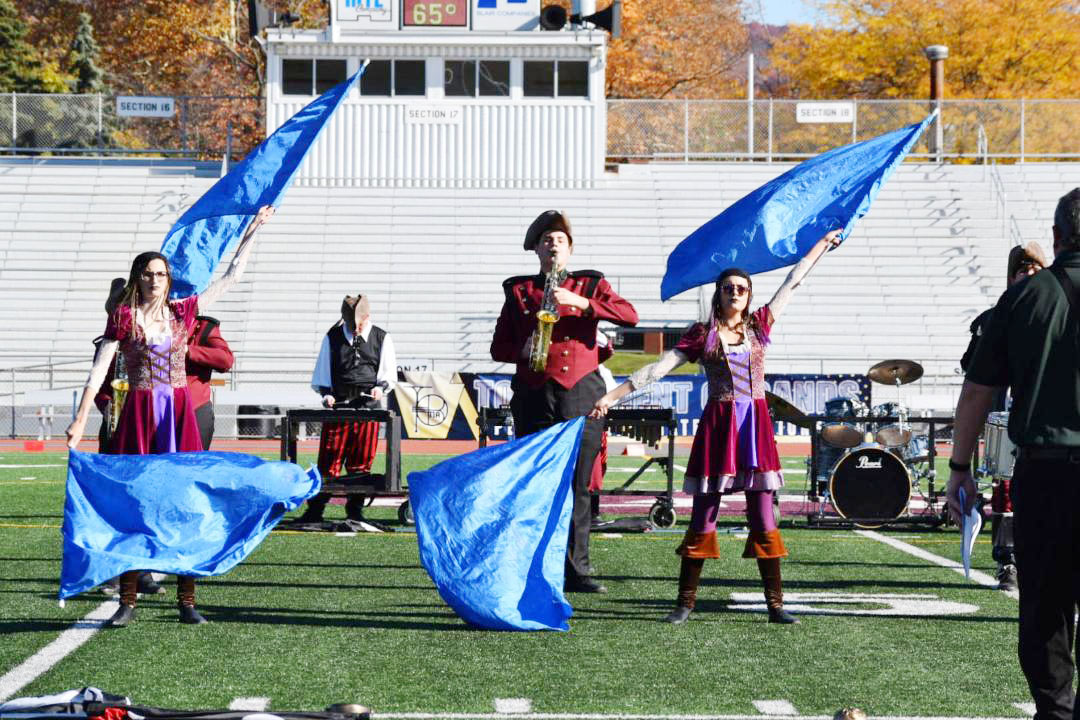 Candid shot from Serra's first-place state TOB performance highlights pirate theme.
Seniors reflect on season
Band secretary Joel Blake took on the challenge of playing two instruments – alto and soprano saxophone – and said he thought that worked out very well.
"The band's addition of the sword fight added an extra challenge to the show that needed us to be aware of our facial expressions and overall actions, since we were basically let loose and didn't have to follow step size requirements or march," he said. "I feel the band adapted well to that and any other change that Mr. Bush decided to add.
In addition to the sword fight, there was a duel of a musical nature between woodwind section leader Maigen McGinty and TJ Betzner.
"I thought that the duel between the saxophone and guitar was extremely cool," said Betzner, the uniform manager and strings section leader. "It added to the intensity of the moment with the band also participating in a physical sword fight. Because they were able to act in this part of the show, it really felt like the band had an awesome time doing it."
"I can definitely say I enjoyed performing the musical duel, and I think it helped add tension and build up with Selena's and Maddy's sword fight," McGinty said.
Betzner said when Serra's first-place finish was announced, he was astonished. "It felt as though as they were announcing each band, my anxiety would increase significantly," he said. "To be honest, I was expecting us to place around fifth. Being that this is my last year, I feel it is significant because we were able to leave a mark on the music program just like the seniors last year."
Band captain Joseph Pawlowski said in August that he particularly liked the second song in what they had learned of "X Marks the Spot" at that point.
"I had so much fun!" he said, looking back on the season. "My favorite part was playing the bells in the second song."
Drum major Kunsman had a slightly different perspective with her favorite memory, which was from the regional championship before states.
"My favorite part of the entire band season has probably been the championship at Penn-Trafford, where we came in second place," she said. "Winning states was incredible and everything, but the championship run was so energetic and the entire band had so much energy and put forth everything they had.
"Of course, there were plenty of mistakes within the attempt, but when we came off the field we were so optimistic. I'm not even sure we had our competitors in mind at the time, but we knew we performed to the best of our ability, not only as individuals but also as a group," she said.
"When they announced us as second-place champions (at regionals), there was a wave of disappointment, but Mr. Bush reassured us as always. We were not done and knew we had another week ahead of us to improve," Kunsman said. "I enjoyed watching the work ethic improve week by week."
Asked if "X Marks the Spot" met his expectations, Bush said it definitely did. "I had an absolute blast working with our pirate crew this season," he said. "I couldn't be prouder of this group!"

Bonnijean Cooney Adams is a freelance contributor. She can be reached at adamsclick@aol.com.

"X Marks the Spot"

Serra Catholic Band Student leaders
Drum Majors: Carmela Capasso and Selena Kunsman
Color Guard Captain: Madalyn Peairs
Band Captain: Joseph Pawloski
Woodwind Section Leader: Maigen McGinty
Percussion Section Leader: Vincent Brown
Uniform Manager/Strings Section Leader: TJ Betzner
Equipment Manager: Robbie Anitori
Secretary: Joel Blake

Band roster
Robbie Anitori, flute; Lyndsay Chirdon, piccolo; Carmela Capasso, clarinet; Taylor Betzner, clarinet; Michael Aland, bari saxophone; Joel Blake, alto saxophone/soprano saxophone; Savino Dilonardo, alto saxophone; Erin Marie Genton, alto saxophone; Maigen McGinty, tenor saxophone; Selena Kunsman, trumpet; Mickey O'Brien, trumpet; Vincent Brown, percussion; Joseph Pawlowski, percussion; Jacob Rock, percussion; TJ Betzner, guitar; Emilia Capasso, percussion; Madalyn Pears, color guard; Brigid Fuller, color guard; Katelyn Kostrub, color guard; Francesca Aland, color guard; Sydney Korbanic, color guard.
Band Director: Jesse Bush
Color Guard Director: Susan Frank
Drill Design: Ryan Raible
Additional staff: Tom DeCarlo, Joe Diamond, Justin Anderson
Music composed and arranged by Randall D. Standridge
Originally published December 01, 2022.
In other news:
"Penn Hills Man Held i…" || "McKeesport Band Takes…"