(Advertisement)
Tube City Community Media Inc. is seeking freelance writers to help cover city council, news and feature stories in McKeesport, Duquesne, White Oak and the neighboring communities. High school and college students seeking work experience are encouraged to apply; we are willing to work with students who need credit toward class assignments. Please send cover letter, resume, two writing samples and the name of a reference (an employer, supervisor, teacher, etc. -- not a relative) to tubecitytiger@gmail.com. (4-11-2023 to 4-30-2023)
To place your ad, email tubecitytiger@gmail.com.
Ads start at $1 per day, minimum seven days.
Familiar songs and story offer challenges, camaraderie for MLT's young performers
By Bonnijean Cooney Adams
The Tube City Almanac
December 02, 2022
Posted in: Entertainment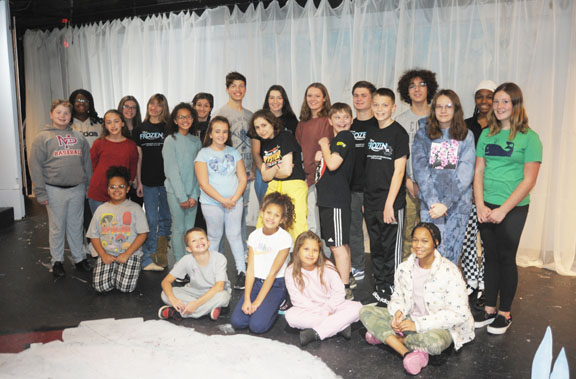 The cast of Disney's "Frozen Jr." at McKeesport Little Theater takes a quick break from rehearsal. (Photo by Bonnijean Cooney Adams for Tube City Almanac)
If you go...

Disney's "Frozen Jr."

Presented by McKeesport Little Theater Juniors

Where: McKeesport Little Theater, 1614 Coursin St.

When: Fridays and Saturdays Dec. 2, 3, 9 and 10 at 7 p.m.; Sundays Dec. 4 and 11 at 2 p.m.

Tickets: $15 for adults and $10 for students. Available through the MLT website, by calling the theater at 412-673-1100, or via onthestage.com.

There are two special, pre-show activities requiring advance reservations set for Dec. 4 and Dec. 10, but spots are going quickly, as are tickets for the shows. The first is Olaf's Character Brunch, and the second is a Coronation Day Ball. MLT management recommends those planning to attend should call the theater at 412-673-1100 for availability and pricing.
There's a lot of pressure on the young performers in McKeesport Little Theater's Juniors program as they undertake the latest production, which opens tonight (Dec. 3).
That's because the show is Disney's "Frozen Jr.," with a storyline and songs familiar to audiences of all ages from the movie and Broadway production.
The most experienced performers with lead roles — and even director Dorothy Fallows, who has been in charge of the Juniors' program and affiliated with McKeesport Little Theater for at least 30 years — said it's definitely challenging to give audiences what they know and expect, while adapting the show to fit MLT's unique venue and talents of the cast.
"It's a hard show," Fallows said. "There are lots and lots of costumes, costume changes, and songs," plus decisions on sets, props, and other items.
Dylan Stramaski, Kaitlyn Majewski and Autumn Tavaglione are seniors in high school who have been together in the Juniors program for years.
They all agreed "Frozen" is more difficult than other shows they've been in, not only in the Juniors program, but in other productions at MLT, through school and on other stages.
Stramaski plays King Aagnarr (Elsa and Anna's father), and Kristoff, with Majewski as Elsa and Autumn Tavaglione as Anna.
As they did last year in the Juniors' production of "Seussical," Stramaski and Majewski choreographed "Frozen."
"It's definitely been crazy," Stramaski said of learning both of his roles and collaborating on choreography. "It was definitely challenging, but I like the challenge.
"There's a good portion of me in Kristoff, and getting to share so much time with Autumn (as Anna) brings out our friendship," he said.
Majewski said she saw the Broadway version of "Frozen" when it played the Benedum, where she said there were so many little girls who came dressed up as Elsa. She said she embraces her character, likening Elsa's experiences to hers as a senior.
"It corresponds to my journey," Majewski said. "She opened up her emotional gates."
As a choreographer, she said there are three or four big dance numbers, with more young performers in the "Frozen" cast than there were for "Seussical."
"The music is great," said Autumn Tavaglione. She emphasized that although Anna is a key role, the story definitely isn't about just one character, with significant contributions from the entire cast through their acting, singing, and dancing.
Zeke Tavaglione plays Sven, where he gets plenty of chances to interact with Stramaski as the reindeer-loving Kristoff.
He and Stramaski said it's been fun to do so again this year, as they did when Stramaski was Horton and Zeke Tavaglione was JoJo in "Seussical."
"I like that he is kind of goofy," Zeke Tavaglione said of Sven. "It fits my personality."
Stramaski said his favorite number is "Reindeers Are Better Than People," featuring Kristoff and Sven.
"I don't like him," Lucas Sotereanos said of his character Hans. "He's the Disney twist character. But he's fun to play because I like to be something devious."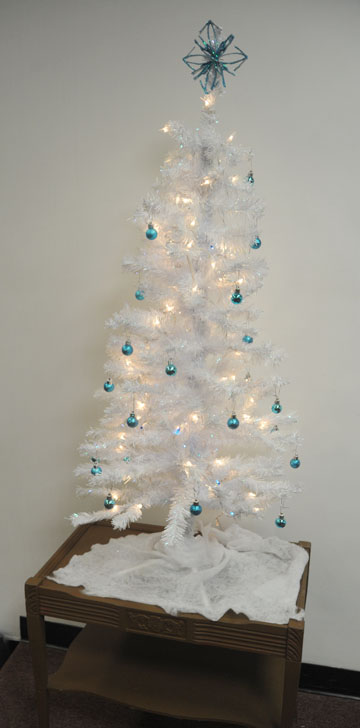 Tree adorning the lobby at McKeesport Little Theater is looking a little "Frozen" in tribute to the latest show. (Photo by Bonnijean Cooney Adams for Tube City Almanac)
---
Sotereanos said his favorite musical number is "Colder by the Minute," one of the climatic scenes that features Hans, Anna, Elsa, Kristoff and the ensemble.
Majewski said she was fooled by the Hans character the first time she saw the Disney movie.
Gunner Firmstone portrays Olaf the snowman, who he said "is one of the characters who tries to fit in all the time. He makes his own little solo or joins the others. He's creative and funny, and rude sometimes without realizing it."
A relative newcomer to the MLT stage (he recently played one of the young Newsies) and Juniors program, Firmstone said he's been most interested in "all the moving parts of the show."
While those characters are key, there are plenty of other specific and ensemble roles vital to bringing "Frozen" alive on the MLT stage, as Autumn Tavaglione pointed out.
Young Elsa and Young Anna are played by Katie Hall and Julia Rae Jackson, respectively. Nie'Zhay Jefferson is Queen Iduna, with Emmet Chesleigh as Weselton and Oaken, Margaret Ace Valentine as Bishoff, Maggie Koisor as Pabbie, and Tika Gill as Bulda.
Hall is the dance captain, with a group of Snow and Summer Chorus Dancers. There also are Castle Staffers, the Hidden Folks, Oaken Family, and Townspeople to round out the cast of veterans and newcomers.
Bonnijean Cooney Adams is a freelance contributor. She can be reached at adamsclick@aol.com.
Cast and Crew
Young Elsa - Katie Hall
Young Anna - Julia Rae Jackson
Elsa - Kaitlyn Majewski
Anna - Autumn Tavaglione
King Aagnarr - Dylan Stramaski
Queen Iduna - Nie'Zhay Jefferson
Kristoff - Dylan Stramaski
Sven - Zeke Tavaglione
Olaf - Gunner Firmstone
Hans - Lucas Sotereanos
Weselton - Emmet Chesleigh
Bishoff - Margaret Ace Valentine
Pabbie - Maggie Koisor
Bulda - Tika Gill
Hidden Folks - Sophia Gill, Elin Nowading, Kendayl Howard, Taytum Jones, Ash Witcher
Oaken - Emmet Chesleigh
Oaken Family - Lucas Alexa, Rasheena Carson, Nie'Zhay Jefferson, Margaret Ace Valentine, Destini Banks, Anthony Banks
Castle Staff - Lucas Alexa, Rasheena Carson, Destini Banks, Anthony Banks
Dance Captain - Katie Hall
Snow and Summer Chorus Dancers - Katie Hall, Julie Rae Jackson, Skylar Crenshaw, Sydney Hrinda, Summer Ura, Bella Daye Messner
Townspeople - Sophia Gill, Elin Nowading, Kendayl Howard, Taytum Jones, Ash Witcher, Nie'Zhay Jefferson

Director - Dorothy Fallows
Music Director - George Pecoraro
Executive Producer - Jan Gerber
Producers - Amy Majewski & Lori Stramaski
Stage Manager - Bry Zanotelli
Choreographers - Kaitlyn Majewski & Dylan Stramaski
Originally published December 02, 2022.
In other news:
"Mon Yough Chorale Set…" || "MAHS Musicians to Per…"