(Advertisement)
McKeesport Housing Authority is opening the Section 8 waiting list
Housing Choice Voucher Program
The McKeesport Housing Authority will be accepting applications for the Housing Choice Voucher Program (Section 8) Waiting List.
When?
April 10, 2023, 8:30 AM @ 2901 Brownlee Ave. McKeesport, PA 15132.
NO APPLICATIONS WILL BE ACCEPTED BEFORE THE ABOVE POSTED TIMES.

APPLICATIONS WILL BE DATE AND TIME STAMPED UPON RECEIPT. APPLICATIONS CAN BE SUBMITTED IN PERSON, FAX 412-673-1706, EMAIL TO BBRAY@MCKHA.ORG.
You can download a blank copy of the application from www.mckha.org.
Where?
At www.mckha.org or any of the rental offices at Crawford Village, Harrison Village & McKeesport Towers

MULTIPLE APPLICATIONS WILL NOT BE ACCEPTED. PLEASE DO NOT CALL FOR YOUR STATUS —- NO INFORMATION WILL BE GIVEN OVER THE TELEPHONE. YOU WILL BE NOTIFIED VIA THE US MAIL. IT IS CRITICAL TO KEEP YOUR INFORMATION UPDATED WITH OUR OFFICE IF IT CHANGES. IF WE ARE UNABLE TO CONTACT YOU, YOU MAY BE REMOVED FROM THE WAITING LIST.
To place your ad, email tubecitytiger@gmail.com.
Ads start at $1 per day, minimum seven days.
House Democrats set Feb. 7 for special election; Republicans expected to challenge
By Staff Reports
The Tube City Almanac
December 07, 2022
Posted in: McKeesport and Region News, Politics & Elections, State & Region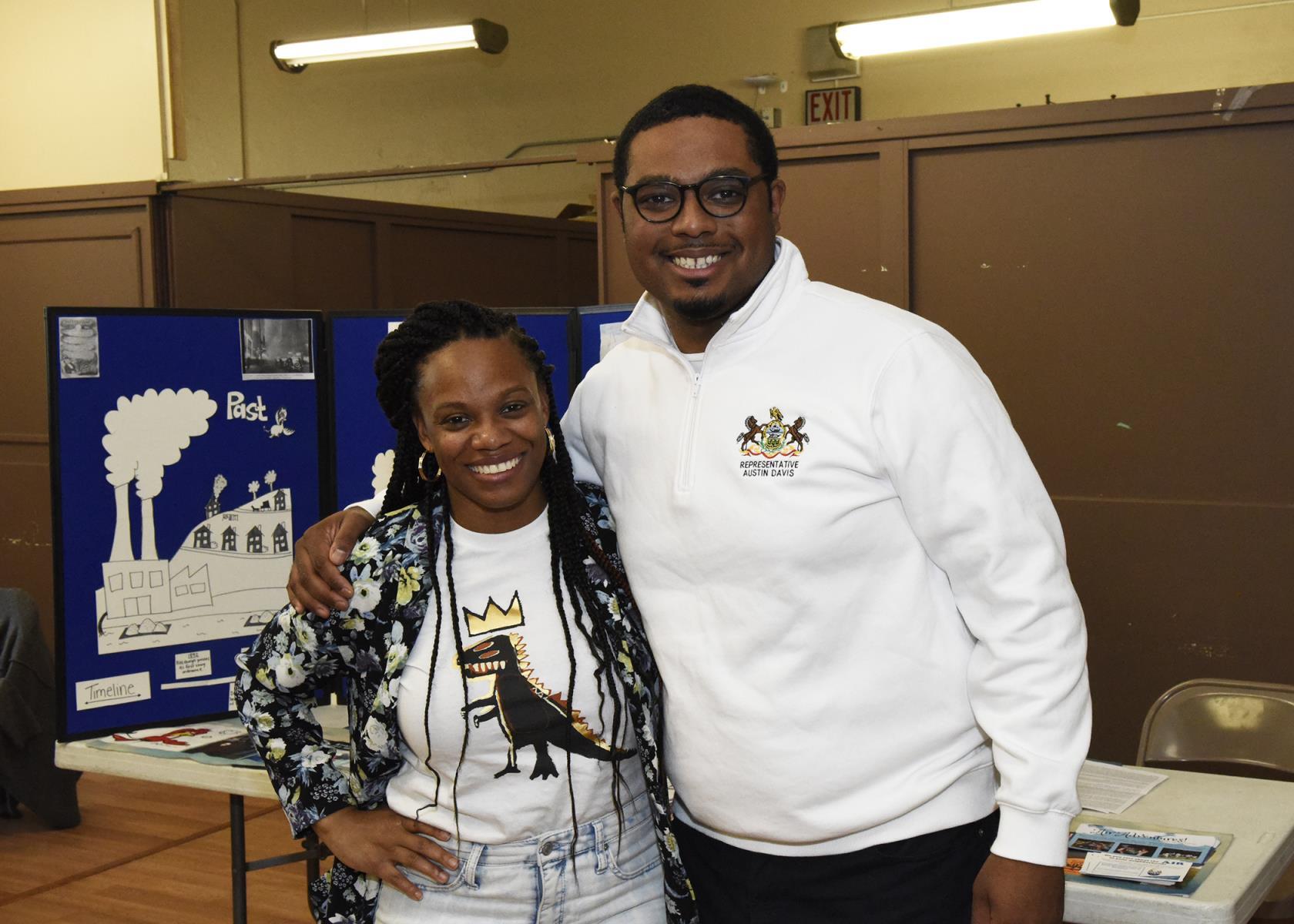 Summer Lee and Austin Davis, shown here at their Mon Valley Youth Expo in 2019, have resigned their respective state legislative seats. Lee has been elected to the U.S. House of Representatives, while Davis is slated to become Pennsylvania's first Black lieutenant governor. (Submitted photo courtesy Pennsylvania House of Representatives)
---
Mon-Yough area voters will be asked to choose replacements for two state legislators who have been elected to higher offices.
State Rep. Austin Davis of McKeesport and State Rep. Summer Lee of Swissvale, both Democrats, submitted their resignations on Wednesday. Davis has been elected lieutenant governor, replacing John Fetterman of Braddock, while Lee has been elected to the congressional seat currently held by U.S. Rep. Mike Doyle, who is retiring.
On Wednesday, state House Democratic Leader Joanna McClinton of Philadelphia announced that a special election will be held Feb. 7 to replace Davis, Lee and state Rep. Anthony DeLuca, who died in October.
Davis and Lee won re-election to their house seats in the Nov. 8 election, as did DeLuca, 85, whose name could not be removed from ballots before voters went to the polls.
Democrats will hold a slim lead in the state house after Jan. 1.
Republican legislators are disputing whether Democrats actually will have control of the legislature because the seats held by Davis, DeLuca and Lee will technically be vacant; and have said that McClinton does not have the right to set the date for a special election. The dispute is expected to go to court.
In addition to the city, Davis' 35th District includes Clairton, Duquesne, Homestead, Liberty Borough, Lincoln Borough, Munhall, Port Vue, South Versailles Twp., Versailles, West Homestead, Whitaker, White Oak and part of West Mifflin.
Davis has represented the district since 2018.
In a statement issued this morning and sent as a letter to members of the state house, Davis called his service "the honor of a lifetime."

"If you had told me as a 16-year-old teen, driven to my first city council meeting to protest gun violence that had reached my own block, that I would have the privilege to represent my hometown and neighboring communities in our state Capitol, and the opportunity to take those issues head on and improve lives, I wouldn't have believed it," he said.
There has been public speculation that Matt Gergely, who currently serves as the city's finance director and previously served as city administrator and as a McKeesport Area School District official, will run as a Democrat for Davis's seat. Gergely's brother, Marc, held the seat before Davis.
Davis, who was the first Black state legislator to represent McKeesport and who will become the state's first Black lieutenant governor, called his resignation "bittersweet."
"While I am proud of our accomplishments in the House and will miss working with my colleagues there, I am also excited and looking forward to working with (governor-elect Josh) Shapiro to continue to move our commonwealth forward," Davis said.
Lee's 34th District includes Braddock, Braddock Hills, Chalfant, Churchill, East Pittsburgh, Edgewood, Forest Hills, North Braddock, Rankin, Swissvale, Wilkins Twp., Wilkinsburg and parts of the City of Pittsburgh.
A native of North Braddock, Lee has served as state representative for four years.
"This is where I went through my growing pains, where we proved that we could legislate for the people, and where we sparked movements that continue to take on corporate and corrupt power," she said in a prepared statement. "We started it all here and now we have the opportunity to take our movement to the halls of Congress. I am lucky to be able to serve my community again and even more of Western Pennsylvania as the congresswoman for Pennsylvania's 12th Congressional District."
Four candidates have declared their intention to see Lee's seat, including Wilkinsburg School Director Ashley Comans, Edgewood Councilwoman Bhavini Patel, Swissvale attorney Abigail Salisbury and NaTisha Washington of Wilkinsburg.
Originally published December 07, 2022.
In other news:
"Duquesne Officially R…" || "City Ends Garbage Con…"