(Advertisement)
Tube City Community Media Inc. is seeking freelance writers to help cover city council, news and feature stories in McKeesport, Duquesne, White Oak and the neighboring communities. High school and college students seeking work experience are encouraged to apply; we are willing to work with students who need credit toward class assignments. Please send cover letter, resume, two writing samples and the name of a reference (an employer, supervisor, teacher, etc. -- not a relative) to tubecitytiger@gmail.com. (4-11-2023 to 4-30-2023)
To place your ad, email tubecitytiger@gmail.com.
Ads start at $1 per day, minimum seven days.
Council drops County Hauling, OK's agreement with Big's
By Jason Togyer
The Tube City Almanac
December 09, 2022
Posted in: McKeesport and Region News

After three years of a sometimes-frustrating relationship with its contracted garbage collection company, McKeesport is changing vendors and preparing to go to court.
At Wednesday's meeting, city council by 7-0 vote approved a three-year contract with Big's Sanitation of Rostraver Twp., Westmoreland County, to collect trash and recyclables. Big's was the city's garbage hauler from 2015 until 2019, when the contract was awarded to County Hauling, also of Rostraver.
The city is considering legal action against County Hauling over its poor performance, Mayor Michael Cherepko said Wednesday night.
"We have dealt with a service that was unacceptable, and without question, our residents deserve better," he said. "Not a day went by in the mayor's office over a three-year period when a complaint about garbage did not come in. We were pretty much forced to go out to bid."
Messages sent by Tube City Almanac on Thursday morning to County Hauling and a spokesperson asking for comment were not immediately returned.
According to city officials, complaints from residents about County Hauling have included missed pick-ups, trash falling out of collection vehicles, crews failing to empty trash cans and other problems.
The company has a 1.3 rating out of 5 on Google, with many users in other municipalities, including Shaler Twp., complaining about similar problems.
Officials in other communities, including North Huntingdon Twp., also have criticized County Hauling publicly.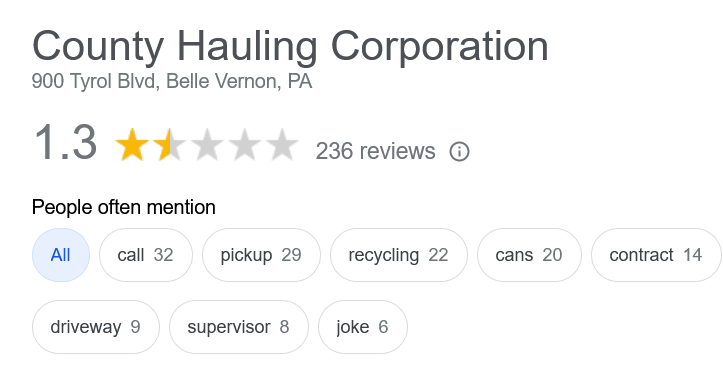 The return to Big's comes at a monetary cost. McKeesport will be paying Big's $135 per ton of solid waste collected, versus approximately $80 to County Hauling.
In 2021, North Huntingdon officials accused County Hauling of bidding below market rates in order to sign up communities such as their township and McKeesport.
Cherepko said he could not comment publicly on any details of the pending lawsuit, but said County Hauling knows of the city's ongoing displeasure.
"We have expressed our differences of option privately," he said. "Their service has been sporadic. The second year (of the contract) wasn't horrible, but this year is getting really bad again, to the point that I've picked up (residents') garbage myself 30 or 40 times."
There also is bad feeling between the city and County Hauling because its parent company, Noble Environmental, agreed to help fund a six-year neighborhood assistance program to demolish vacant commercial buildings and remodel owner-occupied homes in low-income neighborhoods. (Editor's Note: See conflict of interest explanation at the end of this story.)
Noble was to receive state tax credits in exchange for its donations. City officials have said Noble donated for the first year, but then pulled out of the program without explanation.
Under state law, city officials said, the lost donations from Noble cannot be replaced by contributions from another donor.
With the switch to Big's, city officials said, recycling is expected to return to an every-other-week schedule. County Hauling was collecting recycables once per month.
"There is a small possibility that may not happen until the middle of the year, but we think the change will be made on Jan. 1," Cherepko said.
---
Editor's Note: The writer of this piece has a conflict of interest. He is an unpaid volunteer board member of the McKees Point Development Group, the non-profit organization which is administering the McKeesport neighborhood assistance program. Opinions expressed at Tube City Almanac are not those of McKees Point Development Group or its volunteers or board members, and MPDG exercises no control over operations at Tube City Community Media Inc.
Originally published December 09, 2022.
In other news:
"Voters to Choose Repl…" || "Dozen Displaced in Ha…"