(Advertisement)
Tube City Community Media Inc. is seeking freelance writers to help cover city council, news and feature stories in McKeesport, Duquesne, White Oak and the neighboring communities. High school and college students seeking work experience are encouraged to apply; we are willing to work with students who need credit toward class assignments. Please send cover letter, resume, two writing samples and the name of a reference (an employer, supervisor, teacher, etc. -- not a relative) to tubecitytiger@gmail.com. (4-11-2023 to 4-30-2023)
To place your ad, email tubecitytiger@gmail.com.
Ads start at $1 per day, minimum seven days.
Plan would extend popular biking path to serve NV Twp., Turtle Creek
By Amy George
The Tube City Almanac
January 12, 2023
Posted in: McKeesport and Region News, North Versailles Twp. News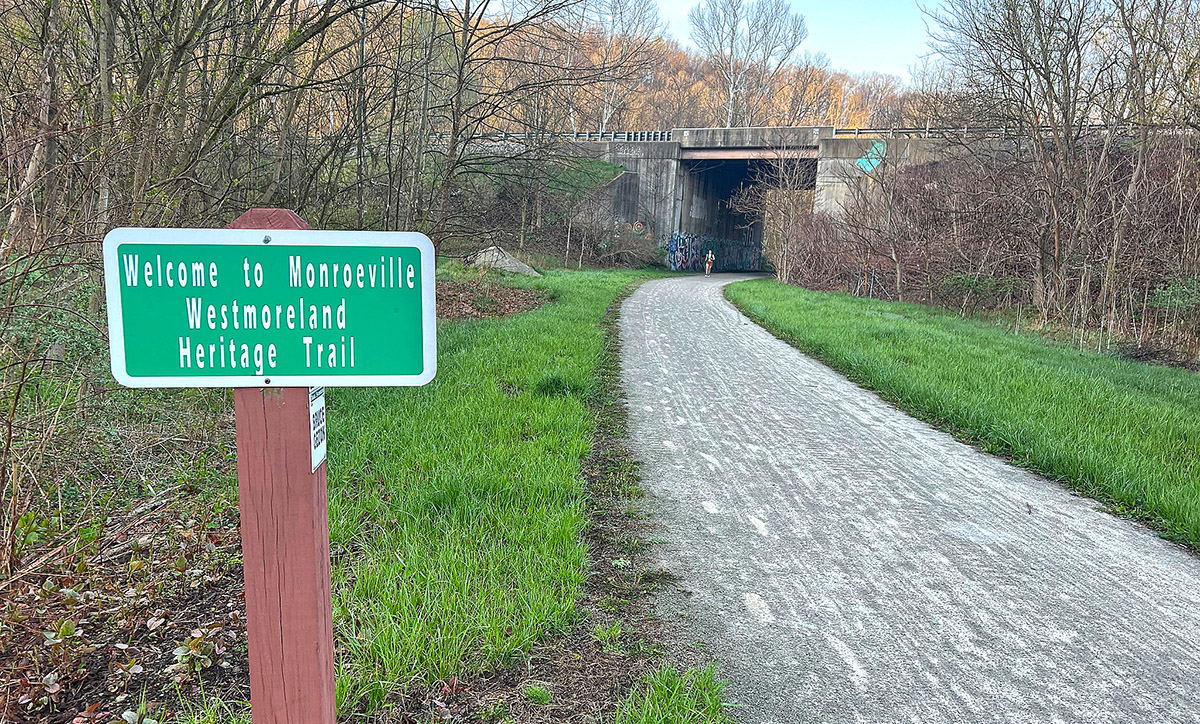 The Westmoreland Heritage Trail connects Saltsburg to Trafford, via Monroeville. A proposal is underway to connect the trail to the Great Allegheny Passage via North Versailles Twp. and Turtle Creek. (Daveynin photo via Flickr, licensed under Creative Commons Attribution 2.0 Generic)
---
Changes coming to the regional trail network could make it easier than ever for Mon-Yough area bicyclists to reach destinations in Monroeville and Westmoreland County.
Currently in the works are plans to extend the current Pittsburgh-to-Maryland trail — the Great Allegheny Passage, or GAP trail — deeper into local communities. One such plan — the Turtle Creek Connector project — would extend the Westmoreland Heritage Trail through Turtle Creek and North Versailles Twp. to meet the GAP, which serves McKeesport, Duquesne and Homestead.
Once a bustling network of railways akin to the region's industrial history, these converted trails have seen new life in the past few decades and continue to develop with innovative community visions.
"The Turtle Creek Connector project was an idea spurred from the development of the WHT in Westmoreland County," said Courtney Mahronich Vita, director of trail development and government relations for the non-profit organization Friends of the Riverfront. "The idea was to connect the WHT to the GAP through the Turtle Creek Valley and across the Monongahela River."

In 2021, Allegheny County successfully completed a feasibility study of the project.

"The goal of the feasibility study was to develop an alignment and connection from the current terminus of the Westmoreland Heritage Trail in Trafford (Westmoreland County) to communities in the Turtle Creek Valley — Rankin, Braddock, North Braddock, East Pittsburgh, Turtle Creek, Wilmerding, Monroeville, Pitcairn and the Carrie Furnace site," said Darla Cravotta, director of community relations and special projects for Allegheny County.
"Imagine starting at Carrie Furnace, following a system through the Turtle Creek valley and making your way all the way to Saltsburg," Cravotta said. "This is the vision that exists."

Pennsylvania Environmental Council along with Friends of the Riverfront are leading the design and engineering process.

"During this next process, we will be working with all communities to determine the final route and type of infrastructure and prepare it for future construction," said Vita. "We will be doing community outreach to all stakeholders to ensure a robust input process as we continue to move forward."

Besides the general public, stakeholders include municipal governments, PennDOT, Allegheny County, Southwest Planning Commission, Redevelopment Authority of Allegheny County and property owners.

This project is part of the $21 million in trail funding awarded to organizations and municipalities throughout Allegheny County. This funding was made possible through the office of County Executive Rich Fitzgerald, who has pushed for investment in trail connectivity as part of the region's growth and transformation.

"I cannot stress [enough] the significance of the investment made by Allegheny County Executive Rich Fitzgerald," said Cravotta. "This was a fully funded design and engineering project. That's a big deal. It's not one of those projects that sits on the shelf."

This extension is poised to have positive economic and social impact, benefiting business as well as community life in the Turtle Creek Valley, Cravotta said.

"Long-term trails and greenway development serve communities in so many ways," said Cravotta.

An important component of trail planning is small business development that caters to trail users but also the community the trail travels through. "Coffee shops, ice cream and breweries are among favorites," said Cravotta.

The Three Rivers Heritage Trail, a 33-mile urban trail system running alongside the county's three rivers that forms a portion of the GAP, is a growing economic engine, with more than $8.3 million in economic impact in 2014 and 2 million trips hosted in 2021. On a larger scale, the GAP estimated $121 million in economic impact in 2019.

These numbers are only expected to increase, and Friends of the Riverfront plans to complete a new impact study in the coming year.

"Connecting [the Turtle Creek] communities to that economic engine would create a huge impact for them," said Vita.

Increased access to recreation and multimodal transportation is another important aspect of trail development, building on community identity.

"Active transportation corridors provide residents an opportunity to walk, bike, run and enjoy the natural elements," said Cravotta. "Providing folks of all ages with the opportunity to get outside contributes to their overall health and wellbeing. Connecting to places where people live, work and shop—and the ability to get places without a car—are important benefits. This system will also build on the communities' identity.
"Imagine taking the trail to eat at Shelly Pie Pizza!" Cravotta said.

Residents can expect to see plans begin to take shape over the next year and a half, Vita said.

"We estimate this project will take about 12 to 18 months for completion. We are in the initial stages of selecting a contractor for the project," said Vita. "The residents can see the public-facing part of the project start over the summer of 2023. This will include public meetings and meetings with community groups. We also will be creating a page on our website to keep residents up to date on the process."

This project, part of the larger trail development efforts unfolding in the Pittsburgh area, speaks to the importance of connecting communities with trail networks. This kind of vision is "indeed generational," according to Cravotta, and will continue to evolve as the region does.
---
Amy George is a Pittsburgh-based writer and editor who is currently a master's student at Carnegie Mellon University. Her work has previously appeared in the Northside Chronicle and the University Times.
Originally published January 12, 2023.
In other news:
"Water, Trash Bills In…" || "Group With MLT Ties P…"