(Advertisement)
Tube City Community Media Inc. is seeking freelance writers to help cover city council, news and feature stories in McKeesport, Duquesne, White Oak and the neighboring communities. High school and college students seeking work experience are encouraged to apply; we are willing to work with students who need credit toward class assignments. Please send cover letter, resume, two writing samples and the name of a reference (an employer, supervisor, teacher, etc. -- not a relative) to tubecitytiger@gmail.com. (4-11-2023 to 4-30-2023)
To place your ad, email tubecitytiger@gmail.com.
Ads start at $1 per day, minimum seven days.
Youth Shakespeare Society presented 'Twelfth Night' in June
By Bonnijean Cooney Adams
The Tube City Almanac
January 13, 2023
Posted in: Entertainment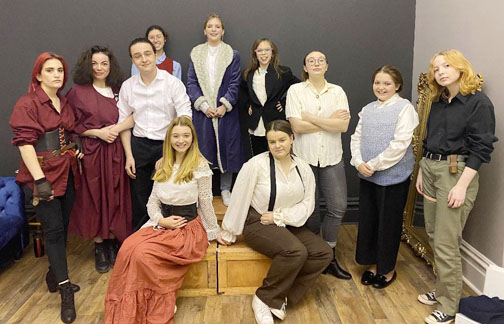 Madeline Sclichter as Juliet and Emma Perman as Romeo, seated at center, were surrounded by most of the cast of Youth Shakespeare Society of Pittsburgh's production of "Romeo and Juliet" on Jan. 7 as they wrapped up several months of rehearsals. They resumed tech week rehearsals at Carnegie Stage in Carnegie, where the production will be staged. (Submitted photo)
If you go...

Shakespeare's "Romeo and Juliet"

Presented by Youth Shakespeare Society of Pittsburgh

Where: Carnegie Stage, 25 W. Main St., Carnegie

When: Friday, Jan. 13 and Saturday, Jan. 14 at 7 p.m.; Sunday, Jan. 15 at 2 p.m.

Tickets: $10, available through our.show/yssprnj and the group's website, youthshakespearepgh.org/romeoandjuliet
Those who enjoyed an adaptation of Shakespeare's work at McKeesport Little Theater last summer will have to travel a little bit farther to see another one of the group's productions.
Youth Shakespeare Society of Pittsburgh, co-founded in 2019 by Ella Mizera and Theo Fantozzi to provide teens and young adults with performing, directing, and designing experience in Shakespeare productions, is in tech week rehearsals for its adaptation of "Romeo and Juliet."
The show opens tonight, and runs through Sunday, with two evening and one matinee performance at Carnegie Stage.
Ella Craig, who portrayed Viola in YSSP's adaptation of Shakespeare's "Twelfth Night," which was performed at the McKeesport theater in June, has stepped up to direct the classic tragedy.
Craig said she wants to get as much experience in all aspects of theater as possible – "any opportunity I can get to do theater" – including taking on the director's role.
So after landing that spot, Craig, in collaboration with Sarah Ake as assistant director, chose "Romeo and Juliet" for the winter production.
"I think my biggest challenge was not to make it too original," Craig said, "but still give it my interpretation. It's not my play, it's Shakespeare's."
The director said although she knows the story and characters very well, she sees her Juliet as more like Rapunzel from "Grimms' Fairy Tales" – isolated from the real world.
"It's not just a tragedy," Craig explained. "There are so many moments of love and fun. Nurse is such a fun character. I love Mercutio, too. Act 1 is so whimsical."
Craig's vision included woodsy scenes and Victorian influences in YSSP's production, which she maintained through her other role as costumer designer.
"There are masks for the ballroom scene that are personalized for each character," Craig said. "There is a cat mask for Tybalt (called the prince of cats by Mercutio). Delainey (stage manager Delainey Work) made some amazing costumes."
She said they also were able to borrow some costumes.
Ake, a junior theater major at Lincoln Park Performing Arts Charter School, said she became involved with "Romeo and Juliet" through Craig. "She was involved with (YSSP's) last production over the summer. She asked if I wanted to be her assistant director as soon as she became director," Ake said.
Like others in the production, Ake has more than one role. She also portrays Romeo's best friend Mercutio, Abraham, and Count Paris' Page.
"I love being assistant director and Mercutio equally," Ake said. "Being a director is something I've always wanted to try and starting out as assistant is a good way to get a feel for it.
"Mercutio has been a dream role of mine since the first time I read the play, and I'm really excited to be able to play him and put my own spin on it," she said.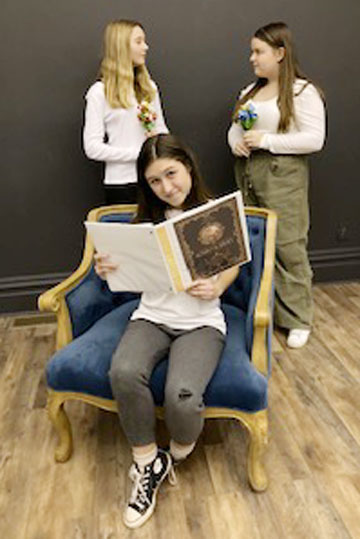 Providing a hint of what's to come, Felicia Perez, seated, whose main role is Count Paris, looks over the script of Youth Shakespeare Society of Pittsburgh's upcoming production of "Romeo and Juliet," with Madeline Sclichter as Juliet and Emma Perman as Romeo, standing from left. (Bonnijean Cooney Adams photo for Tube City Almanac)
---
Open auditions are held for each YSSP production — traditionally a tragedy in the winter and comedy in the summer — resulting in a mixture of veterans and newcomers.
Veteran Madeline Sclichter plays Juliet, only child of the Capulet family. While Shakespeare's tale of their famous feud with the Montagues and the resulting consequences goes back to the late 1590s, many of the themes still are in the news today.
Director Craig and Kinsley Beachler, who was assistant director for "Twelfth Night" and has been involved with every YSSP production in some capacity since its inception, agree.
Themes include party crashers, rebellious teens, revenge seekers, overprotective parents, drugs, murder, suicide, loyalty, peacemaking and even a pandemic that leads to people being quarantined.
"There are a lot of similarities in the story to things that really happen today," Beachler said. "It's really interesting that something written so long ago is still relevant now."
Sclichter said she was pleasantly surprised to land the Juliet role and sees her as a strong female character. "She has a lot of strength and wit and a rebellious streak," Sclichter said. "She's isolated and has this image of love and thinks it's Romeo because she's so inexperienced."
Romeo is a Montague, and they meet when he and some friends crash a Capulet party, where Juliet is supposed to be introduced to a prospective husband in Count Paris but instead falls for Romeo.
Juliet's cousin Tybalt recognizes the intruders, and vows revenge for their audacity and perceived insult. The prince of Verona, tired of all the death and violence, threatens to have the head of the families killed if there is another incident.
Sclichter said her favorite part of the play isn't scenes with Romeo, but with Nurse, portrayed by Mizera.
The nurse raised Juliet since she was a baby, and is considered her best friend and confidante. For example, when the love-struck teens decide to marry, Nurse conspires to help Juliet sneak away to meet Romeo.
Sclichter, a senior at Oakland Catholic, said she enjoys playing off Mizera and showing their characters' close relationship.
While some moments are whimsical, she said, Nurse also is there when everything in Juliet's life seems to fall apart, especially when her parents insist that she marry someone else.
"This is the first time she mentions suicide," Sclichter said. "The power dynamics in her life really shift."
"Nurse really is Juliet's only friend," Mizera said. "Juliet is a pawn for the Capulets, but to the nurse she can really confide. The nurse knows the whole plot for her to marry Romeo."
Mizera is key to the production in a non-acting role as dramaturg. In association with the director and assistant director, it was her job to research and become an expert in "Romeo and Juliet" so she could provide the cast and crew with information on their roles, correct pronunciation, and interpretations.
She said one of the reasons YSSP was founded was to interpret language from Shakespeare's time so young actors and audiences can follow along with all the themes.
"We brainstormed and there was a lot of work before first read-throughs with the cast," Mizera said. "There were unfamiliar words we had to explain in modern words that they would use.
"Pronunciation is important … they are speaking poetry," she explained, adding punctuation also was different in Shakespeare's time.
Mizera also is the sound designer, which she said is her second favorite role after acting, and portrays Lord Montague. She is a junior at the University of Pittsburgh where she studies theater and nonprofit management.
Emma Perman as Romeo is a YSSP newcomer appearing in her first Shakespeare production. She said during callbacks she read for Nurse, in addition to Romeo and another role.
"I've played guys before, and I thought I was age appropriate to play Romeo at 15," Perman said. "When I found out I got Romeo, I was happy. It's definitely a big difference from other roles I've played, but everyone here has been so supportive."
She said she studied "Romeo and Juliet" last year in school so was familiar with the play when she auditioned.
Perman said her biggest challenge has been maintaining a deep, chesty voice throughout, even when Romeo gets angry. Females can get shrill and their voices get higher under those circumstances, she said.
"In every scene I feel his emotions are just so high," Berman said. "I think the balcony scene – which is what many people remember most from the play – is boring. One of my favorite ones is after I'm banished, when I'm in Friar Lawrence's cell, and I throw myself to the ground."
Friar Lawrence's relationship to Romeo is similar to the one between Nurse and Juliet. He agrees to secretly marry the young lovers, hoping their union will end the feud.
Things don't go as planned, of course, which is what leads to Romeo being banished when there is another fight, a more lenient punishment since he's not head of either family.
When she was younger, Perman said she was a good softball player and studied piano. A teacher suggested she try acting, which she did in fifth grade.
"I like where I'm at right now," she said of playing Romeo. "He's very much a selfish boy. He killed two people and I also blame him for Mercutio's death. Initially he's a 16-year-old complaining about his love life."
Perman said once he meets Juliet and there is a closeness and intimacy beginning at the ball, Romeo's emotions change.
Johnna Lou Lefebvre again shares her expertise as fight choreographer, adding dance choreographer, prop designer, and an acting role as Tybalt. Lefebvre, who is active with other regional theater groups, is a graduate of Lincoln Park Performing Arts Center and student at Robert Morris University.
There are more fight scenes and deaths she had to choreograph than in "Twelfth Night." Lefebvre said she already had or acquired weapons needed for "Romeo and Juliet," such as swords and daggers, which can be real or modified to look real.
As fight choreographer, she had to make sure the cast had either previous professional fight training, or provided it herself. She said her biggest challenge was working with the cast so the fight and death scenes would look natural onstage.
Parker Stephens, a college graduate who has been acting since third grade, makes his YSSP debut as Lord Capulet. "I didn't have a preconceived idea of a role when I auditioned," he said, "but thought I might be outside the age for consideration as Romeo.
"What father wouldn't want his daughter to marry well? And Juliet reacted like an upstart whelp!" Stephens said of his character's relationship with Juliet and insistence on her marrying Count Paris.
"It's certainly a challenge, and I'm really sinking my teeth into this role," he said.
Claire Yeager said she's been a friend of Craig's for years, so decided to audition. The YSSP newcomer portrays Prince Escalus, Friar John, and Servant.
Friar John, though a relatively minor role, provides another link to contemporary times when he fails to get a crucial message about Juliet, entrusted to him by Friar Lawrence, to Romeo in time to avert a tragedy.
The reason? He is quarantined in Verona because of a plague and cannot leave to reach Romeo where he has been banished. Remind anyone of COVID-19 protocols?
Yeager said she likes her servant role because she can be bubbly and happy.
As one of the youngest members of the cast, Yeager said in addition to gaining acting experience, she's learned a lot about balancing schedules and being on time.
As opening night gets closer, Craig said it's been a pleasure watching the actors develop their characters.
"I sit and I watch them and it's really emotional seeing how each took on a new persona," she said.
Beachler summed up what makes this YSSP production different: "The real reason all of it is something new from YSSP is because it's the concept of putting 'Romeo and Juliet' in this somewhat fairytale/storybook timeless theme that makes it feel like you're watching some type of fable take place," she said.
---
Bonnijean Cooney Adams is a freelance contributor. She can be reached at adamsclick@aol.com.

Author's note: Several people from YSSP's production of "Twelfth Night" performed at McKeesport Little Theater are nominated for 2022 BroadwayWorld Pittsburgh awards. They include Ella Mizera for Best Supporting Performer in a Play, Theo Fantozzi for Best Direction of a Play, and others in the cast for Best Ensemble Performance. Fantozzi also is nominated for Best Lighting Design of a Play or Musical. "Twelfth Night" is nominated for Best Play. Voting has ended and results are scheduled to be announced this month.
"Romeo and Juliet"
Written by William Shakespeare
Directed by Ella Craig
Production Team
Assistant Director, Sarah Ake
Stage Manager, Delainey Work
Dance/Fight Choreographer, Johnna Lou Lefebvre
Intimacy Director, Kaitlin Kerr-Heidenreich
Scenic Designer, Sarah Ake
Production Manager, Theo Fantozzi
Costume Designer, Ella Craig
Lighting Designer, Theo Fantozzi
Sound Designer, Ella Mizera
Props Designer, Johnna Lou Lefebvre
Dramaturg, Ella Mizera
Cast
Emma Perman as Romeo
Madeline Sclichter as Juliet
Sasha Tepp as Friar Lawrence, Benvolio
Ella Mizera as Nurse, Lord Montague
Parker Stephens as Lord Capulet
Sarah Ake as Mercutio, Abram, Count Paris' Page
Natalie Weicht as Lady Capulet
Felicia Perez as Count Paris, Chorus, Servant
Claire Yeager as Prince Escalus, Friar John, Servant
Johnna Lou Lefebvre as Tybalt
Mathilda MacInnis as Gregory, Balthasar
Coraline Lubay as Apothecary, Second Watchman
Sam Haddad as Sampson, First Watchman, Servant
Originally published January 13, 2023.
In other news:
"Westmoreland Trail Ey…" || "Davis Takes Oath as S…"