(Advertisement)
Tube City Community Media Inc. is seeking freelance writers to help cover city council, news and feature stories in McKeesport, Duquesne, White Oak and the neighboring communities. High school and college students seeking work experience are encouraged to apply; we are willing to work with students who need credit toward class assignments. Please send cover letter, resume, two writing samples and the name of a reference (an employer, supervisor, teacher, etc. -- not a relative) to tubecitytiger@gmail.com. (4-11-2023 to 4-30-2023)
To place your ad, email tubecitytiger@gmail.com.
Ads start at $1 per day, minimum seven days.
By Kristen Keleschenyi
The Tube City Almanac
April 11, 2023
Posted in: Entertainment, North Versailles Twp. News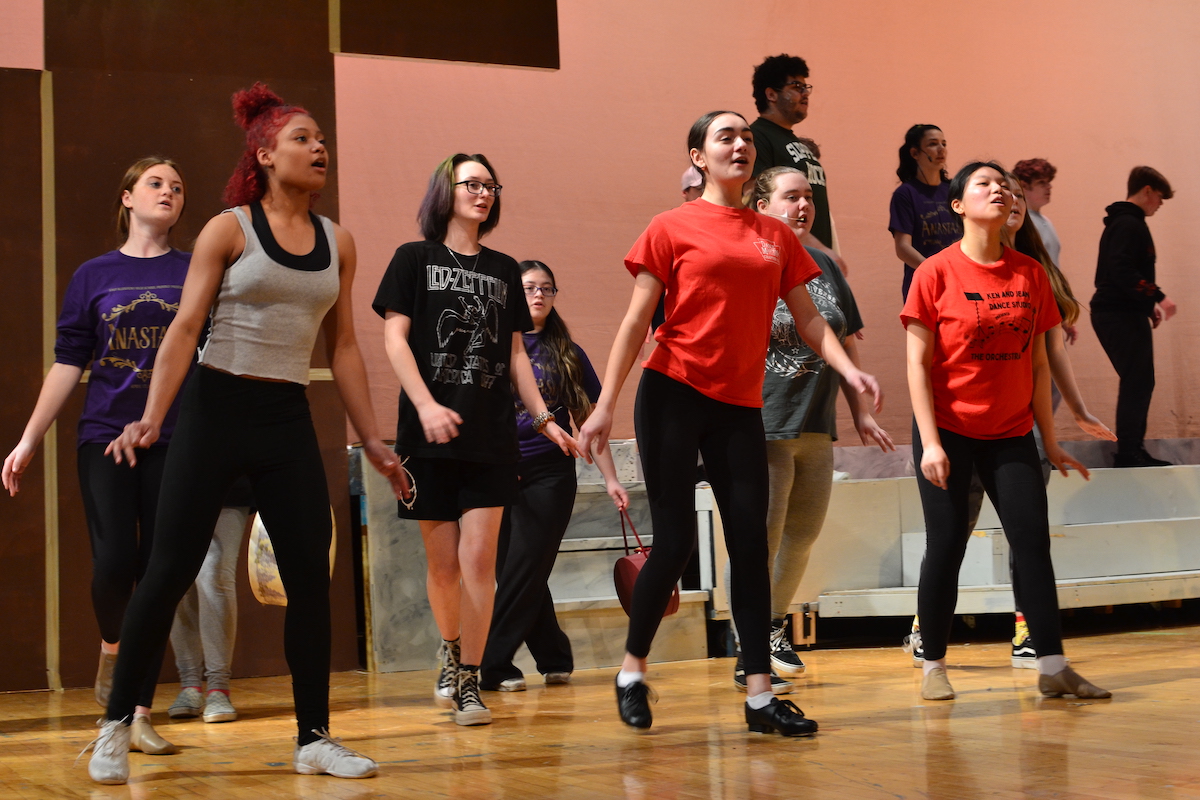 The cast of East Allegheny High School's "Anastasia" rehearses the show-stopping "Paris" dance number. (Kristen Keleschenyi photo for Tube City Almanac)
If you go...

"Anastasia"

Where: East Allegheny High School, 1150 Jacks Run Rd., North Versailles

When: 7:30 p.m. April 13 and 14; 2 p.m. and 8 p.m. April 15

Tickets: Available at EASD.Booktix.com
The story of a princess with amnesia is about to come to life at East Allegheny.

The high school's spring musical, "Anastasia," opens on Thursday (April 13). The story revolves around Anastasia "Anya" Romanov, who is trying to find out about her past, but ends up befriending two con men who have ulterior motives.
Although the show is not a Disney musical, it has all the elements of one — a princess, great song and dance numbers, and (of course) there's a love story. The show is based on the 1997 animated film of the same name, and a 1956 live-action film.

Musical director Amanda Rosco said this particular musical paired well with the students who came out to audition and their skill sets. The licensing rights to "Anastasia" just became available to schools last musical season, and EA is only the third school in the area — Belle Vernon Area being the closest and most recent — to present it to an audience.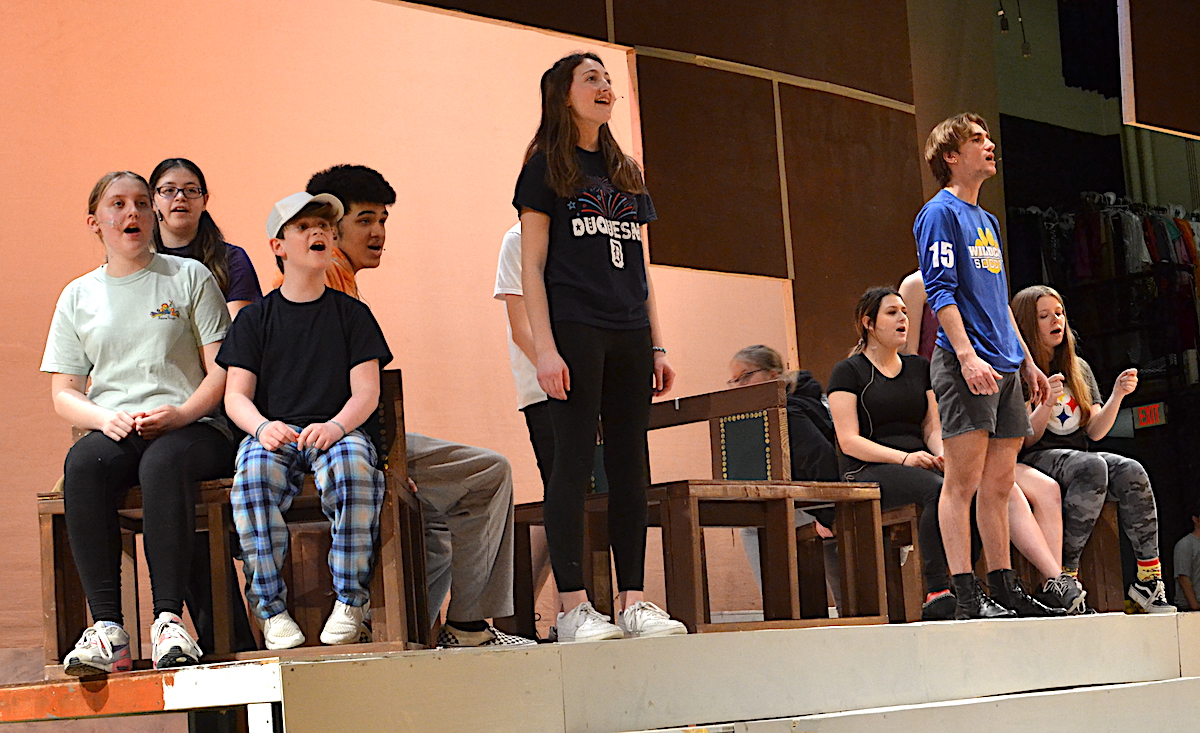 Nora Keleschenyi (Anastasia) and Colby Miller (Dimitri) rehearse the train scene along with fellow cast members. (Kristen Keleschenyi photo for Tube City Almanac)
---
"I like being one of the first schools to do something new," says Rosco. "I don't like doing what everyone else is doing. I like to give them unique experiences. especially when it's a good fit."
Putting together a show like Anastasia is a huge task. Rosco says this is the largest musical she has ever done with massive sets and and each character has multiple costumes. "We've made a lot of them because there is just not stuff out there because the musical is so new. You are just now seeing things you can purchase or rent," says Rosco.

Senior Colby Miller plays Dimitri. He is also one of many students helping out behind the scenes with set building and teaching dance choreography.
While he plans to continue his acting endeavors at Seton Hill University, where he will be majoring in musical theater, this is his last musical at East Allegheny. The experience is bittersweet, he says.
"It's definitely hard to close a chapter like this when you have become so invested in the program, especially with the work and hours that we've put in — not even just rehearsals and staying after. It gets to be comfortable."

Ninth-grader Lily Bowman is making her East Allegheny musical debut as teen-aged Anastasia. She has been looking forward to being a part of an EA musical cast since seventh grade and brings to the stage years of experience with the Golden Triangles Performance Ensemble.
She even gets to show off her baton skills during one of the show's big ensemble numbers. Bowman says her biggest challenge has been learning the dances super-fast. "I thought we would have more time to learn these big numbers."

As the clock is winding down before opening night, senior Nora Keleschenyi, who plays the grown Anastasia, is feeling a range of emotions. This is her fourth and final high school musical and she can personally relate to the emotions her character feels throughout the show.
"Home, love and family are all major themes of 'Anastasia' and those are all of things I have found in the East Allegheny music department," she says.

Rosco says the "family" theme of this show is not only displayed on stage but in the number of students, staff and alumni who are involved in the musical in a variety of ways. Many of the musicians and stage crew are former students and, regardless of what path their lives have taken, find a way back to EA.
That real-life experience, he says, echoes the story of "Anastasia."
"Sometimes it is hard to figure out who you are and what your place in the world is, and sometimes you have to look backward instead of forward," Rosco says. "Your history informs who you become, then you take it and then you run and develop your own wings and you go off and fly. You find your own journey."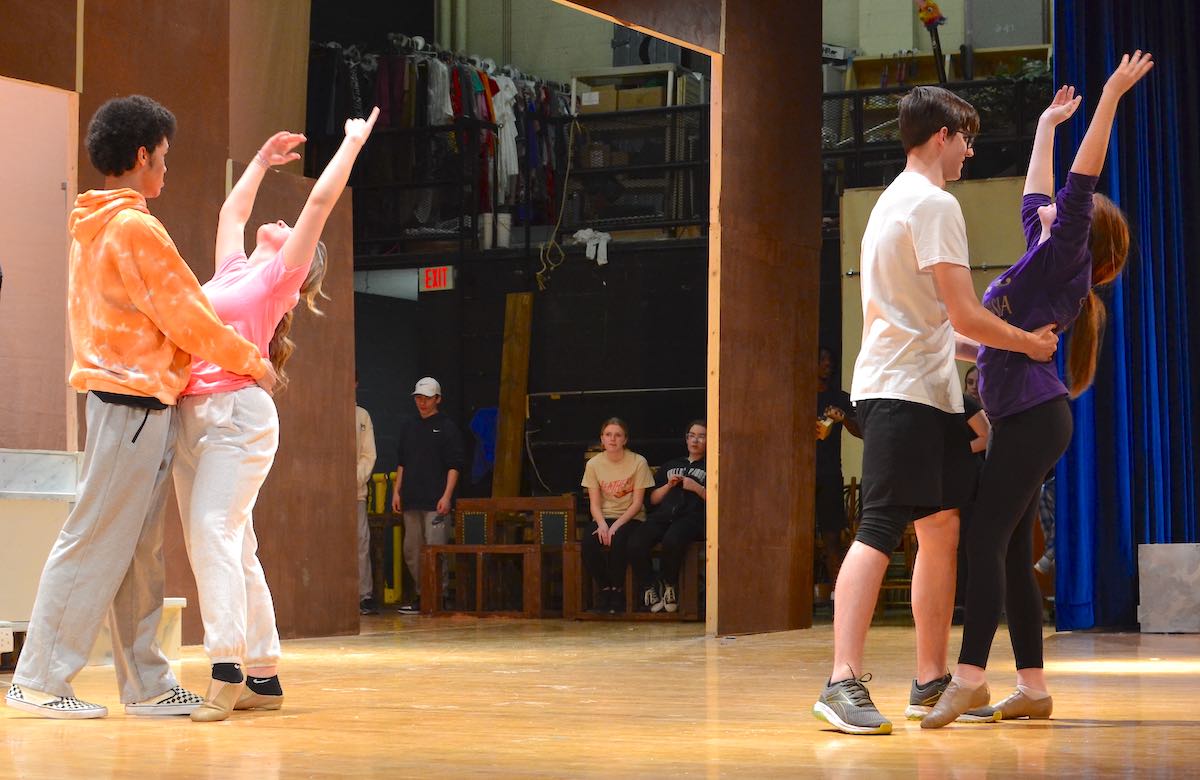 Will Wilson and Addison Bernhardy along with Daniel Cipcic and Lily Bowman practice dancing in slow motion during a Monday night rehearsal. (Kristen Keleschenyi photo for Tube City Almanac)
---
Kristen Keleschenyi is a freelance writer in North Versailles Twp. and one of the hosts of the Kristen & Amber Show on Tube City Online Radio at 5 p.m. Saturdays, 9 p.m. Mondays and 4 p.m. Thursdays. She may be reached at kbishop25@hotmail.com.
Originally published April 11, 2023.
In other news:
"W.N. Church Slates Ap…" || "McKeesport Library Po…"