(Advertisement)
Tube City Community Media Inc. is seeking freelance writers to help cover city council, news and feature stories in McKeesport, Duquesne, White Oak and the neighboring communities. High school and college students seeking work experience are encouraged to apply; we are willing to work with students who need credit toward class assignments. Please send cover letter, resume, two writing samples and the name of a reference (an employer, supervisor, teacher, etc. -- not a relative) to tubecitytiger@gmail.com. (4-11-2023 to 4-30-2023)
To place your ad, email tubecitytiger@gmail.com.
Ads start at $1 per day, minimum seven days.
Cast, crew enjoys bringing to life the dark comedy, set in the '60s
By Bonnijean Cooney Adams
The Tube City Almanac
April 20, 2023
Posted in: Entertainment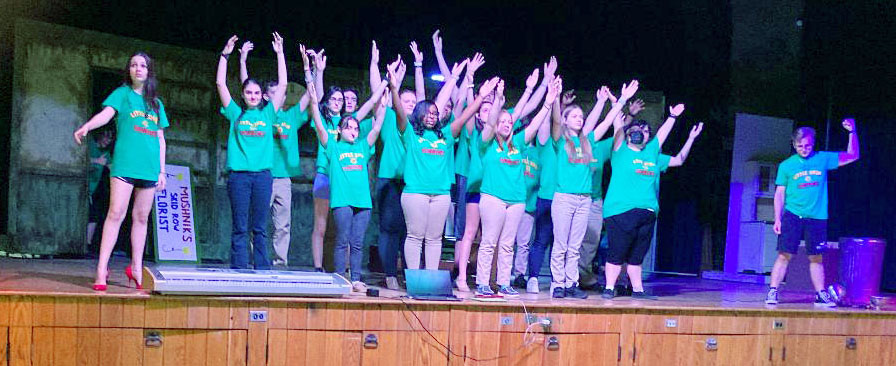 The cast of "Little Shop of Horrors," with Brigid Fuller as Audrey (far left) and TJ Betzner as Seymour Krelborn (far right) rehearse the "Skid Row" number from Serra Catholic's spring musical, which opens Friday. (Tube City Almanac photo by Bonnijean Adams)
If you go...

"Little Shop of Horrors"

Where: Serra Catholic High School gymnasium, 200 Hershey Drive, (412) 751-2020

When: Friday, April 21 at 7 p.m., Saturday, April 22 at 1 p.m. and 7 p.m., and Sunday, April 23 at 2 p.m

Tickets: $10 for adults, $5 for students, available from any cast or crew member, in the main office, at the door, or by contacting fedorc@serrahs.org. Rated PG-13.
Following a string of Disney musicals, Serra Catholic High School's director and students decided they wanted to do something different this year.
They've been hard at work honing skills needed to not only sing and dance their hearts out, but to accommodate an otherworldly, carnivorous plant that is key to the production of "Little Shop of Horrors." It opens Friday (April 21) at 7 p.m.
"I wanted something completely different," director Jesse Bush said. "I wanted to step outside our comfort zone and try something new."
Some of the cast members said they were familiar with the subject matter and music from either watching the movie of the same name or attending Elizabeth Forward's spring musical last year – while others were not.
"Little Shop of Horrors" is set on Skid Row, particularly in one small florist shop where there isn't normally much business.
Key characters are the shop's owner, Mr. Mushnik (Joel Blake), his helper Seymour Krelborn (TJ Betzner), and co-worker Audrey (Brigid Fuller), Seymour's romantic interest.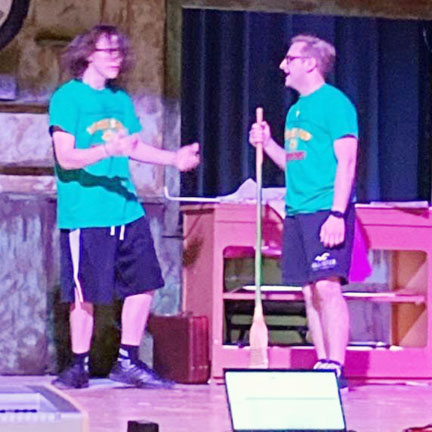 Joel Blake as Mr. Mushnik and TJ Betzner as Seymour share a moment in Mushnik's florist shop. (Tube City Almanac photo by Bonnijean Adams)
---
Audrey, while sweet and good-natured, lacks self-confidence, and has hooked up with the sadistic, abusive dentist Orin Scrivello (Vincent Brown), hoping someday to leave Skid Row and better herself.
Then one day, Seymour's path crosses with an unusual plant specimen, and things change for all of them. "This musical tells a very mature story of greed and that choices you make in life are important and have consequences. But the story is told through dark comedy," Bush said. "The giant monster (plant) puppet may scare little children. The show is rated PG-13 for some of the themes involved."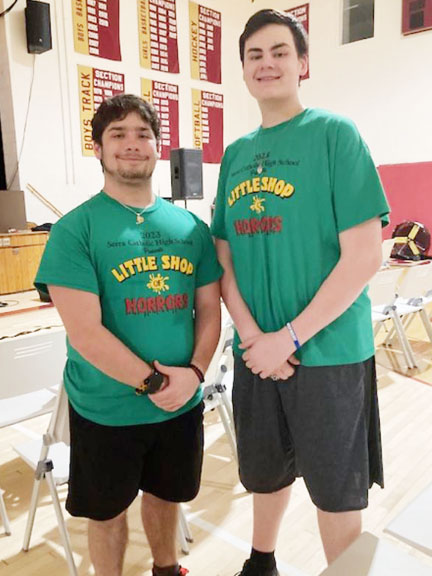 Responsible for bringing Audrey II to life are Michael Aland as the plant's puppeteer and Savino DiLonardo as the voice. (Tube City Almanac photo by Bonnijean Adams)
---
Speaking of that giant puppet, Michael Aland and Savino DiLonardo bring the plant to life as the puppeteer and voice, respectively, of Audrey II. "I'm excited," Michael Aland said during rehearsal last week. "I was not familiar with the show and my friends told me about it.
"There are three different puppets throughout the show," he explained. "The first is a small hand puppet, while the second is more like a costume. Then the third is the huge plant."
With tech week approaching, Michael Aland had his work cut out finalizing just the right moves to manipulate the full-size monster plant to sync with DiLonardo providing the vocals – speaking and singing.
While Seymour names the plant after his work crush, it's not really female. There are hints about its personality traits once Audrey II reveals that it can talk, and they are not nice, to say the least. Conniving, controlling, manipulative, deceitful are some that come to mind.
"I just knew it had a deep, sassy voice," DiLonardo said. "I listened to the soundtrack (from the movie) and gave the voice my own interpretation and twist."
TJ Betzner's character as the nerdy Seymour is a long way removed from Beast in last year's "Beauty and the Beast." "I did audition for the part of Seymour," Betzner said. "I was very familiar with the part. This is one of my favorite shows.
"This musical has a lot of layers," the senior explained. "There's change, revenge, bribery, domestic abuse, the poverty of Skid Row, murder."
Those are some of the darker moments in what still has lots of comedic and tender opportunities as well, such as Seymour's feelings for his leading lady Audrey. "I enjoy the creativeness behind the music (by composer Alan Menken). This is like a rock opera," TJ Betzner said. "It's more gritty."
He said one of his favorite musical numbers is "Feed Me (Git It)," featuring Seymour and DiLonardo, when Audrey II makes demands, and it's not for the usual kind of plant food.
"The whole process is such a blast," TJ Betzner said. "Can Seymour be bribed by Audrey II? There's a fluidity among Seymour, the puppeteer, and the voice. Timing is critical. Seymour is turned from this shy, nerdy person when he witnesses the person he loves the most get hurt."
The person who caused that hurt is the dentist. Brown said he was not super familiar with the role, but then watched other portrayals to help him get in the proper mindset.
Dentist Scrivello not only is verbally and physically abusive to Audrey, who is supposed to be his girlfriend, but he delights in inflicting pain on his patients.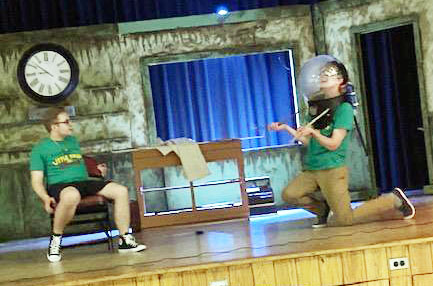 TJ Betzner as Seymour Krelborn has some ethical decisions to make when Vincent Brown, as the sadistic dentist Orin Scrivello, experiences some technical difficulties with his equipment. (Tube City Almanac photo by Bonnijean Adams)
---
While there is a dark side, Brown said there are lots of comedic moments. In addition to the dentist, Brown continues to pop up later in the show as Mr. Berstein, Mrs. Luce, and Skip Snip, various agents with offers for Seymour in connection with his plant.
Brown said he believes Seymour, struggling with guilt over decisions he's made on his way to fame and fortune, continues to see variations of the dentist in other people. "For me, the most challenging part is playing three distinct people back to back and flipping among them," Brown said. He said he's having fun with all his roles.
"Audrey has been my dream role since I think I was 7," Fuller said. "The vocal parts are definitely a challenge with some super high notes." She said even the speaking role is demanding, because her character, who seems sweet and innocent on the surface, talks in a high-pitched voice throughout.
Fuller said her favorite number is "Suddenly Seymour." "This is my favorite musical out of all we've done," Fuller said. "We really pushed Mr. Bush a lot to do it."
"This season has been a total 180 with style of music, dance, the dark story, and yes the puppets are a challenge, too," the director said.
"There are a lot of very different props and sets that I don't think I've ever used in a show before. For example, we built a dumpster for our doo-wop girls to sing in and I never ever imagined that we would do something like that," Bush said.
The doo-wop girls

Doo-wop girls — some with specific character names who speak directly to the audience throughout — provide great harmonies and introduce the setting for Skid Row in "Little Shop of Horrors," with Matthew Adams as Wino lying on the stage before joining them in song. Later in the show he's the Voice of God. (Tube City Almanac photo by Bonnijean Adams)

There are six doo-wop girls in Serra's production. Three have character names – Katelyn Kostrub as Ronnette, Taylor Betzner as Crystal, and Lauren Johnson as Chiffon – plus Sydney Korbanic, Francesca Aland, and Cassidy Kennedy.
Whether the six are onstage together, in the dumpster, or in the wings, their excellent harmonizing skills shine through, based on final rehearsals as opening night approaches.
Crystal, Ronnette, and Chiffon are three Skid Row residents who detail Seymour's rise from clerk to celebrity courtesy of Audrey II. They often sing directly to the audience to fill them in on what's really happening.
Junior Taylor Betzner said after seeing Elizabeth Forward's production last year and finding out her school was doing "Little Shop of Horrors" this year, she auditioned with Crystal in mind.
"I'm very happy that's the role I got," she said. "I love 'Skid Row.' That's my favorite part. It fits my vocal range quite well."
Her advice to those seeing "Little Shop" for the first time is "expect the unexpected."
Kostrub said she went to see her friend as Ronnette in another production, and that influenced her to try out for the role herself. "I had that role in mind," Kostrub said. "I like her sass and the emotion I wanted to embody. I love my part and just being up onstage. I love all the singing and dancing."
She said she couldn't pick her favorite part, but included the finale on her list.
"I love this show," junior Johnson said. "I was so excited that we were doing this musical this year." She described Chiffon as "more on the humorous side.
"Being a doo-wop girl, we've been working for months on the harmonies," she added.
Johnson said her favorite number is the finale "Don't Feed the Plants," with great choreography.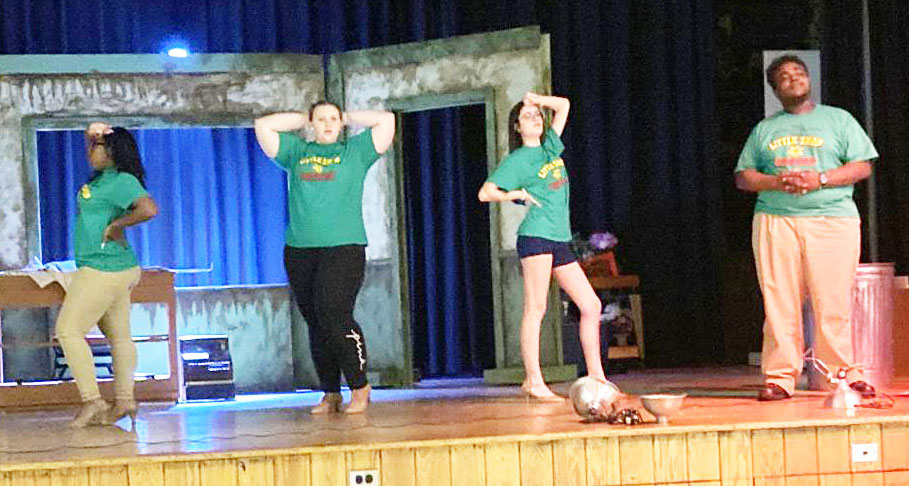 Some of the doo-wop girls show off their vocal talents and attitudes during the "Skid Row" number, joined by Matthew Adams, who portrays one of the residents. (Tube City Almanac photo by Bonnijean Adams)
---
After playing Gaston's sidekick LeFou in 2022, Francesca Aland said she loves being more in the background singing as a doo-wop girl.
"I love this musical so much," she said. "The costumes are nice and the dances are easy. My biggest challenge has been all the music."
Kennedy said she is having fun with her role. "I decided to do the musical my senior year," she said, after much experience in several choirs beginning at a young age and cheerleading, where she said she also learned some dance.
"I had not really heard of the musical before, but TJ was so excited, and he's my friend, so I thought it would be a good experience for me, too," she said.
"I feel like we needed a change this year," Korbanic said. "This was a good switch. We have the talent. Last year there were all the elaborate costumes, but this year we kind of supplied our own, and we can keep it when the show is over.
"The doo-wop girls are kind of like narrators," she agreed. "We connect with the audience."
Without Blake as Mr. Mushnik, there definitely would not have been a future for Seymour.
Although they have had their ups and downs, it was Mushnik who took Seymour off the streets of Skid Row and gave him a job in the first place.
So understandably Blake said his favorite part of the show is "Mushnik and Son," a duet with Seymour.
Blake said he's been performing in musicals since grade school, including as the candlestick Lumiere last year.
He said it's different, after the string of Disney musicals, to be playing a real person.
"Little Shop of Horrors," Blake said, also shows how things have changed.
As an example, he said the show is set in a time when it was a big deal for someone to be on live radio, where Mushnik wants Seymour to promote the florist shop while doing an interview about the amazing Audrey II discovery.
Also the old clock prop on the shop's wall marks the hours in Roman numerals.
Senior Joseph Pawloski may not have a lot of lines, but he delivers a key one. As one of the rare customers in the Skid Row florist shop, his casual remark sets the whole story in motion when he first notices the young Audrey II.
"Yes, that's me," he said. "I say, ' I could not help noticing that very interesting plant.' "
What follows is a flurry of activity when others recognize the plant's potential for changing their lives. Pawloski also is part of Serra's ensemble of hobos, townspeople, construction workers -- and even the dead -- who are critical to making the show a success.
Managing the stage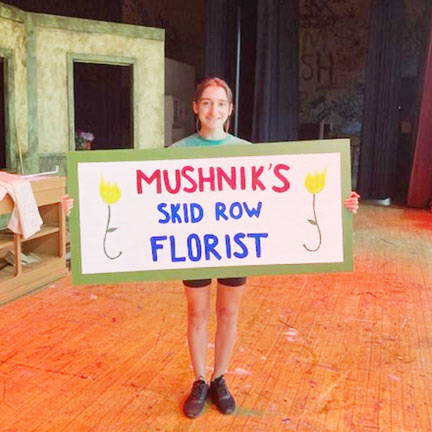 Senior Carmela Capasso is stage manager for "Little Shop of Horrors." (Tube City Almanac photo by Bonnijean Adams)
---
Senior Carmela Capasso shares her artistic and other talents in multiple ways in "Little Shop of Horrors," including stage manager and stage crew.
"I love painting the musical props," she said. "I'm good at piecing together and adapting what is needed."
Capasso said when she first heard what show was planned, she was "very scared I'd have to take on making the plant."
With that job handled through renting what was necessary, she turned her attention to other things.
"I felt like with 'Beauty and the Beast,' the props had to be so perfect, and I'm a perfectionist. But with the Skid Row setting, things are different," Capasso explained. "I feel like most of the prop signs are something Seymour would have made, so they are not so perfect and can even be a little messy."
She said being the stage manager helps her stay focused on deadlines, and working on props gives her ideas she can apply in her personal artwork.
"I feel like this is one of the most talented groups I've worked with," Bush said. "They are so dedicated and try so hard. I am excited for everyone to see what we've been working on."
---
Bonnijean Cooney Adams is a freelance contributor. She can be reached at adamsclick@aol.com.
Serra Catholic's "Little Shop of Horrors"
CAST
TJ Betzner as Seymour Krelborn; Brigid Fuller as Audrey; Joel Blake as Mr. Mushnik; Vincent Brown as Orin Scrivello, Mr. Bernstein, Mrs. Luce, Skip Snip; Savino DiLonardo as Audrey II (voice); and Michael Aland as Audrey II (puppeteer).
Doo-wop girls are Katelyn Kostrub as Ronnette; Taylor Betzner as Crystal; Lauren Johnson as Chiffon; plus Sydney Korbanic, Francesca Aland, and Cassidy Kennedy.
Matthew Andrews as Wino/Voice of God; Joseph Pawloski as Customer; Lyndsay Chirdon as Customer; Jacob Rock as Chang; Jennifer Novak as Radio DJ; and Mickey O'Brien as Patrick Martin.
Ensemble: Hobos, Townspeople, Construction Workers, Dead Faces — Matthew Adams, Francesca Aland, Michaeli Alan, Emilia Capasso, Lyndsay Chirdon, Cassidy Kennedy, Cassie Lake, Andy Muzy, Jennifer Novak, Mickey O'Brien, Joseph Pawloski, Elena Peiffer, Aniah Potts, and Jacob Rock.
STAGE CREW

Stage manager, Carmela Capasso; Soundboard, Selena Kunsman; Lightboard, Anneliese Fenwick.

Crew: Robbie Anitori, Carmela Capasso, Ben Chirdon, Luke Edmundson, Mark Edmundson, Sarah Glaneman, Maria Holt, Faith Konieczka, Dylan Kashak, Therese Konieczka, Alexis Nichol, Elizabeth Osuagwu, Elena Peiffer, Walker Smith-Raypush, and Zion Ward.
PRODUCTION STAFF
Director: Jesse Bush
Choreographer/Business Manager: Cassie Fedor
Set Construction: Mitch Bush

Originally published April 20, 2023.
In other news:
"Families Look for Alt…" || "Volunteers Needed for…"