(Advertisement)
Tube City Community Media Inc. is seeking freelance writers to help cover city council, news and feature stories in McKeesport, Duquesne, White Oak and the neighboring communities. High school and college students seeking work experience are encouraged to apply; we are willing to work with students who need credit toward class assignments. Please send cover letter, resume, two writing samples and the name of a reference (an employer, supervisor, teacher, etc. -- not a relative) to tubecitytiger@gmail.com. (4-11-2023 to 4-30-2023)
To place your ad, email tubecitytiger@gmail.com.
Ads start at $1 per day, minimum seven days.
By Staff Reports
The Tube City Almanac
April 21, 2023
Posted in: Announcements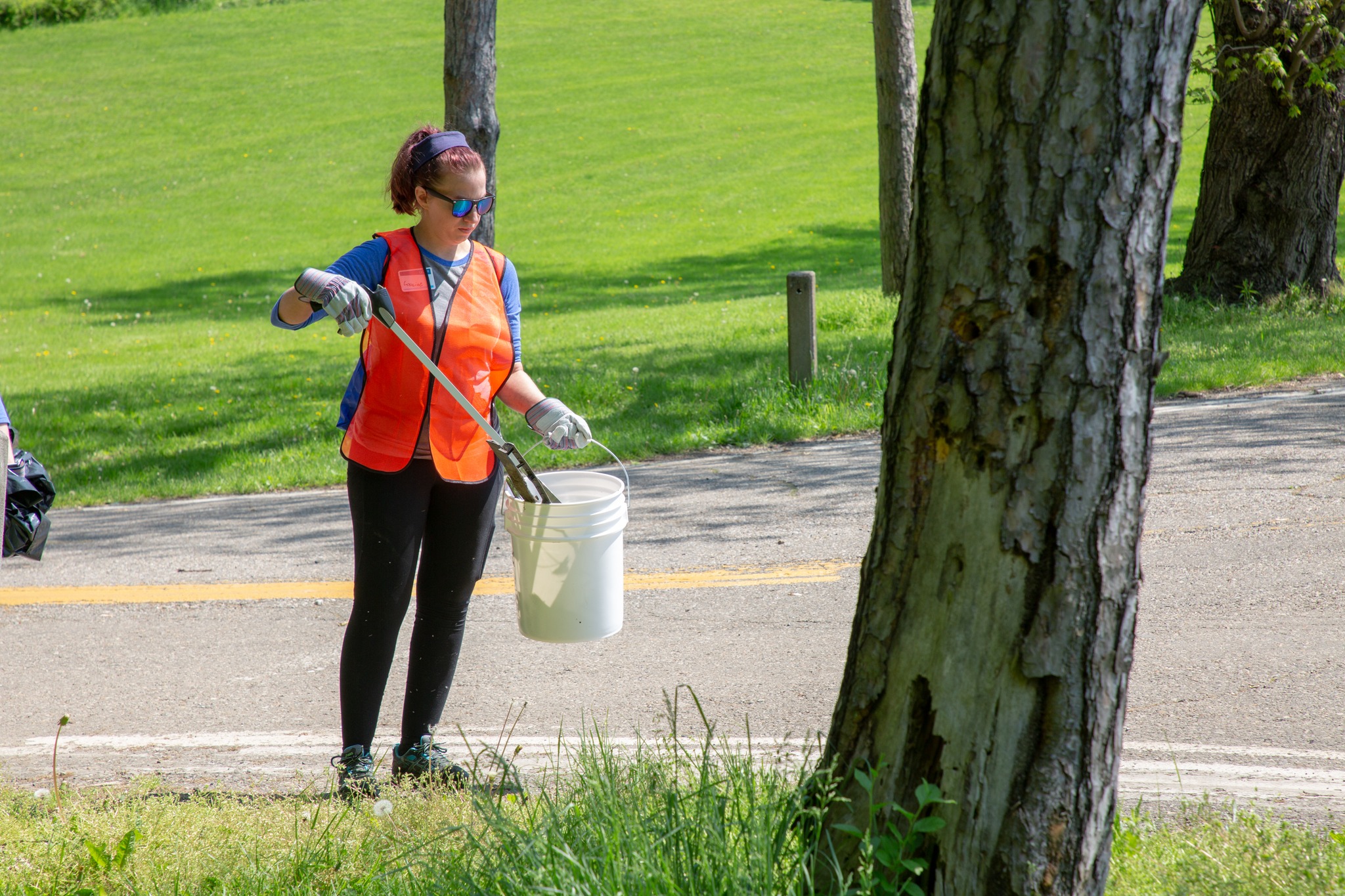 A volunteer picks up litter in an Allegheny County park. (Submitted photo courtesy Allegheny County Parks, via Facebook)
---
Volunteers are needed in several Mon-Yough neighborhoods as local groups celebrate Earth Day on Saturday.
At 8:30 a.m., city officials and the Western Pennsylvania Conservancy's TreeVitalize program will gather at Kennedy Park on Lysle Boulevard between Market and Walnut streets for a free class in tree-planting, according to McKeesport Mayor Michael Cherepko's office.
Then, teams of volunteers will fan out through the city's Downtown area and Renziehausen Park to plant several trees with help from experts, the mayor's office said. Participants should wear comfortable clothing and safe shoes. All necessary material will be provided, but participants will receive gloves if they need them.
Afterward, a free lunch will be served. Transportation to and from Renzie Park will be available for people who need it, the mayor's office said.
TreeVitalize is a public-private partnership between organizations like the conservancy and the state Department of Community & Natural Resources to help build capacity within communities to plan for, plant and care for trees, and to offer educational trainings for residents.
McKeesport is also holding a community-wide clean-up day on April 29. For details or to register for either event, call (412) 675-5020, ext. 605.
Meanwhile, at 10 a.m. Saturday, volunteers will gather on the lawn of the Carnegie Library of McKeesport, 1507 Library Ave., and then fan out through the surrounding streets to pick up trash during a neighborhood clean-up day.
The event will be followed by a free lunch and a movie, a spokesman said. To register, visit www.mckeesportlibrary.org or (412) 672-0625.
Members of the Boy Scouts and the White Oak Rotary Club will be meeting at the McKeesport Trail Hostel in Richard Gergely Riverfront Park on Saturday morning to plant trees, install benches and beautify the area, said Dan Dougherty, assistant governor of Rotary District 7305.
The effort is being spearheaded by a Boy Scout working toward his Eagle Scout award, Dougherty said.
At South Park, Allegheny County park rangers will host a clean-up day beginning at 9:30 a.m. at the Sunset Hills picnic shelter. All ages are welcome, a spokesperson said. Volunteers will be picking up litter and supplies will be provided.
The volunteer workday is being held in partnership with the Friends of South Park. Participants should bring water for themselves and wear closed-toe shoes. Registrations are being accepted online.
Other Mon Valley communities that have organized cleanup days on Saturday include Braddock and North Braddock (10 a.m., Braddock Municipal Building); Turtle Creek (10 a.m., Turtle Creek Volunteer Fire Dept.); and Swissvale (9:30 a.m., public works garage, McCague Street).
Originally published April 21, 2023.
In other news:
"Fun, Fright as Serra …" || "Davis: Businesses Nee…"