(Advertisement)
Tube City Community Media Inc. is seeking freelance writers to help cover city council, news and feature stories in McKeesport, Duquesne, White Oak and the neighboring communities. High school and college students seeking work experience are encouraged to apply; we are willing to work with students who need credit toward class assignments. Please send cover letter, resume, two writing samples and the name of a reference (an employer, supervisor, teacher, etc. -- not a relative) to tubecitytiger@gmail.com. (4-11-2023 to 4-30-2023)
To place your ad, email tubecitytiger@gmail.com.
Ads start at $1 per day, minimum seven days.
Mon Yough chamber hosts lieutenant governor, other local officials
By Tom Leturgey
The Tube City Almanac
April 24, 2023
Posted in: State & Region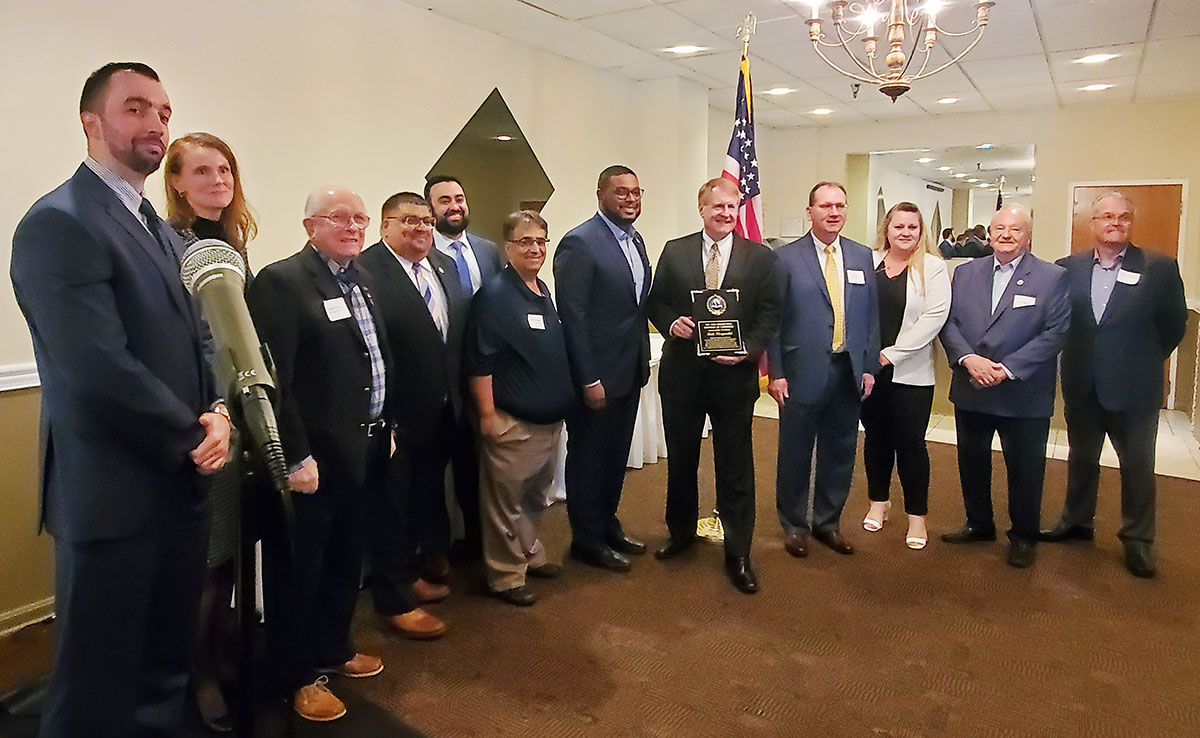 Attendees at the Mon Yough Area Chamber of Commerce's annual legislative lunch included state Reps. Brandon Markosek and Abigail Salisbury; chamber member and McKeesport real-estate broker Robert Baum; state Reps. Matthew Gergley and Nick Pisciottano; West Mifflin business owner Nick Pisciottano; Lt. Gov. Austin Davis; Allegheny County Executive Rich Fitzgerald; business owners Craig Baum and Eva Jovanovic; Allegheny County Councilman Bob Macey; and Mon Yough Chamber Board Chair Robert Johnson. (Tom Leturgey photo for Tube City Almanac)
---
Pennsylvania's governor is dedicated to making the state more business-friendly to entrepreneurs, Lt. Gov. Austin Davis told the Mon Yough Area Chamber of Commerce during its annual legislative luncheon.
During the event at the Georgetown Centre in Pleasant Hills, Davis told local business leaders that among Gov. Josh Shapiro's first actions after being sworn in was the creation of the new Office of Transformation & Opportunity.

Davis called the office "a one-stop shop for businesses, to give you the support you need to grow and thrive."
The administration is also putting pressure on state permit and license agencies to perform, he said. When a business applies for a license, Davis said, "they will have a timeline that the state is required to meet. And if we don't respond by that deadline–the applicant gets their money back."
"We're planting a flag, sending a clear message that Pennsylvania is open for business," he said.
Davis also spoke about the history of the McKeesport area and the Mon Yough Chamber, as well as his still-new job as the Keystone State's first Black lieutenant governor.
The new administration's committment to streamlining rules and regulation was applauded by another new elected official, state Rep. Abigail Salisbury, Swissvale Democrat, who also was in attendance for the luncheon.
She said she had promised her constituents that speeding up business applications was something she was going to tackle the first day she was in office.
Davis also talked about Shapiro's proposed 2023-24 state budget, which he said is "a set of common-sense solutions to the most pressing issues facing the Commonwealth."
Education is a key component of the budget, Davis said. "We're proposing a number of steps to cut taxes, grow our economy and lower costs for Pennsylvanians," he said.
Among the items in the proposed budget is funding for the "Historically Disadvantaged Business Program," Davis said. It grew out of a $100 million pandemic-era program from the state Department of Community & Economic Development funding to provide relief payments to businesses owned and operated by Black entrepreneurs and other minorities. That program was supported with another $20 million in federal COVID-19 relief funding.

"We want to see that level of support continue, so the governor's budget proposes investing $20 million in state funds to ensure minority-owned businesses have access to capital to expand or sustain operations," Davis said.
He promised that Pennsylvania's new government team will help businesses and "wants to be a real partner for the business community."

The chamber, with Board Chair Robert Johnson emceeing the event, provided outgoing Allegheny County Executive Rich Fitzgerald with a plaque of appreciation for his dozen years of "dedicated service to the businesses and citizens of Allegheny County." The plaque also went on to say that Fitzgerald "never forgot the needs of our Mon-Yough communities."

Fitzgerald participated in a panel discussion about the region and its future before approximately 80 members of the business community.
He noted that Allegheny County's unemployment rate is near an all-time historic low of 4 percent and said there are "about 1,600 unfilled jobs" just in county government and related services alone.
State Rep. Brandon Markosek, Democrat of Monroeville, said that expanding public transportation and strengthening fire and police departments in his jurisdiction are among his highest priorities.

Others on hand included Allegheny County Councilman Bob Macey, as well as state Rep. Nick Pisciottano, who said that "priorities for the Mon-Yough region" include "everything under the sun."
Passing the state budget is of the utmost importance, to the region, he said. The spending plan includes funds for improving blighted areas, education and transportation, Pisciotanno said. "We need the right amount of funding to keep the state moving."

Local leaders and chamber board members said the region should build on its many assets, including UPMC McKeesport hospital, county parks in Elizabeth Twp. and White Oak, the Great Allegheny Passage and Penn State Greater Allegheny.
Salisbury, who has hit the ground running with legislative proposals during her first few weeks on the job, said that she is working on empowering municipal governments so that they are not as dependent on the state for leadership.
A practicing attorney and former borough council member in Swissvale, Salisbury talked about "re-framing" assets.
"Blight can be redeveloped," she said. Eliminating blighted properties and facilitating affordable housing should be a priority, Salisbury said.
Existing vacant commercial properties should be renovated for new business ventures, she said. "It's an opportunity instead of a liability," Salisbury said.

She also talked about land-banking, which shifts vacant, tax-delinquent properties into non-profit authorities — such as the Tri-COG Land Bank in the Mon Valley — so that they can be re-sold to new owners.
Salisbury said that in her home community, landlords are paying taxes, but doing very little else with vacant storefronts and other properties. Some of them are sitting on vacant property, she said, in hopes of benefitting from neighborhood revitalization similar to East Liberty, Lawrenceville and other trendy neighborhoods in the city of Pittsburgh.

Salisbury has co-sponsored a "use it or lose it" bill that will not allow property owners to sit on land and watch it deteriorate into blight, fire hazards and chronic code violators.

"Council begged people to put their properties to productive use," she said. "Use it or lose it" laws are designed to encourage owners of vacant properties in communities such as McKeesport and Duquesne to sell them or re-develop them, Salisbury said.
Pisciottano gave a brief update on the Mon Fayette Expressway. He noted that Trumbill Construction is currently working on the leg of the highway from Jefferson Hills to Duquesne, with hopes of that stretch of highway being completed by 2028. "And then Duquesne to Monroeville after that," he said.

Lance Bagnoff and Tyler Laughlin from the Allegheny County Airport Authority also gave an update on the county's second-busiest airport. The West Mifflin terminal was recently renovated and the airport remains busier than it has been for a decade, and nearly all of the hangars are currently in use.
---
Tom Leturgey is a freelance writer based in Pittsburgh and the editor of KSWA Digest, the online news and features home of the Keystone State Wrestling Alliance. His work also appears in The Valley Mirror and other publications.
Originally published April 24, 2023.
In other news:
"Volunteers Needed for…" || "City Church Steps Up …"