(Advertisement)
Tube City Community Media Inc. is seeking freelance writers to help cover city council, news and feature stories in McKeesport, Duquesne, White Oak and the neighboring communities. High school and college students seeking work experience are encouraged to apply; we are willing to work with students who need credit toward class assignments. Please send cover letter, resume, two writing samples and the name of a reference (an employer, supervisor, teacher, etc. -- not a relative) to tubecitytiger@gmail.com. (4-11-2023 to 4-30-2023)
To place your ad, email tubecitytiger@gmail.com.
Ads start at $1 per day, minimum seven days.
MLT presents 'Gabriel' May 5-14
By Jason A. Mignanelli
The Tube City Almanac
May 04, 2023
Posted in: Entertainment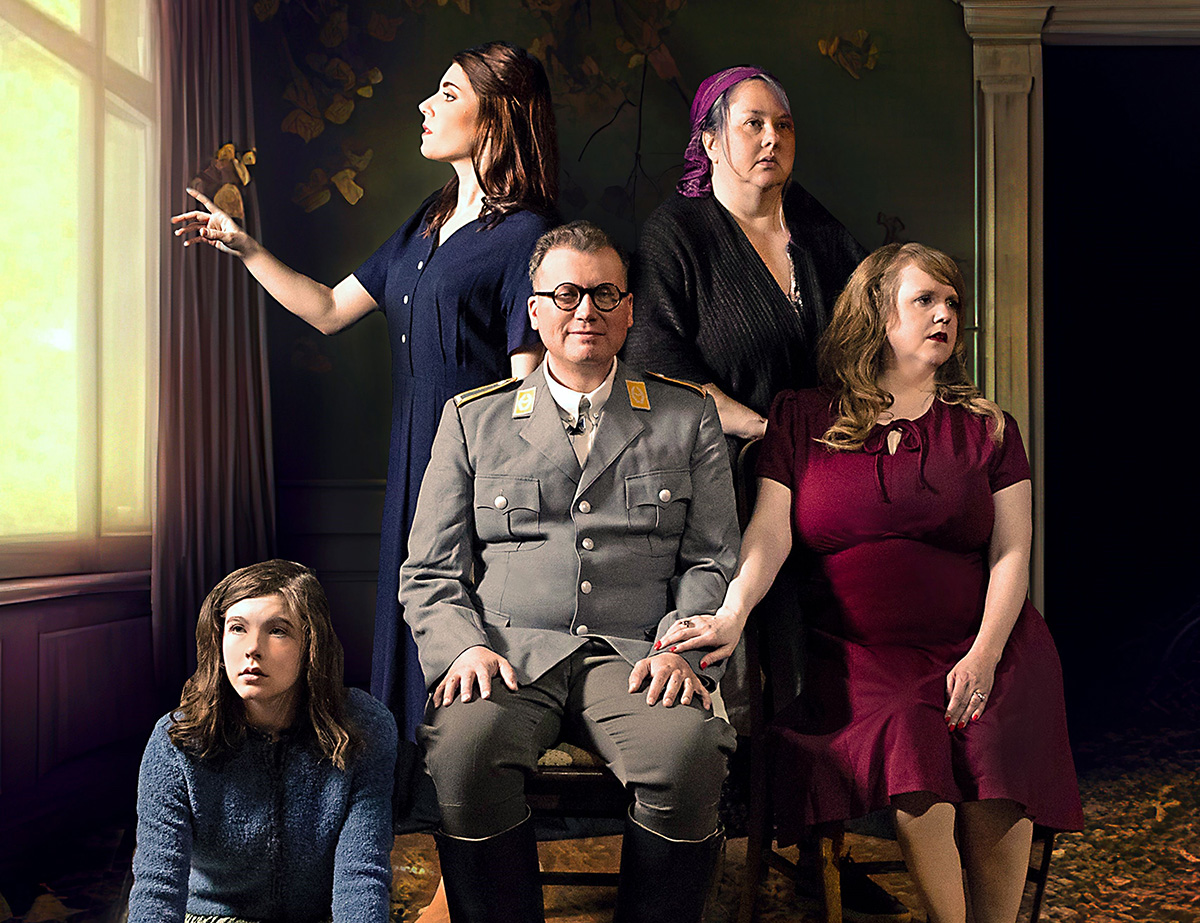 Cast of McKeesport Little Theater's "Gabriel." (Tabitha Bowman photo courtesy MLT)
If you go...

"Gabriel" by Moira Buffini

Where: McKeesport Little Theater, 1614 Coursin St.

When: 7:30 p.m. Fridays and Saturdays, 2 p.m. Sundays, through May 14

Tickets: $15 for adults, $10 for students, $5 for members. Sold at the door, online at www.mckeesportlittletheater.com, or by calling (412) 673-1100
At the height of the second World War on the Nazi-occupied British island of Guernsey in the English Channel, one family struggles to survive. In a twist of fate, an incoherent young man washes up on the beach. Unable to locate identification, the family names him "Gabriel" and decides to harbor him despite facing possible consequences of the commanding officer of the German forces, Major Von Pfunz.

The McKeesport Little Theater is presenting "Gabriel" by Moira Buffini, beginning this week. The play was first published in 1997 and was described by The New York Times as a "deftly woven plot" that "begins generating suspense early on." Buffini is an English playwright born in Cheshire, United Kingdom.
Another reviewer wrote that "Buffini, a daring and almost shockingly inventive playwright, derives suspenseful plot turns from these characters thrust into a dangerously close situation."
Patrick Daniel, who is directing the MLT's production, said the play "will have viewers invested in romance, mystery and drama."

Rachel Carey plays one of the leading roles as the Jewish Daughter In-Law. "This show honestly has something for everyone," said Carey. "It is an action-packed mystery, romance, slice of life war drama. I think anyone who comes to see Gabriel will leave having enjoyed something completely different and unique to them."
Carey said the role is very different from others she has performed in the past.

"I love a woman-driven story! A lot of shows, especially war-era shows, tend to focus on men. This show displays a lot of different dynamics between women and to me feels very true to life. It is something unique to shows I've done in the past and something I have been enjoying," said Carey.

Although Carey welcomes the many aspects of her role, it's not completely devoid of difficulties.

"For me, balancing the undercurrent of both despair and optimism under her day-to-day persona without allowing those things to appear too overwrought is something I've had to dedicate a lot of thought to. That balance has probably been the most difficult thing for me," said Carey.

Megan Mitchell has a lead role as Jeanne.

"The most complex part of portraying Jeanne for me has been that she is very different from me, we are both strong, but she can be a bit harsh just because she needs to be to survive — also the Guernsey accent was not easy to reproduce," said Mitchell.
Although the play is open to all ages, the MLT is cautioning that it's most appropriate for ages 15 and up.
"There are some adult situations and themes, but all within a moral and historical context. One of our cast members is 15. I think the show is acceptable and would be enjoyed by anyone this age and up," Daniel said.
Cast
Estelle Becquet: Julia Rae Jackson
Margaret Lake: April May Ohms
Lilian Becquet: Rachel Carey
Jeanne Becquet: Megan May
Von Pfunz: Cory McCaffery Sigler
Originally published May 04, 2023.
In other news:
"MASD Life Skills Stud…" || "Duquesne Inches Close…"