(Advertisement)
Tube City Community Media Inc. is seeking freelance writers to help cover city council, news and feature stories in McKeesport, Duquesne, White Oak and the neighboring communities. High school and college students seeking work experience are encouraged to apply; we are willing to work with students who need credit toward class assignments. Please send cover letter, resume, two writing samples and the name of a reference (an employer, supervisor, teacher, etc. -- not a relative) to tubecitytiger@gmail.com. (4-11-2023 to 4-30-2023)
To place your ad, email tubecitytiger@gmail.com.
Ads start at $1 per day, minimum seven days.
Program helps pupils develop good communications, work habits
By Vickie Babyak
The Tube City Almanac
May 04, 2023
Posted in: McKeesport and Region News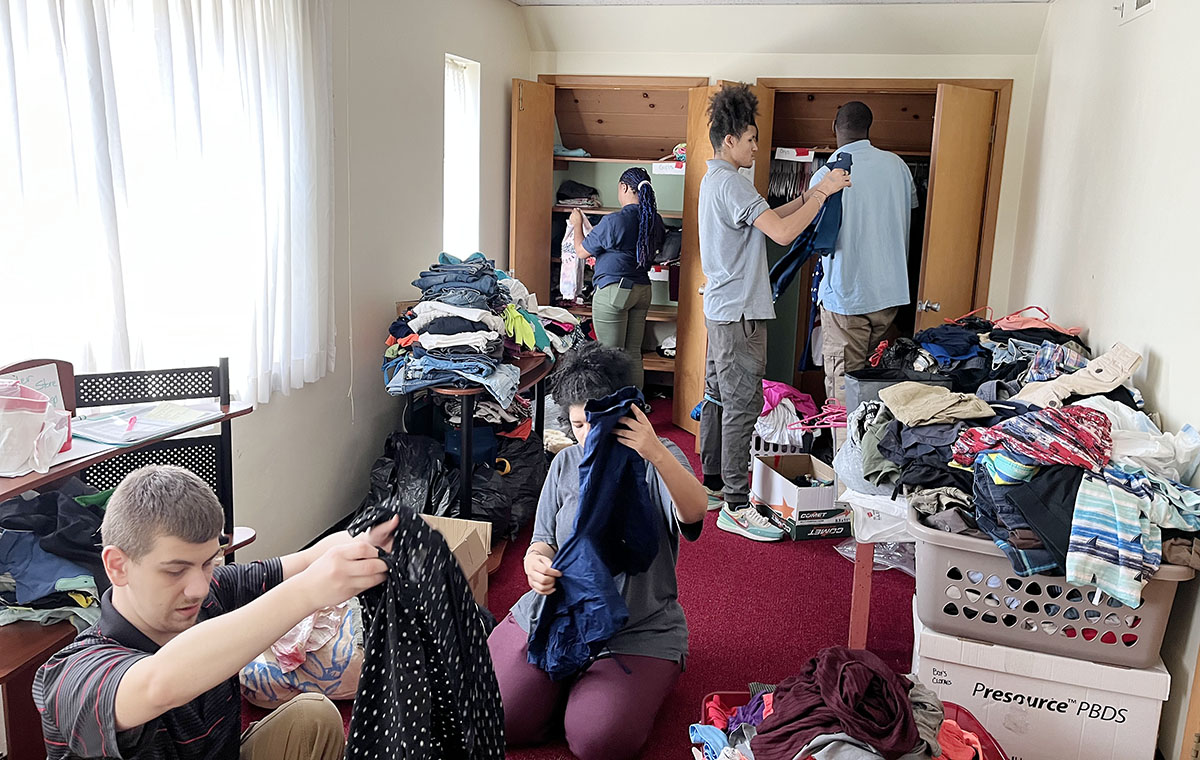 Students are hard at work organizing and sorting clothes for The McKeesport Agape Center on Prescott Street in White Oak. (Submitted photo courtesy Rachelle Cilli)
---
Life Skills students from McKeesport Area School District students have been learning to be the best they can be by volunteering and gaining valuable job skills every Tuesday afternoon at the McKeesport Agape Center in White Oak.
MASD special education teacher, Rachelle Cilli, instructs the Community Based Experiences class. She takes students into the community to learn about job skills that will help them after they graduate high school and become employed.
Cilli said her class began volunteering at Agape in September 2022. "The class has worked at different places throughout the community but this was our first year at Agape. I didn't realize the variety of experience the students would gain here," she said.
Life Skills classes are a program for students who have learning challenges and need additional support to learn tasks that enable them to live with a degree of independence. Additional instruction is provided with academics, personal wellness, home economics, communications and social skills, and job skills.
In preparing the students for outings, they learn what it takes to be a good worker through lessons, videos, and activities, Cilli said. Once students begin their community outings, they receive performance grades based on their time management, participation, teamwork, communication and professionalism.
"I provide students with an incentive by handing out a 'MVW' (Most Valuable Worker) award for the day, in which they get a certificate, their picture displayed in the classroom, and a treat. It encourages them to take pride in their work," said Cilli.
Cilli said she attempts to make work days in the community replicate what a typical workday would be like. It is one thing to learn about being a "good" worker, she said, but it takes practice in different settings to truly prepare students for a successful future.
"Giving students consistent feedback and constructive criticism helps mold them into being more confident and transforming their work ethic," she said.
"Having high expectations and letting my students know that I believe in their success makes the difference. It's amazing to see the progress the students have made from the beginning of the school year to the end," said Cilli.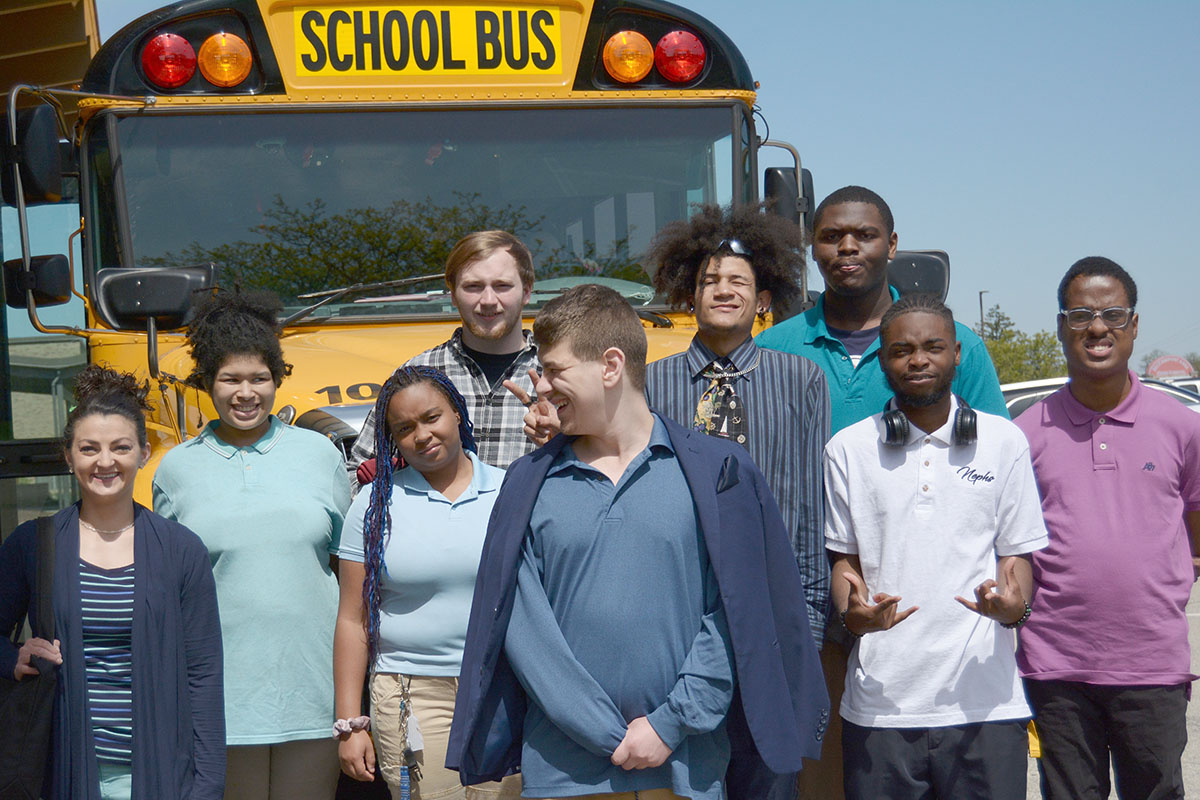 High school students are seen with their teacher, Rachelle Cilli, before leaving for Agape. (Submitted photo courtesy Rachelle Cilli)
---
Sara Traeger and Alissa Keebler are also MASD special education teachers instructing students in the Life Skills program.
Traeger teaches the Independent Living Skills class and her students learn daily skills like grocery shopping, cleaning, managing money, cooking, doing laundry and taking personal responsibility. It's everything they need to know before going into the community to work and live on their own. "I take pride in teaching my students functional, daily living skills they can use now and into their future," said Traeger.
The Planning for Success class is taught by Keebler. She teaches students how to write cover letters, resumes, and fill out applications for employment. She helps students learn how to appropriately interact with others by expanding their communication skills and she even teaches them sign language.
Keebler uses a technique with her students that comes from growth mindset theory; which is a belief that academic abilities can be improved as a response to trauma or other life challenges. The goal is that this technique will help students grow through their life challenges and to have a more positive outlook about themselves. "I want to give them all the tools they need in their toolbox to succeed," said Keebler.
Sandi Hudson, an occupational therapist at MASD, said that years ago, Kelly Doyle, co-founder of Agape, wanted to buy a church to house her nonprofit organization. Hudson said she would run the center's Clothing Closet for Doyle. The two have been neighbors and friends for approximately eight years.
One year ago, Doyle's dream came true. She purchased the former Wesley United Methodist Church on Prescott Street and Hudson kept her promise to run the Clothing Closet.
Hudson said, "As one of the Occupational Therapy Service Providers in the McKeesport district, we look for pre-vocational and vocational opportunities that are local and cover a number of job-related skills that the students may need following graduation."
"When the Life Skills class was searching for a local volunteer opportunity, Kelly opened up her doors to them. The variety of opportunities under one roof has turned out to be an amazing experience for the students," said Hudson.
Doyle wasn't sure what to expect at first, but she said the Life Skills kids are a joy and very important to Agape's volunteer organization. They are meticulous in everything they do and have so many skills to offer. She is honored to have them as volunteers.
What began in the Clothing Closet has extended throughout the entire building under the supervision of Josie Dennison, Agape Program Director and social worker.
Dennison said, "Based on my observation each week, students demonstrate an integrated approach to developing their personal and interpersonal skills. The skills demonstrated, but not limited to, are personal self-management skills, listening skills and the ability to follow instructions. They're excited to get to work."
She said that each student has developed strategies for making decisions, reducing stress, and managing anger. They have demonstrated general social skills and strengthened their communication skills by asking questions to complete a job. "The pride they take in their work, no matter how big or small the task, stands out to me," said Dennison.
Hudson said, "The functional skills that students are acquiring along with increasing independence and confidence show up in subtle and not-so-subtle ways. Working independently and as part of a group has its benefits. All these skills combined further prepares each student to become a functioning, working member of the community."
Doyle said the students help with organizing the clothing room even though it's a high volume area. They are fantastic in the pet pantry and organize all the dog and cat food. Students rotate stock in the food storage area and do an outstanding job with all of the hygiene products. They do a great job with dusting, vacuuming the rugs, and other cleaning chores they are assigned.
"During the holidays, the Life Skills students decorated all of our holiday boxes, sorted toys and were instrumental in the clean up efforts," she said.
Doyle concluded, "All of them have bright futures and are truly ready for the workforce. I am so very proud of all of them and grateful for all that they do to support the neighbors we serve at Agape."
---
Vickie Babyak is a photographer and freelance writer from Dravosburg. She may be reached at vbabyak@yahoo.com.
Originally published May 04, 2023.
In other news:
"Angora Gardens Holds …" || "Wartime Drama Set on …"