By Jason Togyer
The Tube City Almanac
July 11, 2016
Posted in: McKeesport and Region News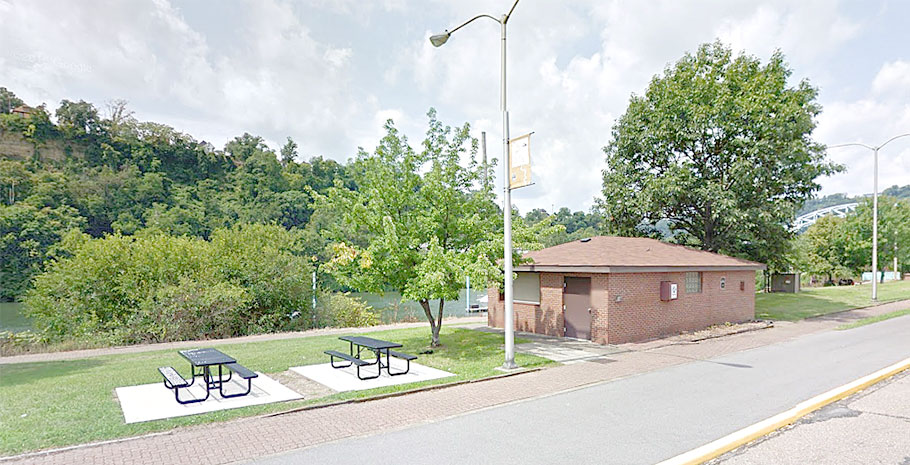 A trailside cabin --- or "hostel" --- near McKeesport's marina has begun accepting its first paying guests.
Located in a former snack bar at Gergely Riverfront Park, the brick cabin is secured with an electronic lock and offers four beds, clean linens, a shower, bathroom facilities and a kitchenette, says Linda Brewster, president of the McKeesport Trail Commission.
The commission hosted an open house at the facility on Friday. Visitors who want to rent a bed overnight are charged $30 per bed, per night, and must pay using a credit or debit card; arrangements can be made by calling the trail commission at (412) 523-2972 or (724) 433-5640 before 10 p.m.
"This has been a long time coming and finally it's done," Brewster says. "Everyone who has helped us has been tremendous."
The long-vacant structure was turned over by the city to the trail commission in 2008 with the suggestion that the commission use the building in whatever way it saw fit.
The commission identified a need for inexpensive overnight accommodations for hikers and bicyclists using the Great Allegheny Passage through McKeesport, Brewster says. There is no hotel or motel in McKeesport or the adjoining boroughs; the closest are in West Mifflin, Homestead and North Huntingdon.
The Great Allegheny Passage, part of a network of hiking and biking trails in the eastern United States, sees upwards of 1 million visitors per year along the entire route between Pittsburgh and Washington, D.C., via Cumberland, Md.
Hostels are inexpensive lodgings that have long been common for backpackers and bicyclers in Europe, but the idea is newer in the United States. Brewster says another hostel is located along the trail in Rockwood, Somerset County, so trail users should be familiar with the concept.
Assistance remodeling the building included financial support from the McKeesport Hospital Foundation, the Wivagg Foundation and the Mon-Yough Chamber of Commerce Foundation, and also included help from members of the local Kiwanis and Lions clubs and McKeesport's parks department, Brewster says, as well as trail commission members Bob and Joyce MacGregor and Sharon Soles.
The hostel's opening was almost delayed due to a water line break, but city crews quickly repaired the damage, she says.
The trail commission's next big project is planning and arranging for a connection between the Great Allegheny Passage and Renziehausen Park, Brewster says.
McKeesport serves as a junction between the Youghiogheny River Trail, the Steel Valley Trail and McKeesport's own 10-kilometer "Loop," and in 2014 the city was designated as an official "trail town" by the Trail Town Program, run by Greensburg-based Progress Fund.
Another trail amentity that has returned this year is the McKees Cafe, located on the first floor of the Palisades Ballroom. Brewster says the cafe currently has a breakfast buffet on Saturday and Sunday mornings; summer hours are Thursdays and Sundays 11 a.m. to 2 p.m., and Fridays and Saturdays 11 a.m. to 7 p.m.
(Image via Google Maps)
Originally published July 11, 2016.
In other news:
"Ardara Road in NHT to…" || "Guffey Road to Close …"