(Advertisement)
Tube City Community Media Inc. is seeking freelance writers to help cover city council, news and feature stories in McKeesport, Duquesne, White Oak and the neighboring communities. High school and college students seeking work experience are encouraged to apply; we are willing to work with students who need credit toward class assignments. Please send cover letter, resume, two writing samples and the name of a reference (an employer, supervisor, teacher, etc. -- not a relative) to tubecitytiger@gmail.com. (4-11-2023 to 4-30-2023)
To place your ad, email tubecitytiger@gmail.com.
Ads start at $1 per day, minimum seven days.
'McKeesport Center' has grown to campus with 500 students
By Staff Reports
The Tube City Almanac
September 13, 2023
Posted in: Announcements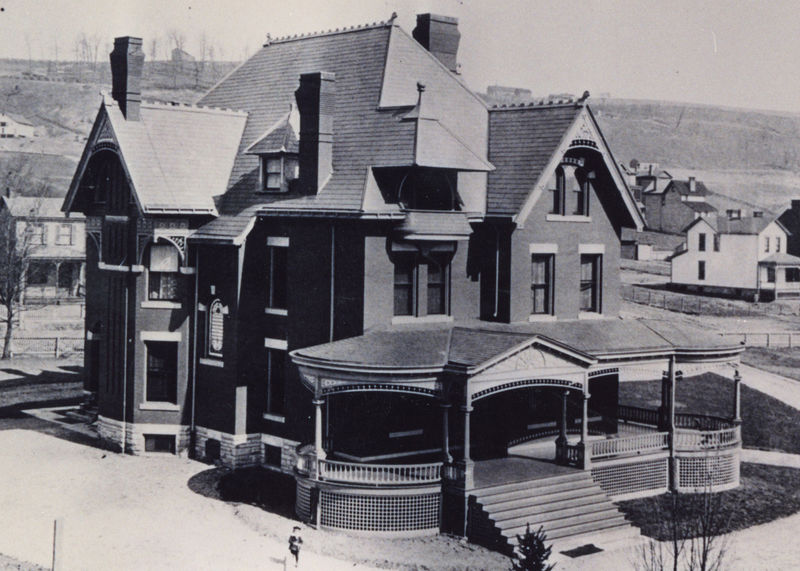 Penn State's "McKeesport Center" — predecessor of today's Greater Allegheny Campus — opened in 1948. The campus will host a community party this Saturday. (Photo courtesy Penn State Greater Allegheny)
---
Penn State University will celebrate the 75th anniversary of its McKeesport campus with a community party this Saturday on the lawn of the student union.
Spokeswoman Victoria Garwood said the "Blue & White Watch Party" will begin at 12 noon outside of the Student Community Center and will include both a free play area for families and a special ticketed event for guests 21 and over.
Visitors will be able to see the Penn State Nittany Lions football team take on the University of Illinois on either indoor or outdoor big-screen TVs, Garwood said.
In addition, the Greater Allegheny men's soccer team will be playing Christendom College at 1 p.m. on the campus field, she said.
Food and activities in the family area will be free of charge and include lawn games, a photo booth, a balloon artist, hot dogs, nachos, popcorn, cotton candy, Penn State Creamery ice cream and crafts.
A party tent also will be available to raise money for the Penn State Fund at Greater Allegheny Campus. Tickets to the tent are $40 and will include additional food and refreshments for visitors age 21 and over.
The Penn State Fund provides immediate support for campus initiatives including student domestic and international travel experiences, career exploration opportunities and food security efforts, Garwood said.
First center opened in 1948
Penn State opened its "McKeesport Center" in a 32-room house on Maple Avenue in Dravosburg in 1948 to provide one-year training certificates in business administration and engineering technology to returning veterans through the G.I. Bill.
It then began offering classes at McKeesport's West Side School in 10th Ward in the early 1950s, awarding two-year associate engineering degrees in electrical technology, drafting and design technology.
It erected its first permanent building — containing four classrooms — in 1955 at the present site near Renziehausen Park.
About 500 students are currently enrolled at the McKeesport campus, which awards both two- and four-year degrees and is one of the university's Commonwealth Campuses that admit international students.
The campus now includes a student community center with game room, food court, staging areas for theatre and entertainment, club offices, health services, a radio studio and a bookstore. Penn State Greater Allegheny also has a new fitness center, residence hall, library, computer center and classrooms.
Sponsors of Saturday's event include the Penn State Greater Allegheny Alumni Society; Jay and Kim Weitzel, Galen Grimes, Kelley M. Lynch, Robert and Patricia Majcher and Judith Bookhamer; Donald and Monica Lovre, Larry and Joyce Dupak, Michele Tzanakis, Nancy and John Traina, Judy and Rick Kalich, Robert Umstead, Christina Hiltrop, Robert and Donna Nicely, Arthur L. and Cynthia A. Baldwin, Dorothy Datemasch, Edward C. Datemasch, Donald Garwood, Victoria Garwood, Megan Nagel, Micah Nagel and Garry M. Kramchak.
Open house for prospective students Oct. 7
Greater Allegheny will hold an open house for prospective undergraduates on Oct. 7. High-school students who attend the event can tour the facilities, and if they apply to Penn State, will receive a waiver of the $65 application fee. For more information on the open house, call (412) 675-9010 or email psuga@psu.edu.
Originally published September 13, 2023.
In other news:
"Oh, What a Show: EA B…" || "MLT Takes on Ambitiou…"