(Advertisement)
Tube City Community Media Inc. is seeking freelance writers to help cover city council, news and feature stories in McKeesport, Duquesne, White Oak and the neighboring communities. High school and college students seeking work experience are encouraged to apply; we are willing to work with students who need credit toward class assignments. Please send cover letter, resume, two writing samples and the name of a reference (an employer, supervisor, teacher, etc. -- not a relative) to tubecitytiger@gmail.com. (4-11-2023 to 4-30-2023)
To place your ad, email tubecitytiger@gmail.com.
Ads start at $1 per day, minimum seven days.
Fun, frenetic show features humor, songs for all ages
By Bonnijean Cooney Adams
The Tube City Almanac
September 13, 2023
Posted in: Entertainment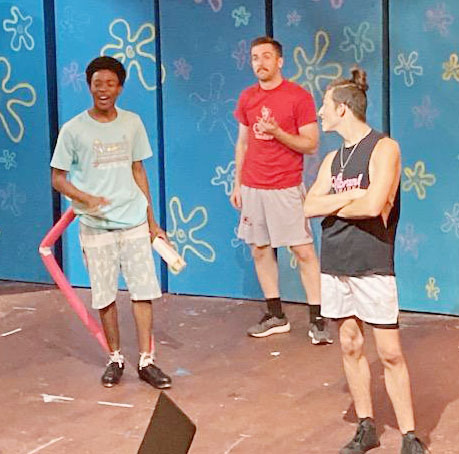 From left, Nyjair Wilkerson hones his skills as Squidward Q. Tentacles, with Michael Stanley and Dylan Stramaski, who play dual roles in the show. (Bonnijean Cooney Adams photo for Tube City Almanac)
If you go...

"The SpongeBob Musical"

Where: McKeesport Little Theater, 1614 Coursin St., www.mckeesportlittletheater.com

When: Sept. 15-17 and Sept. 22-24. Fridays and Saturdays at 7:30 p.m.; Sunday matinees at 2 p.m

Admission: $20 for adults, $12 for students. Tickets available through the MLT website or by calling the theater at (412) 673-1100
The show that director Will Dixon calls "the hardest show I've ever done" is about a sponge who lives in a pineapple under the sea.
"The SpongeBob Musical" opens Friday at McKeesport Little Theater and runs for two weekends. Rehearsals started in June. Dixon said the musical's intense choreography, music and dancing makes it an ambitious show for a small community theater.
The beloved children's cartoon show — which held plenty of humor for parents as well — was adapted to a musical for all ages that opened on Broadway in 2017. That's when Dixon and a few others who eventually became part of the MLT cast decided to take a road trip and headed to New York City to see it.
"I had not slept for 36 hours," he said. "Still, I was on the edge of my seat. After that, I knew I wanted to direct it."
But Dixon's full-time job is as a travel nurse, and when the COVID pandemic hit in 2020, plans to direct "SpongeBob" were put on hold.

Choreographer Kaylee Hansberry said she encouraged Dixon to apply for the director's position. She was among those who saw it on Broadway, and described it as a "dance-heavy show."

"With dancers and non-dancers in the cast, you have to artfully pick and choose" who is featured and in what numbers," Hansberry said. She brings a lot of choreographic diversity to "SpongeBob," including tap and hip-hop.

"In 'When the Going Gets Tough,' we built in some specific arm movements and isolations," the choreographer said. "It's the intensity that makes it the most challenging but most exciting," she said.

The score includes more than a dozen songs by various artists including David Bowie, Cyndi Lauper and John Legend.

The large amount of vocal and dance numbers add to the challenge of adapting a full-blown Broadway show to the intimate setting of the McKeesport theater. "This is a huge undertaking for a small theater," producer Jennifer R. Vertullo said.

"We reinvented it," Dixon said. "The choreography, the music, building the stage — working with 27 people and the music director."

The director said although he's known some of the cast for a long time, such as Jade Goodes who plays Sandy Cheeks, others were new to him and each other. "I love my cast. I could not be more proud of my cast if I tried," he said.
Mikey Smith as SpongeBob shares ideas with Jade Goodes as Sandy Cheeks on how to avert a pending disaster that threatens Bikini Bottom. (Bonnijean Cooney Adams photos for Tube City Almanac)
---
Familiar characters from the TV series develop the musical's storyline. For example, Mikey Smith is SpongeBob SquarePants, joined by Henry Nightingale as Patrick Star and Goodes as the intelligent scientist and inventor squirrel who joins the undersea world for research purposes.

When a volcanic eruption threatens the very existence of the underwater city of Bikini Bottom, they try to find a way to save it.
Smith was among those who went to see the musical on Broadway. He said one of the reasons he went was because he grew up watching the TV show and was curious about a musical version.

When he heard about the MLT auditions, Smith said, "I just knew I had to be in it. Getting the role of SpongeBob was icing on the cake."

Smith said the sheer size of everything involved with this musical was very challenging, all the intricate pieces, the music, even all the little lines he has throughout. He said his favorite part is the Act I finale. "It sounds so good and powerful."

In the TV series and musical, SpongeBob and Patrick are best friends, but Nightingale said he and Smith had never met before.

He said a friend told him about auditions, and when he found out the show was "SpongeBob," he knew he couldn't pass it up. "We met during callbacks," Nightingale said of Smith, "and we just clicked."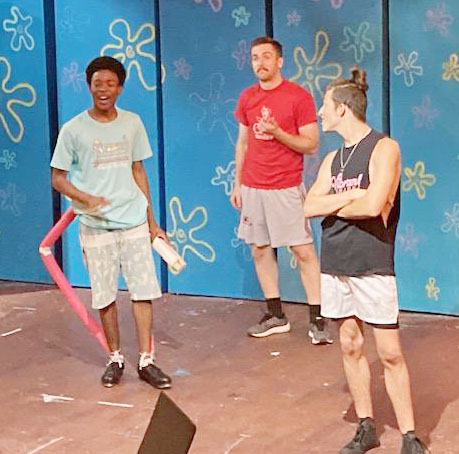 From left, Nyjair Wilkerson hones his skills as Squidward Q. Tentacles, with Michael Stanley and Dylan Stramiski, who play dual roles in the show. (Bonnijean Cooney Adams photos for Tube City Almanac)
---
Nightingale said his favorite part of the show is "I'm Not a Loser," which he said is fascinating to watch. He described Patrick as someone who is so oblivious but yet very focused.

In preparation for "SpongeBob," Nightingale said he dyed his hair a vibrant pink, in contrast to his usual brown color.

Each has a different way of getting into character for their non-human roles.

"As soon as I see Jade, I just go right into my role," Nightingale said.

"When I turn into a tiny yellow sponge, it's like there's a certain aura in the air where everything turns goofy," Smith said.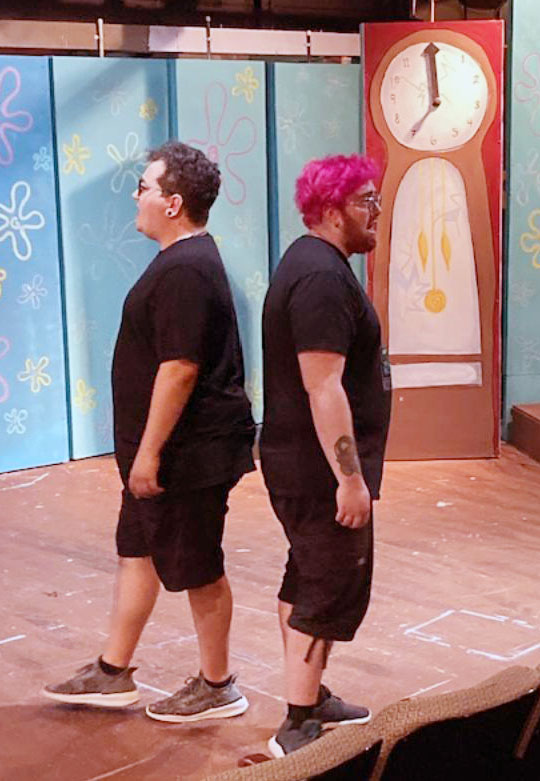 Mikey Smith as SpongeBob SquarePants and Henry Nightingale as Patrick Star are immersed in their roles as they rehearse for "The SpongeBob Musical." (Bonnijean Cooney Adams photos for Tube City Almanac)

Goodes' character made her debut in the TV series in the episode "Tea at the Treedome." "I'm kind of like an aquanaut," she explained. "And when things start to go wrong (in the musical), they look for someone to blame because they feel threatened, and I'm the outsider."

This is Goodes' fourth show at MLT. She said she saw the audition notice and decided it would be something fun to do. Getting into character is "a little bit what Henry said," she explained. "It's very silly and outrageous, but my character keeps them in check.

"She's very smart and outgoing and knows what she wants and sticks to her beliefs," Goodes said.

Although the show is full of various underwater life forms, including Nyjair Wilkerson as Squidward Q. Tentacles, Brandon Snyder as Sheldon Plankton, and Ben Wren as Eugene Krabs, the music and dance numbers have to be mastered just as in any other musical.

"It's one of the most challenging shows I've been in as far as music and choreography," Goodes said.

She said one of her most difficult numbers is "Chop to the Top," where Sandy is trying to teach SpongeBob karate-like moves in his quest to save the city. "I've never done karate and it's very precise," she said.

Dixon said he'd tell those planning to attend that this isn't a normal musical. There are lessons about inclusion, family, and friends, and working together.

"It is for kids," the director said, "and most certainly for adults, too."
---
Bonnijean Cooney Adams is a freelance contributor. She can be reached at adamsclick@aol.com.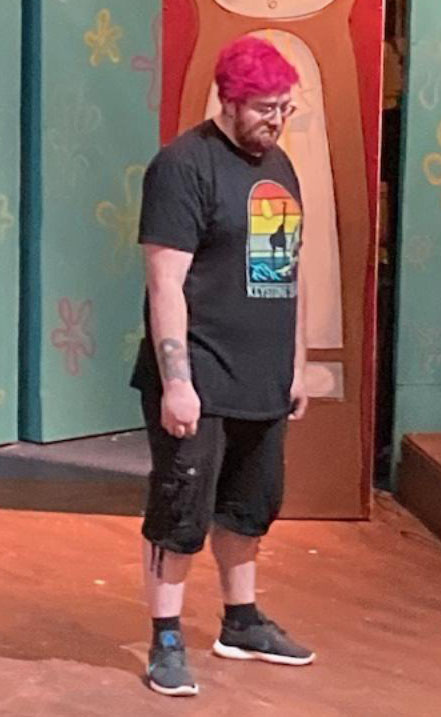 Henry Nightingale dyed his hair a vivid pink for his role as Patrick Star in McKeesport Little Theater's latest musical production. (Bonnijean Cooney Adams photos for Tube City Almanac)

'The SpongeBob Musical' Cast
SpongeBob SquarePants: Mikey Smith
Sandy Cheeks: Jade Goodes
Patrick Star: Henry Nightingale
Squidward Q. Tentacles: Nyjair Wilkerson
Sheldon Plankton: Brandon Snyder

Mr. Eugene Krabs: Ben Wren
Pearl Krabs: Sadie Mitchell
Karen the Computer: Kara McKenna
Perch Perkins: Connor McGrew
Patchy The Pirate: Michael Stanley
Electric Skate 1: Delaney Bortz
Electric Skate 2: Dylan Stramaski
Electric Skate 3: Michael Stanley
The Mayor of Bikini Bottom: Kyli Stoner
Mrs. Puff: Terri Davis
Larry The Lobster: Noah Bowytz
Buster Bluetang: Lucas Sotereanos
Old Man Jenkins: Stacie Sikora
A Fish: Katie Vitullo

Sardine Leader 1: Bee Roll
Sardine Leader 2: Connor McGrew
Sardine Leader 3: Bekah Sedwick
Sardine Devotee 1: Julia Rae Jackson
Sardine Devotee 2: Rasheena Carson
Sardine Devotee 3: Nie'Zhay Jefferson
French Narrator: Dylan Stramaski
Gary the Snail: Bekah Sedwick
Foley Artist Fish: Luc Sedwick

Bikini Bottom Ensemble:
Summer Ura
Skylar Crenshaw
Bowie Koisor
Destini Banks
Sydney Hrinda

Director: Will Dixon
Producer: Jennifer R. Vertullo
Choreographer: Kaylee Hansberry
Originally published September 13, 2023.
In other news:
"Penn State Celebratin…" || "Pa. Expands Property …"