By Submitted Report
The Tube City Almanac
August 29, 2016
Posted in: Announcements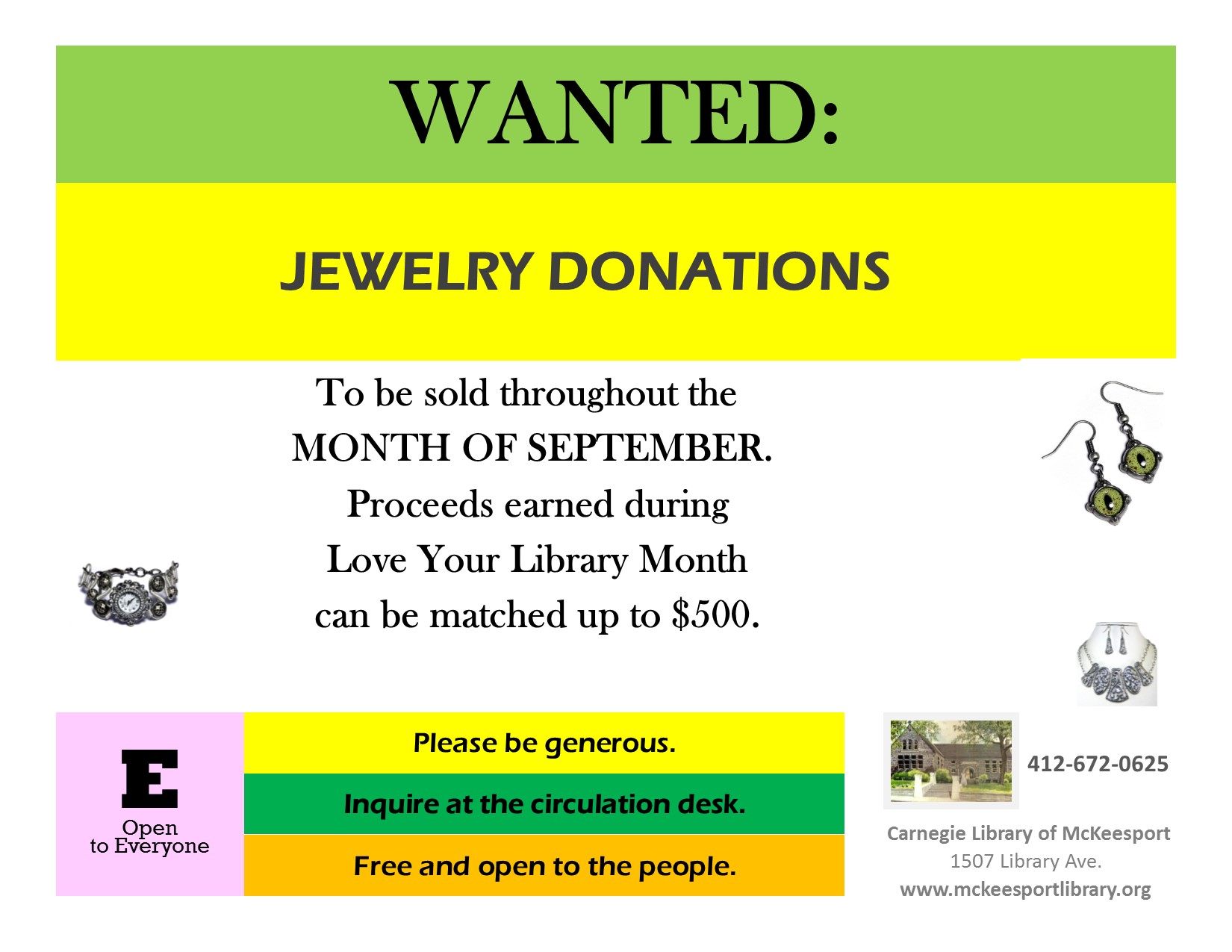 September is Love Your Library Month, and all month, Carnegie Library of McKeesport is collecting unworn and unwanted jewelry to be sold to benefit the institution, said Mary Rose Bendel, director of adult programs and community outreach.
Persons interested in making a donation should call the library at (412) 672-0625 for more information.
Other programs happening in September include "Wisewalk," which runs Tuesday afternoons through Nov. 8. Walkers are invited to meet at the McKeesport Regional History & Heritage Center in Renziehausen Park for a hour-long walk through the park. Refreshments are available at the end of the walk.
Upcoming Wisewalks are on Sept. 6, 13, 20 and 27. Wisewalks are supported by McKeesport Hospital Foundation.
The Chemocaps group meets on the second and fourth Tuesday of the month at the main library, 1507 Library Ave., McKeesport, from 11 a.m. to 1 p.m. The group of knitters and crocheters gather to make caps for local cancer patients. The next meeting is Sept. 8, Bendel said.
A used book sale will be held from 11 a.m. to 5 p.m. Sept. 12 on the library lawn. Hot dogs also will be sold.
At 11 a.m. Sept. 13, the movie "My Big Fat Greek Wedding 2" will be shown for grown-ups in the children's room.
On Sept. 21, the library's book club will meet at Lifespan, Olympia Shopping Center, Versailles at 12 noon to discuss the book, "The Rainbow Comes and Goes" by Anderson Cooper and Gloria Vanderbilt. Copies of the book are available at the library.
At 6 p.m. Sept. 24, Jan Catalogna of the McKeesport Art Group will lead a "Wine and Canvas" session at the library. Participants can paint while enjoying wine and cheese. Materials will be provided. Registration is required and all participants must be 21 or older.
For more information on the library or activities, call (412) 672-0625 or visit mckeesportlibrary.org.
Originally published August 29, 2016.
In other news:
"McKeesport Man Killed…" || "Duquesne VFW Folds Af…"