By Mike Mauer
The Tube City Almanac
August 31, 2016
Posted in: McKeesport and Region News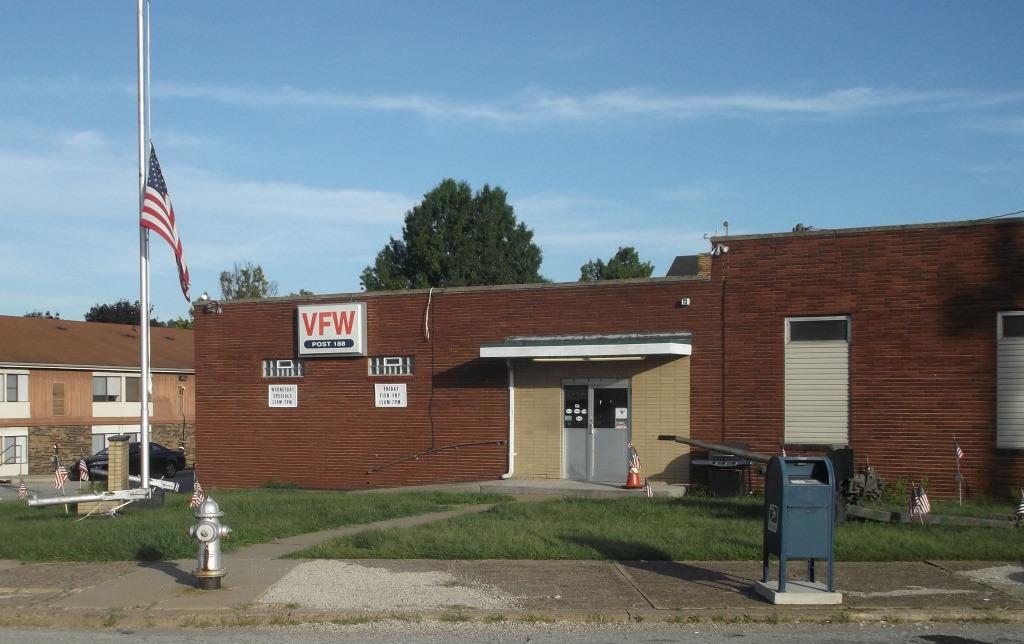 After nearly a century of service to Duquesne, Veterans of Foreign Wars Post 188 Raymond C. Burns is no more. Citing declining membership and dwindling finances, the post turned in its charter following a meeting with VFW District 29 officials Tuesday.
The physical trappings of a once active post were still there at the close of the meeting. A 57 mm anti-tank gun made in 1942 graced the outside of the building. A memorial dedicated to local servicemembers lost in World War I, World War II, Korea and Vietnam was in the foyer directly across from the main entrance.
But this history ended after VFW Post 188 Commander Elizabeth Salvador banged her gavel to close the organization's final vote. Roughly one dozen of the unit's remaining members voted unanimously to turn in the charter.
The Duquesne post had a good run. It was founded on Aug. 13, 1920 shortly after the close of World War I when 68 local combat veterans applied and received charter number 188 from the VFW.
The Duquesne veterans named their new post after Raymond C. Burns --- the first of almost two dozen servicemen from the city of Duquesne killed in that war. His portrait was present with the other military memorabilia in the lobby of the building at 215 N. Second St.
Initially, VFW Post 188 met in the Red Cross Rooms of the Duquesne Carnegie Library. The new post elected George Bjornberg as its first commander, formed an auxiliary, and moved operations from the Red Cross Rooms to the second floor of a building on North Duquesne Avenue.
In July 1942, the organization bought its first post home at 134 N. First St. in Duquesne. Purchased with funds largely solicited from area merchants and businessmen, the effort proved so successful that the post burned its mortgage three years later.
During and after World War II, the post underwent a tremendous expansion as Duquesne veterans from this conflict joined the VFW. Likely inspired by the proud tradition founded a generation earlier and to honor 98 of their own local comrades who had recently fallen in battle, these new members swelled the ranks so quickly that the post was forced to build larger quarters.
The organization marked its 30th anniversary by dedicating a new building at 200 N. First St. on March 5, 1950. Then, in 1964, to help make way for the widening of Route 837 to create Duquesne Boulevard, the former servicemen relocated to their final post home at 215 N. Second St. in 1964.
In recent years, the Duquesne VFW post has struggled along with the fortunes of its hometown.
Duquesne's VFW building is in disrepair and a spokesperson said it would require at least $70,000 in repairs to fix a leaking roof as well as other problems.
With the decline of the local steel industry in the 1980s, Duquesne's population has withered to around 5,500 – roughly the same number of workers who used to be employed at the city's mills in 1948. And although many of Duquesne's younger people have sought opportunities with military service over the last several decades, few are coming back to the community where they grew up.
A few of the Duquesne VFW's members recently attended a meeting at VFW Post 914 Intrepid in nearby West Mifflin Aug. 25.
"We are welcoming them as we do all of our fellow combat veterans," said Jake Bradich, commander of West Mifflin VFW Post 914. "As we do with all new qualified members, we are paying their first year of dues for them."
The West Mifflin VFW was selected this year as an All American as well as an All State post, and membership is increasing. For this effort, the post was awarded a decorative streamer for its organizational flag. It marched this adornment proudly with its honor guard at Kennywood Park Aug. 22 during the Fall Fantasy Parade.
But the West Mifflin post does not own a building. It holds its monthly meetings on the last Thursday of each month at the Thompson Run Athletic Association on Ball Avenue, West Mifflin.
"No building (also) means no headaches and no overhead," Bradich said. "There's no bar, no video games, no cable bill for us to worry about. And because we have no building, we're able to do more of what a VFW is supposed to do --- honor the dead by helping the living."
Robert R. Emerick, VFW District 29 commander, took control of the former Duquesne post's keys and charter. The remaining assets such as chairs, tables and other fixtures will be handled through the VFW.
The Duquesne police have been notified that the VFW building is now vacant, a spokesperson said.
---
Editor's Note: Mike Mauer is a member and officer of VFW Post 914 "Intrepid" in West Mifflin.
Originally published August 31, 2016.
In other news:
"Library Seeks Support…" || "Local Penn State Stud…"