(Advertisement)
Tube City Community Media Inc. is seeking freelance writers to help cover city council, news and feature stories in McKeesport, Duquesne, White Oak and the neighboring communities. High school and college students seeking work experience are encouraged to apply; we are willing to work with students who need credit toward class assignments. Please send cover letter, resume, two writing samples and the name of a reference (an employer, supervisor, teacher, etc. -- not a relative) to tubecitytiger@gmail.com. (4-11-2023 to 4-30-2023)
To place your ad, email tubecitytiger@gmail.com.
Ads start at $1 per day, minimum seven days.
By Jason Togyer
The Tube City Almanac
October 30, 2015
Posted in: History

On Oct. 31, 2015, our Internet radio station, WMCK.FM, will present the famous Oct. 30, 1938, broadcast of "The War of the Worlds" as part of a special evening of old-time radio programs beginning at 5 p.m.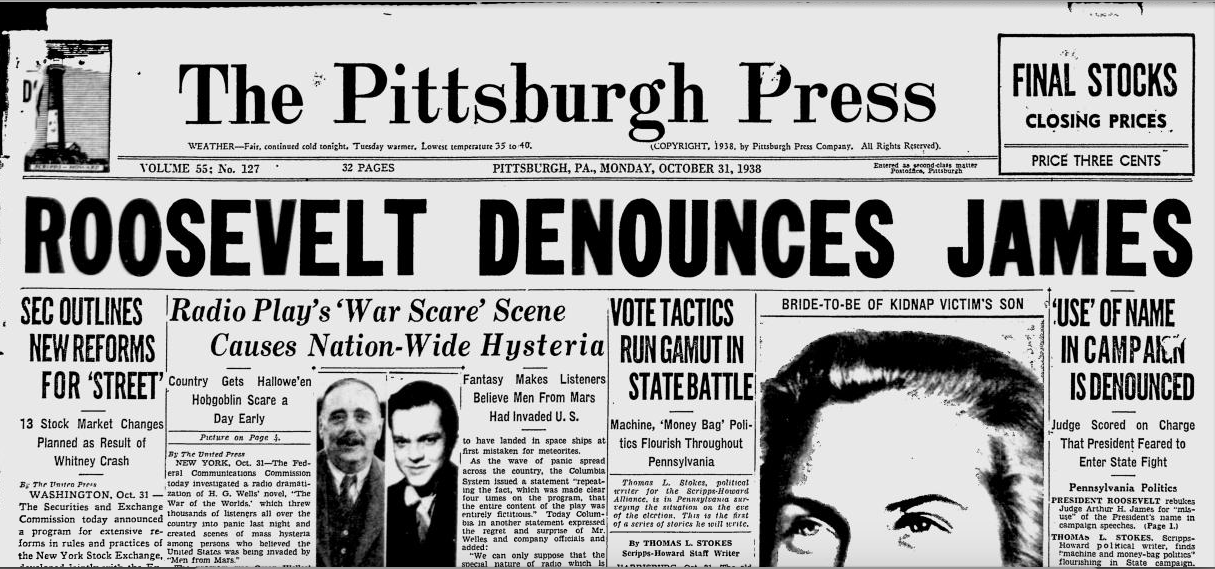 . . .

In the days before television, people listened to the radio in the evenings. In fact, as crazy as it seems, many of them even listened to a ventriloquist.

Edgar Bergen -- maybe best-known today as the father of actress Candice Bergen --- was one of America's most popular comedians in the 1930s and '40s. His "dummies," including mischievous, wisecracking Charlie McCarthy, were as famous and beloved as The Muppets today.

In 1938, Bergen and McCarthy were featured on a weekly, Sunday night hour-long variety show sponsored by Chase and Sanborn Coffee, and heard over NBC. The program was so popular that CBS, the major competing network, couldn't even find a sponsor for its show.

So, CBS countered with a series of hour-long plays produced by Orson Welles under the title, "The Mercury Theater of the Air."

At 8 p.m. Oct. 30, 1938, Edgar Bergen presented a Halloween-themed program called "The Haunted House," featuring singer Nelson Eddy and a short play called "There's Always Juliet" with Madeleine Carroll and Don Ameche.

In Pittsburgh, it was carried on WCAE (which later became WTAE), which was then at 1220 kHz AM.

WJAS, then at 1290 kHz AM in Pittsburgh, was the local CBS network affiliate. At 8 o'clock, Welles and his actors presented a play based on the 1898 novel by H.G. Wells (no relation) called "The War of the Worlds."

To spice things up, Welles and his actors moved the setting of Wells' novel up to their present day (1938) and made it sound like a 1938-style news broadcast.
. . .
All was well, apparently, until listeners of the Edgar Bergen "Chase and Sanborn Hour" tuned out when that show took a musical break.
In Pittsburgh, they turned their dials just a few spaces, from 1220 to 1290, and found Welles and his presentation of "The War of the Worlds." They were just in time to hear the actors, playing news broadcasters and eyewitnesses, giving the details of an invasion of Earth by Martians.

It should have been hard to mistake for a real news bulletin --- in fact, four times during the show, the CBS announcers explained it was fictional --- but thousands of people did reportedly make that mistake.
. . .

The scene in parts of the Mon Valley was pandemonium, according to the next day's Pittsburgh Press, with "reports of women grasping their children in their arms and racing through the streets, of men, women and children gathering in terrified groups in houses":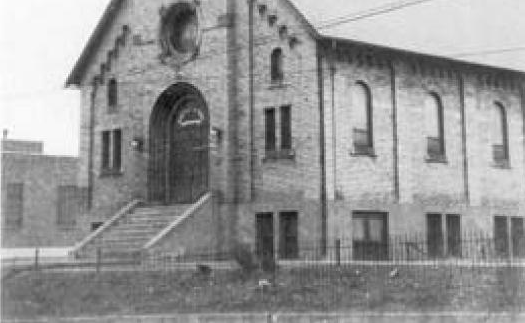 One message to a newspaper office said a large crowd had assembled at St. Joseph's Slavish Church in Clairton.

Many of the parishioners at that church ran into the residence of the pastor, the Rev. Martin Rubicky.

"First, it was a family of five," said Father Rubicky. "All of them were hysterical. They told me the Martians were bombarding New York and they thought the end of the world was coming. I had been listening to another radio program, but when they told me they had heard it on the air, I tuned in and found out it was just a play."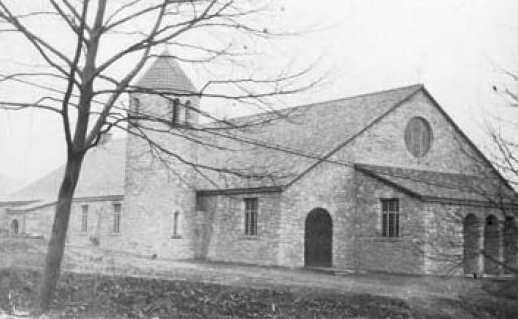 Rev. Joseph L. Lonergan, pastor of St. Paulinas Church, Clairton, said one woman came to him, "completely out of her head."

"She appeared to have gone crazy and thought it was the end of the world," Father Lonergan said.
. . .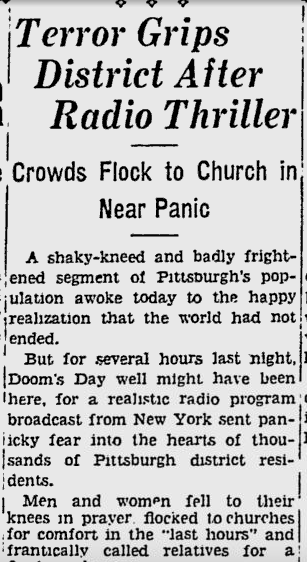 In recent years, some researchers have claimed that the extent of the panic was exaggerated.

"Almost nobody was fooled," reported historians Jefferson Pooley and Michael Socolow, writing in Slate in 2013.

They noted that a columnist for the New York Daily News said he was in the streets of Manhattan when the supposed panic was going on, and the sidewalks were as empty as on any typical Sunday night.

Certainly, reports of the "panic" made great publicity for Orson Welles and for CBS. What better demonstration of the power of network radio, CBS, and Welles' talent than to claim that thousands of people were driven crazy with fear?

Meanwhile, on the other side, it was a great demonstration of the dangers of radio, at least to newspapers, who certainly viewed the new medium as a threat. (Little did they know that the Internet would someday be a far greater threat to print than radio could ever imagine.)
. . .

And yet CBS did receive hundreds, if not thousands, of complaints via telephone and telegrams that night and over the following days, and the police did show up at CBS's New York studios at 485 Madison Ave.
And unless the two priests in Clairton were lying, at least some people did show up panicked at churches in the Mon Valley.

Listening to the "War of the Worlds" broadcast today, it seems so hokey and contrived that it's hard to believe anyone was fooled.
Still, if you were already on edge because of Halloween, and maybe you were a little sleepy and you'd been into the Tube City Beer ... ? Well ... who knows?
Originally published October 30, 2015.
In other news:
"Career Fair Tomorrow …" || "Police Seek Suspect i…"