November 10, 2015 |
By Jason Togyer | Posted in: McKeesport and Region News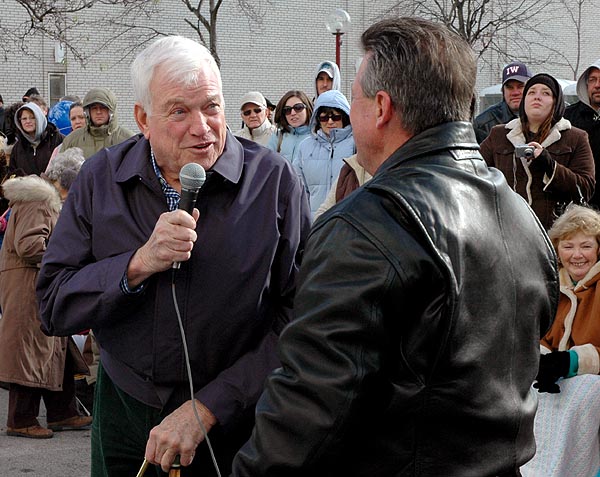 Happier times: Former Daily News publisher and philanthropist Richard Mellon Scaife, shown here with now-state Sen. James Brewster, served as grand marshal of McKeesport's "Salute to Santa" parade in 2008. With Scaife's 2014 death, his newspaper empire is being sold off. Tube City Almanac photo by John Barna.
. . .
The McKeesport Daily News and Monessen Valley Independent will be closed if they're not sold by Dec. 31, says their owner, the parent company of the Tribune-Review, which is also planning widespread layoffs.
In a press release this morning, Trib Total Media said that 91 employees in McKeesport and Monessen will lose their jobs if the newspapers are closed.
"The end of any of our nameplates, all of them longtime fixtures in their communities, is regrettable and painful for everyone," Trib Total Media President Jennifer Bertetto said in a statement.
"But we are not immune to the financial pressures that have forced even more drastic cutbacks by all of our competitors and by nearly every newspaper in the country," she said.
Read More