(Advertisement)
Tube City Community Media Inc. is seeking freelance writers to help cover city council, news and feature stories in McKeesport, Duquesne, White Oak and the neighboring communities. High school and college students seeking work experience are encouraged to apply; we are willing to work with students who need credit toward class assignments. Please send cover letter, resume, two writing samples and the name of a reference (an employer, supervisor, teacher, etc. -- not a relative) to tubecitytiger@gmail.com. (4-11-2023 to 4-30-2023)
To place your ad, email tubecitytiger@gmail.com.
Ads start at $1 per day, minimum seven days.
By Submitted Report
The Tube City Almanac
November 12, 2015
Posted in: Announcements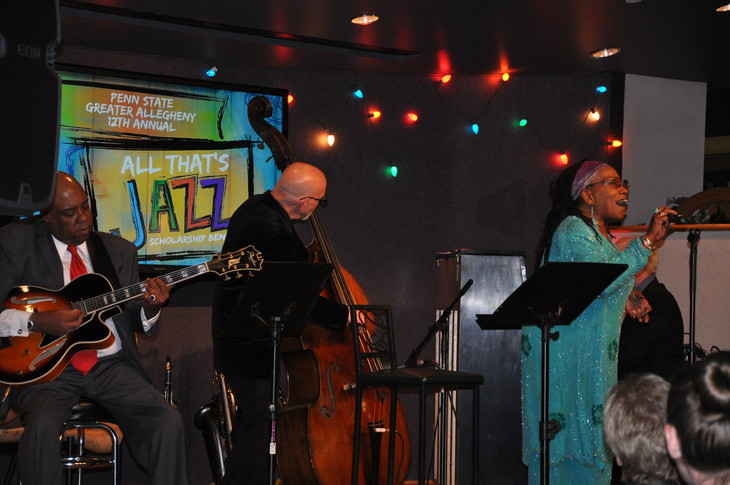 House Band and Betty Shirley perform "Take the A Train" at Penn State Greater Allegheny's 12th annual All That's Jazz scholarship benefit. (Photo courtesy Penn State Greater Allegheny)
. . .
The crystal clear voice of jazz vocalist extraordinaire Betty Shirley filled the Student Community Center at Penn State Greater Allegheny on Saturday as guests traveled back in time to celebrate juke joint jazz at the 12th annual All That's Jazz scholarship benefit.

The campus was hopping as Shirley was accompanied by the energetic sounds of William Thompson on piano, Eric Johnson on guitar, the multi-talented Benny Benack Jr. on clarinet and saxophone, and All That's Jazz returning favorite David Pellow on the bass. The band was joined at one point by the Penn State Greater A Capella Melody Lions, the campus' student choir.

The crowd erupted in applause when the total was revealed, a whopping $107,035 raised in one evening. Since 2004, the All That's Jazz event has raised more than $932,000 for student scholarships.
Guests were treated to a feast with traditional, yet glammed-up, juke joint treats such as shrimp and grits, fried green tomato sliders, Cajun catfish, and pecan pie cobbler topped with Penn State Berkey Creamery ice cream, all prepared by the campus' Housing and Food Services Department.
The money was raised through sponsorships, donors, the silent auction, and the Blue and White mystery boxes. One lucky guest won a trip to Costa Rica.

Premier Sponsors of the event were White Oak Rotary Club, Jay and Kimberly Weitzel, Gala Jewelers, and Cliff and Barbara Wise. Juke Joint sponsors included UPMC McKeesport, Jim and Megan Minarik, and Nancy Seifert. Joining the President's Club were Mark Gruskin, Jendoco, John and Cynthia Oliver, and Magaret Signorella.
Chancellor's Circle Sponsors were Luke Desmone, Galen Grimes, Nancy L. Herron, Ruth Hunt, Rose Kutsenkow, Dennis and Beth Meteny, Penn State Greater Allegheny Advisory Board, Penn State Greater Allegheny Alumni Society, Gregory Repas, Resource Development and Management, Inc., and John and Nancy Traina.
Event supporters included Ed Datemasch, HDH Group, Michelle Hough, Karen Kutzer, Ross J. Nese, Grant and Phyllis Newmyer, and Ron and Susan Ott. Other contributors and friends were Robert Buring, Ronald Grassel, Melanie and Richard Payne, HB South Printing, Art and Cynthia Baldwin, Alan and Dotti Bober, Linda Curinga, Mark and Sandra Davison, Kim Dehainaut, W.R. and P.H. Fritz, Scott and Stacy Rogers, and Patricia Yurko.
Originally published November 12, 2015.
In other news:
"City Celebrates Santa…" || "Irwin Hosts Light-Up …"