(Advertisement)
Tube City Community Media Inc. is seeking freelance writers to help cover city council, news and feature stories in McKeesport, Duquesne, White Oak and the neighboring communities. High school and college students seeking work experience are encouraged to apply; we are willing to work with students who need credit toward class assignments. Please send cover letter, resume, two writing samples and the name of a reference (an employer, supervisor, teacher, etc. -- not a relative) to tubecitytiger@gmail.com. (4-11-2023 to 4-30-2023)
To place your ad, email tubecitytiger@gmail.com.
Ads start at $1 per day, minimum seven days.
By Submitted Report
The Tube City Almanac
February 01, 2020
Posted in: Announcements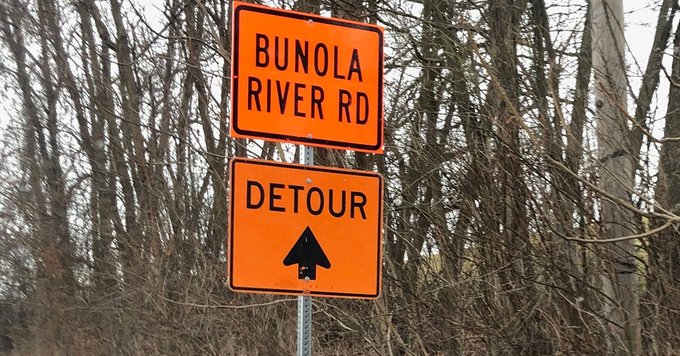 (Submitted photo)
State Department of Transportation officials are taking steps to reopen a portion of Bunola River Road near Lock 3 in Forward Twp., state Sen. Jim Brewster said Friday.
A portion of the road Pangburn Hollow Road and Third Avenue was restricted to a single alternating lane of traffic --- controlled by signals --- following a landslide. PennDOT closed that section permanently on Jan. 24 because, an agency spokeswoman said, motorists have been ignoring the signals.
The decision was sharply criticized by many Elizabeth area residents, including a letter-writer to Tube City Almanac who said the signals frequently malfunctioned.
"My offices have been receiving calls, emails and letters from constituents voicing their concerns about the repairs and closure of Bunola River Road," Brewster said Friday. "I understand their frustration."
Bunola River Road is a main artery for many residents and businesses along the Monongahela River in Elizabeth and Forward townships, he said.
"I have traveled Bunola River Road for over 40 years and know firsthand the importance of this road to area businesses, residents and the community," Brewster said. "While there have been issues with the one-lane travel procedure that was put into place while the road is being repaired, I've asked PennDOT to help find funding and expedite work to safely open the roadway."
PennDOT District Executive Cheryl Moon-Sirianni said the agency is working to secure a permanent power source to run the signals at each end of the landslide area.
"The department's intention from the beginning was to maintain a single-lane of traffic in order to avoid a lengthy detour for the community, but due to serious safety concerns we were forced to close the roadway," she said.
"With the assistance of Senator Brewster and state Rep. (Mike) Puskaric, PennDOT is in the process of evaluating options to allow us to safely open the roadway in the near future," she said.
Brewster said once a power source is secured that can safely operate the lights the road will reopen.
"PennDOT officials, especially (Moon-Sirianni) have done an excellent job of identifying alternatives and working through issues to try and reopen the roadway as soon as possible," he said.
Originally published February 01, 2020.
In other news:
"Model RR Club Marks 7…" || "Three Charged in Conn…"