(Advertisement)
Tube City Community Media Inc. is seeking freelance writers to help cover city council, news and feature stories in McKeesport, Duquesne, White Oak and the neighboring communities. High school and college students seeking work experience are encouraged to apply; we are willing to work with students who need credit toward class assignments. Please send cover letter, resume, two writing samples and the name of a reference (an employer, supervisor, teacher, etc. -- not a relative) to tubecitytiger@gmail.com. (4-11-2023 to 4-30-2023)
To place your ad, email tubecitytiger@gmail.com.
Ads start at $1 per day, minimum seven days.
City native, Olympic gold medalist to be inducted June 13
By Staff Reports
The Tube City Almanac
February 11, 2020
Posted in: McKeesport and Region News, Sports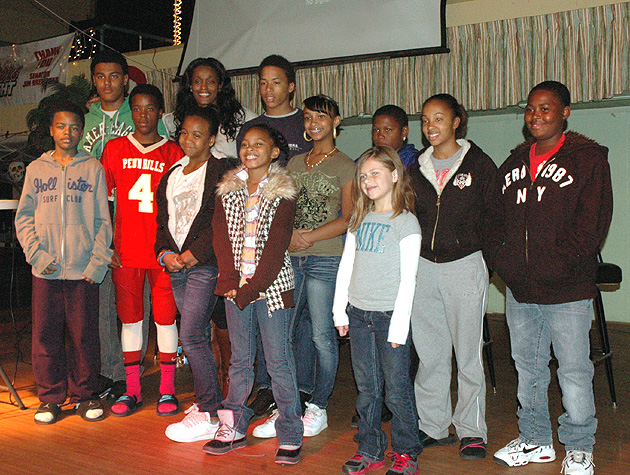 During a 2012 event at the McKeesport Palisades, basketball star Swin Cash posed with McKeesport area students who were helped by her charity, Cash for Kids. (Tube City Almanac file photo by John Barna)
---
McKeesport native and two-time Olympic gold medalist Swin Cash has been named to the Women's Basketball Hall of Fame.
Cash will be inducted June 13 in Knoxville, Tenn., along with her Seattle Sonics teammate Lauren Jackson; players Debbie Brock and Tamika Catchings; Carol Callan, director of the U.S. women's national team; former NCAA vice president Sue Donohoe; and ESPN vice president Carol Stiff.
In a statement released Monday via Facebook, Cash said she was "humbled and honored" and congratulated the other new hall of famers.
"Thank you to the committee, my family, coaches, teammates, my hometown of McKeesport ... and every single fan that loves our game and supports it!" Cash said. "To all of the young ladies like me that were growing up ... as my mom always told me, 'don't quit!' Do what you love and love what you do young queens!"
State Sen. Jim Brewster, who served as McKeesport's mayor when Cash was reaching the peak of her playing career, called her "an exceptional person and a tremendous role model."
"Over the years, she not only demonstrated remarkable skills on the court, but she also worked very hard to become a terrific player — an all-time great," Brewster said Tuesday.
Daughter of Cynthia Cash-Smith of McKeesport, Cash is a graduate of McKeesport Area High School and the University of Connecticut, where she helped lead the team to NCAA championships in 2000 and 2002.
She earned gold medals as part of the U.S. women's basketball team at the 2004 and 2012 Summer Olympics.
Cash was the number two overall pick in the 2002 WNBA draft and played professional basketball for 15 seasons including with the Detroit Shock when the team won national championships in 2003 and 2006, and the Seattle Storm during its national championship season in 2010.
During the 2010 playoffs, Cash averaged 16.1 points, 4.9 rebounds and 3.0 assists per game. She was named the league's most valuable player in 2009 and 2011.
"Those of us who watched Swin play through the years were not surprised that she has reached lofty heights in the world of women's basketball," Brewster said. "She demonstrated her commitment to succeed and compete at the highest levels early in her career.
"The entire McKeesport community is proud of Swin's selection to the Hall of Fame Class of 2020 and we share congratulations for this incredible honor," he said.
Following her retirement as a player, Cash became an analyst on New York Knicks basketball games and in 2017 was named director of franchise development for the New York Liberty.
She currently serves as vice-president of basketball operations for the New Orleans Pelicans and has founded Swin Cash Enterprises LLC, a community development company called Cash Building Blocks LP and a charity, Cash for Kids. Cash also travels around the country as a motivational speaker.
Cash and her husband, Steve Canal, also are raising their 2-year-old son, Saint Cash Canal.
"We are thrilled for Lauren (Jackson) and Swin's selection for induction into the Women's Basketball Hall of Fame," said a Seattle Storm spokesperson in a prepared statement.
"Both are incredibly deserving of this high honor. The contributions made to the Storm team and the Storm organization are immeasurable but include WNBA championships, multiple All-Star and MVP honors and tremendous contributions to our Seattle community.
"We are incredibly fortunate to have had them as a part of the Seattle Storm organization and offer huge congratulations to them on this wonderful recognition," the team said.
---
Editor's Note: This story was written from press releases by Jason Togyer, Tube City Almanac editor and volunteer executive director.
Originally published February 11, 2020.
In other news:
"Driver Charged Follow…" || "Five Communities Shar…"