(Advertisement)
Tube City Community Media Inc. is seeking freelance writers to help cover city council, news and feature stories in McKeesport, Duquesne, White Oak and the neighboring communities. High school and college students seeking work experience are encouraged to apply; we are willing to work with students who need credit toward class assignments. Please send cover letter, resume, two writing samples and the name of a reference (an employer, supervisor, teacher, etc. -- not a relative) to tubecitytiger@gmail.com. (4-11-2023 to 4-30-2023)
To place your ad, email tubecitytiger@gmail.com.
Ads start at $1 per day, minimum seven days.
Take Action Mon Valley holds McKeesport town meeting
By Nick Zurawsky
The Tube City Almanac
March 04, 2020
Posted in: Duquesne News, McKeesport and Region News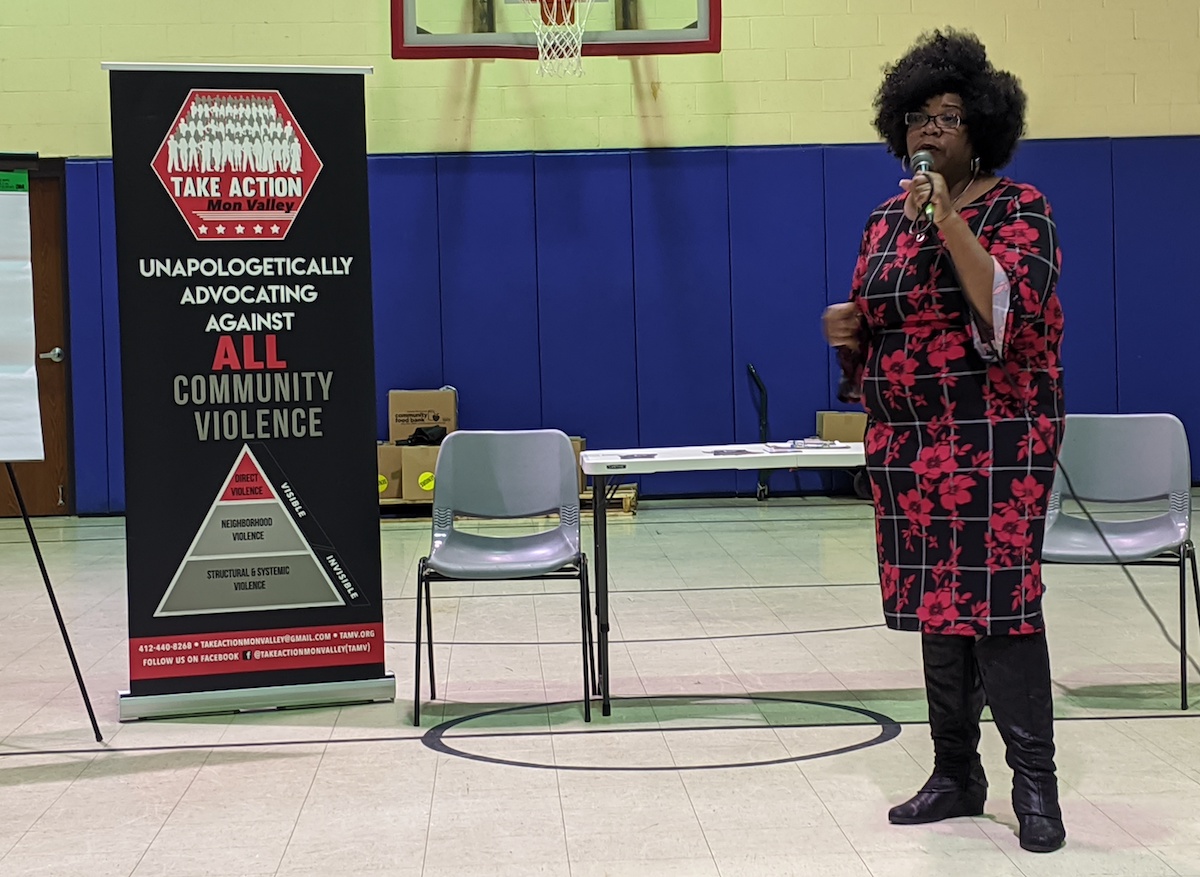 Duquesne Mayor Nickole Nesby speaks during a town hall Feb. 26 sponsored by Take Action Mon Valley. (Nick Zurawsky photo for Tube City Almanac)
---
Community leaders discussed issues ranging from water quality and access to public transportation, to police accountability and merging public services during a forum hosted by Take Action Mon Valley.
The event was held Feb. 26 at the gymnasium of the Salvation Army in McKeesport. About 20 people attended.
Elected officials at the meeting included Allegheny County council members Bethany Hallam and Olivia Bennett as well as Duquesne Mayor Nickole Nesby.
Nesby was the first to speak and said her priorities in Duquesne are combatting "not only street violence and gang violence, but structural violence."
---
Nesby described the various steps being taken in Duquesne to ensure that water quality and infrastructure stay up to code in the community.
Another problem faced by Duquesne residents is access to public transportation, Nesby said. The city joined other Mon Valley communities to fight against a proposed reduction in bus service to the community, she said, but problems still exist.
"It takes four hours to get to (Community College of Allegheny County) — two hours there and two back," she said. "How are the residents supposed to get an education?"
Nesby said Duquesne also has no kiosks to sell ConnectCards, which the Port Authority is encouraging all riders to use to pay fares instead of cash. That means Duquesne residents who use cash are paying more for bus rides, she said.
---
There will be a community meeting at 6 p.m. March 12 at Pittsburgh Mennonite Church in Swissvale to discuss a campaign by Pittsburghers for Public Transit campaign to extend the East Busway to Monroeville and McKeesport, Nesby said. Take Action Mon Valley is supporting the campaign.
Take Action Mon Valley is a community organization co-founded by Mae Herriott Hudson and Fawn Walker-Montgomery in 2014. Its mission statement is to "combat all forms of community violence through activism and organizing."
The Feb. 26 meeting was held in order to increase awareness and recruit new members to the McKeesport chapter of Take Action Mon Valley, organizers said.
---
Nesby said some positive steps are being taken in Duquesne to address the city's extremely high poverty rate.
The city is excited about a proposed commercial aquaponics facility that is coming to Duquesne, she said. The project, which has made national news, hopes to generate $45 million in revenue during its first four years, Nesby said.
The aquaponics facility could generate significant tax income for the city and, Nesby said, organizers have promised to hire as many people as possible from the local community.
Bethany Hallam, Allegheny County council member at-large, also spoke at the event. She discussed county council's recent vote to ban conversion therapy targeted at LGBTQ people.
Now Hallam said she is looking forward to more ambitious legislation. Her current focus is a new proposal for an independent county-wide police complaints review board.
---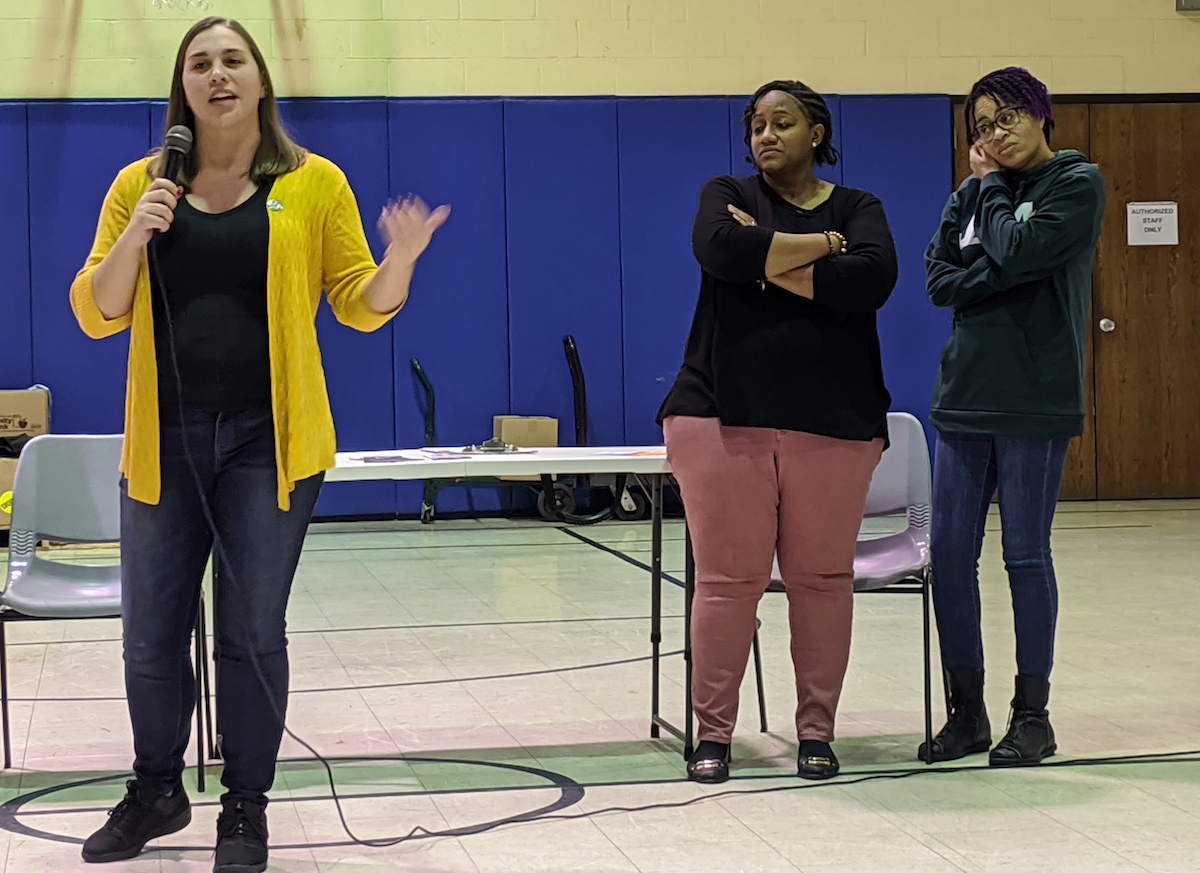 Bethany Hallam, Allegheny County council member at-large. (Nick Zurawsky photo for Tube City Almanac)
---
Other legislation that Hallam supports include a ban on the use of facial recognition programs, decriminalizing sex work, banning discrimination based on hairstyles and a jail oversight board. She said that 81 percent of people in the Allegheny County Jail are being held while they awaiting trial but have not been convicted of any crimes.
Community members discussed the possibility of merging fire and police departments in smaller municipalities to ensure adequate coverage for poor neighborhoods.
Similar proposals have made the rounds before in Allegheny County, Hallam said, but are usually rejected. Hallam said she favored police and fire department mergers when possible.
---
Nick Zurawsky is a freelance writer in Pittsburgh. He may be reached at nickzurawsky@gmail.com.
---
Originally published March 04, 2020.
In other news:
"Transit Discussion We…" || "Riders Ask Hard Quest…"