(Advertisement)
Tube City Community Media Inc. is seeking freelance writers to help cover city council, news and feature stories in McKeesport, Duquesne, White Oak and the neighboring communities. High school and college students seeking work experience are encouraged to apply; we are willing to work with students who need credit toward class assignments. Please send cover letter, resume, two writing samples and the name of a reference (an employer, supervisor, teacher, etc. -- not a relative) to tubecitytiger@gmail.com. (4-11-2023 to 4-30-2023)
To place your ad, email tubecitytiger@gmail.com.
Ads start at $1 per day, minimum seven days.
By Richard Finch Jr.
The Tube City Almanac
March 22, 2020
Posted in: McKeesport and Region News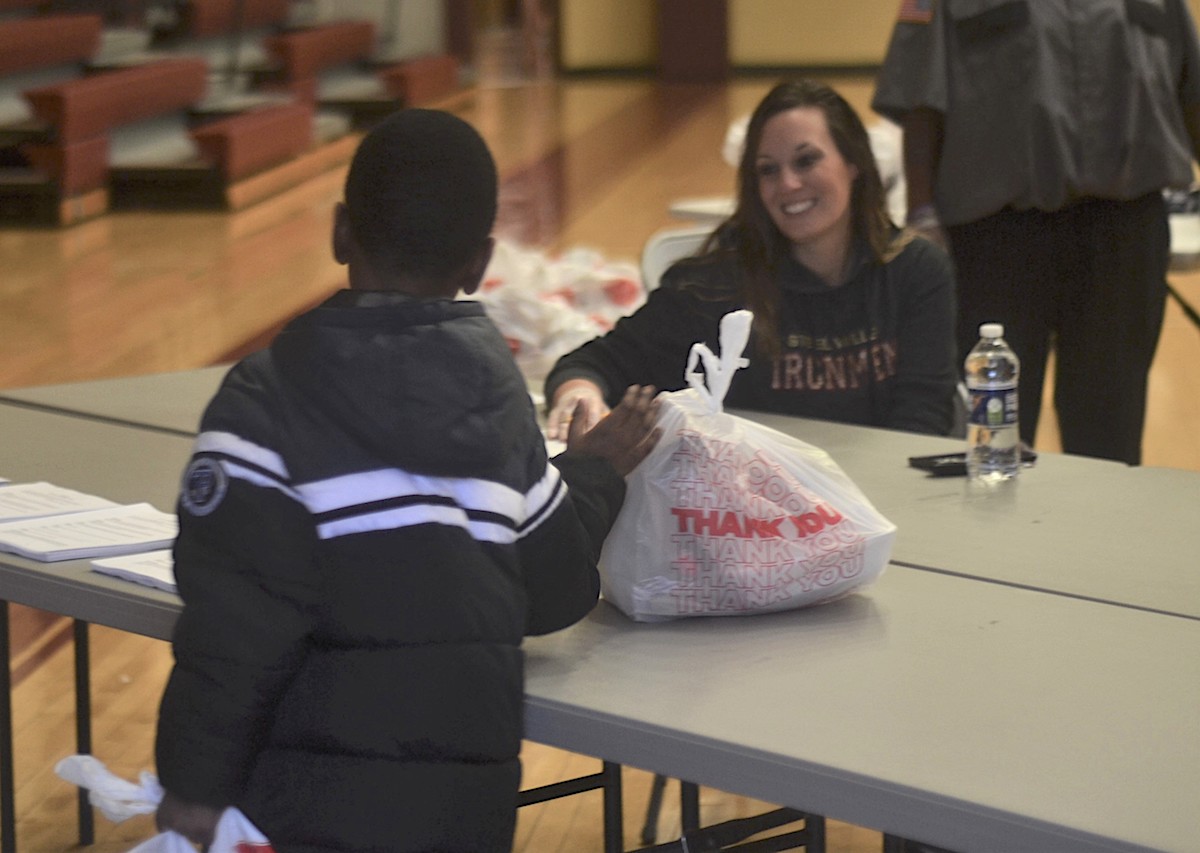 Teacher Ryan Dunmire-Kuftic and student. (Richard Finch Jr. photo, special to Tube City Almanac)
---
The Steel Valley School District has been distributing more than 260 "grab 'n go" meals to its 1,350 students each weekday since the beginning of the school year.
Beginning Friday, the "Love In A Backpack" program began providing food for the weekends as well.
More than 300 backpacks of free food were distributed to students at Steel Valley High School and Barrett Elementary School on Friday, according to District Superintendent Edward Wehrer.
Despite the statewide school shutdown for the coronavirus pandemic, Steel Valley has joined other districts in continuing to offer free school lunches for students in need. Food is available for pick-up at Steel Valley High School and Barrett Elementary School, from 10 a.m. to 12 noon, Monday through Friday.

School counselor Alyson Fisher said in addition to the weekday meals, "with the parent's permission, every Friday, in light of this global crisis, we now provide food for the weekend."
Fisher said the food distribution program has been a success. Along with other school staff, teachers and volunteers, she helped to hand out food bags to students and parents at Barrett Elementary school on Friday.
"Today, across the district, we are distributing a little more than 300 bags, 150 for the high school and 150 for the elementary school, with the intent of increasing that next Friday, possibly to 400," Fisher said. District officials predict those numbers will increase as the crisis continues.
---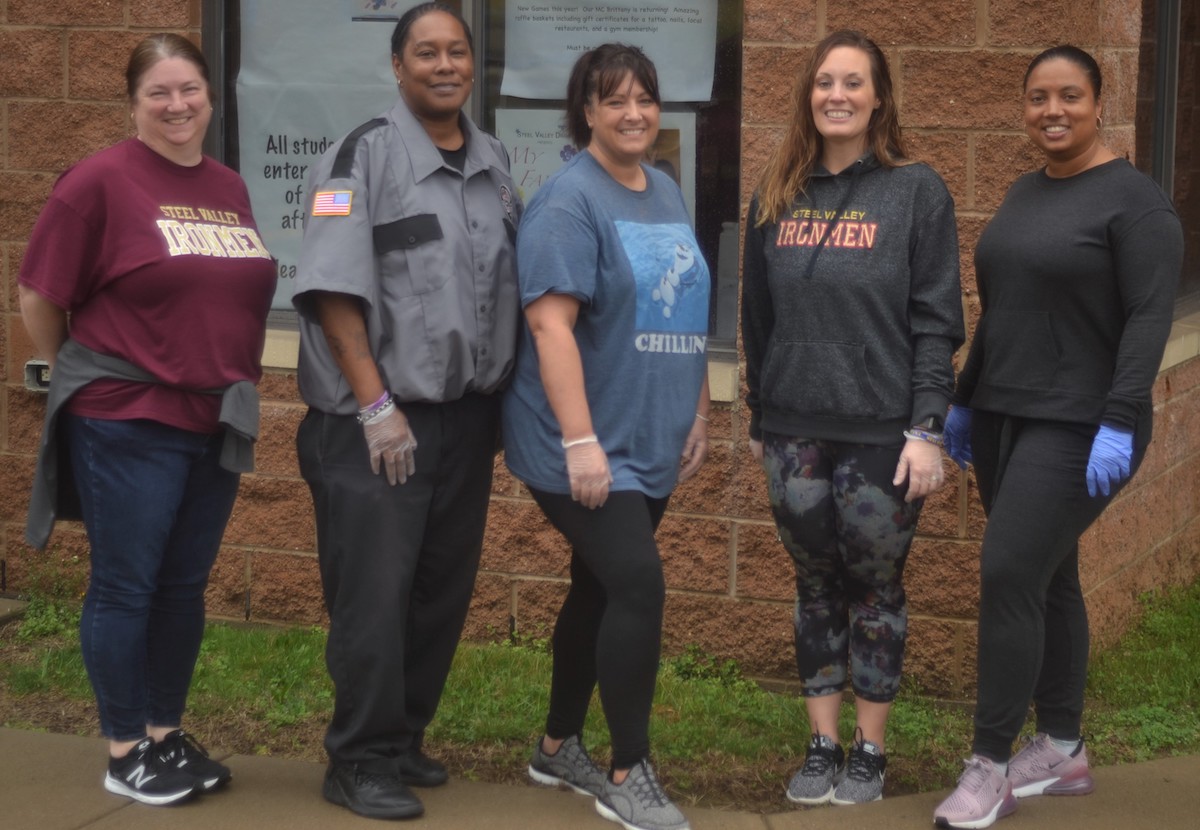 Steel Valley school counselor Allison Fisher, security guard Ann Chapman, teachers Jen Ambrozic and Ryan Dunmire-Kuftic and volunteer Latasha Batch help distribute food bags at Barrett Elementary School on Friday. (Richard Finch Jr. photo, special to Tube City Almanac)
---
Fisher said the Salvation Army in Homestead reached out to the district last summer, offering to partner with them in distributing food to students. Wehrer expects demand to increase in the weeks and months to come.
"I feel the demand is increasing, because people are becoming more knowledgeable that this is available," Wehrer said. "We want to help feed kids, whether they're from our district, another district or whether they're not of school age yet."

"On Tuesday, 260 bags of food were distributed, today we gave out more than 300, that number may increase up to 500 by next Friday," Wehrer said. "We want to help kids get the nutrition they need, the numbers potentially may continue to increase if we end up serving, not only our own students, but students that are not yet school age or students from other districts, we are not asking for I.D."

Wehrer, a graduate of Steel Valley High School and life-long resident, said he understands food insecurity is very real in the district. "We have found that food is not a guarantee," he said.
---
There is a lot of uncertainty over the COVID-19 pandemic and the resulting school closures, Wehrer said.
"I think, unfortunately, we're shifting into a new normal for the short-term, maybe even medium-term, and so it's a challenge on what the needs of the community are and how we can best serve them," he said.
"The school district has the support of the community and we will work together with the local community to support our families and we will get through this," Wehrer said.
---
Richard Finch Jr. is a freelance writer. He may be reached at finchr43@gmail.com.
Originally published March 22, 2020.
In other news:
"Senior Centers Closed…" || "W.N. Lions Plan Take-…"