(Advertisement)
Tube City Community Media Inc. is seeking freelance writers to help cover city council, news and feature stories in McKeesport, Duquesne, White Oak and the neighboring communities. High school and college students seeking work experience are encouraged to apply; we are willing to work with students who need credit toward class assignments. Please send cover letter, resume, two writing samples and the name of a reference (an employer, supervisor, teacher, etc. -- not a relative) to tubecitytiger@gmail.com. (4-11-2023 to 4-30-2023)
To place your ad, email tubecitytiger@gmail.com.
Ads start at $1 per day, minimum seven days.
By Submitted Report
The Tube City Almanac
May 09, 2021
Posted in: Announcements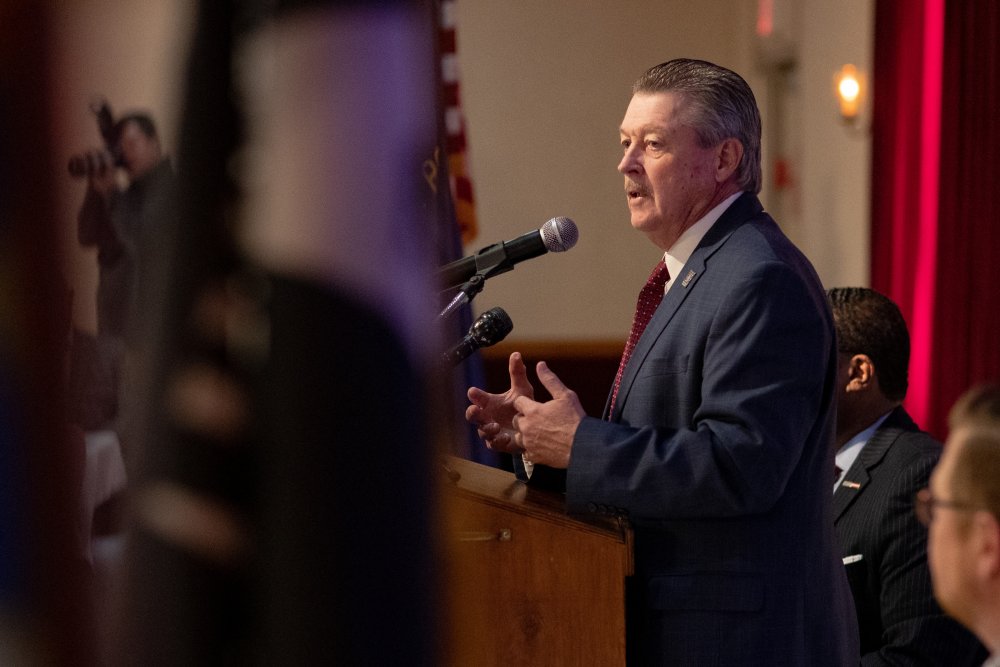 State Sen. Jim Brewster of McKeesport speaks at a 2019 veterans' breakfast in White Oak. (Submitted photo courtesy state Sen. Jim Brewster)
---
State Sen. Jim Brewster will deliver the keynote address during the annual Mon Yough Area Chamber of Commerce Legislative Luncheon, to be held at 11 a.m. June 18 at Youghiogheny Country Club in Elizabeth Twp., a spokesman said.
This year's event is entitled "The Road to Prosperity, Economic Development in the Mon Valley," the chamber announced. Also delivering remarks will be Mark Compton, chief executive officer of the Pennsylvania Turnpike Commission.
Local television personality Michael Bartley will serve as master of ceremonies.
Maury Burgwin, president of the chamber, said the legislative luncheon is a chance for local business owners and elected officials to discuss important issues in the Mon Valley.

Members of the host committee include state Sen. Jay Costa, state representatives Jessica Benham, Austin Davis, Summer Lee, Brandon Markosek, Nick Pisciottano and Mike Puskaric, Allegheny County Executive Rich Fitzgerald and Allegheny County Councilman Bob Macey.
Seating is limited and the country club will be observing COVID-19 protocol. All attendees will be asked to wear masks except when eating and drinking.
The cost of the event is $40. To register, visit the chamber's website.
Originally published May 09, 2021.
In other news:
"City OK's Demolitions…" || "Heritage Center Slate…"