(Advertisement)
Tube City Community Media Inc. is seeking freelance writers to help cover city council, news and feature stories in McKeesport, Duquesne, White Oak and the neighboring communities. High school and college students seeking work experience are encouraged to apply; we are willing to work with students who need credit toward class assignments. Please send cover letter, resume, two writing samples and the name of a reference (an employer, supervisor, teacher, etc. -- not a relative) to tubecitytiger@gmail.com. (4-11-2023 to 4-30-2023)
To place your ad, email tubecitytiger@gmail.com.
Ads start at $1 per day, minimum seven days.
By Jason Togyer
The Tube City Almanac
May 06, 2021
Posted in: McKeesport and Region News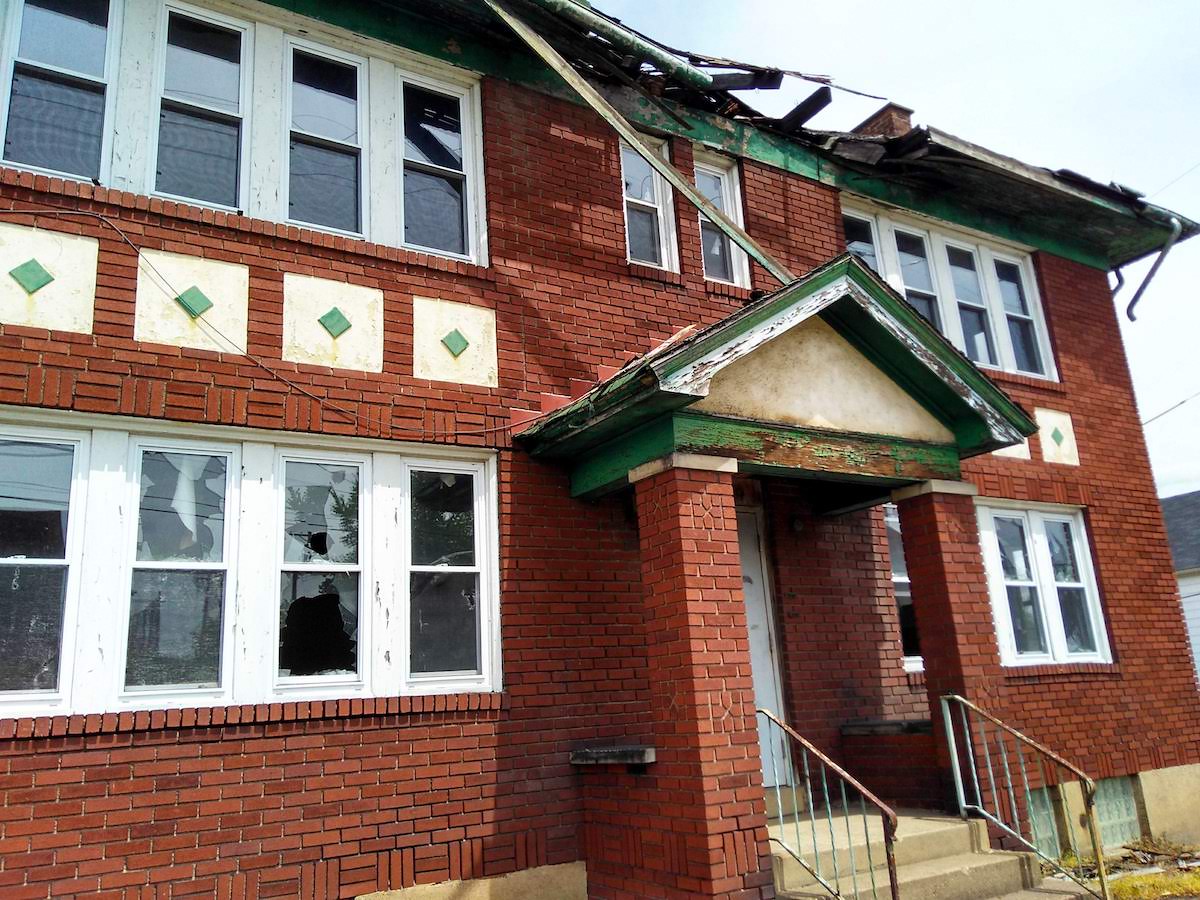 This vacant building at the corner of Beech and Bailie avenues is one of 14 near the former Centennial School that has been targeted for demolition. Tax records indicate the building is owned by a limited-liability corporation in Forest Hills. (Tube City Almanac photo)
---
City officials are working to clear away more than a dozen blighted houses around a former school that is being turned into a senior citizen residence.
At Wednesday's meeting, city council voted 7–0 to tear down 14 abandoned homes and apartment buildings on Bailie, Beaver and Union avenues and in the surrounding area, and to apply for $250,000 funding from the Allegheny County Economic Development Department to pay for the demolition.
City Administrator Tom Maglicco said McKeesport officials are hopeful that once the vacant structures are gone, the lots can be turned into greenspace or transferred to adjoining homeowners to enhance their own properties.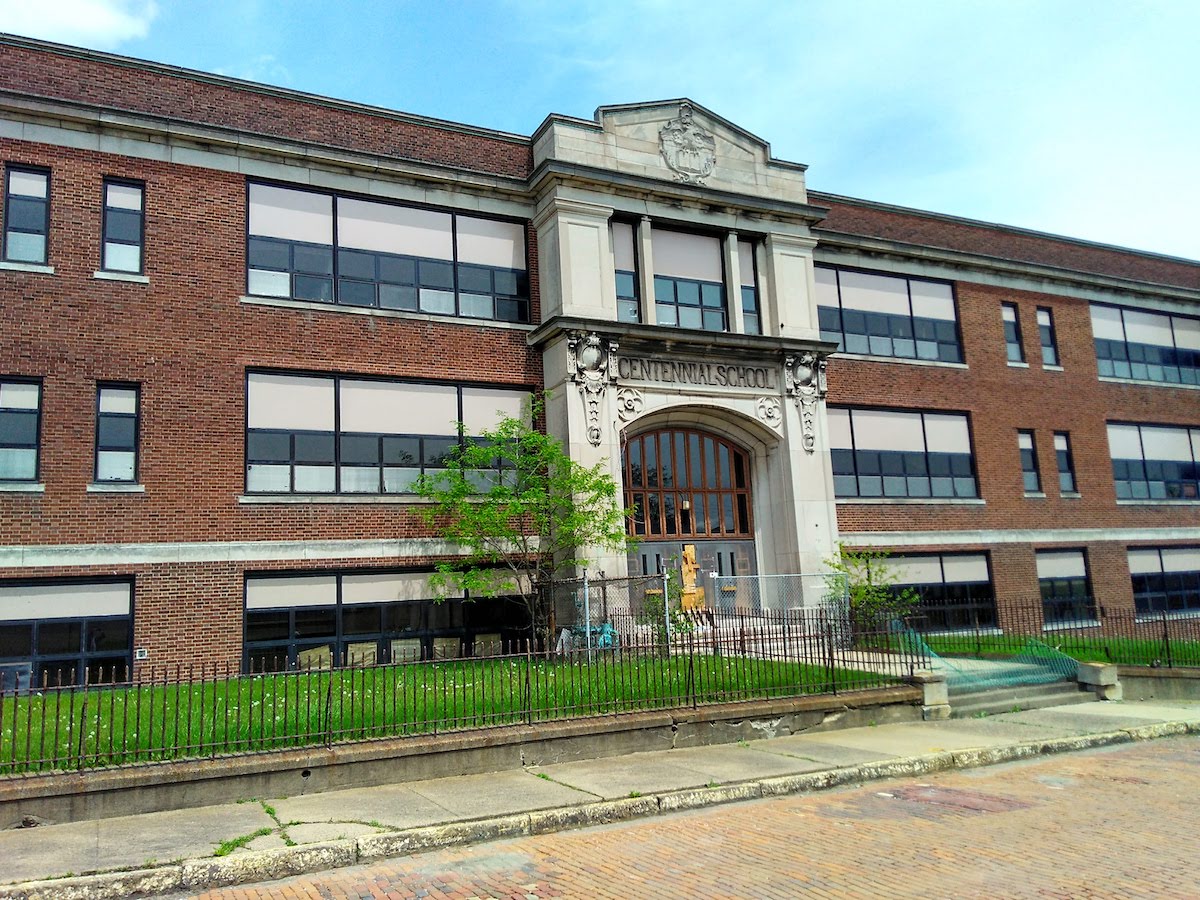 Built in 1921, Centennial School is being converted into a senior living apartment building. (Tube City Almanac photo)
---
Construction is currently underway at the former Centennial School, which is being turned into 42 one- and two-bedroom apartments, including kitchens and living rooms, for older residents. Mayor Michael Cherepko said the city would like the demolition work to be complete when the building, located in the 1600 block of Beaver Street, welcomes its first tenants.
The work is being done by local contractor Branden Kucich, whose company purchased the vacant school in 2016. The building is part of the Seventh Ward "cultural and educational" district that also includes Carnegie Library of McKeesport, McKeesport Little Theater, Twin Rivers Primary-Intermediate School and several churches.
"Any developer who wants to put significant investment into our community, we want to support them," Cherepko said. "With the dire need for senior citizen housing in this community, it's important for us to remove blight and for the seniors who move in there to feel safe."
---
Since 2018, city officials have demolished approximately 300 abandoned houses as part of what Cherepko has called the "McKeesport Rising" program. Funding has come from grants, donations, the city's general fund and the proceeds from the sale of McKeesport's sewerage authority to Pennsylvania American Water Co.
Cherepko said the city is focused on more than just demolition in the Seventh Ward and is eager to work on infrastructure improvements, including street paving, this year.
In 2019, a new single-family house was constructed at the corner of Bailie and Cornell streets and Cherepko said ACTION-Housing is still working to construct a second new home on Cornell Street.
In addition, the city and Rebuilding Together Pittsburgh have partnered to renovate owner-occupied homes in the neighborhood, restarting a program that went dormant under the former non-profit McKeesport Housing Corp.
"We will continue to move forward with demolition, but this is about more than demolition," Cherepko said. "This is about enhancement of the entire area.
"We can go one block at a time, one neighborhood at a time, until we renew our entire city," he said.
All of the 14 houses to be torn down have been condemned and have previously moved through the city's demolition process, Maglicco said.
---
In other business:
City council by 7–0 vote approved a request for a conditional use permit for Ekeyma Levy of Wilkinsburg to open a coffee and tea shop in the Executive Building, 322 Fifth Ave., Downtown.
Council also accepted the recommendation of the city planning commission to merge two lots owned by Cherepko and his wife, Nicole, in the 700 block of East Street into one lot, and two lots in the 800 block of Bennett Street, also owned by the Cherepkos, into one lot. The process is called a "reverse subdivision."
County tax records indicate that the East Street properties were purchased in 2013 and the Bennett Street properties were purchased in 2020. In both cases, one of the lots is vacant and one of the lots has a home built on it.
---
Jason Togyer is editor of Tube City Almanac and volunteer executive director of Tube City Community Media Inc.
Originally published May 06, 2021.
In other news:
"Children Found Handcu…" || "Brewster to Speak at …"