To place your ad, email tubecitytiger@gmail.com. Ads start at $1 per day, minimum seven days.
Foundation announces $150K in new support from donors, plans pledge drive
By Jason Togyer
The Tube City Almanac
September 09, 2021
Posted in: McKeesport and Region News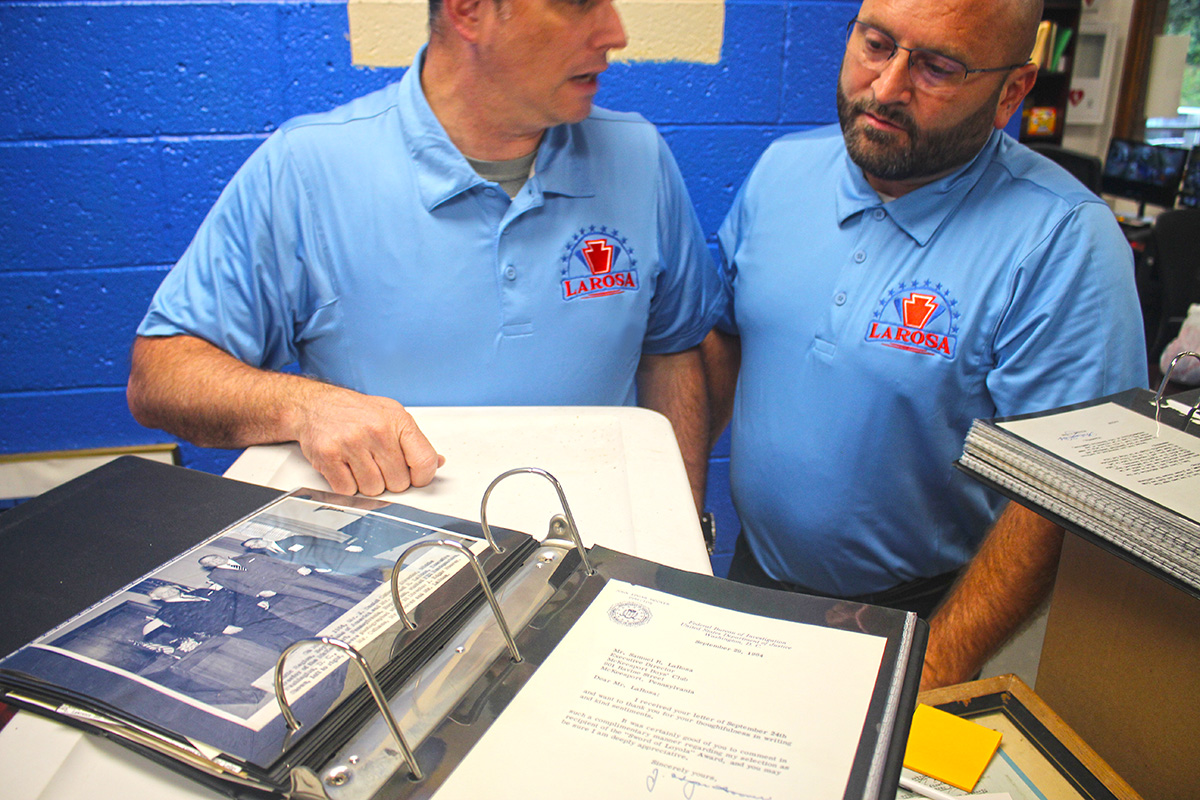 Don Michel, grandson of McKeesport Boys Club founder Samuel LaRosa, and McKeesport city Administrator Tom Maglicco look over a scrapbook of photos and letters — including several from FBI Director J. Edgar Hoover — related to the organization's founding. (Tube City Almanac photo)
---
About 60 McKeesport-area kids are already signed up as members of the new LaRosa Youth Club, and by the time the doors officially open at 2:30 p.m. Monday, organizers expect they will have 80 to 100 members.
It's a promising start for the former LaRosa Boys & Girls Club on Ravine Street, which was closed in November by the Boys & Girls Clubs of Western Pennsylvania.
"I'm not going to lie — it's an expensive venture," said Jim Barry Jr., city councilman and former Boys & Girls Club executive, who is now on the board of the new LaRosa Youth Development Foundation. "But I think every kid's worth it, and what kinds of affordable after-school programs you have shouldn't be dictated based on which community you live, or the ZIP code you were born into."
Barry joined a large, happy group of parents, local officials and LaRosa family members for a ribbon-cutting on Wednesday afternoon. The event, attended by more than 100 people, included a DJ, refreshments and games.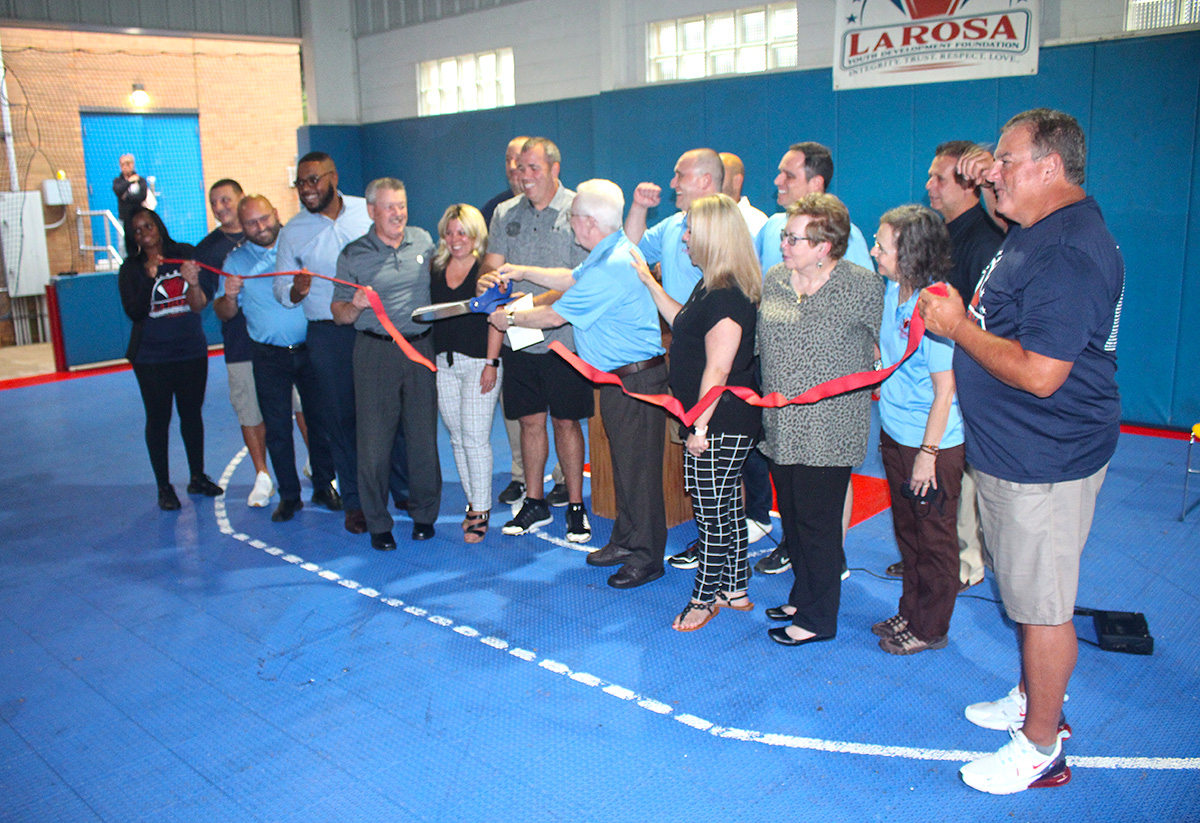 Volunteers, parents, elected officials and board members cut the ribbon for the new LaRosa Youth Club. (Tube City Almanac photo)
---
As part of Wednesday's celebration, volunteers also restored historic photos and documents to the walls of the club. Those photos, along with the founding plaque, were removed for safekeeping after the club was closed.
"We worked hard to get the building and all its contents, and we're going to continue to have programming here for many years to come," said Barry, who joined the club at age 9 in 1972.
Speakers at Wednesday's event, including state Sen. Jim Brewster, state Rep. Austin Davis and McKeesport Mayor Michael Cherepko, said they credited their success in life to the start they got at the LaRosa Club, founded in 1945 by Sam LaRosa.
It would have celebrated its 75th anniversary in 2020, if not for the COVID-19 pandemic and the unexpected closure.
The building — built in 1957 and expanded multiple times since then — includes a gymnasium, gameroom, lunch room, outside athletic fields, dek hockey court, computer lab, music lab and classrooms.
Initial offerings will include after-school and weekend athletic programs, homework help and mentoring, Barry said, and there are plans to expand science and technology offerings soon.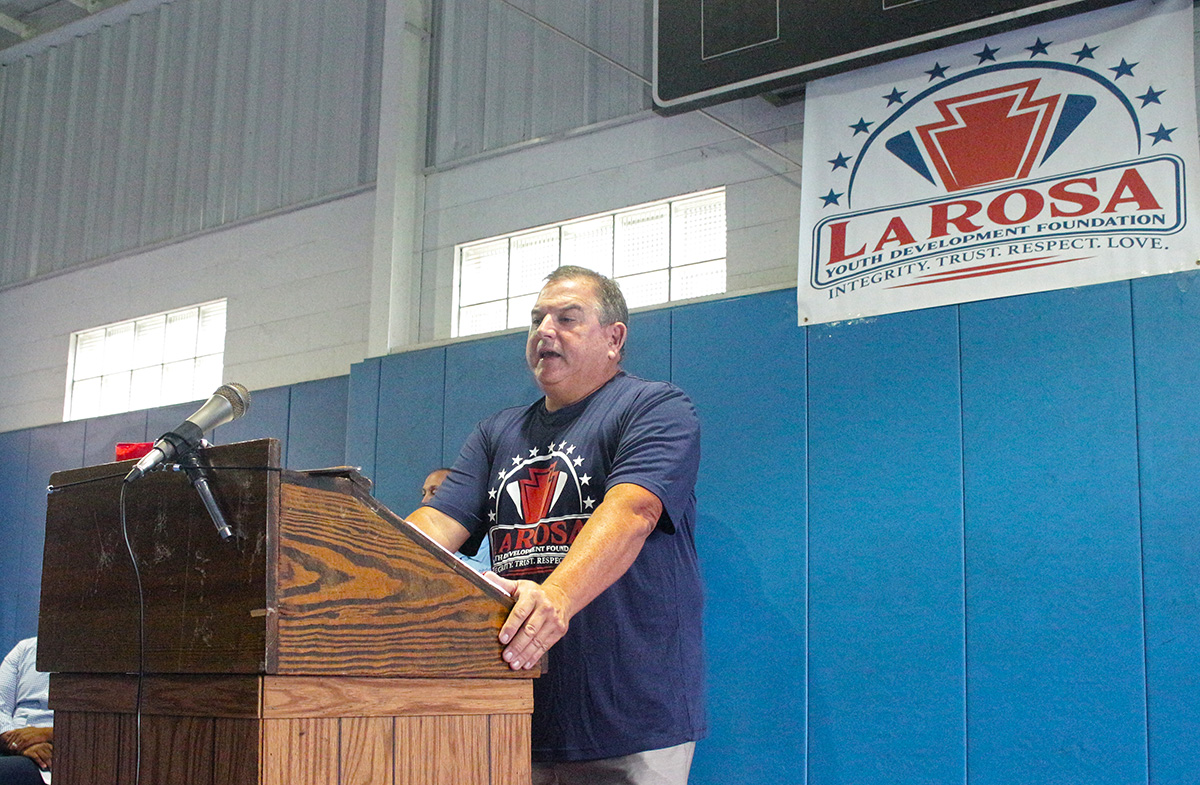 Jim Barry Jr., member of the new LaRosa Youth Development Foundation, speaks at Wednesday's ribbon-cutting. (Tube City Almanac photo)
---
"We haven't had an arts program in quite some time, and we hope to start one this year," he said. "The things we do here are basic, but they're important nonetheless.
LaRosa, a Westinghouse Electric Corp. employee who had suffered a polio attack as a child that left him unable to play sports, created the club to provide opportunities for McKeesport youngsters, and served as its first paid director following a lengthy fundraising effort that included the donation of $40,000 worth of stock from McKeesport-based G.C. Murphy Co. and a contribution from Canonsburg-born recording artist Perry Como.
LaRosa continued to maintain an office at the club until he died in 2003, at age 90.
"I stand here as one of the young people who grew up in this club," Davis said. "I would not have been a first generation college graduate, would not be standing before as a state legislator, had it not been for places like the LaRosa (Club)."
Davis and Brewster were two of the most prominent public officials who blasted the Boys & Girls Clubs of Western Pennsylvania following the decision to close the McKeesport club.
The move, which came as a surprise to local officials, followed the closure of the Duquesne-West Mifflin, Wilkinsburg and Sto-Rox clubhouses by Pittsburgh-based Boys & Girls Clubs of Western Pennsylvania.
Brewster, Davis and the new board's volunteers "stepped up immediately," Cherepko said. "They let the Boys & Girls Club know that they needed to do the right thing, they needed to do what was best for this community and this city ... I can't say enough for Sen. Brewster and Rep. Davis."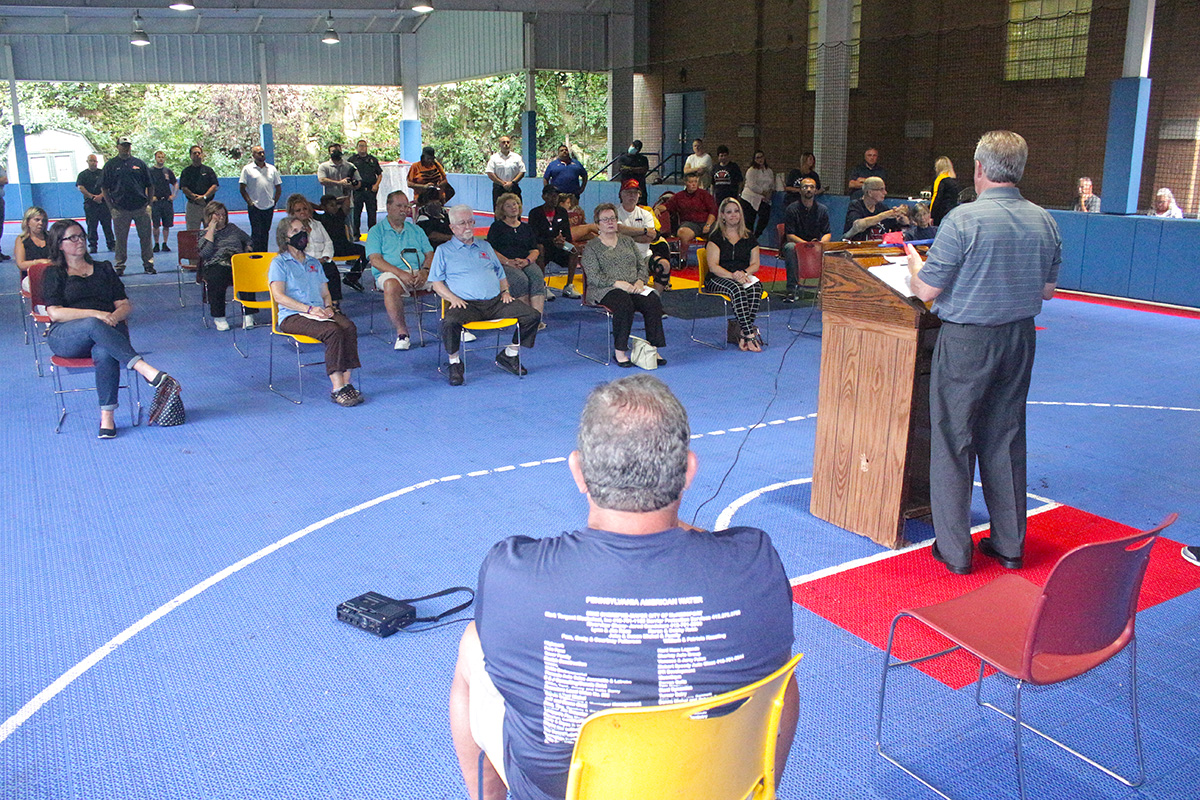 Sen. Jim Brewster speaks to the crowd at Wednesday's ribbon-cutting ceremony for the LaRosa Youth Club. (Tube City Almanac photo)
---
Following lengthy negotiations, the Pittsburgh group agreed to donate the Ravine Street property to the city, for operation by the LaRosa foundation, which was chartered as a charitable, tax-exempt corporation last year.
Amber Brooks, whose now 14-year-old daughter was a member of the club, said the decision to shutter the LaRosa club was "devastating."
"There was no notice — no nothing," she said. "They pretty much came in and told us, 'today is going to be the last day.'"
Brooks, who will be working for the LaRosa Youth Club, said it's been "very emotional" to see the facility coming back to life.
"It's really like a family coming back together," she said. "I'm excited about getting back to work, too."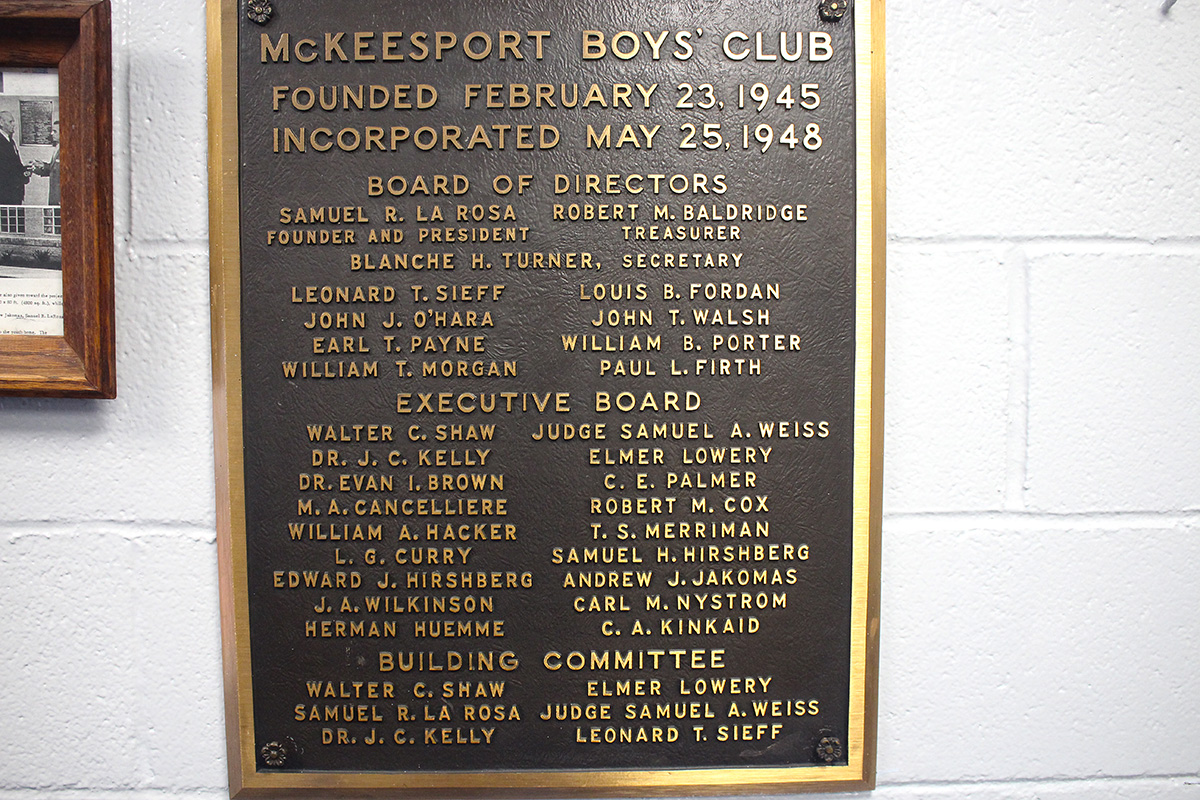 (Tube City Almanac photo)
---
No one from the Boys & Girls Clubs attended Wednesday's event, though Pat Bluett, the former director of the Duquesne-West Mifflin club, and a former employee of the Sto-Rox club were present.
Bluett said Duquesne residents are hopeful that the city can regain access to their clubhouse and re-open it, as the McKeesport group has done.
"It was more than a Boys & Girls Club," she said. "We don't have a senior citizens' center in Duquesne, so it had become more of a community center."
Many people are watching the re-opening of the LaRosa club closely, Barry said. "Folks in Duquesne have already reached out to me about the possibility of helping" re-open the Duquesne clubhouse, he said. "We'd love for that to happen ... but we need to get everything here under way within the next two years."
Don Michel of Cranberry Twp., one of LaRosa's grandsons, is also a member of the foundation's board. He said the club is more than a building.
"The building in my mind is a bonus," he said. "It's not what we're about."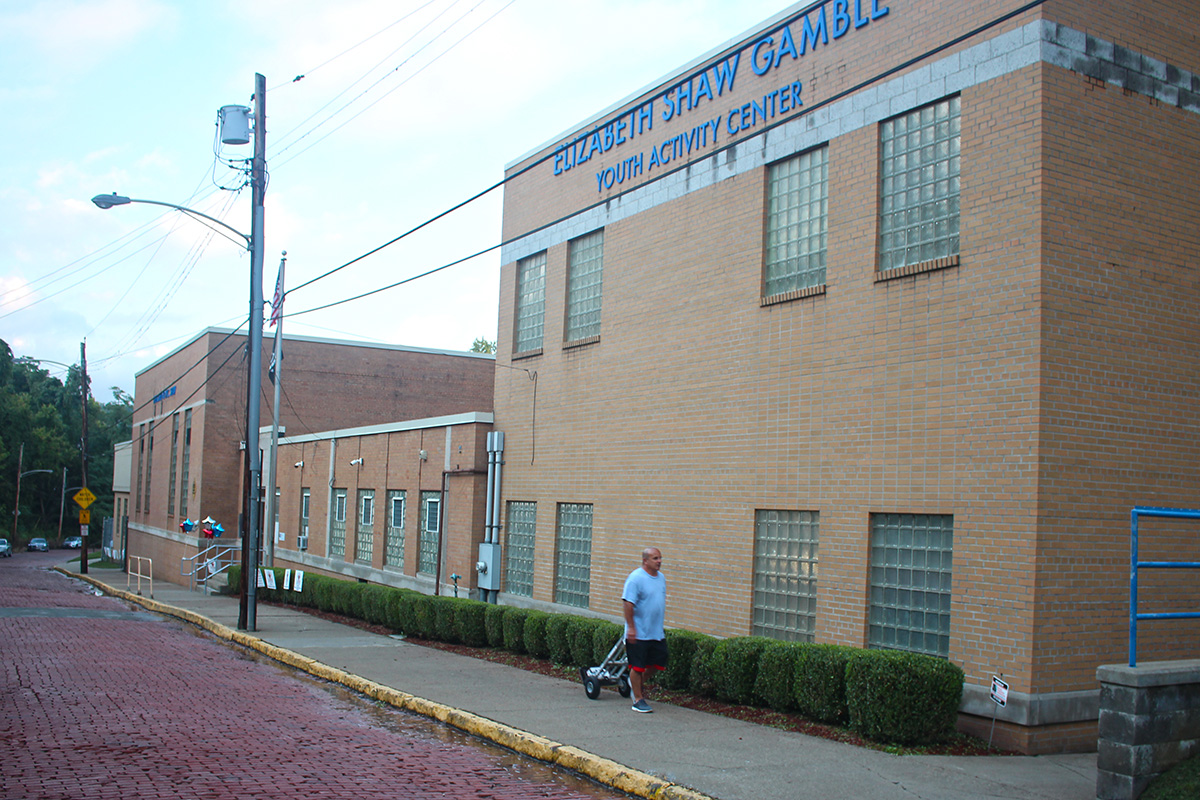 (Tube City Almanac photo)
---
Sam LaRosa founded the club "with a vision of making sure every kid in McKeesport had a chance at a good life, to stay on the straight and narrow path, to stay out of trouble," Michel said. "To be enriched, to know that you could come someplace and be mentored, be respected and be loved."
The new LaRosa foundation also unveiled a logo that includes a red keystone — the original symbol of the McKeesport Boys Club — and the words "integrity, trust, respect, love."
"And that's what we're going to do here," Michel said. "We're going to find the good in every single people that comes through these doors. We're even going to find the good in the people that we had to fight and argue and claw to get this building back from.
"If we are committed to our mission, and we are anchored in these core values, we will be successful, and there will be people here celebrating the 100th anniversary, the 150th anniversary, the 200th anniversary," he said.
---
Jason Togyer is editor of Tube City Almanac and volunteer executive director of Tube City Community Media Inc. He may be reached at jtogyer@gmail.com.
Originally published September 09, 2021.
In other news:
"Library Welcomes Boil…" || "Plans for Former Port…"