Experts say pandemic has caused additional grief, stress for local residents
By Vickie Babyak
The Tube City Almanac
January 10, 2022
Posted in: McKeesport and Region News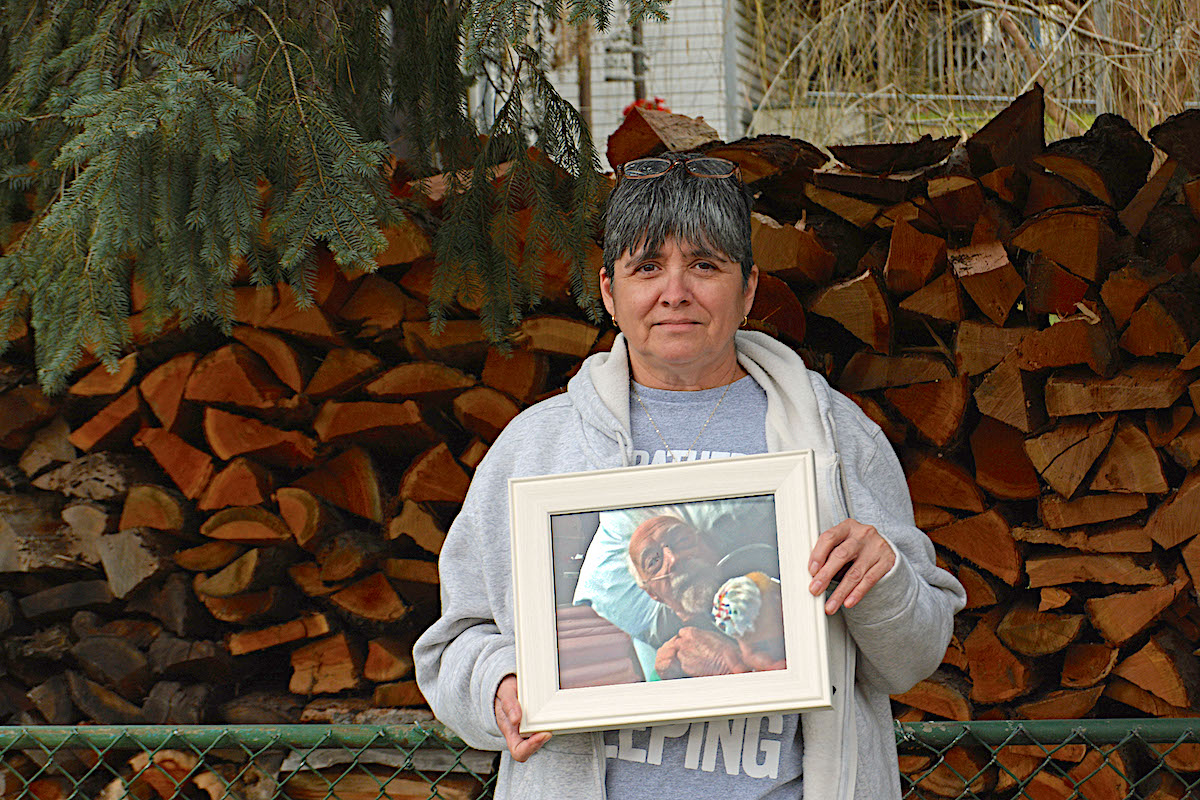 Donna Campbell of Glassport holds a photograph of her father on his 99th birthday. Since his death from COVID-19 in March 2021, she's been battling depression. (Vickie Babyak photo for Tube City Almanac)

---
Related story: Local resources for people struggling with depression
---
The holiday season is over, and a new year has begun. People may be asking themselves why they have been feeling blue. Mental health experts say there are different reasons people experience depression through the holidays and post-holidays.
Psychotherapist Trina Bennett, a graduate of the University of Pittsburgh and McKeesport Area Senior High School, says people may experience seasonal depression or have an increase in their depressive symptoms due to shorter days. The colder weather also decreases socialization and outdoor activities.
Bennett specializes in working with people who have confronted trauma, and has clients who experience increased depression during the holidays. They are triggered by that time of the year because holiday breaks from school left them vulnerable to home abuse, she said.
"I'd imagine it is awful to experience the expectation that everyone is cheerful when the season brings up body harm and/or cognitive memories of decreased safety," Bennett said.
Kirsten Yaggi is director of outpatient services for UPMC Western Behavioral Health at Mon Yough Community Services in McKeesport.
She said the past year has been loaded with all kinds of issues due to the pandemic, including the stress of how to spend time with family members who disagree about COVID-19 vaccines.
Yaggi said grief also contributes to increased sadness during and after the holidays as people think about loved ones that have passed away.
According to the experts, some common symptoms of depression include deep feelings of sadness, hopelessness and worthlessness. A person may experience sleep changes, appetite changes and a lack of energy. Some may also have difficulty concentrating, lose interest in activities, withdraw from friends and have increased thoughts of death or self-harm.
Experts say that everyone goes through periods of sadness — but if intense sadness persists for more than two weeks and affects your ability to function, it may be a sign of depression.
Donna Campbell battles depression and lost her father to COVID-19 on March 13, 2021. She was his main caretaker and since his death, she is not finding pleasure in her usual coping skills such as crafts, photography or couponing.
"It's been a struggle getting through the holidays without my dad and best friend," she said.
Campbell has regular sessions with her therapist and said she is faking it until she makes it.
Treating depression is a lifestyle change that touches on mind, body and spirit, Bennett said. It's learning to recognize your symptoms early on and being proactive in your health. The first step is talking with your primary doctor to see if you're experiencing vitamin deficiencies.
Bennett says getting sunlight, increasing physical activity, finding activities that give you a sense of purpose, connecting with a social network, evaluating dietary needs and practicing daily mindfulness are helpful for depressive symptoms. Identify one step you would like to explore and focus on that one first, she suggests, but it can be challenging for people to do on their own.
"If you find the need for more guidance or an accountability partner, you may want to schedule an appointment with a therapist or join a support group, such as NAMI," Bennett said.
The National Alliance on Mental Illness is the nation's largest grassroots mental health organization dedicated to building better lives for children, adolescents, adults and families affected by mental illness.
"I suffered from depression, and it is a disease I would not wish on my worst enemy," said AnnaLisa Haughwout, president of the McKeesport NAMI Family Support Group.
The family support group is for families and friends to share their experiences about their loved ones coping with mental illness and how to deal with different situations, Haughwout said.
"We work hard to take away the stigma of an illness that affects one out of five people during their lifetime, and like diabetes, mental illness has a number of causes and may never be totally identified," she said.
Dorothy Ikach, who chairs the communications committee for NAMI McKeesport, said meeting with other people through the group helped give stability to her life.
One of Ikach's family members had treatment-resistant depression and until 2017, she said, it was a difficult struggle for everyone. They had been treated with 27 different medications between 1986 and 2016 — all unsuccessfully. Finally, a research program at the Unversity of Pittsburgh helped provide relief.
"There have been a lot of advances in mental health treatment from 40 years ago," said Ikach.
NAMI gave her family much needed support, knowledge about mental illness — and hope.
Ikach's family member is now doing well and speaks at medical seminars about his personal experience with depression and the research that helped him.
It's important to find support and stay determined to work through depression "with experienced peers," she said.
---
Vickie Babyak is a photographer and freelance writer from Dravosburg. She may be reached at vbabyak@yahoo.com.
Originally published January 10, 2022.
In other news:
"Holiday Displays Brin…" || "Local Resources Avail…"