McKeesport native, MASD grad credits wife, parents for inspiration
By Jason Togyer
The Tube City Almanac
January 17, 2023
Posted in: Politics & Elections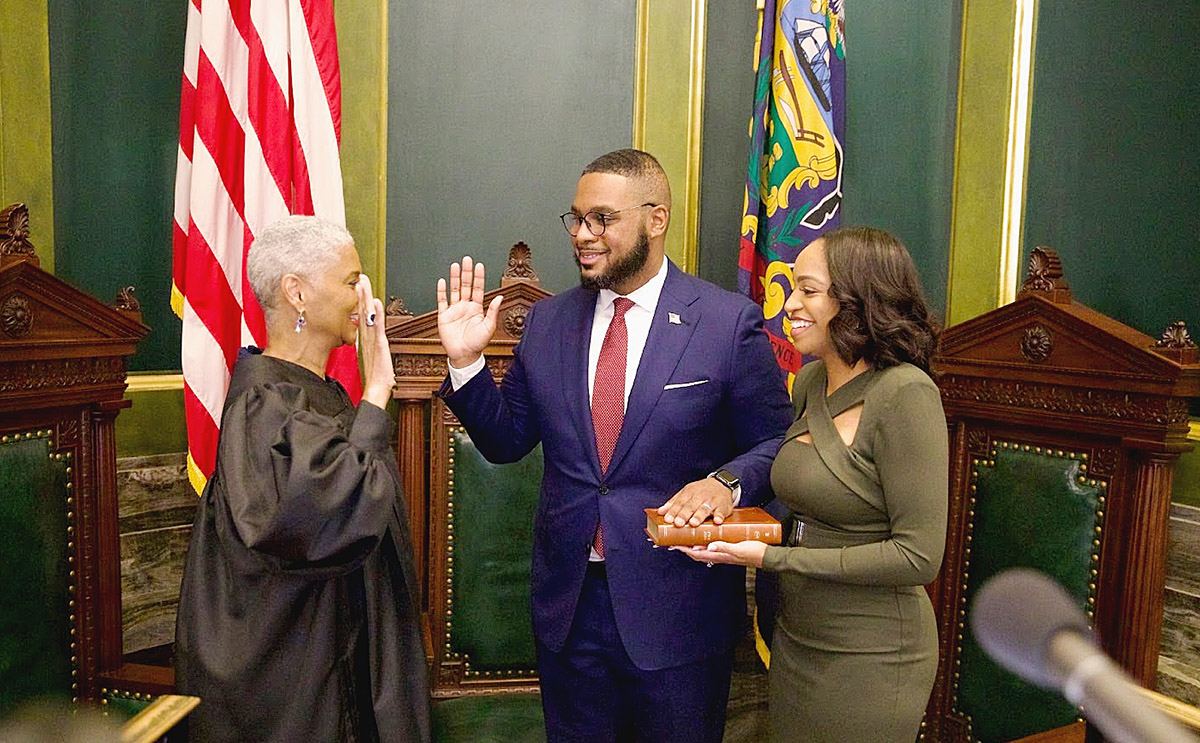 Allegheny County President Judge Kim Berkeley Clark administers the oath of office to new Pennsylvania Lt. Gov. Austin Davis, with his wife, Blayre Holmes Davis, by his side. (Submitted photo courtesy Commonwealth of Pennsylvania)
---
Pennsylvania's first Black lieutenant governor was sworn into office on Tuesday morning and credited his upbringing in McKeesport — and the support of his family — with his success.
Lt. Gov. Austin Davis, 33, a lifelong resident of the city and a graduate of McKeesport Senior High School, took the oath of office in Harrisburg from Kim Berkeley Clark, Allegheny County president judge, with his wife, Blayre Holmes Davis, by his side.
One hour later, Davis's running mate, former Attorney General Josh Shapiro, was sworn in as the commonwealth's 48th governor, replacing Tom Wolf, who was limited to two terms by the state constitution. Both men are Democrats.
"Growing up my parents instilled in me the values of hard work, compassion and empathy," Davis said. "The very values that we hope are instilled in all of our leaders. I wouldn't be the man I am today without my parents Kathy and Ankarie Davis. Thank you for all the life lessons you've taught me."
Davis, who announced his campaign in Kennedy Park on Lysle Boulevard one year ago, recalled that he got his start in politics in the city when he was just a student at McKeesport Senior High School.
He also remembered his grandparents, Guy and Sadie Simmons and Vernon and Josephine Davis, who were part of the great Northern migration away from segregation and Jim Crow laws.
"One grandfather was a steel worker and the other was a railroad foreman for (the) B&O. All of them came to Pennsylvania from the South to make a better life for our family," Davis said. "I don't think in my grandparents' wildest dreams they would have ever imagined that their grandson would one day be sworn in" as lieutenant governor.
But, he added, their sacrifices, and the sacrifices of others in their generation, made sure their children and grandchildren would the right to vote, earn a living and provide a better life for their families.
"Today, the son of a union bus driver and a hairdresser, a boy who grew up in a small steel-town often overlooked by those in power, a young man driven to his first city council meeting to demand action on gun violence after it reached his neighborhood, is being inaugurated to the second-highest position in our commonwealth," Davis said.
"I say to all the young people watching right now, who are worried and unsure about their future — that the American Dream is alive and well in Pennsylvania," he continued.
Davis, who previously served two terms as a state legislator representing McKeesport and the surrounding area, said that a year on the campaign trail had convinced him that Pennsylvanians "across class, color and creed" want the same things for their children: "the opportunity to join the middle-class and live the American dream, they want to keep their families and communities safe, and they want real freedom."
Too many American political leaders have become "mean" and "out of touch with the needs of those (they are) meant to serve," Davis said.
"We must no longer measure our success through the counting of insignificant political points, or transient headlines," he said. "Our success must be measured by the results we deliver for Pennsylvanians and their families."
Davis is the state's 35th lieutenant governor since the office was first created in 1873. His official duties include presiding over the state senate and chairing the board of pardons and the state Emergency Management Council. The lieutenant governor also succeeds the governor if the governor becomes incapacitated or dies.
At 33, Davis is believed to be the youngest lieutenant governor in the United States.
In November 2022, Davis was elected to a third term as state legislator, but resigned to take the lieutenant governor's position. A special election has been scheduled for Feb. 7 to replace him.
According to the Allegheny County Elections Division, two candidates have been certified to run for Davis's seat, Matthew Gergely, Democrat, and Don Nevills, Republican. Gergely is currently the McKeesport city finance director, while Nevills is a retired Navy chief petty officer and owner of Jolly Roger Tattoo Supply and Ice 9 Studio.
---
Jason Togyer is editor of Tube City Almanac and volunteer executive director of Tube City Community Media Inc.
Originally published January 17, 2023.
In other news:
"Group With MLT Ties P…" || "New City Manager Star…"