March 28, 2023 |
By Bonnijean Cooney Adams | Posted in: Entertainment, McKeesport and Region News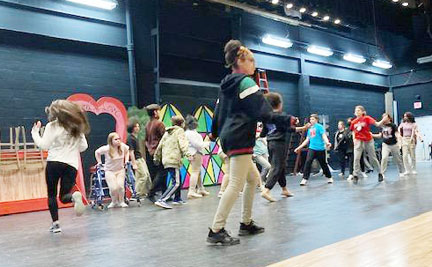 The whole cast dances all out to one of the many musical numbers in "All Shook Up." (Bonnijean Cooney Adams photo for Tube City Almanac.)
If you go...

"All Shook Up"

Where: McKeesport Area High School, 1960 Eden Park Blvd.

When: Thursday, March 30, Friday, March 31, and Saturday, April 1 at 7 p.m., with an additional Saturday, April 1 matinee at 2 p.m.

Tickets: $10 for adults, $5 for students and senior citizens. Available by emailing mckmusical@gmail.com, or in person at the high school through Friday from 8:30 to 10:30 a.m. and 11 a.m. to 12:30 p.m., and Wednesday from 4 to 6 p.m.
While almost all adults have at least heard – and many may have a favorite – Elvis Presley song, that isn't necessarily true for all teens.
That's unless those teens are in the cast, crew, or orchestra pit for McKeesport Area High School's spring musical "All Shook Up," which opens Thursday (March 30).
Characterized as an "American jukebox musical," it was written in 2004 and premiered on Broadway the following year. And while "All Shook Up" is inspired by and features the music of Elvis, the storyline is not about Presley. The male lead character is Chad (Collin Klein), who arrives as a stranger on a motorcycle to a conservative town in the Midwest circa 1950s.
While his bike is getting repaired by mechanic Natalie Haller (Kaitlyn Majewski), Chad looks for some excitement, only to learn about the town's Mamie Eisenhower Decency Act, which prohibits things such as "loud music, public necking, and tight pants."
Read More