May 11, 2016 |
By Submitted Report | Posted in: Announcements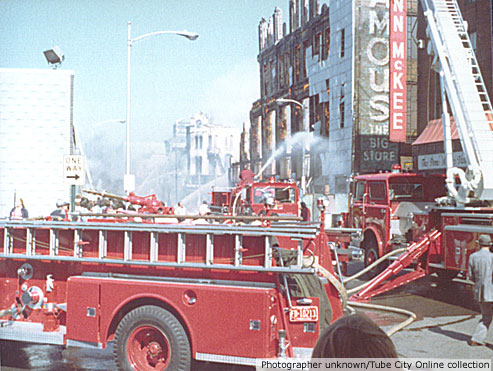 Forty years ago this month, a massive fire swept through Downtown McKeesport, destroying the former Famous Department Store, the Elks Lodge, the old Market Street School and several other buildings, and heavily damaging the Memorial Theater, which never re-opened.
On Sunday (May 15), retired firefighters and other residents will discuss their memories of the May 21, 1976, blaze that caused $5 million in damage --- roughly $20.9 million in 2016 dollars --- to the city's business district. More than 40 fire departments from throughout western Pennsylvania fought the fire.
The event begins at 2 p.m. at the McKeesport Regional History and Heritage Center, 1832 Arboretum Drive, Renziehausen Park, and will be moderated by Jason Togyer, executive director of Tube City Community Media Inc., and a heritage center board member.
Admission is free and refreshments will be provided by Local Union 10 of the International Association of Firefighters, representing McKeesport firefighters.
For more information, call (412) 678-1832 or visit the center's website.