March 29, 2022 |
By Bonnijean Cooney Adams | Posted in: Entertainment, McKeesport and Region News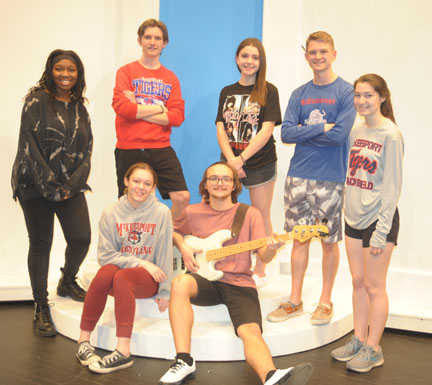 Sharing their perspectives on their roles in "Mamma Mia!", seated, are Kaitlyn Majewski as Donna Sheridan and Cooper Kuchma, who plays bass guitar. Standing, from left, are Nya O'Neil as Tanya, Collin Klein as Bill Austin, Leila Wertz from the ensemble, Jonah Higdon as Sky, and Autumn Tavaglione as Sophie Sheridan. (Bonnijean Cooney Adams photo for Tube City Almanac)

If you go...

'Mamma Mia!'

Where: McKeesport Area High School Auditorium, 1960 Eden Park Blvd.

When: Opens Thursday, March 31 and continues Friday, April 1 and Saturday, April 2 at 7:30 p.m., with a Saturday, April 2 matinee at 2 p.m.

Tickets: $10 for adults, $5 for students and senior citizens. Available via mckmusical@gmail.com, or presale at the high school through Friday from 8:30 to 10:30 and noon to 1:30, and Wednesday from 4 to 6 p.m.
"Mamma Mia," McKeesport Area High School's spring musical, was selected as a fun, upbeat experience for students and audience alike.
"The team chose this show before auditions," co-producer Sarah Persin said. "We knew we wanted to do something really fun and really upbeat. COVID interfered with our shows for the last two years, so we wanted to be sure this year's show was a real hit."
The musical is based on songs by ABBA, woven into a storyline set on a Greek island as 20-year-old Sophie Sheridan and her mother Donna Sheridan are making final preparations for her wedding.
Sophie, on a quest to find her father so he can walk her down the aisle, stumbles upon her mother's diary from the year she was born. In it are details suggesting three possibilities, so she invites them all, without telling Donna.
Read More